Abstract
The Blue Lagoon is a shallow geothermal lake which contains sea- and freshwater and is extremely high in silica content. This study has provided the first in-depth molecular survey of its planktic microbial inhabitants and laid the groundwork for future environmental and physiological work. Most MiSeq sequences obtained were affiliated with Alphaproteobacteria (36%), Cyanobacteria (26%), and Gammaproteobacteria (24%). Cyanobacteria were found to be the principal primary producers with 99.8% of the cyanobacterial sequences belonging to the unicellular Cyanobacterium aponinum. Filamentous genera: Halomicronema and Phormidium were very minor and present only outside the bathing area. The calculated diversity was typical of samples from extreme environments. Elevated salinity and high concentration of silicium attract extremophiles that are either highly adapted specialists for certain conditions or generalists with wide tolerance ranges. Relatively few abundant phyla were represented; 95% of observed OTUs consisted of less than ten sequences and only 0.5% had more than 1000 sequences. All rarefaction curves were far from saturation and a higher number of sequences is apparently required to cover the whole community diversity. Although, the diversity of the abundant taxa was limited, the rare biosphere, detectable only with next generation sequencing, increased significantly the diversity.
Access options
Buy single article
Instant access to the full article PDF.
USD 39.95
Price excludes VAT (USA)
Tax calculation will be finalised during checkout.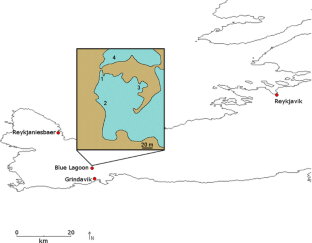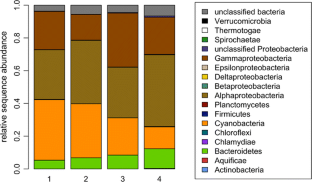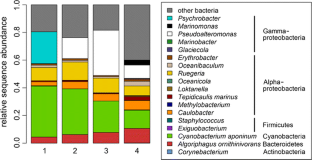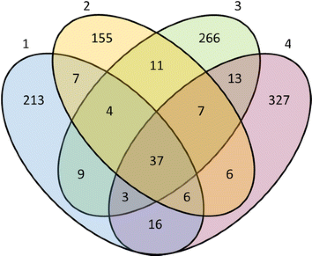 References
Abed, R. M. M., F. Garcia-Pichel & M. Hernandez-Marine, 2002. Polyphasic characterization of benthic, moderately halophilic, moderately thermophilic cyanobacteria with very thin trichomes and the proposal of Halomicronema excentricum gen. nov., sp. nov. Archives of Microbiology 177: 361–370.

Abed, R. M. M., K. Kohls & D. de Beer, 2007. Effect of salinity changes on the bacterial diversity, photosynthesis and oxygen consumption of cyanobacterial mats from an intertidal flat of the Arabian Gulf. Environmental Microbiology 9: 1384–1392.

Atlas, R. M. & R. Bartha, 1993. Microbial Ecology. Fundamentals and Applications, Vol. 3. The Benjamin/Cummings Publishing Co. Inc, Menlo Park, CA.

Brandes, M., D. C. Albach, J. C. Vogt, E. Mayland-Quellhorst, G. Mendieta-Leiva, S. Golubic & K. A. Palinska, 2015. Supratidal extremophiles-cyanobacterial diversity in the rock pools of the croatian adria. Microbial Ecology 70: 1–13.

Brenner, D. J., N. R. Krieg & J. T. Staley, 2005. The alpha-, beta-, delta-, and Epsilonproteobacteria. Bergey's Manual of Systematic Bacteriology, Part C, Vol. 2. Springer, Berlin.

Caroppo, C., P. Albertano, L. Bruno, M. Montinari, M. Rizzi, G. Vigliotta & P. Pagliara, 2012. Identification and characterization of a new Halomicronema species (Cyanobacteria) isolated from the Mediterranean marine sponge Petrosia ficiformis (Porifera). Fottea 12: 315–326.

Chen, L.-Z., D.-H. Li, L.-R. Song, C.-X. Hu, G.-H. Wang & Y.-D. Liu, 2006. Effects of salt stress on carbohydrate metabolism in desert soil alga Microcoleus vaginatus Gom. Journal of Integrative Plant Biology 48: 914–919.

Davies, C. M. & L. M. Evison, 1991. Sunlight and the survival of enteric bacteria in natural waters. Journal of Applied Bacteriology 70: 265–273.

De la Haba, R. R., C. Sanchez-Porro, M. C. Marquez & V. Ventosa, 2011. Taxonomy of halophiles. In Horikoshi, K., G. Antranikian, A. Bull, F. Robb & K. Stetter (eds), Extremophiles Handbook. Springer, Heidelberg: 255–308.

Golubic, S., 1980. Halophily and halotolerance in cyanophytes. Origins of Life and Evolution of Biospheres 10: 169–183.

Gudmundsdottir, M., A. Brynjolfsdottir & A. Albertsson, 2010. The history of the Blue Lagoon in Svartsengi. In Proceedings World Geothermal Congress 2010, Bali, Indonesia.

Gudmundsottir, A. B., S. Omarsdottir, A. Brynjolfsdottir, B. S. Paulsen, E. S. Olafsdottir & J. Freysdottir, 2015. Exopolysaccharides from Cyanobacterium aponinum from the Blue Lagoon in Iceland increase IL-10 secretion by human dendritic cells and their ability to reduce the IL-17 + RORt +/IL-10 + FoxP3 + ratio in CD4 + T cells. Immunology Letters 163: 157–160.

Helm, R. F. & M. Potts, 2012. Extracellular Matrix (ECM). In Whitton, A. B. (ed.), Ecology of Cyanobacteria II: their diversity in space and time. Springer, Netherlands: 461–480.

Hreggvidsson, G. O., S. Skirnisdottir, B. Smit, S. Hjorleifsdottir, V. T. Marteinsson, S. Petursdottir & J. K. Kristjansson, 2006. Polyphasic analysis of Thermus isolates from geothermal areas in Iceland. Extremophiles 10: 563–575.

Ivanova, A., C. Juhlin, U. Lengler, P. Bergmann, S. Lueth & T. Kempka, 2014. Impact of temperature on CO2 storage in a saline aquifer based on fluid flow simulations and seismic data (Ketzin pilot site, Germany). Journal of Energy Challenges and Mechanics 1(4): 1–4.

Lai, Q., J. Yuan, C. Wu & Z. Shao, 2009. Oceanibaculum indicum gen. nov., sp. nov., isolated from deep seawater of the Indian Ocean. International Journal of Systematic and Evolutionary Microbiology 59: 1733–1737.

Liu, H. & E. J. Buskey, 2000. Hypersalinity enhances the production of extracellular polymeric substance (EPS) in the texas brown tide alga, Aureoumbra lagunensis (Pelagophyceae). Journal of Phycology 36: 71–77.

McKew, B. A., A. J. Dumbrell, J. D. Taylor, T. J. McGenity & G. J. C. Underwood, 2013. Differences between aerobic and anaerobic degradation of microphytobenthic biofilm-derived organic matter within intertidal sediments. FEMS Microbiology Ecology 84: 495–509.

Moro, I., N. Rascio, N. La Rocca, M. Di Bella & C. Andreoli, 2007. Cyanobacterium aponinum, a new Cyanoprokaryote from the microbial mat of Euganean thermal springs (Padua, Italy). Algological Studies 123: 1–15.

Muyzer, G., S. Hottenträger, A. Teske & C. Wawer, 1995. Denaturing gradient gel electrophoresis of PCR-amplified 16S rDNA—a new molecular approach to analyze the genetic diversity of mixed microbial communities. In Akkermans, A. D. L., J. D. van Elsas & F. J. de Bruijn (eds), Molecular Microbial Ecology Manual, 2nd ed. Kluwer, The Netherlands.

Nierman, W. C., T. V. Feldblyum, M. T. Laub, I. T. Paulsen, K. E. Nelson, J. Eisen, J. F. Heidelberg, M. R. K. Alley, N. Ohta, J. R. Maddock, I. Potocka, W. C. Nelson, A. Newton, C. Stephens, N. D. Phadke, B. Ely, R. T. DeBoy, R. J. Dodson, A. S. Durkin, M. L. Gwinn, D. H. Haft, J. F. Kolonay, J. Smit, M. B. Craven, H. Khouri, J. Shetty, K. Berry, T. Utterback, K. Tran, A. Wolf, J. Vamathevan, M. Ermolaeva, O. White, S. L. Salzberg, J. C. Venter, L. Shapiro & C. M. Fraser, 2001. Complete genome sequence of Caulobacter crescentus. PNAS 98: 4136–4141.

Olafsson, J. H., B. Sigurgeirsson & R. Palsdbttir, 1994. The effect bathing in a thermal lagoon in Iceland has on psoriasis. A preliminary study. Journal of the European Academy of Dermatology and Venerology 3: 460–464.

Paerl, H. W., J. L. Pinckney & T. F. Steppe, 2000. Cyanobacterial-bacterial mat consortia: examining the functional unit of microbial survival and growth in extreme environments. Environmental Microbiology 2: 11–26.

Palinska, K. A., R. M. M. Abed, K. Wendt, L. Charpy, M. Lotocka & S. Golubic, 2012. Opportunistic Cyanobacteria in benthic microbial mats of a tropical lagoon, Tikehau Atoll, Tuamotu Archipelago: minor in natural populations, major in cultures. Fottea 12: 127–140.

Palinska, K. A., R. M. M. Abed, J. Vogt, G. Radtke & S. Golubic, 2017. Microbial endoliths on East Adriatic Limestone Coast: morphological vs molecular diversity. Geomicrobiology J. doi:10.1080/01490451.2017.1297512.

Pereira, S., A. Zille, E. Micheletti, P. Moradas-Ferreira, R. De Philippis & P. Tamagnini, 2009. Complexity of cyanobacterial exopolysaccharides: composition, structures, inducing factors and putative genes involved in their biosynthesis and assembly. FEMS Microbiology Reviews 33: 917–941.

Petursdottir, S. K. & J. K. Kristjansson, 1996. The relationship between physical and chemical conditions and low microbial diversity in the Blue Lagoon geothermal lake in Iceland. FEMS Microbiology Ecology 19: 39–45.

Petursdottir, S. K., G. O. Hreggvidsson, M. S. Da-Costa & J. K. Kristjansson, 2000. Genetic diversity analysis of Rhodothermus reflects geographical origin of the isolates. Extremophiles 4: 267–274.

Petursdottir, S. K., S. H. Bjornsdottir, G. O. Hreggvidsson, S. Hjorleifsdottir & J. K. Kristjansson, 2009. Analysis of the unique geothermal microbial ecosystem of the Blue Lagoon. FEMS Microbiology Ecology 70: 425–432.

Pfreundt, U., F. van Wambeke, M. Caffin, S. Bonnet & W. R. Hess, 2016. Succession within the prokaryotic communities during the VAHINE mesocosms experiment in the New Caledonia lagoon. Biogeosciences 13: 2319–2337.

Potts, M., 1994. Desiccation tolerance of prokaryotes. Microbiological Reviews 58: 755–805.

Quast, C., E. Pruesse, P. Yilmaz, J. Gerken, T. Schweer, P. Yarza, J. Peplies & F. O. Glockner, 2013. The SILVA ribosomal RNA gene database project: improved data processing and web-based tools. Nucleic Acids Research 41: D590–D596.

Ragnarsdottir, K. V., J. W. Walther & S. Amorsson, 1984. Description and interpretation of the composition of fluid and alteration mineralogy in the geothermal system, at Svartsengi, Iceland. Geochimica et Cosmochimica Acta 48: 1535–1553.

Schloss, P. D., S. L. Westcott, T. Ryabin, J. R. Hall, M. Hartmann, E. B. Hollister, R. A. Lesniewski, B. B. Oakley, D. H. Parks, C. J. Robinson, J. W. Sahl, B. Stres, G. G. Thallinger, D. J. van Horn & C. F. Weber, 2009. Introducing mothur: open-source, platform-independent, community-supported software for describing and comparing microbial communities. Applied and Environmental Microbiology 75: 7537–7541.

Schneider, D., G. Arp, A. Reimer, J. Reitner & R. Daniel, 2013. Phylogenetic analysis of a microbialite-forming microbial mat from a hypersaline lake of the Kiritimati Atoll, Central Pacific. PLoS ONE 8(6): e66662.

Schneider, D., A. Reimer, A. Hahlbrock, G. Arp & R. Daniel, 2015. Metagenomic and metatranscriptomic analyses of bacterial communities derived from a calcifying karst water creek biofilm and tufa. Geomicrobiology 32: 316–331.

Suryata, I., H. G. Svavarsson, S. Einarsson, A. Brynjolfsdottir & G. Maliga, 2010. Geothermal CO2 bio-mitigation techniques by utilizing microalgae at the Blue Lagoon, Icealand. In Proceedings of the Thirty-Fourth Workshop on Geothermal Reservoir Engineering Stanford University, Stanford, California.

Tkavc, R., C. Gostincar, M. Turk, P. T. Vissher, A. Oren & N. Gunde-Cimerman, 2010. Bacterial communities in the "petola" microbial mat from the Sečovlje salterns (Slovenia). FEMS Microbiology Ecology 75: 48–62.

Tobler, D. J. & L. G. Benning, 2011. Bacterial diversity in five Icelandic geothermal waters: temperature and sinter growth rate effects. Extremophiles 15: 473–485.

Vogt, J. C., R. M. M. Abed, D. C. Albach & K. A. Palinska, 2017. Bacterial and archaeal diversity in hypersaline cyanobacterial mats along a transect in the intertidal flats of the Sultanate of Oman. Microbial Ecology. doi:10.1007/s00248-017-1040-9.

Wang, Q., G. M. Garrity, J. M. Tiedje & J. R. Cole, 2007. Naive Bayesian classifier for rapid assignment of rRNA sequences into the new bacterial taxonomy. Applied and Environmental Microbiology 73: 5261–5267.

Winckelmann, D., F. Bleeke, P. Bergmann & G. Klock, 2015. Growth of Cyanobacterium aponinum influenced by increasing salt concentrations and temperature. 3 Biotech 5: 253–260.
Acknowledgements
Research was supported by the DFG project PA 842/9-1. We thank reviewers and the Editor for their constructive and extremely helpful improvements of the manuscript.
Additional information
Guest editors: Eugen Rott, Allan Pentecost & Jan Mares / Aspects of cyanobacterial biogeography, molecular ecology, functional ecology and systematics
About this article
Cite this article
Palinska, K.A., Vogt, J.C. & Surosz, W. Biodiversity analysis of the unique geothermal microbial ecosystem of the Blue Lagoon (Iceland) using next-generation sequencing (NGS). Hydrobiologia 811, 93–102 (2018). https://doi.org/10.1007/s10750-017-3349-2
Received:

Revised:

Accepted:

Published:

Issue Date:

DOI: https://doi.org/10.1007/s10750-017-3349-2
Keywords
Reykjanes

Halophilic

Amplicon sequencing

Cyanobacterium aponinum

Extremophiles