Abstract
We sampled the Klang estuary during the inter-monsoon and northeast monsoon period (July–Nov 2011, Oct–Nov 2012), which coincided with higher rainfall and elevated Klang River flow. The increased freshwater inflow into the estuary resulted in water column stratification that was observed during both sampling periods. Dissolved oxygen (DO) dropped below 63 μM, and hypoxia was observed. Elevated river flow also transported dissolved inorganic nutrients, chlorophyll a and bacteria to the estuary. However, bacterial production did not correlate with DO concentration in this study. As hypoxia was probably not due to in situ heterotrophic processes, deoxygenated waters were probably from upstream. We surmised this as DO correlated with salinity (R2 = 0.664, df = 86, p < 0.001). DO also decreased with increasing flushing time (R2 = 0.556, df = 11, p < 0.01), suggesting that when flushing time (> 6.7 h), hypoxia could occur at the Klang estuary. Here, we presented a model that related riverine flow rate to the post-heavy rainfall hypoxia that explicated the episodic hypoxia at Klang estuary. As Klang estuary supports aquaculture and cockle culture, our results could help protect the aquaculture and cockle culture industry here.
Access options
Buy single article
Instant access to the full article PDF.
US$ 39.95
Tax calculation will be finalised during checkout.
Subscribe to journal
Immediate online access to all issues from 2019. Subscription will auto renew annually.
US$ 119
Tax calculation will be finalised during checkout.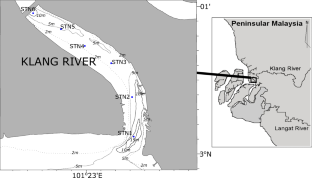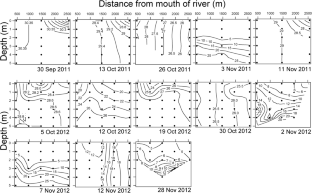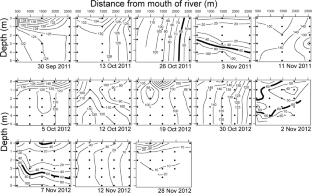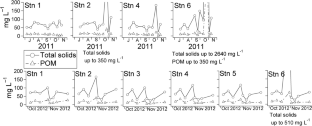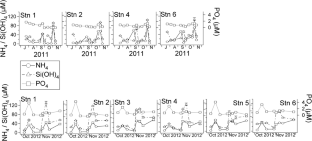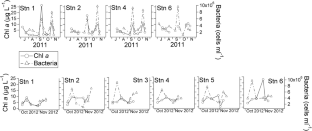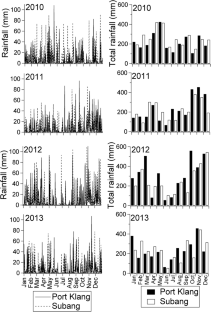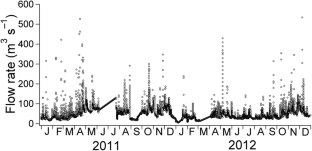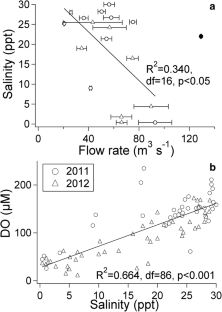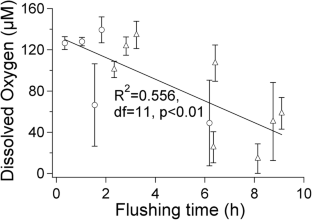 References
Ashley, R. M., Balmforth, D. J., Saul, A. J., & Blanksby, J. D. (2005). Flooding in the future – predicting climate change, risks and responses in urban areas. Water Science & Technology, 52(5), 265–273.

Barroso, H. D. S., Becker, H., & Melo, V. M. M. (2016). Influence of river discharge on phytoplankton structure and nutrient concentrations in four tropical semiarid estuaries. Brazilian Journal of Oceanography, 64(1), 37–48.

Breitburg, D. L. (2002). Effects of hypoxia, and the balance between hypoxia and enrichment, on coastal fishes and fisheries. Estuaries, 25(4), 767–781.

Chong, V. C. (2007). Mangroves and fisheries linkages: the Malaysian perspective. Bulletin of Marine Science, 80(3), 755–772.

Corredor, J. E., Howarth, R. W., Twilley, R. R., & Morell, J. M. (1999). Nitrogen cycling and anthropogenic impact in the tropical inter-American seas. Biogeochemistry, 46, 163–178.

Diaz, R. J., & Rosenberg, R. (2008). Spreading dead zones and consequences for marine ecosystems. Science, 321, 926–929.

Dubuc, A., Waltham, N., Malerba, M., & Sheaves, M. (2017). Extreme dissolved oxygen variability in urbanized tropical wetlands: the need for detailed monitoring to protect nursery ground values. Estuarine, Coastal and Shelf Science, 198, 163–171.

Elliott, M., & Quintino, V. (2007). The estuarine quality paradox, environmental homeostasis and the difficulty of detecting anthropogenic stress in naturally stressed areas. Marine Pollution Bulletin, 54, 640–645.

Eyre, B. D., & Ferguson, A. J. P. (2005). Benthic metabolism and nitrogen cycling in a subtropical east Australian estuary (Brunswick): temporal variability and controlling factors. Limnology and Oceanography, 50(1), 81–96.

Ghosh, K., & Menon, S. V. G. (2010). Fully implicit 1D radiation hydrodynamics: validation and verification. Journal of Computational Physics, 229(19), 7488e7502.

Haralambidou, K., Sylaios, G., & Tsihrintzis, V. A. (2010). Salt-wedge propagation in Mediterranean micro-tidal river mouth. Estuarine, Coastal and Shelf Science, 90, 174–184.

Howarth, R., Chan, F., Conley, D. J., Garnier, J., Doney, S. C., Marino, R., & Billen, G. (2011). Coupled biogeochemical cycles: eutrophication and hypoxia in temperate estuaries and coastal marine ecosystems. Frontiers in Ecology and the Environment, 9(1), 18–26.

Johnston, S. G., Slavich, P. G., Sullivan, L. A., & Hirst, P. (2003). Artificial drainage of floodwaters from sulfidic backswamps: effects on deoxygenation in an Australian estuary. Marine & Freshwater Research, 54, 781–795.

Kepner Jr., R. L., & Pratt, J. R. (1994). Use of fluorochromes for direct enumeration of total bacteria in environmental samples: past and present. Microbiological Reviews, 58, 603–615.

Ketchum, B. H. (1950). Hydrographic factors involved in the dispersion of pollutants introduced into tidal waters. Journal of the Boston Society of Civil Engineers, 37, 296–314.

Knight, J. M., Griffin, L., Dale, P. E. R., & Sheaves, M. (2013). Short-term dissolved oxygen patterns in sub-tropical mangroves. Estuarine, Coastal and Shelf Science, 131, 290–296.

Lai, Z. W., Teoh, H. W., Lee, C. W., Lee, S. L., Saito, H., & Chong, V. C. (2020). Macrobenthic community associated with semi-cultured blood cockles (Tegillarca granosa) in tropical mudflats. Continental Shelf Research, 195, 104061.

Lee, C. W., & Bong, C. W. (2006). Carbon flux through bacteria in a eutrophic tropical environment: Port Klang waters. In E. Wolanski (Ed.), The environment in Asia Pacific harbours (pp. 329–345). Dordrecht: Springer.

Lee, C. W., & Bong, C. W. (2008). Bacterial abundance and production and their relation to primary production in tropical coastal waters of Peninsular Malaysia. Marine & Freshwater Research, 59(1), 10–21.

Lee, C. W., Kudo, I., Yokokawa, T., Yanada, M., & Maita, Y. (2002). Dynamics of bacterial respiration and related growth efficiency, dissolved nutrients and dissolved oxygen concentration in a subarctic coastal embayment. Marine & Freshwater Research, 53(1), 1–7.

Lee, C. W., Bong, C. W., & Hii, Y. S. (2009). Temporal variation of bacterial respiration and growth efficiency in tropical coastal waters. Applied and Environmental Microbiology, 75(24), 7594–7601.

Lee, H. L., Tangang, F., Wahap, M. H., & Ang, S. Y. (2015). Seasonal hypoxia occurrence at Terengganu estuary, Malaysia and its potential formation mechanisms. IOP Conference Series: Materials Science and Engineering, 136, 012068.

Lenderink, G., & van Meijgaard, E. (2008). Increase in hourly precipitation extremes beyond expectations from temperature changes. Nature Geoscience, 1, 511–514.

Lim, J. H., & Lee, C. W. (2017). Effects of eutrophication on diatom abundance, biovolume and diversity in tropical coastal waters. Environmental Monitoring and Assessment, 189, 432.

Lim, H. C., Leaw, C. P., Tan, T. H., Kon, N. F., Yek, L. H., Hii, K. S., Teng, S. T., Razali, R. M., Usup, G., Iwataki, M., & Lim, P. T. (2014). A bloom of Karlodinium australe (Gymnodiales, Dinophyceae) associated with mass mortality of cage-cultured fishes in West Johor Strait, Malaysia. Harmful Algae, 40, 51–62.

Lim, J. H., Lee, C. W., Bong, C. W., Affendi, Y. A., Hii, Y. S., & Kudo, I. (2018). Distributions of particulate and dissolved phosphorus in aquatic habitats of Peninsular Malaysia. Marine Pollution Bulletin, 128, 415–427.

Lim, J. H., Wong, Y. Y., Lee, C. W., Bong, C. W., & Kudo, I. (2019). Long-term comparison of dissolved nitrogen species in tropical estuarine and coastal water systems. Estuarine, Coastal and Shelf Science, 222, 103–111.

Mattone, C., & Sheaves, M. (2017). Patterns, drivers and implications of dissolved oxygen dynamics in tropical mangrove forests. Estuarine, Coastal and Shelf Science, 197, 205–213.

McLusky, D. S. (1993). Marine and estuarine gradients. Netherlands Journal of Aquatic Ecology, 27, 489–493.

Middelburg, J. J., & Levin, L. A. (2009). Coastal hypoxia and sediment biogeochemistry. Biogeosciences, 6, 1273–1293.

Murshed, M. F., Aslam, Z., Lewis, R., Chow, C., Wang, D., Drikas, M., & Leeuwen, J. V. (2014). Changes in the quality of river water before, during and after a major flood event associated with a La Niña cycle and treatment for drinking purposes. Journal of Environmental Sciences, 26, 1985–1993.

Nagasoe, S., Yurimoto, T., Suzuki, K., Maeno, Y., & Kimoto, K. (2011). Effects of hydrogen sulphide on the feeding activity of Manila clam Ruditapes philippinarum. Aquatic Biology, 13, 293–302.

Naqvi, S. W. A., Jayakumar, D. A., Narvekar, P. V., Naik, H., Sarma, V. S., D'Souza, W., Joseph, T., & George, M. D. (2000). Increased marine production of N2O due to intensifying anoxia on the Indian continental shelf. Nature, 408, 346–349.

Noriega, C. E., Santiago, M. F., Façanha, P., Silva, M. D. G. G., Silva, R. A., Montes, M. D. J. F., Araújo Filho, M., Costa, A. M. P., Eskinazi Leça, E., & Neumann-Leitão, S. (2013). The instantaneous transport of inorganic and organic material in a highly polluted tropical estuary. Marine & Freshwater Research, 64(6), 562–572.

NRC (National Research Council). (2000). Clean coastal waters: understanding and reducing the effects of nutrient pollution. Washington, DC: National Academies Press.

Okamura, K., Tanaka, K., Siow, R., Man, A., Kodama, M., & Ichikawa, T. (2010). Spring tide hypoxia with relation to chemical properties of the sediments in the Matang Mangrove Estuary, Malaysia. Japan Agricultural Research Quarterly JARQ, 44(3), 325–333.

Parsons, T. R., Maita, Y., & Lalli, C. M. (1984). A manual of chemical and biological methods for seawater analysis. Oxford: Pergamon Press.

Peña, M. A., Katsev, S., Oguz, T., & Gilbert, D. (2010). Modeling dissolved oxygen dynamics and hypoxia. Biogeosciences, 7, 933–957.

Rabalais, N. N., Turner, R. E., & Wiseman Jr., W. J. (2002). Gulf of Mexico hypoxia a.k.a. "The dead zone". Annual Review of Ecology and Systematics, 33, 235–263.

Rakocinski, C. F. (2012). Evaluating macrobenthic process indicators in relation to organic enrichment and hypoxia. Ecological Indicators, 13, 1e12.

Saeck, E. A., Hadwen, W. L., Rissik, D., O'Brien, K. R., & Burford, M. A. (2013). Flow events drive patterns of phytoplankton distribution along a river-estuary-bay continuum. Marine & Freshwater Research, 64(7), 655–670.

Stow, C. A., Qian, S. S., & Craig, J. K. (2005). Declining threshold for hypoxia in the Gulf of Mexico. Environmental Science & Technology, 39, 716–723.

Suhaila, J., Deni, S. M., Wan Zin, W. Z., & Jemain, A. A. (2010). Trends in Peninsular Malaysia rainfall data during the southwest monsoon and northeast monsoon seasons: 1975–2004. Sains Malaysiana, 39(4), 533–542.

Taguchi, F., & Fujiwara, T. (2009). Carbon dioxide stored and acidified low oxygen bottom waters in coastal sea, Japan. Estuarine, Coastal and Shelf Science, 86, 429–433.

Taylor, D. I., Oviatt, C. A., & Borkman, D. G. (2011). Non-linear responses of a coastal aquatic ecosystem to large decreases in nutrient and organic loadings. Estuaries and Coasts, 34(4), 745–757.

The Hydrographer. (2007). Approaches to north and south port, Pelabuhan Klang (2nd ed.). George Town: Royal Malaysian Navy.

Tweedley, J. R., Hallett, C. S., Warwick, R. M., Clarke, K. R., & Potter, I. C. (2016). The hypoxia that developed in a microtidal estuary following an extreme storm produced dramatic changes in the benthos. Marine & Freshwater Research, 67, 327e341.

Vaquer-Sunyer, R., & Duarte, C. M. (2008). Thresholds of hypoxia for marine biodiversity. Proceedings of the National Academy of Sciences of the United States of America, 105, 15452–15457.

Wong, V. N. L., Johnston, S. G., Bush, R. T., Sullivan, L. A., Clay, C., Burton, E. D., & Slavich, P. G. (2010). Spatial and temporal changes in estuarine water quality during a post-flood hypoxic event. Estuarine, Coastal and Shelf Science, 87, 73–82.

Wong, V. N. L., Johnston, S. G., Burton, E. D., Bush, R. T., Sullivan, L. A., & Slavich, P. G. (2011). Anthropogenic forcing of estuarine hypoxic events in sub-tropical catchments: landscape drivers and biogeochemical processes. Science of the Total Environment, 409, 5368–5375.

Yurimoto, T., Kassim, F. M., Fuseya, R., & Man, A. (2014). Mass mortality event of the blood cockle, Anadara granosa, in aquaculture ground along Selangor coast, Peninsular Malaysia. International Aquatic Research, 6, 177–186.

Zhang, J., Gilbert, D., Gooday, A. J., Levin, L., Naqvi, S. W. A., Middelburg, J. J., Scranton, M., Ekau, W., Peña, A., Dewitte, B., Oguz, T., Monteiro, P. M. S., Urban, E., Rabalais, N. N., Ittekkot, V., Kemp, W. M., Ulloa, O., Elmgren, R., Escobar-Briones, E., & Van der Plas, A. K. (2010). Natural and human-induced hypoxia and consequences for coastal areas: synthesis and future development. Biogeosciences, 7, 1443–1467.
Acknowledgements
We would like to thank the Malaysia Meteorological Department for providing the rainfall data and the Department of Irrigation and Drainage Malaysia for the Klang River flow rates.
Funding
We are grateful to the Ministry of Higher Education Malaysia for the FRGS grant (FP061-2018A or FRGS/1/2018/WAB09/UM/02/1) and HiCoE grant (IOES-2014D).
Ethics declarations
Conflict of interest
The authors declare that they have no competing interests.
Additional information
Publisher's note
Springer Nature remains neutral with regard to jurisdictional claims in published maps and institutional affiliations.
Electronic supplementary material
About this article
Cite this article
Lee, C.W., Lim, J.H., Heng, P.L. et al. Influence of elevated river flow on hypoxia occurrence, nutrient concentration and microbial dynamics in a tropical estuary. Environ Monit Assess 192, 660 (2020). https://doi.org/10.1007/s10661-020-08625-3
Received:

Accepted:

Published:
Keywords
Klang estuary

Peninsular Malaysia

Hypoxia

Dissolved oxygen dynamics

Klang River flow rate