Abstract
4-Hydroxybenzoic acid (4-HBA) is a common organic compound that is prevalent in the environment, and the persistence of 4-HBA residues results in exertion of pollution-related detrimental effects. Bioremediation is an effective method for the removal of 4-HBA from the environment. In this study, two bacterial strains FZ-5 and FZ-8 capable of utilizing 4-HBA as the sole carbon and energy source under anaerobic conditions were isolated from marine sediment samples. Phylogenetic analysis identified the two strains FZ-5 and FZ-8 as Acinetobacter johnsonii and Klebsiella oxytoca, respectively. The strains FZ-5 and FZ-8 degraded 2000 mg·L−1 4-HBA in 72 h with degradation rates of 71.04% and 80.10%, respectively. The optimum culture conditions for degradation by the strains and crude enzymes were also investigated. The strains FZ-5 and FZ-8 also exhibited the ability to degrade other lignin-derived compounds, such as protocatechuic acid, cinnamic acid, and vanillic acid. Immobilization of the two strains showed that they could be used for the bioremediation of 4-HBA in an aqueous environment. Soils inoculated with the strains FZ-5 and FZ-8 showed higher degradation of 4-HBA than the uninoculated soil, and the strains could survive efficiently in anaerobic soil. This is the first report of 4-HBA-degrading bacteria, belonging to the two genera, which showed degradation ability under anaerobic conditions. This study expound the strains could efficiently degrade 4-HBA in anaerobic soil and will help in the development of 4-HBA anaerobic bioremediation systems.
Access options
Buy single article
Instant access to the full article PDF.
USD 39.95
Price includes VAT (USA)
Tax calculation will be finalised during checkout.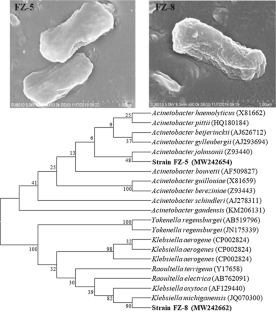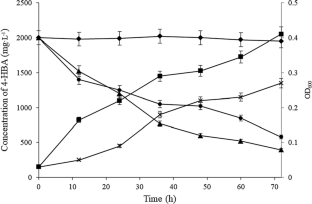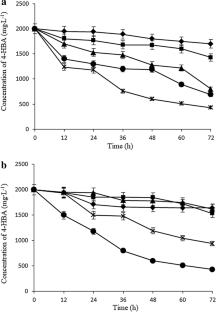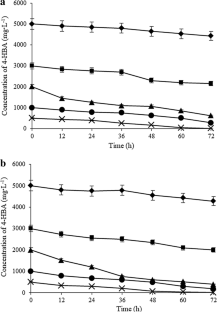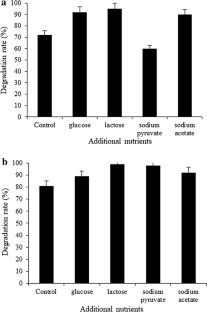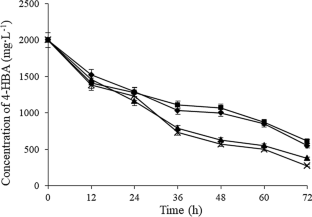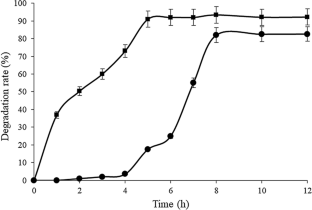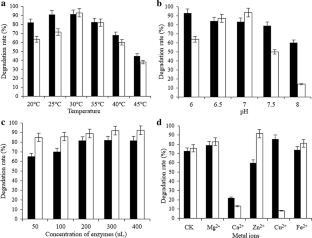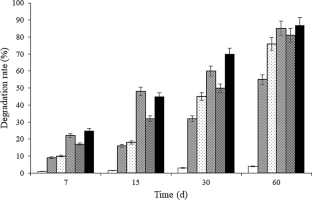 References
Abbas T, Zhang Q, Jin H, Li Y, Liang Y, Di H, Zhao Y (2019) Anammox microbial community and activity changes in response to water and dissolved oxygen managements in a paddy-wheat soil of Southern China. Sci Total Environ 1(672):305–313. https://doi.org/10.1016/j.scitotenv.2019.03.392

Akbar S, Sultan S (2016) Soil bacteria showing a potential of chlorpyrifos degradation and plant growth enhancement. Braz J Microbiol 47(3):563–570. https://doi.org/10.1016/j.bjm.2016.04.009

Allende JL, Gibello A, Fortún A, Mengs G, Ferrer E, Martín M (2000) 4-Hydroxybenzoate uptake in an isolated soil Acinetobacter sp. Curr Microbiol 40(1):34–39. https://doi.org/10.1007/s002849910007

Awasthi S, Srivastava P, Singh P, Tiwary D, Mishra PK (2017) Biodegradation of thermally treated high-density polyethylene (HDPE) by Klebsiella pneumonia CH001. 3 Biotech 7(5):332. https://doi.org/10.1007/s13205-017-0959-3

Bais HP, Vepachedu R, Gilroy S, Callaway RM, Vivanco JM (2003) Allelopathy and exotic plant invasion: from molecules and genes to species interactions. Science. 301(5638):1377-80 https://doi.org/10.1126/science.1083245. Erratum in: Science. 2010 Feb 12; 327(5967):781

Cao XQ, Ouyang XY, Chen B, Song K, Zhou L, Jiang BL, Tang JL, Ji G, Poplawsky AR, He YW (2020) Genetic interferences analysis reveals that both 3-hydroxybenzoic acid and 4-hydroxybenzoic acid are involved in xanthomonadin biosynthesis in the phytopathogen Xanthomonas campestris pv. campestris. Phytopathology 110(2):278–286. https://doi.org/10.1094/PHYTO-08-19-0299-R

Chamkha M, Record E, Garcia JL, Asther M, Labat M (2002) Isolation from a shea cake digester of a tannin-tolerant Escherichia coli strain decarboxylating p-hydroxybenzoic and vanillic acids. Curr Microbiol 44(5):341–349. https://doi.org/10.1007/s00284-001-0020-x

Chen Y, Peng Y, Dai CC, Ju Q (2011) Biodegradation of 4-hydroxybenzoic acid by Phomopsis liquidambari. Appl Soil Ecol 51:102–110. https://doi.org/10.1016/j.apsoil.2011.09.004

Dalvi S, Nicholson C, Najar F, Roe BA, Canaan P, Hartson SD, Fathepure BZ (2014) Arhodomonas sp. strain seminole and its genetic potential to degrade aromatic compounds under high-salinity conditions. Appl Environ Microbiol 80(21):6664–6676. https://doi.org/10.1128/AEM.01509-14

Distelmaier F (2018) 4-Hydroxybenzoic acid for multiple system atrophy. Parkinsonism Relat Disord 50:119–120. https://doi.org/10.1016/j.parkreldis.2018.01.019

Dreij K, Lundin L, Le Bihanic F, Lundstedt S (2020) Polycyclic aromatic compounds in urban soils of Stockholm City: occurrence, sources and human health risk assessment. Environ Res 182:108989. https://doi.org/10.1016/j.envres.2019.108989

Evans WC, Fuchs G (1988) Anaerobic degradation of aromatic compounds. Annu Rev Microbiol 42:289–317. https://doi.org/10.1146/annurev.mi.42.100188.001445

Ferreira LM, Durrant AJ, Hall J, Hazlewood GP, Gilbert HJ (1990) Spatial separation of protein domains is not necessary for catalytic activity or substrate binding in a xylanase. Biochem J 269(1):261–264. https://doi.org/10.1042/bj2690261

Fuchs G, Boll M, Heider J (2011) Microbial degradation of aromatic compounds – from one strategy to four. Nat Rev Microbiol 9(11):803–816. https://doi.org/10.1038/nrmicro2652

Genethliou C, Kornaros M, Dailianis S (2020) Biodegradation of olive mill wastewater phenolic compounds in a thermophilic anaerobic upflow packed bed reactor and assessment of their toxicity in digester effluents. J Environ Manage 255:109882. https://doi.org/10.1016/j.jenvman.2019.109882

González-Gaya B, Martínez-Varela A, Vila-Costa M, Casal P, Cerro-Gálvez E, Berrojalbiz N, Lundin D, Vidal M, Mompeán C, Bode A (2019) Biodegradation as an important sink of aromatic hydrocarbons in the oceans. Nat Geosci 12(2):119–125. https://doi.org/10.1038/s41561-018-0285-3

Gopi Kiran M, Pakshirajan K, Das G (2018) Heavy metal removal from aqueous solution using sodium alginate immobilized sulfate reducing bacteria: mechanism and process optimization. J Environ Manage 15(218):486–496. https://doi.org/10.1016/j.jenvman.2018.03.020

Gu HP, Yan K, You Q, Chen YZ, Pan YH, Wang HZ, Wu LS, Xu JM (2021) Soil indigenous microorganisms weaken the synergy of Massilia sp. WF1 and Phanerochaete chrysosporium in phenanthrene biodegradation. Sci Total Environ 781:146655. https://doi.org/10.1016/j.scitotenv.2021.146655

Gupta B, Puri S, Thakur IS, Kaur J (2020) Enhanced pyrene degradation by a biosurfactant producing Acinetobacter baumannii BJ5: growth kinetics, toxicity and substrate inhibition studies. Environ Technol Inno 19:100804. https://doi.org/10.1016/j.eti.2020.100804

Hilal N, Nigmatullin R, Alpatova A (2004) Immobilization of cross-linked lipase aggregates within microporous polymeric membranes. J Membrane Sci 238(1–2):131–141. https://doi.org/10.1016/j.memsci.2004.04.002

Huang Y, Zhao KX, Shen XH, Jiang CY, Liu SJ (2008) Genetic and biochemical characterization of a 4-hydroxybenzoate hydroxylase from Corynebacterium glutamicum. Appl Microbiol Biotechnol 78(1):75–83. https://doi.org/10.1007/s00253-007-1286-0

Iii C, Stuart F (1995) New cog in the nitrogen cycle. Nature 377(6546):199–200

Jiang G, Li Y, Liu J (2013) Autotoxicity potentia of cotton tissues and root exudates and identification of its autotoxins. Allelopathy J 32(2):279–288. https://doi.org/10.1111/pbr.12049

Kasai D, Masai E, Katayama Y, Fukuda M (2007) Degradation of 3-O-methylgallate in Sphingomonas paucimobilis SYK-6 by pathways involving protocatechuate 4,5-dioxygenase. FEMS Microbiol Lett 274(2):323–328. https://doi.org/10.1111/j.1574-6968.2007.00855.x

Kasai D, Fujinami T, Abe T, Mase K, Katayama Y, Fukuda M, Masai E (2009) Uncovering the protocatechuate 2,3-cleavage pathway genes. J Bacteriol 191(21):6758–6768. https://doi.org/10.1128/JB.00840-09

Kiel M, Engesser KH (2015) The biodegradation vs. biotransformation of fluorosubstituted aromatics. Appl Microbiol Biot 99:7433–7464. https://doi.org/10.1007/s00253-015-6817-5

Lal B, Khanna S (1996) Degradation of crude oil by Acinetobacter calcoaceticus and Alcaligenes odorans. J Appl Bacteriol 81(4):355–362. https://doi.org/10.1111/j.1365-2672.1996.tb03519.x

Leuthner B, Heider J (2000) Anaerobic toluene catabolism of Thauera aromatica: the bbs operon codes for enzymes of beta oxidation of the intermediate benzylsuccinate. J Bacteriol 182(2):272–277. https://doi.org/10.1128/jb.182.2.272-277.2000

Liao C, Shi J, Wang X, Zhu Q, Kannan K (2019) Occurrence and distribution of parabens and bisphenols in sediment from northern Chinese coastal areas. Environ Pollut 253:759–767. https://doi.org/10.1016/j.envpol.2019.07.076

Lin M, Liu YH, Chen WW, Wang H, Hu X (2014) Use of bacteria-immobilized cotton fibers to absorb and degrade crude oil. Int Biodeter Biodegr 88:8–12. https://doi.org/10.1016/j.ibiod.2013.11.015

Liu J, Zhang X, Zhou S, Tao P, Liu J (2007) Purification and characterization of a 4-hydroxybenzoate decarboxylase from Chlamydophila pneumoniae AR39. Curr Microbiol 54(2):102–107. https://doi.org/10.1007/s00284-006-0153-z

Louis LM, Lerro CC, Friesen MC, Andreotti G, Koutros S, Sandler DP, Blair A, Robson MG, Beane Freeman LE (2017) A prospective study of cancer risk among Agricultural Health Study farm spouses associated with personal use of organochlorine insecticides. Environ Health 16(1):95. https://doi.org/10.1186/s12940-017-0298-1

Lupa B, Lyon D, Gibbs MD, Reeves RA, Wiegel J (2005) Distribution of genes encoding the microbial non-oxidative reversible hydroxyarylic acid decarboxylases/phenol carboxylases. Genomics 86(3):342–351. https://doi.org/10.1016/j.ygeno.2005.05.002

Maria N, Francesco A, Radmila P, Federica C, Lin SK, Sara P, Roberto V, Chiesa LM (2020) Presence of emerging contaminants in baby food. Food Addit Contam Part A Chem Anal Control Expo Risk Assess 37(1):131–142. https://doi.org/10.1080/19440049.2019.1682686

Matsui T, Yoshida T, Hayashi T, Nagasawa T (2006) Purification, characterization, and gene cloning of 4-hydroxybenzoate decarboxylase of Enterobacter cloacae P240. Arch Microbiol 186(1):21–29. https://doi.org/10.1007/s00203-006-0117-5

Peng X, Xiong S, Ou W, Wang Z, Tan J, Jin J, Tang C, Liu J, Fan Y (2017) Persistence, temporal and spatial profiles of ultraviolet absorbents and phenolic personal care products in riverine and estuarine sediment of the Pearl River catchment, China. J Hazard Mater 323(Pt A):139–146. https://doi.org/10.1016/j.jhazmat.2016.05.020

Prathibha K, Sumathi S (2008) Biodegradation of mixture containing monohydroxybenzoate isomers by Acinetobacter calcoaceticus. World J Microb Biot 24:813–823. https://doi.org/10.1007/s11274-007-9545-x

Ren L, Jia Y, Zhang R, Lin Z, Zhen Z, Hu H, Yan Y (2018) Insight into metabolic versatility of an aromatic compounds-degrading Arthrobacter sp. YC-RL1. Front Microbiol 9:2438. https://doi.org/10.3389/fmicb.2018.02438

Saha R, Farrance CE, Verghese B, Hong S, Donofrio RS (2013) Klebsiella michiganensis sp. nov., a new bacterium isolated from a tooth brush holder. Curr Microbiol 66(1):72–78. https://doi.org/10.1007/s00284-012-0245-x

Sannino F, Sansone C, Galasso C, Kildgaard S, Tedesco P, Fani R, Marino G, de Pascale D, Ianora A, Parrilli E, Larsen TO, Romano G, Tutino ML (2018) Pseudoalteromonas haloplanktis TAC125 produces 4-hydroxybenzoic acid that induces pyroptosis in human A459 lung adenocarcinoma cells. Sci Rep 8(1):1190. https://doi.org/10.1038/s41598-018-19536-2

Schug TT, Janesick A, Blumberg B, Heindel JJ (2011) Endocrine disrupting chemicals and disease susceptibility. J Steroid Biochem Mol Biol 127(3–5):204–215. https://doi.org/10.1016/j.jsbmb.2011.08.007

Seo JS, Keum YS, Li QX (2009) Bacterial degradation of aromatic compounds. Int J Environ Res Public Health 6(1):278–309. https://doi.org/10.3390/ijerph6010278

Singh P, Singh VK, Singh R, Borthakur A, Kumar A, Tiwary D, Mishra PK (2018) Biological degradation of toluene by indigenous bacteria Acinetobacter junii CH005 isolated from petroleum contaminated sites in India. Energy Ecol Environ 3:162–170. https://doi.org/10.1007/s40974-018-0089-8

Su JF, Zheng SC, Huang TI, Ma F, Shao SC, Yang SF, Zhang LN (2015) Characterization of the anaerobic denitrification bacterium Acinetobacter sp. SZ28 and its application for groundwater treatment. Bioresour Technol 192:654–659. https://doi.org/10.1016/j.biortech.2015.06.020

Tahmourespour A, Tabatabaee N, Khalkhali H, Amini I (2016) Tannic acid degradation by Klebsiella strains isolated from goat feces. Iran J Microbiol 8(1):14–20

Tang J, Hu Q, Liu B, Lei D, Chen T, Sun Q, Zeng C, Zhang Q (2019) Efficient biodegradation of 3-phenoxybenzoic acid and pyrethroid pesticides by the novel strain Klebsiella pneumoniae BPBA052. Can J Microbiol 65(11):795–804. https://doi.org/10.1139/cjm-2019-0183

Thompson JD, Gibson TJ, Plewniak F, Jeanmougin F, Higgins DG (1997) The CLUSTAL_X windows interface: flexible strategies for multiple sequence alignment aided by quality analysis tools. Nucleic Acids Res 25(24):4876–4882. https://doi.org/10.1093/nar/25.24.4876

Throne-Holst M, Markussen S, Winnberg A, Ellingsen TE, Kotlar HK, Zotchev SB (2006) Utilization of n-alkanes by a newly isolated strain of Acinetobacter venetianus: the role of two AlkB-type alkane hydroxylases. Appl Microbiol Biotechnol 72(2):353–360. https://doi.org/10.1007/s00253-005-0262-9

Tian J, Zhu L, Wang W, Zhang L, Li Z, Zhao Q, Xing K, Feng Z, Peng X (2018) Genomic analysis of Microbulbifer sp. strain A4B–17 and the characterization of its metabolic pathways for 4-hydroxybenzoic acid synthesis. Front Microbiol 9:3115. https://doi.org/10.3389/fmicb.2018.03115

Tierney M, Young LY (2010) Anaerobic degradation of aromatic hydrocarbons. Springer Berlin Heidelberg 925-934 https://doi.org/10.1007/978-3-540-77587-4_65

Varg JE, Dussan J (2017) Encapsulation and immobilization of the S-layer protein of Lysinibacillus sphaericus in an alginate matrix for chromium adsorption. Int Biodeter Biodegr 116:141–146. https://doi.org/10.1016/j.ibiod.2016.10.028

Wallace SJ, de Solla SR, Head JA, Hodson PV, Parrott JL, Thomas PJ, Berthiaume A, Langlois VS (2020) Polycyclic aromatic compounds (PACs) in the Canadian environment: exposure and effects on wildlife. Environ Pollut. https://doi.org/10.1016/j.envpol.2020.114863

Wang L, Liu T, Liu F, Zhang J, Wu Y, Sun H (2015) Occurrence and profile characteristics of the pesticide imidacloprid, preservative parabens, and their metabolites in human urine from rural and urban China. Environ Sci Technol 49(24):14633–14640. https://doi.org/10.1021/acs.est.5b04037

Weisburg WG, Barns SM, Pelletier DA, Lane DJ (1991) 16S ribosomal DNA amplification for phylogenetic study. J Bacteriol 173(2):697–703. https://doi.org/10.1128/jb.173.2.697-703.1991

Xu X, Zhou H, Chen X, Wang B, Jin Z, Ji F (2019) Biodegradation potential of polycyclic aromatic hydrocarbons by immobilized Klebsiella sp. in soil washing effluent. Chemosphere 223:140–147. https://doi.org/10.1016/j.chemosphere.2019.01.196

Yin Z, Xia D, Shen M, Zhu D, Cai H, Wu M, Zhu Q, Kang Y (2020) Tetracycline degradation by Klebsiella sp. strain TR5: proposed degradation pathway and possible genes involved. Chemosphere 253:126729. https://doi.org/10.1016/j.chemosphere.2020.126729

Zhang S, Zhang C, Sun F, Zhang Z, Zhang X, Pan H, Sun P, Zhang H (2020) Glutathione-S-transferase (GST) catalyzes the degradation of chlorimuron-ethyl by Klebsiella jilinsis 2N3. Sci Total Environ. https://doi.org/10.1016/j.scitotenv.2020.139075

Zhao J, Zhao X, Chao L, Zhang W, You T, Zhang J (2014) Diversity change of microbial communities responding to zinc and arsenic pollution in a river of northeastern China. J Zhejiang Univ Sci B 15(7):670–680. https://doi.org/10.1631/jzus.B1400003

Zhao H, Xu Y, Lin S, Spain JC, Zhou NY (2018) The molecular basis for the intramolecular migration (NIH shift) of the carboxyl group during para-hydroxybenzoate catabolism. Mol Microbiol 110(3):411–424. https://doi.org/10.1111/mmi.14094
Acknowledgements
This work is supported by the National Natural Science Foundation of China (31800327, 32071505, 31570028), Anhui University Natural Science Foundation (KJ2020A0084) and the Priority Academic Program Development of Jiangsu Higher Education Institutions (PAPD).
Funding
This study was funded by National Natural Science Foundation of China (31800327, 32071505, 31570028), Anhui University Natural Science Foundation (KJ2020A0084), the Priority Academic Program Development of Jiangsu Higher Education Institutions (PAPD).
Ethics declarations
Conflict of interest
The authors declare that they have no conflict of interest.
Additional information
Publisher's Note
Springer Nature remains neutral with regard to jurisdictional claims in published maps and institutional affiliations.
About this article
Cite this article
Lu, P., Huang, H., Sun, Y. et al. Biodegradation of 4-hydroxybenzoic acid by Acinetobacter johnsonii FZ-5 and Klebsiella oxytoca FZ-8 under anaerobic conditions. Biodegradation (2021). https://doi.org/10.1007/s10532-021-09963-w
Received:

Accepted:

Published:
Keywords
4-Hydroxybenzoic acid

Biodegradation

Anaerobic

Acinetobacter johnsonii
Klebsiella oxytoca

Bioremediation