How to slow the global spread of small hive beetles, Aethina tumida
Abstract
Small hive beetles (SHBs) are parasites of social bee colonies endemic to sub-Saharan Africa and have become a widespread invasive species. In the new ranges, SHBs can cause damage to apiculture and wild bees. Although the further spread seems inevitable, eradication of new introductions and containment of established ones are nevertheless urgently required to slow down the invasion speed until better mitigation options are available. However, at present there is no adequate action plan at hand. Here, we propose to take advantage of SHB invasion history and biology to enrol a feasible plan involving all stakeholders. Raising awareness, education and motivation of stakeholders (incl. adequate and timely compensation of beekeepers) is essential for success. Moreover, sentinel apiaries are recommended in areas at risk, because early detection is crucial for the success of eradication efforts. Given that introductions are detected early, SHB eradication is recommended, incl. destruction of all infested apiaries, installation of sentinel colonies to lure escaped SHBs and a ban on migratory beekeeping. If wild perennial social bee colonies are infested, eradication programs are condemned to fail and a strategic switch to a containment strategy is recommended. Containment includes adequate integrated pest management and a strict ban on migratory beekeeping. Despite considerable gaps in our knowledge of SHBs, the proposed action plan will help stakeholders to slow down the global spread of SHBs.
Keywords
Apis mellifera
Apiculture 
Bees 
Contingency plan 
Honeybee 
Parasite 
Introduction
Biological invasions typically follow a jump-dispersal pattern (Canning-Clode
2015
) and eradication of recent introductions combined with containment of established ones have been proven as a means to slow down the global spread for a number of species (e.g. Campbell and Donlan
2005
; Boser et al.
2017
). Efficient approaches for both eradication and containment require measures based on the biology of the invasive species in question, the local situation as well as adequate stakeholder involvement (Anonymous Editorial
2017
). Here, we focus on the small hive beetle (SHB),
Aethina tumida
(Coleoptera: Nitidulidae). This beetle has originally been described as a parasite and scavenger of honeybee colonies native to sub-Saharan Africa (Lundie
1940
). In 1996, it emerged as an invasive species, which has now reached all continents except Antarctica (Neumann et al.
2016
; DePaz
2017
; Lee et al.
2017
). The spread of SHBs is ongoing, as evidenced by a number of recent introductions (2014: Italy, Brazil; 2015: Philippines; 2017: Belize, Canada, South Korea; 2018: Mauritius; cf. Neumann et al.
2016
; Lee et al.
2017
; DePaz
2017
; Sturgeon
2017
; Muli et al.
2018
). Outside of its endemic range, SHBs can cause severe damage to apiculture as well as wild honeybee colonies and may also endanger other social bees serving as alternative hosts (bumblebees: Spiewok and Neumann
2006
; Hoffmann et al.
2008
; stingless bees: Halcroft et al.
2008
,
2011
; Mutsaers
2006
; Peña et al.
2014
; Greco et al.
2010
; Wade
2012
). Accordingly, a range of pest mitigation measures has been developed, but at present SHB diagnosis and control are not sufficient (Neumann et al.
2016
). In particular, control outside of managed apiaries is not available yet, which is urgently required to limit the impact of SHBs on wild bees. Thus, there is an urgent and apparent need to slow down the continuing global spread of SHBs until better mitigation methods are available. However, at present, there is no international strategy for SHBs. Therefore, we here propose a best-practice action plan for
A.
tumida
invasions (Fig. 
1
).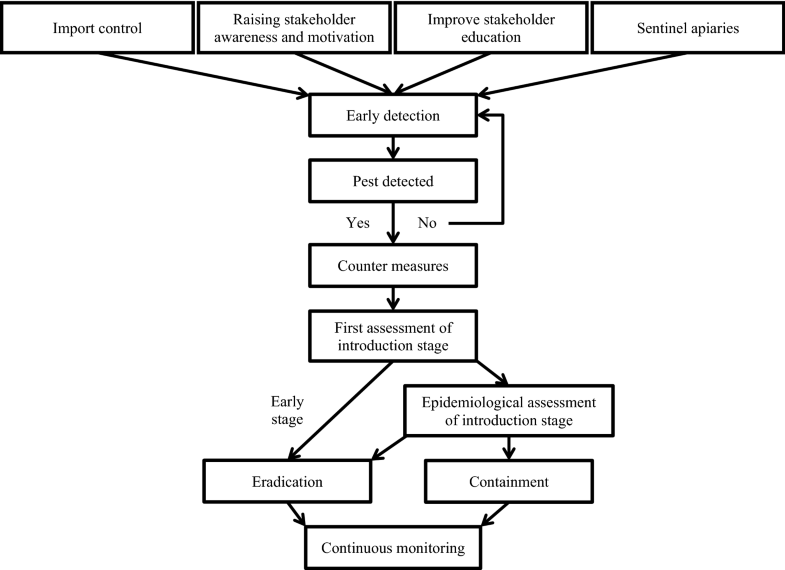 Suggested contingency measures
Gaps in our knowledge of A. tumida
There is an obvious and urgent demand for more research to improve contingency planning due to considerable gaps in our knowledge of SHBs (Neumann et al. 2016). For example, an optimal approach would be efficient SHB traps outside of managed apiaries, which would safeguard bumblebees, stingless bees as well as feral honeybees. Basic research is required on the general biology of A. tumida to foster improved diagnosis, control and prevention, incl. anatomy, behaviour, physiology as well as on pheromones and kairomones governing SHB host finding. Finally, sentinel apiaries and the various SHB-traps should be assessed for their effectiveness and efficiency.
Summary
Successful eradication is only possible if new introductions are detected very early, before SHBs infest wild social bee populations.

Motivation and education of stakeholders (especially beekeepers) is crucial for success (detection, eradication and containment), which requires early response capacity and continuity of resources (financial and human recources).

Adequate border control and sentinel sites are fundamental for early detection and success.

After epidemiological investigations, the competent authorities have to decide between eradication or containment based on a cost–benefit analysis.

Sentinel colonies have to be installed at outbreak apiaries to lure free-flying SHBs that might have escaped eradication.

Irrespective of eradication or containment strategy, a surveillance system should be activated and maintained.

Movement restriction and/or ban of honeybees and beekeeping equipment in protection and/or surveillance zone requires the activation of an appropriate and permanent official system of registration and control (traceability should also be guaranteed).

A legal basis for appropriate actions of the competent authorities is needed (e.g. adoption of restrictive measures, destruction of apiaries, compensation after stamping out).

There is a need for effective and scientifically based tools for training, detection/diagnosis, control and management intended for the beekeepers, bee-inspectors, veterinarians and other responsible entities.

The gaps in basic knowledge of A. tumida biology currently limit the effectiveness of SHB contingency planning.
Notes
Acknowledgements
We acknowledge the COLOSS (prevention of honey bee COlony LOSSes) association for promoting this joint publication, Lars Straub and Angela Minnameyer for language editing and the Ricola Foundation Nature and Culture for financial support.
Copyright information
© The Author(s) 2019
Open AccessThis article is distributed under the terms of the Creative Commons Attribution 4.0 International License (http://creativecommons.org/licenses/by/4.0/), which permits unrestricted use, distribution, and reproduction in any medium, provided you give appropriate credit to the original author(s) and the source, provide a link to the Creative Commons license, and indicate if changes were made.