Abstract
Various scientific disciplines devoted to the study of sexual behavior are concerned with the understanding of sadomasochistic (SM) practices. However, only a fragmented body of theories, opinions, and studies is available, which limits the systematic study of this field. Empirical studies and tools for the assessment of SM tendencies are particularly sparse. Our aim was to develop a comprehensive tool for the assessment of an individual's engagement in SM practices. A comprehensive 24-item checklist of different types of SM play was generated with the assistance of members of the German SM community, covering both a dominance scale and a submission scale. The sadomasochism checklist was administered in an online study to a sample of 652 adults (345 female, 307 male), with 527 participants being active members in the SM community. Both the frequency of SM behavior and the attraction to the types of SM practices were assessed. Results revealed a one-factor structure for the dominance as well as the submission scale. The distinction between different types of practices (soft play, domination/submission, beating, toys, breath and bodily fluids) was confirmed using principal component analysis. Cronbach's alpha was appropriate. The total scores for the dominance and the submission scale distinguish between participants with different preferences for dominant and submissive practices. The newly developed scale is a reliable and valid tool for the assessment of the frequency of and attraction to SM behavior. It aims to provide the basis for future systematic studies on sadomasochism.
References
Alison, L., Santtila, P., Sandnabba, N. K., & Nordling, N. (2001). Sadomasochistically oriented behavior: Diversity in practice and meaning. Archives of Sexual Behavior, 30, 1–12. doi:10.1023/A:1026438422383.

American Psychiatric Association. (2013). Diagnostic and statistical manual of mental disorders (5th ed.). Washington, DC: Author.

Baumeister, R. F. (1988). Masochism as escape from self. Journal of Sex Research, 25, 28–59. doi:10.1080/00224498809551444.

Beres, M. A. (2007). 'Spontaneous' sexual consent: An analysis of sexual consent literature. Feminism & Psychology, 17, 93–108. doi:10.1177/0959353507072914.

Bezreh, T., Weinberg, T. S., & Edgar, T. (2012). BDSM disclosure and stigma management: Identifying opportunities for sex education. American Journal of Sexuality Education, 7, 37–61. doi:10.1080/15546128.2012.650984.

Cattell, R. B. (1978). The scientific use of factor analysis in the behavioral and life sciences. New York: Scientific Plenum Press.

Cleugh, J. (1952). The Marquis and the Chevalier. New York: Duell, Sloan and Pearce.

Connolly, P. H. (2006). Psychological functioning of bondage/domination/sado-masochism (BDSM) practitioners. Journal of Psychology & Human Sexuality, 18, 79–120. doi:10.1300/J056v18n01_05.

Cross, P. A., & Matheson, K. (2006). Understanding sadomasochism: An empirical examination of four perspectives. Journal of Homosexuality, 50, 133–166. doi:10.1300/J082v50n02_07.

Ernulf, K. E., & Innala, S. M. (1995). Sexual bondage: A review and unobtrusive investigation. Archives of Sexual Behavior, 24, 631–654. doi:10.1007/BF01542185.

Faul, F., Erdfelder, E., Lang, A. G., & Buchner, A. (2007). GPower 3: A flexible statistical power analysis program for the social, behavioral, and biomedical sciences. Behavior Research Methods, 39, 175–191. doi:10.3758/BF03193146.

Freud, S. (1938). Sadism and masochism. In A. A. Brill (Ed.), Basic writings of Sigmund Freud (pp. 30–32). New York: Modern Library.

Friday, N. (1980). Men in love. New York: Dell.

Giebel, G., Moran, J., Schawohl, A., & Weierstall, R. (2015). The thrill of loving a dominant partner: Relationships between preference for a dominant mate, sensation seeking, and trait anxiety. Personal Relationships, 22, 275–284. doi:10.1111/pere.12079.

Giebel, G., Weierstall, R., Schauer, M., & Elbert, T. (2013). Female attraction to appetitive-aggressive men is modulated by women's menstrual cycle and men's vulnerability to traumatic stress. Evolutionary Psychology, 11, 248–262. doi:10.1177/147470491301100122.

Greene, G., & Greene, C. (1974). SM: The last taboo. New York: Grove Press.

Hébert, A., & Weaver, A. (2015). Perks, problems, and the people who play: A qualitative exploration of dominant and submissive BDSM roles. Canadian Journal of Human Sexuality, 24, 49–62. doi:10.3138/cjhs.2467.

Hoople, T. (1996). Conflicting visions: SM, feminism and the law—a problem of representation. Canadian Journal of Law and Society, 11(1), 177–220.

Krafft-Ebbing, R. (1965). Psychopathia sexualis: With especial reference to the antipathic sexual instinct: A medico-forensic study. New York: Arcade Publishing.

Krueger, R. B. (2010a). The DSM diagnostic criteria for sexual masochism. Archives of Sexual Behavior, 39, 346–356. doi:10.1007/s10508-010-9613-4.

Krueger, R. B. (2010b). The DSM diagnostic criteria for sexual sadism. Archives of Sexual Behavior, 39, 325–345. doi:10.1007/s10508-009-9586-3.

Lee, E. M., Klement, K. R., & Sagarin, B. J. (2015). Double hanging during consensual sexual asphyxia: A response to Roma, Pazzelli, Pompili, Girardi, and Ferracuti (2013) [Letter to the Editor]. Archives of Sexual Behavior, 44, 1751–1753. doi:10.1007/s10508-015-0575-4.

Moser, C. (1998). S/M (sadomasochistic) interactions in semi-public settings. Journal of Homosexuality, 36, 19–29. doi:10.1300/J082v36n02_02.

Moser, C., & Kleinplatz, P. J. (2006). DSM-IV-TR and the paraphilias. Journal of Psychology & Human Sexuality, 17, 91–109. doi:10.1300/J056v17n03_05.

Moser, C., & Kleinplatz, P. J. (2007). Themes of SM expression. In D. Langdridge, M. Barker, D. Langdridge, & M. Barker (Eds.), Safe, sane and consensual: Contemporary perspectives on sadomasochism (pp. 35–54). New York: Palgrave Macmillan.

Nichols, M. (2006). Psychotherapeutic issues with "kinky'"clients: Clinical problems, yours and theirs. Journal of Homosexuality, 50, 281–300. doi:10.1300/J082v50n02_14.

O'Donovan, A. (2010). Sex and sexuality across the lifespan. In C. Butler, A. O'Donovan, & E. Shaw (Eds.), Sex, sexuality and therapeutic practice: A manual for therapists and trainers (pp. 129–159). New York: Routledge/Taylor & Francis Group.

Pitagora, D. (2013). Consent vs. coercion: BDSM interactions highlight a fine but immutable line. The New School Psychology Bulletin, 10, 27–36.

Pokroppa, S. (1999). Sado-masochismus: Die sadomasochistische Beziehung zu relevanten Persönlichkeitsvariablen. Aachen, Unpublished diploma thesis.

Rehor, J. E. (2015). Sensual, erotic, and sexual behaviors of women from the "kink" community. Archives of Sexual Behavior, 44, 825–836. doi:10.1007/s10508-015-0524-2.

Richters, J., de Visser, R. O., Rissel, C. E., Grulich, A. E., & Smith, A. M. (2008). Demographic and psychosocial features of participants in bondage and discipline, ''sadomasochism'' or dominance and submission (BDSM): Data from a national survey. Journal of Sexual Medicine, 7, 1660–1668. doi:10.1111/j.1743-6109.2008.00795.x.

Sagarin, B. J., Cutler, B., Cutler, N., Lawler-Sagarin, K. A., & Matuszewich, L. (2009). Hormonal changes and couple bonding in consensual sadomasochistic activity. Archives of Sexual Behavior, 38, 186–200. doi:10.1007/s10508-008-9374-5.

Sigusch, V. (2000). Strukturwandel der Sexualität in den letzten Jahrzehnten. Fortschritte der Neurologie und Psychiatrie, 68, 97–106. doi:10.1055/s-2000-11620.

Weinberg, T. S. (1994). Research in sadomasochism: A review of sociological and social psychological literature. Annual Review of Sex Research, 5, 257–277.

Weinberg, T. S. (2006). Sadomasochism and the social sciences: A review of the sociological and social psychological literature. Journal of Homosexuality, 50, 17–40. doi:10.1300/J082v50n02_02.

Williams, D. J. (2009). Deviant leisure: Rethinking "the good, the bad, and the ugly". Leisure Sciences, 31, 207–213. doi:10.1080/01490400802686110.
Acknowledgments
We are pleased to acknowledge the valuable contribution made by Christian Allnoch. The support from all members of the SM community and the open acceptance of our scientific approach is gratefully acknowledged. We thank all web portals that kindly supported our research.
Appendices
Appendix 1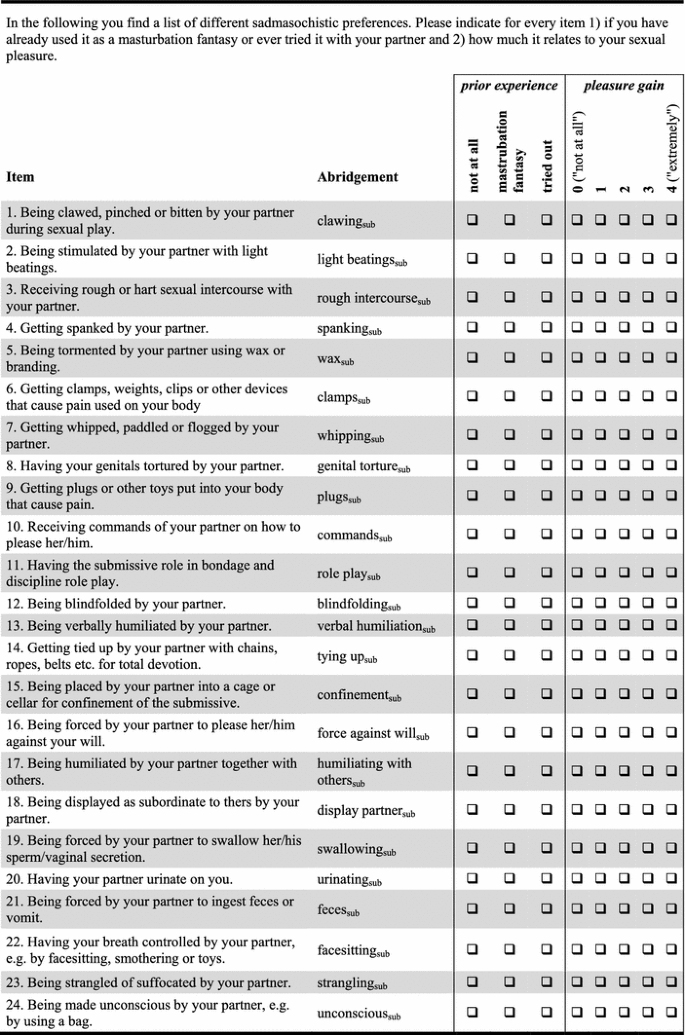 Appendix 2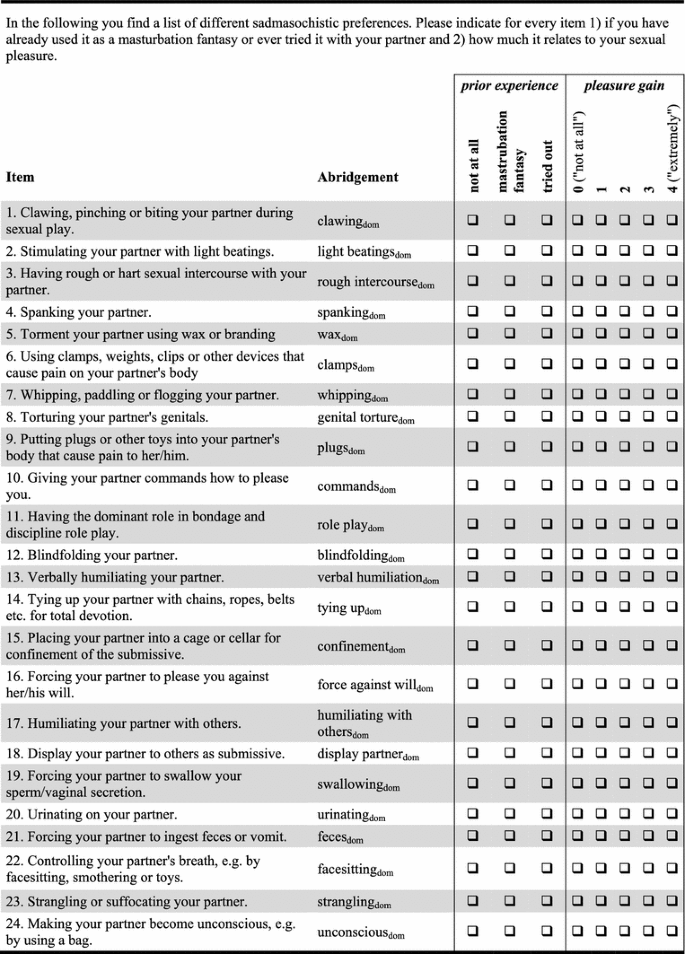 Rights and permissions
Open Access This article is distributed under the terms of the Creative Commons Attribution 4.0 International License (http://creativecommons.org/licenses/by/4.0/), which permits unrestricted use, distribution, and reproduction in any medium, provided you give appropriate credit to the original author(s) and the source, provide a link to the Creative Commons license, and indicate if changes were made.
About this article
Cite this article
Weierstall, R., Giebel, G. The Sadomasochism Checklist: A Tool for the Assessment of Sadomasochistic Behavior. Arch Sex Behav 46, 735–745 (2017). https://doi.org/10.1007/s10508-016-0789-0
Received:

Revised:

Accepted:

Published:

Issue Date:

DOI: https://doi.org/10.1007/s10508-016-0789-0
Keywords
Sadomasochism

BDSM

Self-assessment

Reliability

Validity