Abstract
In this article, I analyze discourse and identity relations within so-called 'conventional' agri-food networks as well as how the conventional sphere perceives, constructs and responds to alternative food movements in Canada. The paper is structured around three primary research questions: (1) How are conventional actors understanding conditions, changes, and challenges within conventional networks? (2) How do conventional actors apply this understanding in advancing conventional interests and discourses, and defending conventional networks? (3) How do conventional actors and discourse construct AFMs? For this research, I draw from survey, focus group, and in-depth interview data alongside text analysis from online sources. I elucidate the interests and motivations behind the identities, stories and messages emerging from the conventional sphere. I conclude that relationship building and communication between diverse agri-food actors may help to expand the range of agricultural knowledge, philosophies and solutions available to farmers, especially those whom are currently quite divided.
Access options
Buy single article
Instant access to the full article PDF.
US$ 39.95
Tax calculation will be finalised during checkout.
Subscribe to journal
Immediate online access to all issues from 2019. Subscription will auto renew annually.
US$ 79
Tax calculation will be finalised during checkout.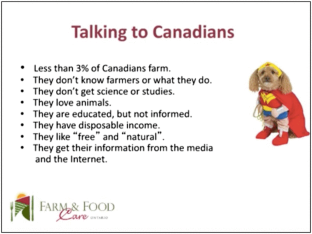 Notes
1.

I use the term alternative food 'movements' and 'networks' interchangeably (Alkon and Agyeman 2011; Cadieux and Slocum 2015). Both terms "refer to a constellation of individuals, NGOs, alliances, initiatives, companies, and government entities arranged in affiliations of different intensities and scales" (Levkoe 2006; Cadieux and Slocum 2015, p .2). 'Networks' are defined more specifically as a set of interactions and relations of power encompassing "economic and institutional forms" situated beyond the binaries of state and market (Murdoch 2000; Lockie 2006). Networks evolve through the efforts of government and non-governmental organizations as well as corporate firms to provide capital and material resources, "training, networking and support services in order to facilitate self-help, entrepreneurialism and capacity building" in accordance with shared beliefs, customs and practices (Lockie 2006, p. 23). In doing so, and perhaps most importantly, networks promote and perpetuate these (social, cultural, and political-economic) beliefs, customs and practices.

2.

See the following for further insight into the impacts of industrial production on greenhouse gas emissions and climate change (MacRae et al. 2010; Camargo et al. 2013; Higgins et al. 2015), socio-ecological resilience (Rotz and Fraser 2015), soil and water pollution (Matson et al. 1997), animal welfare (Weis 2013; Schneider 2015), and the rise of 'pseudo foods' and obesity (Winson 2004, 2013; Guthman and Watts 2011), to name a few.

3.

The non—or not so—consumptive work I refer to includes, but is not limited to, sustainable food production (improving land access for aspiring farmers/food gatherers, building Indigenous food systems and supporting farm transitioning), alternative food infrastructure (community food centres and community-based food storage and transport), and food justice (improving access to healthy food for marginalized communities and fighting for the rights of farm and food workers).

4.

The control was that they grew grain corn within the past five rotations.

5.

The numbers attached to farmer interview quotes refer to the farm number anonymized in the data. Focus group and expert interview quotes are not numbered.

6.

7.

8.

Notably, rural farmwomen within the conventional network occupy a rather different space. However, it is also underpinned by its own social, political and economic structures of patriarchy. For example, a farmer explains, "when the guys come in from farming in the morning and they sit at a table they want to talk their own talk, they don't want some woman talking to them."
Abbreviations
AFM:

Alternative food movement

DSS:

Decision support systems

GMO:

Genetically modified organism

FCC:

Farm Credit Canada

OMAFRA:

Ontario Ministry of Agriculture and Rural Affairs
References
Agriculture More Than Ever. 2017a. Agriculture more than ever: A positive voice for Canadian agriculture. Agriculture More Than Ever.

Agriculture More Than Ever. 2017b. Why doesn't Ag more than ever speak to consumers? Agriculture More Than Ever.

Agriculture More Than Ever. 2017c. Top 10 reasons to celebrate Canadian agriculture. Agriculture More Than Ever.

Alexander, J. C. 1992. Citizen and enemy as symbolic classification: On the polarizing discourse of civil society. In: Cultivating differences: Symbolic boundaries and the making of inequality, ed. Michèle Lamont, 289–308. Chicago: University of Chicago Press.

Alkon, A. H., and J. Agyeman. 2011. The food movement as polyculture. Cultivating food justice: Race, class, and sustainability, ed. Alison Hope Alkon and Julian Agyeman, 1–20. Cambridge: MIT Press.

Altieri, M. 1995. Agroecology. Boulder: Westview Press.

Altieri, M., and V. M. Toledo. 2011. The agroecological revolution in Latin America: Rescuing nature, ensuring food sovereignty and empowering peasants. Journal of Peasant Studies 38: 587–612. doi:10.1080/03066150.2011.582947.

Andrée, P., J. Dibden, V. Higgins, and C. Cocklin. 2010. Competitive productivism and Australia's emerging "alternative" agri-food networks: Producing for farmers' markets in Victoria and beyond. Australian Geographer 41: 307–322. doi:10.1080/00049182.2010.498038.

Andrée, P., P. Ballamingie, and B. Sinclair-Waters. 2014. Neoliberalism and the making of food politics in Eastern Ontario. Local Environment 9839: 1–21. doi:10.1080/13549839.2014.908277.

Bain, C., T. Selfa, T. Dandachi, and S. Velardi. 2017. "Superweeds" or "survivors"? Framing the problem of glyphosate resistant weeds and genetically engineered crops. Journal of Rural Studies 51: 211–221. doi:10.1016/j.jrurstud.2017.03.003.

Banham, Russ. 2014. Who owns farmers' big data? Forbes.

Bell, S. E., A. Hullinger, and L. Brislen. 2015. Manipulated masculinities: Agribusiness, deskilling, and the rise of the businessman-farmer in the United States. Rural Sociology 80: 285–313. doi:10.1111/ruso.12066.

Bowman, A. 2014. Stop letting "crunchy mommas" tell your story. In: Pork network. Lenexa, KS: Vance Publishing Corporation.

Bronson, K., and I. Knezevic. 2016. Food studies scholars can no longer ignore the rise of big data. Canadian Food Studies 3: 9–19. doi:10.15353/cfs-rcea.v3i1.138.

Bryant, R. L., and M. K. Goodman. 2004. Consuming narratives: The political ecology of "alternative" consumption. Transactions of the Institute of British Geographers 29: 344–366. doi:10.1111/j.0020-2754.2004.00333.x.

Bufkin, M. 2015. The truth about "agvocating". In: The truth about agriculture. Logan: Utah State University.

Burton, R. J. F. 2004. Seeing through the "good farmer"s' eyes: Towards developing an understanding of the social symbolic value of "productivist" behaviour. Sociologia Ruralis 44: 195–215. doi:10.1111/j.1467-9523.2004.00270.x.

Burton, R. J. F. 2012. Understanding farmers' aesthetic preference for tidy agricultural landscapes: A bourdieusian perspective. Landscape Research 37: 51–71. doi:10.1080/01426397.2011.559311.

Bye, L. M. 2009. "How to be a rural man": Young men's performances and negotiations of rural masculinities. Journal of Rural Studies 25: 278–288. doi:10.1016/j.jrurstud.2009.03.002.

Cadieux, K. V., and R. Slocum. 2015. What does it mean to do food justice?. Journal of Political Ecology 22: 1–26.

Camargo, G. G. T., M. R. Ryan, and T. L. Richard. 2013. Energy use and greenhouse gas emissions from crop production using the farm energy analysis tool. BioScience 63: 263–273. doi:10.1525/bio.2013.63.4.6.

Caplan, P. 2013. Food, health and identity. London: Routledge.

Carbonell, I. M. 2016. The ethics of big data in big agriculture. Internet Policy Review 5: 1–13. doi:10.14763/2016.1.405.

Carolan, M. 2005. Barriers to the adoption of sustainable agriculture on rented land: An examination of contesting social fields. Rural Sociology 70: 387–413. doi:10.1526/0036011054831233.

Carolan, M. 2016. Publicising food: Big data, precision agriculture and co-experimental techniques of addition. Sociologia Ruralis 0: 2–31. doi:10.1002/acr.22212.

Coldwell, I. 2007. New farming masculinities: "More than just shit-kickers", we're "switched-on" farmers wanting to "balance lifestyle, sustainability and coin". Journal of Sociology 43: 87–103. doi:10.1177/1440783307073936.

Connell, R. W. 2001. Understanding men: Gender sociology and the new international research on masculinities. Social Thought & Research 24: 13–31.

Crop Life International. 2017. @CropLifeIntl [Twitter profile]. Retrieved from https://twitter.com/CropLifeIntl.

Daynard, K. 2015. Speak up for agriculture: How to talk to consumers about ag and food. Farm & Food Care Ontario. Agriculture More Than Ever.

Dixon, J., and C. Richards. 2016. On food security and alternative food networks: Understanding and performing food security in the context of urban bias. Agriculture and Human Values 33: 191–202. doi:10.1007/s10460-015-9630-y.

Farms.com. 2017. Precision agriculture. Farms.com.

Flick, U. 2009. An introduction to qualitative research. London: Sage.

Garnett, T., M. C. Appleby, A. Balmford, I. J. Bateman, T. G. Benton, P. Bloomer, and B. Burlingame, et al. 2013. Sustainable intensification in agriculture: Premises and policies. Science Magazine 341: 33–34. doi:10.1126/science.1234485.

Gliessman, S. 2007. Agroecology: The ecology of sustainable food systems. Boca Raton: CRC Press.

Grossberg, L. 1986. On postmodernism and articulation: An interview with stuart hall. Journal of Communication Inquiry 10: 45–60. doi:10.1177/019685998601000204.

Guthman, J. 2008. Neoliberalism and the making of food politics in California. Geoforum 39: 1171–1183. doi:10.1080/13549839.2014.908277.

Guthman, J., and S. Brown. 2015. I will never eat another strawberry again: The biopolitics of consumer-citizenship in the fight against methyl iodide in California. Agriculture and Human Values 33: 575–585. doi:10.1007/s10460-015-9626-7.

Guthman, J. and Michael Watts. 2011. Excess consumption or over-production? US farm policy, global warming, and the bizarre attribution of obesity. In Global political ecology, ed. Richard Peet, 51–66. New York: Routledge.

Hall, S., and P. Du Gay. 1996. Questions of cultural identity. London: Sage Publications.

Higgins, V., J. Dibden, and C. Cocklin. 2015. Private agri-food governance and greenhouse gas abatement: Constructing a corporate carbon economy. Geoforum 66: 75–84. doi:10.1016/j.geoforum.2015.09.012.

Howard, P. H. 2009a. Consolidation in the North American Organic Food Processing Sector, 1997 to 2007. International Journal of Sociology of Agriculture & Food 16: 13–30.

Howard, P. H. 2009b. Organic industry structure. Media-N: Journal of the New Media Caucus 5. http://median.s151960.gridserver.com/?.

Jaffee, D., and P. H. Howard. 2009. Corporate cooptation of organic and fair trade standards. Agriculture and Human Values 27: 387–399. doi:10.1007/s10460-009-9231-8.

Janzen, T. 2017. America's first Ag data case. Janzen Ag Law.

Jarosz, L. 2000. Understanding agri-food networks as social relations. Agriculture and Human Values 17: 279–283. doi:10.1023/A:1007692303118.

Leach, B. 2011. Gender in a global/local world: Reshaping gender and class in rural spaces. Farnham: Routledge.

Levkoe, C. Z. 2006. Learning democracy through food justice movements. Agriculture and Human Values 23: 89–98. doi:10.1007/s10460-005-5871-5.

Levkoe, C. Z. 2014. The food movement in Canada: A social movement network perspective. Journal of Peasant Studies 41: 385–403. doi:10.1080/03066150.2014.910766.

Levkoe, C. Z., M. Bebee, S. Wakefield, E. Castel, and C. Dávila. 2012. Propagating the food movement: Provincial networks and social mobilization in Canada. Montreal: Food Secure Canada.

Liamputtong, P. 2012. Qualitative research methods, 4th edn. Melbourne: Oxford University Press.

License to Farm. 2016. Berteig imaging.

Liepins, R. 2000. Making men: The construction and representation of agriculture-based masculinities in Australia and New Zealand. Rural Sociology 65: 605–620. doi:10.1111/j.1549-0831.2000.tb00046.x.

Lockie, S. 2006. Networks of agri-environmental action: Temporality, spatiality and identity in agricultural environments. Sociologia Ruralis 46: 22–39. doi:10.1111/j.1467-9523.2006.00400.x.

Lockie, S. 2009. Responsibility and agency within alternative food networks: Assembling the "citizen consumer". Agriculture and Human Values 26: 193–201. doi:10.1007/s10460-008-9155-8.

Lyndsey Smith. 2016. @realloudlyndsey [Twitter moment]. Retrieved from https://twitter.com/realloudlyndsey.

Lynch, D., R. MacRae, and R. C. Martin. 2011. The carbon and global warming potential impacts of organic farming: Does it have a significant role in an energy constrained world? Sustainability 3: 322–362. doi:10.3390/su3020322.

MacRae, R., D. Lynch, and R. C. Martin. 2010. Improving energy efficiency and GHG mitigation potentials in Canadian organic farming systems. Journal of Sustainable Agriculture 34: 549–580. doi:10.1080/10440046.2010.484704.

Matson, P. A., W. J. Parton, A. G. Power, and M. J. Swift. 1997. Agricultural intensification and ecosystem properties. Science 277: 504–509. doi:10.1126/science.277.5325.504.

McInnes, A., E. Fraser, Z. Gedalof, and J. Silver. 2017. A quantitative analysis of food movement convergence in four Canadian provinces. Agriculture and Human Values. doi:10.1007/s10460-017-9775-y.

Morgan, K., and J. Murdoch. 2000. Organic vs. conventional agriculture: Knowledge, power and innovation in the food chain. Geoforum 31: 159–173.

Murdoch, J. 2000. Networks: A new paradigm of rural development? Journal of Rural Studies 16: 407–419. doi:10.1016/S0743-0167(00)00022-X.

Nagel, C. 2016. Real Dirt on farming: Communicating your message with confidence. Farm & Food Care.

O'Neill, K. J. 2014. Situating the "alternative" within the "conventional": Local food experiences from the East Riding of Yorkshire, UK. Journal of Rural Studies 35: 112–122. doi:10.1016/j.jrurstud.2014.04.008.

Ortner, S. B. 1974. Is female to male as nature is to culture? In Woman, culture, and society, eds. M. Z. Rosaldo, and L. Lamphere, 68–87. Stanford, CA: Stanford University Press.

Pini, B. 2004. Managerial masculinities in the Australian sugar industry. Rural Society 14: 22–35. doi:10.5172/rsj.351.14.1.22.

Practical Pathways to Drive Real Results. 2015. Precision agriculture conference. London, ON: Practical Pathways to Drive Real Results.

Rotz, S., and E. D. G. Fraser. 2015. Resilience and the industrial food system: Analyzing the impacts of agricultural industrialization on food system vulnerability. Journal of Environmental Studies and Sciences 5: 459–473. doi:10.1007/s13412-015-0277-1.

Rotz, S., E. D. G. Fraser, and R. C. Martin. 2017. Situating tenure, capital and finance in farmland relations: Implications for stewardship and agroecological health in Ontario, Canada. The Journal of Peasant Studies. doi:10.1080/03066150.2017.1351953.

Ruby, M. B., and S. J. Heine. 2011. Meat, morals, and masculinity. Appetite 56: 447–450. doi:10.1016/j.appet.2011.01.018.

SaskCanola. 2016. License to farm. Saskatoon: SaskCanola.

Sbicca, J. 2015. Food labor, economic inequality, and the imperfect politics of process in the alternative food movement. Agriculture and Human Values 32: 675–687. doi:10.1007/s10460-015-9582-2.

Schneider, M. 2015. Wasting the rural: Meat, manure, and the politics of agro-industrialization in contemporary China. Geoforum. doi:10.1016/j.geoforum.2015.12.001.

Sonnino, R., and T. Marsden. 2006. Beyond the divide: Rethinking relationships between alternative and conventional food networks in Europe. Journal of Economic Geography 6: 181–199. doi:10.1093/jeg/lbi006.

Statistics Canada. 2011. 2011 census of agriculture. Ottawa: Statistics Canada.

Vogt, W. 2016. On a mission to "agvocate". Farm Industry News, October 4.

Weis, T. 2013. The meat of the global food crisis. Journal of Peasant Studies 40: 65–85. doi:10.1080/03066150.2012.752357.

Winson, A. 2004. Bringing political economy into the debate on the obesity epidemic. Agriculture and Human Values 21: 299–312. doi:10.1007/s10460-003-1206-6.

Winson, A. 2013. The industrial diet: The degradation of food and the struggle for healthy eating. Vancouver, BC: UBC Press.

Wolf, S. A., and F. H. Buttel. 1996. The political economy of precision farming. American Journal of Agricultural Economics 78: 1269–1274.

Wright, D. 2015. Monsanto's precision agriculture pipeline and strategy. In Precision agriculture conference. London: Ontario.
Acknowledgements
Thank you to the anonymous reviewers for their helpful comments and suggestions. As well, thank you to all of the research participants. This work is supported by the Social Sciences and Humanities Research Council of Canada (SSHRC) Vanier Canada Graduate Scholarships program (Grant No. CGV-SSHRC-00433).
About this article
Cite this article
Rotz, S. Drawing lines in the cornfield: an analysis of discourse and identity relations across agri-food networks. Agric Hum Values 35, 441–456 (2018). https://doi.org/10.1007/s10460-017-9838-0
Accepted:

Published:

Issue Date:
Keywords
Agri-food networks

Power

Discourse

Identity

Conventional agriculture

Alternative food movements (AFM)