Abstract
One of the deadliest tropical storms on record in Central America is the 1934 tropical storm that resulted in over 3000 fatalities; the majority of fatalities caused by floods, debris flows, and landslides. The hardest hit region was in western Honduras near the city of Ocotepeque, where 64 cm of rain fell on June 4, 1934. The rainfall caused a rock landslide forming a natural dam in a mountain valley above Ocotepeque. The dam failed 3 days later on June 7. The ensuing debris flow destroyed Ocotepeque killing an estimated 486 people, over 10% of the city's population. There was little to no reporting of this disaster due to the city's remote location and lack of adequate communications. Following this event, the city was relocated 4 km north of Ocotepeque and renamed Nueva Ocotepeque. Over time, however, the old location, Ocotepeque, was resettled and called Antigua Ocotepeque. In this study, we examine the 1934 event and the effects of a similar recurrence on both Antigua Ocotepeque and Nueva Ocotepeque. Landslide hazard maps of the area (for shallow landslides) were generated and used to investigate the possibility of landslide dams forming. The potential debris flow inundation areas were predicted, and the effects of potential debris flows were investigated. Deterministic slope stability analyses conducted on the new location indicated that potential landslides could be more significant than suggested by the current hazard maps.
This is a preview of subscription content, log in to check access.
Access options
Buy single article
Instant access to the full article PDF.
US$ 39.95
Price includes VAT for USA
Subscribe to journal
Immediate online access to all issues from 2019. Subscription will auto renew annually.
US$ 99
This is the net price. Taxes to be calculated in checkout.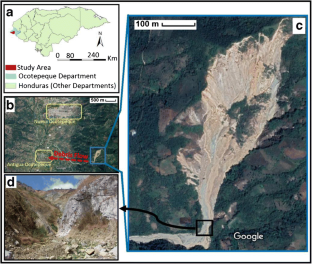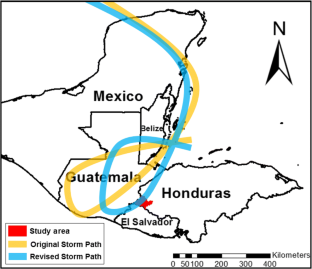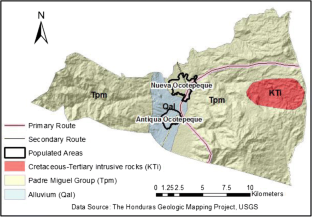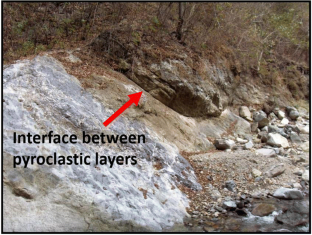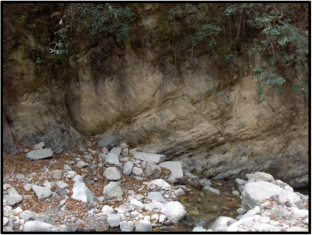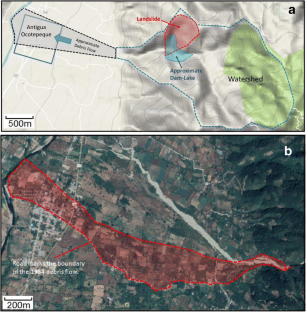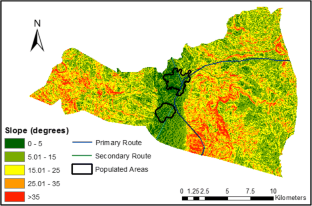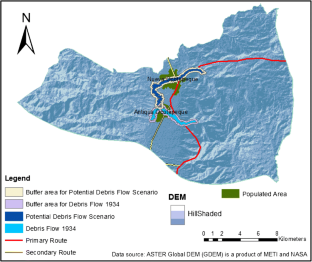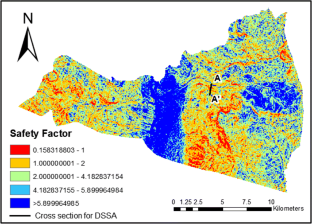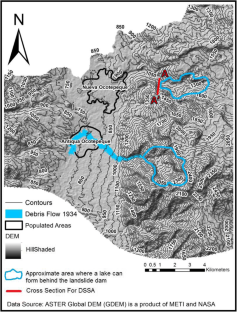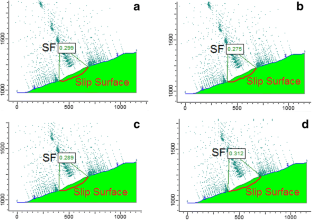 References
Baxter S (1984) Lexico Estratigrafico De El Salvador. Comision Ejecutiva Hidroelectrica Del Rio Lempa. San Salvador, El Salvador

Berti M, Simoni A (2007) Prediction of debris-flow inundation areas using empirical mobility relationships. Geomorphology 90:144–161. https://doi.org/10.1016/j.geomorph.2007.01.014

Bishop AW (1955) The use of slip circle in the stability analysis of slopes. Geotechnique 5:7–17

Bucknam RC, Coe JA, Chavarría MM, Godt JW, Tar AC, Bradley LA, Rafferty S, Hancock D, Dart HL, Johnson ML (2001) Landslides triggered by hurricane Mitch in Guatemala - inventory and discussion. USGS Open-File Report 01-443, p. 1–38

Burkart B, Self S (1985) Extension and rotation of crustal blocks in northern Central America and effects of volcanic arc. Geology 13:22–26

Capra L, Macias JL, Scott K, Abrams M, Garduno-Monroy V (2002) Debris avalanches and debris-flows transformed from collapses in the Trans-Mexican Volcanic Belt, Mexico – behavior, and implications for hazard assessment. J Volcanol Geotherm Res 113:81–110

Costa JE, Schuster RL (1987) The formation and failure of natural dams. U.S. Geological Survey, Open-File Report 87-392, p. 39

Costa JE, Schuster RL (1991) Documented historical landslide dams around the world. U.S. Geological Survey, Open-File Report 91-239, p. 486

Crosta G, Cucchiaro S, Frattini P (2003) Validation of semi-empirical relationships for the definition of debris-flow behavior in granular materials. Proceedings of 3rd International Conference on Debris-flow Hazards Mitigation: Mechanics, Prediction, and Assessment. Millpress, Rotterdam, pp 821–832

Dewey JW, White RA, Hernández DA (2004) Seismicity and tectonics of El Salvador. In: Rose WI, López D, Carr MJ, Major JJ (eds) Natural hazards in El Salvador, vol Special Paper 375. The Geological Society of America, Boulder, pp 363–378

Dong JJ, Lai PJ, Chang CP, Yang SH, Yeh KC, Liao JJ, Pan YW (2014) Deriving landslide dam geometry from remote sensing images for the rapid assessment of critical parameters related to dam-breach hazards. Landslides 11(1):93–105. https://doi.org/10.1007/s10346-012-0375-z

Dunne T (1978) Rates of chemical denudation of silicate rocks in tropical catchments. Nature 274:244–246

Fan X, van Westen CJ, Xu Q, Gorum T, Dai F (2012) Analysis of landslide dams induced by the 2008 Wenchuan earthquake. J Asian Earth Sci 57:5–37

Fischer RA, Fischenich JC (2000) Design recommendations for riparian corridors and vegetated buffer strips. U.S. Army Engineer Research and Development Center, Environmental Laboratory, Vicksburg

Griswold JP (2004) Mobility statistics and hazard mapping for non-volcanic debris-flows and rock avalanches. Master Thesis, Portland State University, Portland, OR

Griswold JP, Iverson RM (2008) Mobility statistics and automated hazard mapping for debris-flows and rock avalanches, US Geological Survey Scientific Investigations Report 5276. US Geological Survey, Reston, p 59

Harp EL, Reid ME, McKenna JP, Michael JA (2009) Mapping of hazard from rainfall-triggered landslides in developing countries: examples from Honduras and Micronesia. Eng Geol 104:295–311

Hijmans R (2016) Free spatial data, DIVA-GIS: (http://www.diva-gis.org/gdata)

Iverson RM, Schilling SP, Vallance JW (1998) Objective delineation of lahar-inundation hazard zones. GSA Bull 110(8):972–984

Janbu N (1954) Application of composite slip surfaces for stability analysis. Proc Eur Conf Stabil Earth Slopes, Stockholm 3:43–49

Janbu N (1973) Slope stability computations. Embankment‐dam engineering. John Wiley and Sons, New York, p 47–86

Korup O (2002) Recent research on landslide dams - a literature review with special attention to New Zealand. Prog Phys Geogr: Earth and Environment 26(2):206–235. https://doi.org/10.1191/0309133302pp333ra

Landsea CW, Hagen A, Bredemeyer W, Carrasco C, Glenn DA, Santiago A, Strahan-Sakoskie D, Dickinson M (2014) A reanalysis of the 1931–43 Atlantic Hurricane Database. J Clim 27:6093–6118

Lewis YW (2008) Geologic controls for landslides in the Central American highlands of northern El Salvador. Master of Science, Michigan Technological University, MI, USA

Mann P (2007) Overview of the tectonic history of northern Central America. The Geological Society of America, Special Paper 428: 1–19

Peng M, Zhang LM (2012) Breaching parameters of landslide dams. Landslides 9:13–31

Rappaport EN, Fernández-Partagás J (1995) The deadliest Atlantic tropical cyclones, 1492-1994. NOAATech.Memo.NWS NHC-47, 41 p. [Available online at http://www.nhc.noaa.gov/pdf/NWS-NHC-1995-47.pdf]

Rico M (1974) Mapa Pedologico De El Salvador [map]. 1st edition. 1:300,000. San Salvador, El Salvador: National University of El Salvador School of Agronomic Sciences, Department of Soils

Scheidl C, Rickenmann D (2010) Empirical prediction of debris-flow mobility and deposition on fans. Earth Surf Process Landf 35:157–173

Schilling SP (1998) LAHARZ: GIS programs for automated mapping of lahar-inundation hazard zones, Open-File Report 98-638, USGS, WA

Schilling SP (2014) Laharz_py—GIS tools for automated mapping of lahar inundation hazard zones. USGS Open-File Report 2014-1073, p. 1–78. https://doi.org/10.3133/ofr20141073

Smith K, Petley DN (2008) Environmental hazards, assessing risk and reducing disaster, fifth edition. Routledge, New York p 414

Spencer E (1967) A method of analysis of the stability of embankments assuming parallel interslice forces. Geotechnique 17:11–26

Swanson FJ, Oyagi N, Tominaga M (1986) Landslide dams in Japan, processes, risk, and mitigation: American society of civil engineers geotechnical special publication 3:131–145

Tacconi Stefanelli C, Catani F, Casagli N (2015) Geomorphological investigations on landslide dams. Geoenvironmental Disasters 2:2–21. https://doi.org/10.1186/s40677-015-0030-9

Tannehill IR (1940) Hurricanes. Their nature and history. Princeton University Press, Princeton, p 257

U.S. Geological Survey (2004) Magnitude 7.7 EL SALVADOR 2001 January 13 17:33:32 UTC. Preliminary Earthquake Report USGS Earthquake Hazards Program: Earthquake Report: El Salvador 19 February 2008 [http://neic.usgs.gov/neis/eq_depot/2001/eq_010113/]

Waythomas C, Miller T, Begér JE (2000) Record of late Holocene debris avalanches and lahars at Iliamna volcano, Alaska. J Volcanol Geotherm Res 104(106):97–130

Wolf RE (2015) Personal communications. Geology Department, Michigan Technological University, Houghton

Yu F, Chen C, Chen T, Hung F, Lin S (2006) A GIS process for delimitating areas potentially endangered by debris-flow. Nat Hazards 37:169–189. https://doi.org/10.1007/s11069-005-4666-8
Acknowledgments
The authors would like to thank Dr. Rüdiger Escobar Wolf from Michigan Technological University for providing help in using MATLAB code for LAHARZ program.
About this article
Cite this article
Sadeghiamirshahidi, M., Vitton, S.J. Tropical storm-induced landslide-dammed lakes and debris flow hazards at Ocotepeque, Western Honduras. Landslides 16, 55–64 (2019). https://doi.org/10.1007/s10346-018-1067-0
Received:

Accepted:

Published:

Issue Date:
Keywords
Landslide dam failure

Debris flow hazard

Slope stability

LAHARZ

Western Honduras