Convergent Surface Water Distributions in U.S. Cities
Abstract
Earth's surface is rapidly urbanizing, resulting in dramatic changes in the abundance, distribution and character of surface water features in urban landscapes. However, the scope and consequences of surface water redistribution at broad spatial scales are not well understood. We hypothesized that urbanization would lead to convergent surface water abundance and distribution: in other words, cities will gain or lose water such that they become more similar to each other than are their surrounding natural landscapes. Using a database of more than 1 million water bodies and 1 million km of streams, we compared the surface water of 100 US cities with their surrounding undeveloped land. We evaluated differences in areal (A WB) and numeric densities (N WB) of water bodies (lakes, wetlands, and so on), the morphological characteristics of water bodies (size), and the density (D C) of surface flow channels (that is, streams and rivers). The variance of urban A WB, N WB, and D C across the 100 MSAs decreased, by 89, 25, and 71%, respectively, compared to undeveloped land. These data show that many cities are surface water poor relative to undeveloped land; however, in drier landscapes urbanization increases the occurrence of surface water. This convergence pattern strengthened with development intensity, such that high intensity urban development had an areal water body density 98% less than undeveloped lands. Urbanization appears to drive the convergence of hydrological features across the US, such that surface water distributions of cities are more similar to each other than to their surrounding landscapes.
Key words:
surface water 
urbanization 
cities 
convergence 
urban streams 
urban water bodies 
hydrography 
Introduction
Surface water plays contrasting roles in cities, both supporting and hindering development of urban landscapes. Streams, rivers, lakes, ponds, and wetlands within urban environments can be important components of water supply and flood control systems; and they provide additional ecosystem services including recreational and aesthetic value (Bolund and Hunhammar 1999), species habitat (Hamer and Parris 2011; McKinney and others 2011), microclimate moderation (Sun and others 2012; Sun and Chen 2012), and removal of pollutants (Grimm and others 2008b). However, when urban land is scarce relative to demand for development, the space occupied by surface water is valuable and often subject to alteration to promote development (Du and others 2010). In addition, surface water can create flooding risks and other hazards to surrounding land, structures, and populations. To increase the area of urban land and control water supply and drainage, humans drain, fill, and bury surface water features. This practice has resulted in substantial loss of stream channels in cities in mesic regions (Elmore and Kaushal 2008; Roy and others 2009; Pataki and others 2011). Alternatively, construction of lakes, ponds, and canals can also increase surface water abundance, particularly of cities in arid regions (Larson and Grimm 2012). However, little attention has been paid to hydrographic change at broader spatial scales, where distinct patterns and processes may emerge (Heffernan and others 2014; Thorp 2014). A broader assessment of how urbanization changes the channel and water body abundance, distribution, and form (hydrography) in cities is essential to understanding both the environmental constraints on land-use change (Dunne and Leopold 1978) and the environmental and societal consequences of rapid and ongoing urbanization of human populations and landscapes (Paul and Meyer 2001; Cohen 2003; Foley and others 2005; Kareiva 2007; Grimm and others 2008a).
We contend that the value of surface water features in urban environments, relative to dry land, increases as a function of their scarcity. Accordingly, we hypothesize that this relationship drives patterns in the alteration of urban surface water distributions. If true, the difference in surface water coverage between urban and surrounding undeveloped land should be positive (urban > undeveloped), where surface water is rare, but negative (urban < undeveloped) where it is abundant. As a result, urbanization at continental scales should lead to lower variation in surface water abundance across cities relative to variation among their surrounding undeveloped hydroscapes. This pattern would show that urban surface water converges on a specific form, as observed in the constructed components of the urban environment (Seto and Fragkias 2005). Moreover, these patterns should be strongest in intensely developed urban areas, where land is most highly altered.
The objective of this study was to compare the characteristics of surface water (hydrography) of urban land cover to that of surrounding undeveloped land. We investigated urban hydrography using a database of more than 1 million water bodies (that is, lakes, ponds, wetland, marshes, reservoirs) and 1 million km of stream channels from 100 Metropolitan Statistical Areas (MSAs). Hydrographic measures of % water body coverage (A WB), water body density (N WB), and channel density (D C) for each land cover type were calculated using surface water features from the National Hydrography Dataset. These hydrographic characteristics were compared to the surrounding land cover in each MSA.
Methods
We selected 100 cities with a defined MSA from the continental United States. The United States Office of Management and Budget defines an MSA as an urban core with population of at least 50,000 and associated counties with a high degree of social and economic integration (as measured by commuting to work) with the urban core (Census Bureau 2012). To ensure a representative sample of continental US cities, cities were categorized by their designated ecological regions as established by the National Ecological Observatory Network (NEON 2010). The number of MSAs selected from each ecological region was weighted based on the proportion of MSAs present. Cities were also categorized by population size into five groups. Within each eco-region, cities were randomly selected to generate roughly equal representation from each population group, so the MSAs were dispersed through the eco-region. Six cities were specifically included as part of a broader study of urban homogenization (Groffman and others 2014). Otherwise, cities were chosen "blind" to avoid biases (that is, the selector did not know the name of the MSA/city during selection). This method was chosen over a completely randomized selection process because cities with small populations in the US are more abundant than larger cities. Our selection process provided a more balanced distribution across population gradients.
We categorized land cover in each MSA using the 2006 National Land Cover Data (NLCD). The NLCD classes were grouped into five categories: urban open area (NLCD = 21), urban low intensity (NLCD = 22), urban medium intensity (NLCD = 23), urban high intensity (NLCD = 24), agriculture (NLCD = 81, 82), and "undeveloped" (all remaining NLCD). Using ArcGIS (v10) we calculated the majority land cover of every census block group (CBG) in the MSA. In the few instances where water (a land-cover category in the NLCD) was calculated as the majority land cover in a CBG, the non-water land cover was assigned by hand based on the classification of the surrounding CBGs. The water coverage from NLCD was not used in any further analysis.
Surface water data layers were obtained from the National Hydrography Dataset (NHD). Features included inland water bodies (that is, lakes/ponds, reservoirs, swamps/marshes), those in coastal and estuarine systems, and surface flow lines. The maximum resolution of the NHD high-resolution data is 1:5,000, but varies by state. Although there is no known estimate of the percentage of missing water bodies from this dataset, we recognized that the number of missing stream channels may be as high as 78% at this scale (Roy and others 2009). The length of streams converted to storm drains or buried underground are likely more dense in urbanized areas and no longer appear in this data as streams; however, there is no evidence that the errors of omission for streams are greater in urban areas. Despite its limitations, NHD remains the most comprehensive coverage at the national scale. NHD uses feature codes (FCodes) to categorize water bodies in to different feature domains. FCodes in this study were grouped into several different classes: perennial lakes and ponds, intermittent lakes and ponds, swamps and marshes, water storage reservoirs, other reservoirs, perennial streams and rivers, intermittent and ephemeral streams and rivers, and canals/ditches.
The hydrography data layers were intersected with the CBG land-cover layer to categorize each feature by its surrounding land cover. For the undeveloped land we used the NHD feature point data to locate all of the water bodies with dams in the undeveloped land class. The NHD data contains the location of dams in the United States, primarily based on the National Dam Inventory; however, only larger dams are included in this study (see Army Corps of Engineers (2013) for full description of criteria). Dammed water bodies were identified by the points that intersected the water bodies with a 10 m buffer to account for minor mapping variations. Intermittent water bodies were also removed so that only perennial features were included. Otherwise, for each land-cover category, we summed the number and area of water bodies and then divided by the total land area in each category to calculate the density of water bodies and the percentage of area covered by water. We summed the channel lengths and divided by land area to calculate channel density.
Water Body Size Distributions
To assess the convergence of water body characteristics, we analyzed the effect of land cover on water body size distributions (SD WB). We calculated the median water body size in each land-cover type for all 100 MSAs. However, because the frequency distribution of water body sizes is poorly described by means or medians, we also described and compared these distributions based on Pareto distribution parameters. The shape of the Pareto distribution can be described by its slope (β Size), which becomes increasingly negative as the number of small water bodies increases (Downing and others 2006). We calculated β Size as the linear slope of the log–log transformed frequency distribution for all n > size class (x).
Data Analysis
Data analysis was conducted on the aggregate of the census block groups in each land category for every MSA. For example, to calculate percent water coverage we summed the area of all water bodies classified as "urban" in the MSA, and divided that sum by the total urban land area in the MSA. We compared the % water body coverage (A WB), water body density (N WB), and channel density (D C) of land-cover classes with a univariate analysis of variance and Tukey's post-hoc mean comparison. The A WB, N WB, and D C data were log-transformed prior to analysis to normalize distributions.
We define convergence as the process of becoming more similar such that differences between extremes decrease. We evaluated two predictions of the urban convergence hypothesis as it applies to hydrography: first, the variance of hydrographic parameters (
X
 = any hydrographic parameter) in the urban land cover is less than the variance of these parameters in the undeveloped land cover (Figure 
1
, Panel 1). Second, the difference between the undeveloped and urban land (the urban minus undeveloped value or "Δ
X
") must be positive at the low end of the range and negative at the high end of the range, assuming the value on which the parameters converge falls within the range of the undeveloped land (Figure 
1
, Panel 2). For example, if
A
and
B
represent high and low measures of undeveloped hydrographic parameters (
A
WB
,
N
WB
,
SD
WB
, or
D
C
), while
A
′ and
B
′ represent the expected corresponding urban measure; as hydrography converges,
A
′ and
B
′ will have a more tightly constrained range. If convergence was not occurring
A
′ and
B
′ would fall closely to the 1:1 line (Figure 
1
, Panel 2). Hereafter, we use Δ
A
WB
, Δ
N
WB
, Δ
SD
WB
, and Δ
D
C
as abbreviations for the difference between urban and undeveloped lands in terms of water body areal coverage, numeric density, size distribution, and channel density, respectively.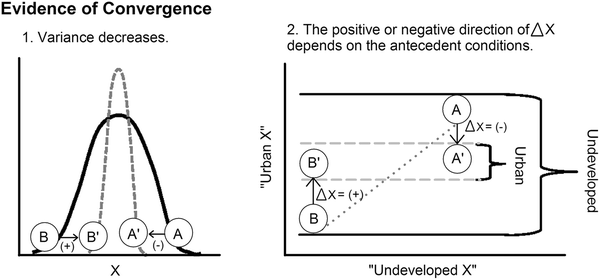 We tested for convergence indicators using two different estimates from the surrounding landscape to answer different questions regarding convergence. First, we compared urban versus non-urban land to test if urban hydroscapes are converging relative to all surrounding land, regardless of human alterations to the surrounding land. The non-urban land in this comparison included water bodies that originated from dams and those that occurred within agricultural development. Second, to test if urban hydroscapes are converging relative to minimally disturbed hydroscapes, we compared urban versus undeveloped land cover without dams. Although any space for time substitution limits the inferences regarding change, this comparison provides the best method for understanding how urban hydroscapes may have changed. We made this comparison without dams because we assume the hydrographic parameters (specifically A WB) without dams to be a more accurate estimate of the antecedent hydrography. Convergence of A WB (the parameter most likely to be impacted by dams) was tested both with and without dams. We compared the degree of convergence in different urban land covers (open area, low, medium, and high intensity) using the undeveloped land cover without large dams. MSAs were also categorized by population size into three categories: small (<250,000 people, n = 33), medium (250,000–1 million people, n = 34), and large (>1 million people, n = 33). The convergence indicators were calculated for each population category.
To assess whether changes in the area of surface water were associated with changes in the number of water bodies, we examined the relationship between ΔA WB and ΔN WB across the 100 cities. A positive relationship between these variables would suggest that gain or loss of surface water occurs simply through the addition or removal of water features, but other combinations are possible. We categorized each city into one of four groups based on the values of these two measures: wetter (ΔA WB > 0, ΔN WB > 0), drier (ΔA WB < 0, ΔN WB < 0), fragmented (ΔA WB < 0, ΔN WB > 0), and consolidated (ΔA WB > 0, ΔN WB < 0). Cities in the "wetter" category had larger area and numbers than their undeveloped landscapes. Conversely, cities in the "drier" category had smaller area and numbers than their undeveloped landscapes. Cities in the "fragmented" and "consolidated" categories had more complex differences. Cities in the "fragmented" category had smaller water body area, but larger numbers of water bodies, whereas cities in the "consolidated" category had a larger water body area, but were fewer in number. IBM SPSS v20 was used for all statistical procedures.
Results
Hydrography of Undeveloped Land Cover
This study included 1,048,365 water bodies, 1,380,638 km of flow paths, and a land area of 991,274 km
2
, which is approximately 11% of the land area in the contiguous United States. Surface water abundance in the undeveloped land of the MSAs followed expected broad scale trends in precipitation and topography (Figure 
2
). Water bodies in the mesic eastern US covered more area and were spatially denser than in the west, with regional highs along the coasts. MSAs in the Appalachian Mountains were an exception to this pattern, having minimal area (
A
WB
) and number (
N
WB
) of water bodies. Hereafter, we define "dry" regions with minimal surface water abundance to include both the arid southwest and mountainous regions, such as Appalachia. Channel density (
D
C
) followed a somewhat more complex spatial pattern related to topography, with the highest densities in mountainous regions and minimal density in flat coastal regions. The abundance of surface water features in the urban land cover of the MSAs only weakly followed the geographic patterns exhibited in undeveloped land (Figure 
2
).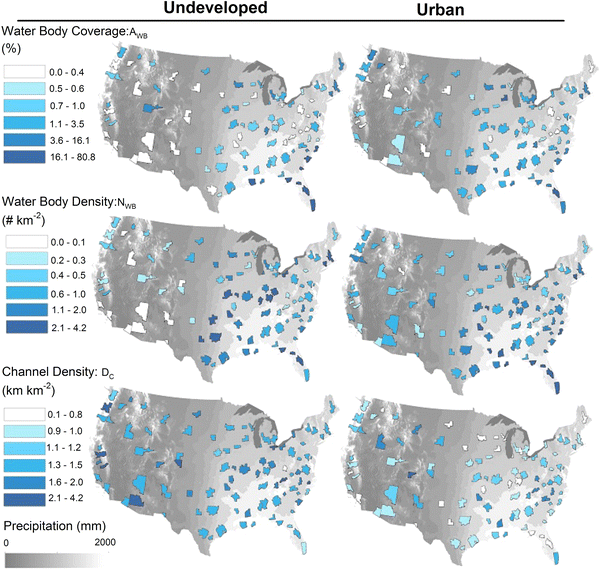 Evidence of Convergence
As urban development intensity increased the variance in A WB and N WB decreased. For example, the variance of A WB decreased by 76% in open area and 98% in high intensity urban development compared to undeveloped lands. The decrease in variance coincided with a decrease in the median surface water abundance, suggesting the abundance on which hydrography is converging is lower than the median surface water abundance of the undeveloped land (Figure 3). Compared to undeveloped land, the median A WB decreased by 47, 64, and 74% in low, medium, and high intensity urban land, respectively. A parallel trend was observed for D C, which decreased by 28% in the low intensity and 48% in medium and high intensity urban land cover relative to undeveloped land. The variance of D C remained relatively constant across the urban intensity classes, but was much less than the undeveloped D C for all urban development intensities.
City size and the exclusion of either dams or agricultural land cover in the surrounding land had minimal impact on the results. The variance of all non-urban land was lower than that of the undeveloped land by 24, 6, and 18% for A WB, N WB, and D C, respectively; however, the variance of all non-urban land was still larger than the urban land covers. The variation in undeveloped land parameters was also very similar with and without dams. Likewise, no differences were identified between the city size categories for any of hydrographic parameters, nor for the indicators of convergence (data not shown).
Conclusions
Differences between urban and undeveloped hydrography reveal the environmental context of surface water abundance. We observed lower variance in surface water abundance parameters amongst urban lands than amongst their undeveloped counterpart, converging on a central value. Urbanization results in a tightly constrained range of urban hydrographic characteristics, at least within US cities. As such, the loss of spatial heterogeneity across the country indicates that the built environment may be a stronger predictor of the abundance of surface water features than climate and topography, two of the most fundamental drivers of large-scale patterns in nature.
Notes
Acknowledgements
We thank Emily Bernhardt, Martin Doyle, Jacqueline Aitkenhead-Peterson, Allison Appling, and the anonymous reviewers for helpful comments on earlier drafts of this manuscript. This research was supported by grants from the National Science Foundation's Macrosystems Biology program (NSF EF #1065785).
Copyright information
© The Author(s) 2014
Open AccessThis article is distributed under the terms of the Creative Commons Attribution License which permits any use, distribution, and reproduction in any medium, provided the original author(s) and the source are credited.