Abstract
Transglutaminase 2 (TG2) is a multifunctional protein with diverse catalytic activities and biological roles. Its best studied function is the Ca2+-dependent transamidase activity leading to formation of γ-glutamyl-ε-lysine isopeptide crosslinks between proteins and γ-glutamyl-amine derivatives. TG2 has a poorly studied isopeptidase activity cleaving these bonds. We have developed and characterised TG2 mutants which are significantly deficient in transamidase activity while have normal or increased isopeptidase activity (W332F) and vice versa (W278F). The W332F mutation led to significant changes of both the K m and the V max kinetic parameters of the isopeptidase reaction of TG2 while its calcium and GTP sensitivity was similar to the wild-type enzyme. The W278F mutation resulted in six times elevated amine incorporating transamidase activity demonstrating the regulatory significance of W278 and W332 in TG2 and that mutations can change opposed activities located at the same active site. The further application of our results in cellular systems may help to understand TG2-driven physiological and pathological processes better and lead to novel therapeutic approaches where an increased amount of crosslinked proteins correlates with the manifestation of degenerative disorders.
Access options
Buy single article
Instant access to the full article PDF.
USD 39.95
Price includes VAT (USA)
Tax calculation will be finalised during checkout.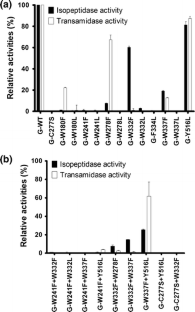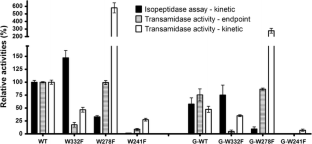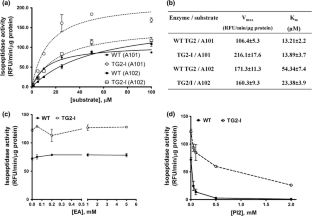 References
Adamczyk M, Heil A, Aeschlimann D (2013) Real-time fluorescence assay for monitoring transglutaminase activity. BMG LABTECH's Application Note 234, Rev. 04/2013

Chica RA, Gagnon P, Keillor JW, Pelletier JN (2004) Tissue transglutaminase acylation: proposed role of conserved active site Tyr and Trp residues revealed by molecular modeling of peptide substrate binding. Protein Sci 13:979–991

Eckert RL, Kaartinen MT, Nurminskaya M, Belkin AM, Colak G, Johnson GV, Mehta K (2014) Transglutaminase regulation of cell function. Physiol Rev 94:383–417

Fleckenstein B, Molberg Ø, Qiao SW, Schmid DG, von der Mülbe F, Elgstøen K, Jung G, Sollid LM (2002) Gliadin T cell epitope selection by tissue transglutaminase in celiac disease. Role of enzyme specificity and pH influence on the transamidation versus deamidation process. J Biol Chem 277:34109–34116

Folk JE, Cole PW, Mullooly JP (1967) Mechanism of action of guinea pig liver transglutaminase. 3. The metal-dependent hydrolysis of p-nitrophenyl acetate; further observations on the role of metal in enzyme activation. J Biol Chem 242:2615–2621

Gentile V, Saydak M, Chiocca EA, Akande O, Birckbichler PJ, Lee KN, Stein JP, Davies PJ (1991) Isolation and characterization of cDNA clones to mouse macrophage and human endothelial cell tissue transglutaminases. J Biol Chem 266:478–483

Guilluy C, Rolli-Derkinderen M, Tharaux PL, Melino G, Pacaud P, Lorand G (2007) Transglutaminase-dependent RhoA activation and depletion by serotonin in vascular smooth muscle cells. J Biol Chem 282:2918–2928

Gundemir S, Johnson GV (2009) Intracellular localization and conformational state of transglutaminase 2: implications for cell death. PLoS One 4(7):e6123. doi:10.1371/journal.pone.0006123

Ichinose A, Aoki N (1982) Reversible cross-linking of alpha 2-plasmin inhibitor to fibrinogen by fibrin-stabilizing factor. Biochim Biophys Acta 706:158–164

Iismaa SE, Holman S, Wouters MA, Lorand L, Graham RM, Husain A (2003) Evolutionary specialization of a tryptophan indole group for transition-state stabilization by eukaryotic transglutaminases. Proc Natl Acad Sci USA 100:12636–12641

Iismaa SE, Mearns BM, Lorand L, Graham RM (2009) Transglutaminases and disease: lessons from genetically engineered mouse models and inherited disorders. Physiol Rev 89:991–1023

Johnson TS, Fisher M, Haylor JL, Hau Z, Skill NJ, Jones R, Saint R, Coutts I, Vickers ME, El Nahas AM, Griffin M (2007) Transglutaminase inhibition reduces fibrosis and preserves function in experimental chronic kidney disease. J Am Soc Nephrol 18:3078–3088

Kanchan K, Ergülen E, Király R, Simon-Vecsei Z, Fuxreiter M, Fésüs L (2013) Identification of a specific one amino acid change in recombinant human transglutaminase 2 that regulates its activity and calcium sensitivity. Biochem J 455:261–272

Keillor JW, Chica RA, Chabot N, Vinci V, Pardin C, Fortin E, Gillet SMFG, Nakano Y, Kaartinen MT, Pelletier JN, Lubell WD (2008) The bioorganic chemistry of transglutaminase: from mechanism to inhibition and engineering. Can J Chem 86:271–276

Keillor JW, Clouthier CM, Apperley KY, Akbar A, Mulani A (2014) Acyl transfer mechanisms of tissue transglutaminase. Bioorg Chem 57:186–197

Király R, Csosz E, Kurtán T, Antus S, Szigeti K, Simon-Vecsei Z, Korponay-Szabó IR, Keresztessy Z, Fésüs L (2009) Functional significance of five noncanonical Ca2+-binding sites of human transglutaminase 2 characterized by site-directed mutagenesis. FEBS J 276:7083–7096

Király R, Barta E, Fésüs L (2013) Polymorphism of transglutaminase 2: unusually low frequency of genomic variants with deficient functions. Amino Acids 44:215–225

Lai TS, Greenberg CS (2013) Histaminylation of fibrinogen by tissue transglutaminase-2 (TGM-2): potential role in modulating inflammation. Amino Acids 45:857–864

Liu S, Cerione RA, Clardy J (2002) Structural basis for the guanine nucleotide-binding activity of tissue transglutaminase and its regulation of transamidation activity. Proc Natl Acad Sci USA 99:2743–2747

Lorand L, Graham RM (2003) Transglutaminases: crosslinking enzymes with pleiotropic functions. Nat Rev Mol Cell Biol 4:140–156

Lorand L, Stern AM, Velasco PT (1998) Novel inhibitors against the transglutaminase-catalysed crosslinking of lens proteins. Exp Eye Res 66:531–536

Mádi A, Punyiczki M, di Rao M, Piacentini M, Fésüs L (1998) Biochemical characterization and localization of transglutaminase in wild-type and cell-death mutants of the nematode Caenorhabditis elegans. Eur J Biochem 253:583–590

Martin A, Giuliano A, Collaro D, De Vivo G, Sedia C, Serretiello E, Gentile V (2013) Possible involvement of transglutaminase-catalyzed reactions in the physiopathology of neurodegenerative diseases. Amino Acids 44:111–118

McEwen DP, Gee KR, Kang HC, Neubig RR (2001) Fluorescent BODIPY-GTP analogs: real-time measurement of nucleotide binding to G proteins. Anal Biochem 291:109–117

Mimuro J, Kimura S, Aoki N (1986) Release of alpha 2-plasmin inhibitor from plasma fibrin clots by activated coagulation factor XIII. Its effect on fibrinolysis. J Clin Invest 77:1006–1013

Murthy SN, Iismaa S, Begg G, Freymann DM, Graham RM, Lorand L (2002) Conserved tryptophan in the core domain of transglutaminase is essential for catalytic activity. Proc Natl Acad Sci USA 99:2738–2742

Parameswaran KN, Cheng XF, Chen EC, Velasco PT, Wilson JH, Lorand L (1997) Hydrolysis of gamma:epsilon isopeptides by cytosolic transglutaminases and by coagulation factor XIIIa. J Biol Chem 272:10311–10317

Paulmann N, Grohmann M, Voigt JP, Bert B, Vowinckel J, Bader M, Skelin M, Jevsek M, Fink H, Rupnik M, Walther DJ (2009) Intracellular serotonin modulates insulin secretion from pancreatic beta-cells by protein serotonylation. PLoS Biol 7(10):e1000229. doi:10.1371/journal.pbio.1000229

Perez Alea M, Kitamura M, Martin G, Thomas V, Hitomi K, El Alaoui S (2009) Development of an isoenzyme-specific colorimetric assay for tissue transglutaminase 2 cross-linking activity. Anal Biochem 389:150–156

Pinkas DM, Strop P, Brunger AT, Khosla C (2007) Transglutaminase 2 undergoes a large conformational change upon activation. PLoS Biol 5(12):e327

Qiao SW, Piper J, Haraldsen G, Oynebråten I, Fleckenstein B, Molberg O, Khosla C, Sollid LM (2005) Tissue transglutaminase-mediated formation and cleavage of histamine-gliadin complexes: biological effects and implications for celiac disease. J Immunol 174:1657–1663

Raczyński G, Snochowski M, Buraczewski S (1975) Metabolism of epsilon-(gamma-l-glutamyl)-l-lysine in the rat. Br J Nutr 34:291–296

Ruan Q, Tucholski J, Gundemir S, Johnson Voll GV (2008) The differential effects of R580A mutation on transamidation and GTP binding activity of rat and human type 2 transglutaminase. Int J Clin Exp Med 1:248–259

Shan L, Molberg Ø, Parrot I, Hausch F, Filiz F, Gray GM, Sollid LM, Khosla C (2002) Structural basis for gluten intolerance in celiac sprue. Science 297:2275

Tarcsa E, Fesus L (1990) Determination of epsilon (gamma-glutamyl)lysine crosslink in proteins using phenylisothiocyanate derivatization and high-pressure liquid chromatographic separation. Anal Biochem 186:135–140

Vowinckel J, Stahlberg S, Paulmann N, Bluemlein K, Grohmann M, Ralser M, Walther DJ (2012) Histaminylation of glutamine residues is a novel posttranslational modification implicated in G-protein signaling. FEBS Lett 586:3819–3824

Wang Z, Griffin M (2012) TG2, a novel extracellular protein with multiple functions. Amino Acids 42:939–949
Acknowledgments
The authors are grateful to Dr. Máté Demény for the critical reading of the manuscript. This work was supported by the Research University grant from University of Debrecen (RH/885/2013), the Hungarian Scientific Research Fund (OTKA NK 105046), the New Hungary Development Plan via the TÁMOP-4.2.2.A-11/1/KONV-2012-0023 "VÉD-ELEM" project co-financed by the European Social Fund, the European Union Framework Programme 7 TRANSCOM IAPP 251506 and TRANSPATH ITN 289964 and the European Union and the State of Hungary, co-financed by the European Social Fund in the framework of the TÁMOP 4.2.4. A/2-11-1-2012-0001 'National Excellence Programme' which provided personal support to R.K.
Ethics declarations
Conflict of interest
The authors declare that they have no conflict of interest.
Additional information
László Fésüs and Martin Griffin have contributed equally to this study.
Handling Editor: S. Beninati.
Electronic supplementary material
Below is the link to the electronic supplementary material.
About this article
Cite this article
Király, R., Thangaraju, K., Nagy, Z. et al. Isopeptidase activity of human transglutaminase 2: disconnection from transamidation and characterization by kinetic parameters. Amino Acids 48, 31–40 (2016). https://doi.org/10.1007/s00726-015-2063-5
Received:

Accepted:

Published:

Issue Date:
Keywords
Human transglutaminase 2

Isopeptidase activity

γ-Glutamyl-hydrolase

Transamidation

Regulation of activities

Moonlighting enzyme