Abstract
This qualitative study explores consumers' understanding of sustainability in the food sector. The paper identifies different mental structures of the concept (nominal, ordinal, cluster, hierarchy) and taps into the underlying motivation and goals driving evaluations of sustainability.
Diese qualitative Studie untersucht das Verständnis der Verbraucher für Nachhaltigkeit im Lebensmittelbereich. Der Artikel identifiziert verschiedene mentale Strukturen, wie das Konzept verankert ist (nominal, ordinal, Cluster, hierarchisch) und beleuchtet die zugrundeliegenden Motive und Ziele, welche die Bewertungen der Nachhaltigkeit bestimmen.
Access options
Buy single article
Instant access to the full article PDF.
US$ 39.95
Tax calculation will be finalised during checkout.
Subscribe to journal
Immediate online access to all issues from 2019. Subscription will auto renew annually.
US$ 74.28
Tax calculation will be finalised during checkout.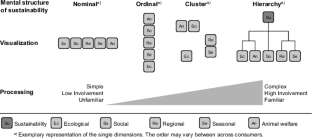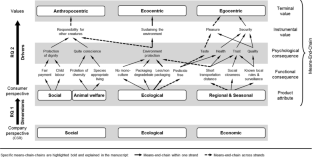 References
Aguinis H, Glavas A (2012) What we know and don't know about corporate social responsibility: a review and research agenda. J Manage 38(4):932–968

Arsil P, Li E, Bruwer J, Lyons G (2014) Exploring consumer motivations towards buying local fresh food products: a means-end chain approach. Br Food J 116(10):1533–1549

Axjonow A, Ernstberger J, Pott C (2016) Auswirkungen der CSR-Berichterstattung auf die Unternehmensreputation. uwf 24(2–3):215–221

Burlingame B, Dernini S (2012) Sustainable diets and biodiversity: directions and solutions for policy, research and action. International scientific symposium, biodiversity and sustainable diets united against hunger, FAO Headquarters, Rome, 3–5 November 2010.

Cheng B, Ioannou I, Serafeim G (2014) Corporate social responsibility and access to finance. Strateg Manag J 35(1):1–23

Cominetti M, Seele P (2016) Hard soft law or soft hard law? A content analysis of CSR guidelines typologized along hybrid legal status. uwf 24(2–3):127–140

Costanigro M, McCluskey JJ, Goemans C (2010) The economics of nested names: name specificity, reputations, and price premia. Am J Agric Econ 92(5):1339–1350

Davidson MD (2013) On the relation between ecosystem services, intrinsic value, existence value and economic valuation. Ecol Econ 95:171–177

Deselnicu OC, Costanigro M, Souza-Monteiro DM, McFadden DT (2013) A meta-analysis of geographical indication food valuation studies: What drives the premium for origin-based labels? J Agric Resour Econ 38(2):204–219

Di Giuli A, Kostovetsky L (2014) Are red or blue companies more likely to go green? Politics and corporate social responsibility. J Financ Econ 111(1):158–180

Duchin F (2005) Sustainable consumption of food: a framework for analyzing scenarios about changes in diets. J Ind Ecol 9(1–2):99–114

Gold S, Hahn R, Seuring S (2013) Sustainable supply chain management in "Base of the Pyramid" food projects – a path to triple bottom line approaches for multinationals? Int Bus Rev 22:784–799

Gonzalez-Rodriguez MR, Diaz-Fernandez MC, Simonetti B (2015) The social, economic and environmental dimensions of corporate social responsibility: the role played by consumers and potential entrepreneurs. Int Bus Rev 24(5):836–848

Gutman J (1982) A means-end chain model based on consumer categorization processes. J Mark 46(2):60–72

Iyer G, Soberman DA (2016) Social responsibility and product innovation. Mark Sci 35(5):727–742

Johansson JK, Douglas SP, Nonaka I (1985) Assessing the impact of country of origin on product evaluations: a new methodological perspective. J Mark Res 22(4):388–396

Korschun D, Bhattacharya CB, Swain SD (2014) Corporate social responsibility, customer orientation, and the job performance of frontline employees. J Mark 78(3):20–37

Kortenkamp K, Moore C (2001) Ecocentrism and anthropocentrism: moral reasoning about ecological commons dilemmas. J Environ Psychol 21:261–272

Kuckartz U (2014) Qualitative Inhaltsanalyse. Methoden, Praxis, Computerunterstützung, 2nd edn. Beltz Juventa, Weinheim

Kühling J (2014) Nachhaltiger Konsum und individuelle Konsumwahl: Eine Analyse umweltfreundlichen Konsumverhaltens. Metropolis, Marburg

Lee JK, Lee BK, Lee WN (2013) Country-of-origin fit's effect on consumer product evaluation in cross-border strategic brand alliance. J Bus Res 66(3):354–363

Lins KV, Servaes H, Tamayo A (2017) Social capital, trust, and firm performance: the value of corporate social responsibility during the financial crisis. J Finance. doi:10.1111/jofi.12505

Mishra S, Modi SB (2016) Corporate social responsibility and shareholder wealth: the role of marketing capability. J Mark 80(1):26–46

Neßler C, Lis B (2015) Das Ökonomische Prinzip und Unternehmensverantwortung: Corporate Social Responsibility als Marktkraft. uwf 23(4):145–151

Otto Group (2013) Lebensqualität. Konsumethik zwischen persönlichem Vorteil und sozialer Verantwortung (Otto Group Trendstudie 2013, 4. Studie zum ethischen Konsum)

Revell BJ (2015) One man's meat… 2050? Ruminations on future meat demand in the context of global warming. J Agric Econ 66(3):573–614

Rokeach M (1973) The nature of human values. Free Press, New York

Schrempf-Stirling J, Palazzo G, Phillips RA (2016) Historic corporate social responsibility. Acad Manage Rev 41(4):700–719

Schwartz SH (1977) Normative influence on altruism. In: Berkowitz L (ed) Advances in experimental social psychology, vol 10. Academic Press, New York, pp 221–279

Soyez K, Hoffmann S, Wünschmann S, Gelbrich K (2009) Pro-environmental value orientation across cultures. Development of a German and Russian scale. Soc Psychol 40(4):222–233

Spiggle S (1994) Analysis and interpretation of qualitative data in consumer research. J Consum Res 21(3):491–503

Stern PC, Dietz T, Guagnano G (1995) The new ecological paradigm in social-psychological context. Environ Behav 27(6):723–743
Funding
This research was funded by the German Federal Ministry of Education and Research (BMBF), project TransKoll (grant 01UT1414A) as part of the framework program 'Sozial-ökologischen Forschung (SÖF)' with focus on 'Nachhaltiges Wirtschaften'.
Ethics declarations
Conflict of interest
T. Joerß, P. Akbar, R. Mai and S. Hoffmann declare that they have no competing interests.
Appendix
Appendix
About this article
Cite this article
Joerß, T., Akbar, P., Mai, R. et al. Conceptualizing sustainability from a consumer perspective. uwf 25, 15–23 (2017). https://doi.org/10.1007/s00550-017-0452-9
Keywords
Sustainability

Sustainable Consumption

Corporate Social Responsibility

Qualitative Interviews

Values
Schlüsselwörter
Nachhaltigkeit

Nachhaltiger Konsum

Corporate Social Responsibility

Qualitative Interviews

Werte