Abstract
Swallowing evaluations are often delayed at least 24 h following extubation with the assumption that swallow function improves over time. The purpose of this prospective cohort study was to determine if dysphagia, as measured by aspiration and need for diet modification, declines over the first 24-h post-extubation, whereby providing evidence-based evaluation guidelines for this population. Forty-nine patients completed FEES at 2–4 h post-extubation and 24–26 h post-extubation. We compared Penetration–Aspiration Scale scores and diet recommendation between time points. Multivariable logistic regression models were created to investigate associations between age, reason for admission, reason for intubation, and a history of COPD and outcomes of aspiration or silent aspiration at either FEES exam. Sixty-nine percent of participants safely swallowed at least one texture without aspiration at 2–4 h post-extubation. Within participants, there was a significant decrease in penetration/aspiration at 24 h and 79% showed improvement in airway protection on at least one bolus type, suggesting an improvement in swallow function over the first day following extubation. These findings suggest that although patients may be safe to begin a modified diet soon after extubation, delaying evaluation until 24-h post-extubation may allow for a less restricted diet.
Access options
Buy single article
Instant access to the full article PDF.
US$ 39.95
Tax calculation will be finalised during checkout.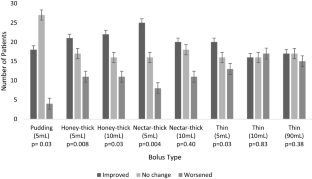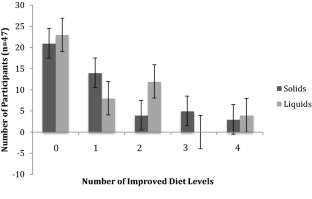 References
1.

Ajemain MS, Nirmul GB, Anderson MT, Zirlen DM, Kwasnik EM. Routine fiberoptic endoscopic evaluation of swallowing following prolonged intubation. Arch Surg. 2001;136:434–7.

2.

Barker J, Martino R, Reichardt B, Hickey EJ, Ralph-edwards A. Incidence and impact of dysphagia in patients receiving prolonged endotracheal intubation after cardiac surgery. Can J Surg. 2009;52:119–24.

3.

Bordon A, Bokhari R, Sperry J, Testa D, Feinstein A, Ghaemmaghami V. Swallowing dysfunction after prolonged intubation: analysis of risk factors in trauma patients. Am J Surg. 2011;202:679–823. https://doi.org/10.1016/j.amjsurg.2011.06.030.

4.

Colice G, Stukel T, Dain B. Laryngeal complications of prolonged intubation. Chest. 1989;96:877–84. https://doi.org/10.1378/chest.96.4.877.

5.

El Solh A, Okada M, Bhat A, Pietrantoni C. Swallowing disorders post orotracheal intubation in the elderly. Intensive Care Med. 2003;29:1451–5. https://doi.org/10.1007/s00134-003-1870-4.

6.

Kwok AM, Davis JW, Cagle KM, Sue LP, Kaups KL. Post-extubation dysphagia in trauma patients: it's hard to swallow. Am J Surg. 2013;206:924–8. https://doi.org/10.1016/j.amjsurg.2013.08.010.

7.

Macht M, White SD, Moss M. Swallowing dysfunction after critical illness. Chest. 2014;146:1681–9. https://doi.org/10.1378/chest.14-1133.

8.

Ferraris VA, Ferraris SP, Moritz DM, Welch S. Oropharyngeal dysphagia after cardiac operations. Ann Thorac Surg. 2001;71:1792–6. https://doi.org/10.1016/S0003-4975(01)02640-6.

9.

Macht M, King CJ, Wimbish T, Clark BJ, Benson AB, Burnham EL, et al. Post-extubation dysphagia is associated with longer hospitalization in survivors of critical illness with neurologic impairment. Crit Care. 2013;17:R119. https://doi.org/10.1186/cc12791.

10.

Skoretz SA, Flowers HL, Martino R. The incidence of dysphagia following endotracheal intubation: a systematic review. Chest. 2010;137:665–73. https://doi.org/10.1378/chest.09-1823.

11.

Scheel R, Pisegna JM, McNally E, Noordzij JP, Langmore SE. Endoscopic assessment of swallowing after prolonged intubation in the ICU setting. Ann Otol Rhinol Laryngol. 2016;125:43–52. https://doi.org/10.1177/0003489415596755.

12.

Hafner G, Neuhuber A, Hirtenfelder S, Schmedler B, Eckel HE. Fiberoptic endoscopic evaluation of swallowing in intensive care unit patients. Eur Arch Otorhinolaryngol. 2008;265:441–6. https://doi.org/10.1007/s00405-007-0507-6.

13.

Macht M, Wimbish T, Clark BJ, Benson AB, Burnham EL, Williams A, et al. Postextubation dysphagia is persistent and associated with poor outcomes in survivors of critical illness. Crit Care. 2011;15:R231. https://doi.org/10.1186/cc10472.

14.

Macht M, Wimbish T, Clark BJ, Benson AB, Burnham EL, Williams A, et al. Diagnosis and treatment of post-extubation dysphagia: Results from a national survey. J Crit Care. 2012;27:578–86. https://doi.org/10.1016/j.jcrc.2012.07.016.

15.

Rosenbek JC, Robbins JA, Roecker EB, Coyle JL, Wood JL. A penetration-aspiration scale. Dysphagia. 1996;11:93–8. https://doi.org/10.1007/BF00417897.

16.

Butler SG, Markley L, Sanders B, Stuart A. Reliability of the penetration aspiration scale with flexible endoscopic evaluation of swallowing. Ann Otol Rhinol Laryngol. 2015;124:480–3. https://doi.org/10.1177/0003489414566267.

17.

Robbins J, Coyle J, Rosenbek J, Roecker E, Wood J. Differentiation of normal and abnormal airway protection during swallowing using the Penetration-Aspiration Scale. Dysphagia. 1999;14:228–32. https://doi.org/10.1007/PL00009610.

18.

Zhang J, Yu KF. What's the relative risk? A method of correcting the odds ratio in cohort studies of common outcomes. JAMA. 1998;280:1690–1. https://doi.org/10.1001/jama.280.19.1690.

19.

Brown CVR, Hejl K, Mandaville AD, Chaney PE, Stevenson G, Smith C. Swallowing dysfunction after mechanical ventilation in trauma patients. J Crit Care. 2011;26(108):9–13. https://doi.org/10.1016/j.jcrc.2010.05.036.

20.

Skoretz S, Yau TM, Ivanov J, Granton JT, Martino R. Dysphagia and associated risk factors following extubation in cardiovascular surgical patients. Dysphagia. 2014;29:647–54. https://doi.org/10.1007/s00455-014-9555-4.

21.

Holland G, Jayasekeran V, Pendleton N, Horan M, Jones M, Hamdy S. Prevalence and symptom profiling of oropharyngeal dysphagia in a community dwelling of an elderly population: a self-reporting questionnaire survey. Dis Esophagus. 2011;24:476–80. https://doi.org/10.1111/j.1442-2050.2011.01182.x.

22.

Nimmons D, Michou E, Jones M, Pendleton N. A longitudinal study of symptoms of oropharyngeal dysphagia in an elderly community-dwelling population. Dysphagia. 2016. https://doi.org/10.1007/s00455-016-9715-9.

23.

Shaker R, Ren J, Bardan E, Easterling C, Dua K, Xie P, et al. Pharyngoglottal closure reflex: characterization in healthy young, elderly and Dysphagic patients with predeglutitive aspiration. Gerontology. 2003;53226:12–20. https://doi.org/10.1159/000066504.

24.

Schindler JS, Kelly JH. Swallowing disorders in the elderly. Laryngoscope. 2002;112(4):589–602.

25.

Centre N, Mars TR, Bartholomew S, Physics RM, Hospital F, Accepted UK, et al. Pharyngeal residue across the lifespan: a first look at what's normal 2008;348–51.

26.

Rodrigues M, Macri B, Marques JM, Santos RS, Furkim AM, Melek I, et al. Clinical and fiberoptic endoscopic assessment of swallowing in patients with chronic obstructive pulmonary disease. Int Arch Otorhinolaryngol. 2013;17:274–8. https://doi.org/10.7162/S1809-97772013000300007.

27.

Cvejic LY, Harding RI, Churchward TH, Turton AN, Finlay P, Massey DA, et al. Laryngeal penetration and aspiration in individuals with stable COPD. Respirology. 2011;16(2):269–75. https://doi.org/10.1111/j.1440-1843.2010.01875.x.

28.

Jaber S, Amraoui J, Lefrant J, Arich C, Cohendy R, Landreau L, et al. Clinical practice and risk factors for immediate complications of endotracheal intubation in the intensive care unit: a prospective, multiple-center study. Crit Care Med. 2006;34:2355–61. https://doi.org/10.1097/01.CCM.0000233879.58720.87.

29.

Leder SB, Suiter DM, Green BG. Silent aspiration risk is volume-dependent. Dysphagia. 2011;26:304–9. https://doi.org/10.1007/s00455-010-9312-2.

30.

Warnecke T, Teismann I, Oelenberg S, Hamacher C, Ringelstein EB, Schäbitz WR, et al. The safety of fiberoptic endoscopic evaluation of swallowing in acute stroke patients. Stroke. 2009;40:482–6. https://doi.org/10.1161/STROKEAHA.108.520775.
Acknowledgements
The authors would like to acknowledge Glen Leverson, PhD, for his assistance with statistical analysis.
Ethics declarations
Conflict of interest
All authors declare that they have no conflicts of interest.
Ethical Approval
All procedures performed were in accordance with the ethical standards of the institutional research committee and with the 1964 Helsinki declaration and its later amendments or comparable ethical standards. The study was approved by the University of Wisconsin Institutional Review Board.
Informed Consent
Informed consent was obtained from all participants or their surrogate prior to participating in this research study.
About this article
Cite this article
Marvin, S., Thibeault, S. & Ehlenbach, W.J. Post-extubation Dysphagia: Does Timing of Evaluation Matter?. Dysphagia 34, 210–219 (2019). https://doi.org/10.1007/s00455-018-9926-3
Received:

Accepted:

Published:

Issue Date:
Keywords
Deglutition

Deglutition disorders

Dysphagia

ICU

Intubation

Endotracheal tube