Abstract
The widely used diethylhexyl phthalate (DEHP) is a known endocrine disruptor that causes persistent alterations in the structure and function of female reproductive system, including ovaries, uterus and oviducts. To explore the molecular mechanism of the effect of DEHP on the development of mammary glands, we investigated the cell cycle, growth, proliferation and gene expression of mammary gland cells of pregnant mice exposed to DEHP. It was demonstrated, for the first time, that the mammary gland cells of pregnant mice treated with DEHP for 0.5–3.5 days post-coitum had increased proliferation, growth rate and number of cells in the G2/S phase. The expression of cell proliferation-related genes was significantly altered after short time and low-dose DEHP treatment of mammary gland cells in vivo and in vitro. These findings showed adverse effects of DEHP on mammary gland cells in pregnant mice.
Access options
Buy single article
Instant access to the full article PDF.
US$ 39.95
Tax calculation will be finalised during checkout.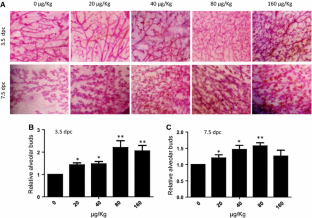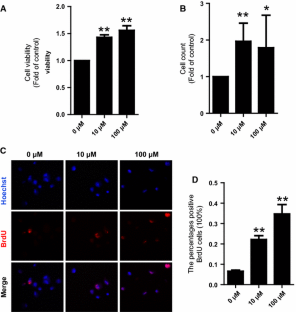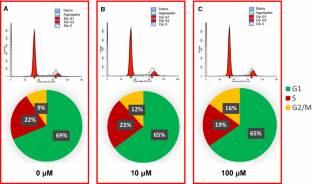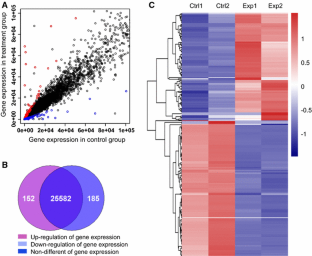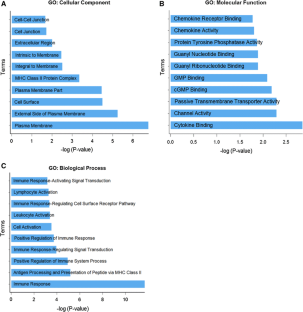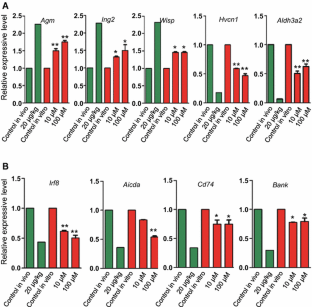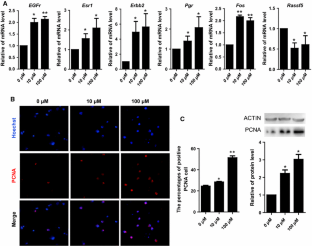 References
Acevedo N, Davis B, Schaeberle CM, Sonnenschein C, Soto AM (2013) Perinatally administered bisphenol A as a potential mammary gland carcinogen in rats. Environ Health Perspect 121:1040–1046

Ambruosi B, Uranio MF, Sardanelli AM, Pocar P, Martino NA, Paternoster MS, Amati F, Dell'Aquila ME (2009) In vitro acute exposure to DEHP affects oocyte meiotic maturation, energy and oxidative stress parameters in a large animal model. PLoS One 6:e27452

Ayyanan A, Laribi O, Schuepbach-Mallepell S, Schrick C, Gutierrez M, Tanos T, Lefebvre G, Rougemont J, Yalcin-Ozuysal O, Brisken C (2011) Perinatal exposure to bisphenol A increases adult mammary gland progesterone response and cell number. Mol Endocrinol 25:1915–1923

Bhan A, Hussain I, Ansari KI, Bobzean SA, Perrotti LI, Mandal SS (2014) Bisphenol-A and diethylstilbestrol exposure induces the expression of breast cancer associated long noncoding RNA HOTAIR in vitro and in vivo. J Steroid Biochem Mol Biol 141:160–170

Braun JM, Smith KW, Williams PL, Calafat AM, Berry K, Ehrlich S, Hauser R (2012) Variability of urinary phthalate metabolite and bisphenol A concentrations before and during pregnancy. Environ Health Perspect 120:739–745

Buteau-Lozano H, Velasco G, Cristofari M, Balaguer P, Perrot-Applanat M (2008) Xenoestrogens modulate vascular endothelial growth factor secretion in breast cancer cells through an estrogen receptor-dependent mechanism. J Endocrinol 196:399–412

Chao HH, Zhang XF, Chen B, Pan B, Zhang LJ, Li L, Sun XF, Shi QH, Shen W (2012) Bisphenol A exposure modifies methylation of imprinted genes in mouse oocytes via the estrogen receptor signaling pathway. Histochem Cell Biol 137:249–259

Chen FP, Chien MH (2014) Lower concentrations of phthalates induce proliferation in human breast cancer cells. Climacteric 17:377–384

Dairkee SH, Luciani-Torres MG, Moore DH, Goodson WH (2013) Bisphenol-A-induced inactivation of the p53 axis underlying deregulation of proliferation kinetics, and cell death in non-malignant human breast epithelial cells. Carcinogenesis 34:703–712

Dalman A, Eimani H, Sepehri H, Ashtiani SK, Valojerdi MR, Eftekhari-Yazdi P, Shahverdi A (2008) Effect of mono-(2-ethylhexyl) phthalate (MEHP) on resumption of meiosis, in vitro maturation and embryo development of immature mouse oocytes. BioFactors 33:149–155

Dhimolea E, Wadia PR, Murray TJ, Settles ML, Treitman JD, Sonnenschein C, Shioda T, Soto AM (2014) Prenatal exposure to BPA alters the epigenome of the rat mammary gland and increases the propensity to neoplastic development. PLoS One 9:e99800

Erkekoglu P, Zeybek ND, Giray B, Asan E, Hincal F (2012) The effects of di(2-ethylhexyl)phthalate exposure and selenium nutrition on sertoli cell vimentin structure and germ-cell apoptosis in rat testis. Arch Environ Contam Toxicol 62:539–547

Huang DW, Sherman BT, Lempicki RA (2009a) Systematic and integrative analysis of large gene lists using DAVID Bioinformatics Resources. Nat Protoc 4:44–57

Huang DW, Sherman BT, Lempicki RA (2009b) Bioinformatics enrichment tools: paths toward the comprehensive functional analysis of large gene lists. Nucl Acids Res 37:1–13

Kim IY, Han SY, Moon A (2004) Phthalates inhibit tamoxifen-induced apoptosis in MCF-7 human breast cancer cells. J Toxicol Environ Health A 67:2025–2035

Lamartiniere CA, Jenkins S, Betancourt AM, Wang J, Russo J (2011) Exposure to the endocrine disruptor Bisphenol A alters susceptibility for mammary cancer. Horm Mol Biol Clin Investig 5:45–52

Li L, Zhang T, Qin X, Ge W, Ma HG, Sun L, Hou ZM, Chen H, Chen P, Qin GQ, Shen W, Zhang XF (2014) Exposure to Diethylhexyl phthalate (DEHP) results in a heritable modification of imprint genes DNA methylation in mouse oocytes. Mol Biol Rep 41:1227–1235

Lovekamp TN, Davis BJ (2001) Mono-(2-ethylhexyl) phthalate suppresses aromatase transcript levels and estradiol production in cultured rat granulosa cells. Toxicol Appl Pharmacol 172:217–224

Markey CM, Luque EH, Munoz de Toro MM, Sonnenschein C, Soto AM (2001) In utero exposure to bisphenol A alters the development and tissue organization of the mouse mammary gland. Biol Reprod 65:1215–1223

Munoz de Toro MM, Markey CM, Wadia PR, Luque EH, Rubin BS, Sonnenschein C, Soto AM (2005) Perinatal exposure to bisphenol A alters peripubertal mammary gland development in mice. Endocrinology 146:4138–4147

Murray TJ, Maffini MV, Ucci AA, Sonnenschein C, Soto AM (2007) Induction of mammary gland ductal hyperplasias and carcinoma in situ following fetal bisphenol A exposure. Reprod Toxicol 23:383–390

Paulose T, Speroni L, Sonnenschein C, Soto AM (2015) Estrogens in the wrong place at the wrong time: fetal BPA exposure and mammary cancer. Reprod Toxicol 54:58–65

Pocar P, Fiandanese N, Secchi C, Berrini A, Fischer B, Schmidt JS, Schaedlich K, Borromeo V (2012) Exposure to di(2-ethyl-hexyl) phthalate (DEHP) in utero and during lactation causes long-term pituitary-gonadal axis disruption in male and female mouse offspring. Endocrinology 153:937–948

Potischman N, Troisi R (1999) In utero and early life exposures in relation to risk of breast cancer. Cancer Causes Control 10:561–573

Tanay Das M, Kumar M, Thakur IS (2014) Differential toxicological endpoints of di(2-ethylhexyl)phthalate (DEHP) exposure in MCF-7 and MDA-MB-231 cell lines: possible estrogen receptor alpha (ERalpha) independent modulations. Indian J Exp Biol 52:1052–1061

Tharp AP, Maffini MV, Hunt PA, VandeVoort CA, Sonnenschein C, Soto AM (2012) Bisphenol A alters the development of the rhesus monkey mammary gland. Proc Natl Acad Sci USA 109:8190–8195

Vandenberg LN, Maffini MV, Wadia PR, Sonnenschein C, Rubin BS, Soto AM (2007) Exposure to environmentally relevant doses of the xenoestrogen bisphenol-A alters development of the fetal mouse mammary gland. Endocrinology 148:116–127

Vandenberg LN, Maffini MV, Schaeberle CM, Ucci AA, Sonnenschein C, Soto AM (2008) Perinatal exposure to the xenoestrogen bisphenol-A induces mammary intraductal hyperplasias in adult CD-1 mice. Reprod Toxicol 26:210–219

Venkata NG, Robinson JA, Cabot PJ, Davis B, Monteith GR, Roberts-Thomson SJ (2006) Mono(2-ethylhexyl)phthalate and mono-n-butyl phthalate activation of peroxisome proliferator activated-receptors alpha and gamma in breast. Toxicol Lett 163:224–234

Wadia PR, Vandenberg LN, Schaeberle CM, Rubin BS, Sonnenschein C, Soto AM (2007) Perinatal bisphenol-A exposure increases estrogen sensitivity of the mammary gland in diverse mouse strains. Environ Health Perspect 115:592–598

Wadia PR, Cabaton NJ, Borrero MD, Rubin BS, Sonnenschein C, Shioda T, Soto AM (2013) Low-dose BPA exposure alters the mesenchymal and epithelial transcriptomes of the mouse fetal mammary gland. PLoS One 8:e63902

Warnes GR, Bolker B, Bonebakker L, Gentleman R, Huber W (2010) gplots: various R programming tools for plotting data. R package version 2.8.0

Wu S, Zhu J, Li Y, Lin T, Gan L, Yuan X, Xu M, Wei G (2010) Dynamic effect of di-2-(ethylhexyl) phthalate on testicular toxicity: epigenetic changes and their impact on gene expression. Int J Toxicol 29:193–200

Zhang HQ, Zhang XF, Zhang LJ, Chao HH, Pan B, Feng YM, Li L, Sun XF, Shen W (2012) Fetal exposure to bisphenol A affects the primordial follicle formation by inhibiting the meiotic progression of oocytes. Mol Biol Rep 39:5651–5657

Zhang T, Li L, Qin XS, Zhou Y, Zhang XF, Wang LQ, De Felici M, Chen H, Qin GQ, Shen W (2013a) Di-(2-ethylhexyl) phthalate and bisphenol A exposure impairs mouse primordial follicle assembly in vitro. Environ Mol Mutagen 55:343–353

Zhang XF, Zhang LJ, Li L, Feng YN, Chen B, Ma JM, Huynh E, Shi QH, De Felici M, Shen W (2013b) Diethylhexyl phthalate exposure impairs follicular development and affects oocyte maturation in the mouse. Environ Mol Mutagen 54:354–361

Zhang XF, Zhang T, Wang L, Zhang HY, Chen YD, Qin XS, Feng YM, Feng YN, Shen W, Li L (2013c) Effects of diethylhexyl phthalate (DEHP) given neonatally on spermatogenesis of mice. Mol Biol Rep 40:6509–6517

Zhao Y, Tan YS, Haslam SZ, Yang CF (2010) Perfluorooctanoic acid effects on steroid hormone and growth factor levels mediate stimulation of peripubertal mammary gland development in C57BL/6 mice. Toxicol Sci 115:214–224
Acknowledgments
This work was supported by National Nature Science Foundation of China (31201120) and Nature Science Foundation of Hubei Province (2011CDB230) to X. F. Zhang, and Nature Science Foundation of Heilongjiang Province (ZD201304) to L. Li.
Ethics declarations
Conflict of interest
The authors declare no competing interest.
Electronic supplementary material
Below is the link to the electronic supplementary material.
Intracellular ROS levels assayed using DHE and DCFH-DA fluorescent probes in mammary gland cells of pregnant mice exposed to DEHP. (A-B) Intracellular ROS was measured by flow cytometry (DHE and DCFH-DA). (C-D) Average intensity of DHE and DCFH-DA fluorescence in mammary gland cells of pregnant mice exposed to DEHP. (E) The mRNA levels of genes in mammary gland cells were analyzed by RT-qPCR. The results are presented as mean ± SD. Asterisk (* or **) indicates significant difference (P < 0.05 or P < 0.01). (DOCX 522 kb)
About this article
Cite this article
Li, L., Liu, JC., Zhao, Y. et al. Impact of diethylhexyl phthalate on gene expression and development of mammary glands of pregnant mouse. Histochem Cell Biol 144, 389–402 (2015). https://doi.org/10.1007/s00418-015-1348-9
Accepted:

Published:

Issue Date:
Keywords
DEHP

Mammary gland

Gene expression pattern

Microarray