Abstract
Stochastic forcing has been used conceptually to explain ENSO irregularity. More recently, the concept of state-dependent stochastic forcing has also been explored to further explain a number of ENSO properties. Here we propose a method using monthly mean data to isolate "the stochastic part" in the zonal windstress anomalies as the residual after both the linear and low-order nonlinear parts of the deterministic ENSO signal are removed. We then further use a conditional variance approach to quantify the ENSO state-dependency in this stochastic forcing represented by this windstress residual. This methodology of isolation and quantification of state-dependent stochastic forcing is demonstrated and validated in a conceptual model and then applied to examine reanalysis and two coupled model data sets. The stochastic windstress forcing term is shown to be dependent on the ENSO state both in the reanalysis and the model data. Both of the coupled model simulations examined here have a stronger the state-dependence than in the reanalysis data. These results also reveal a threshold dependence on SST for the windstress stochastic forcing of ENSO, likely due to the nonlinearity in atmospheric convection.
Access options
Buy single article
Instant access to the full article PDF.
USD 39.95
Price excludes VAT (USA)
Tax calculation will be finalised during checkout.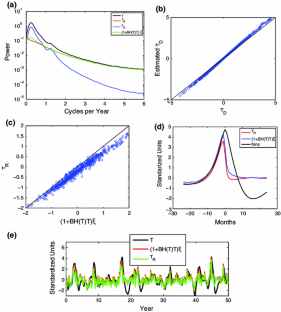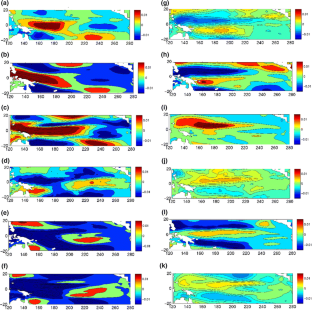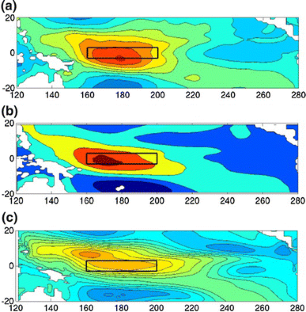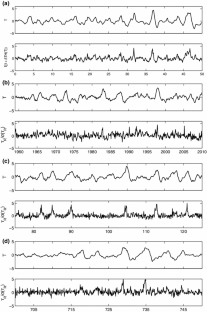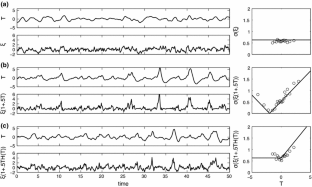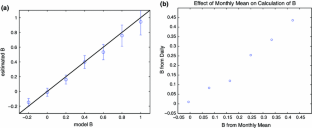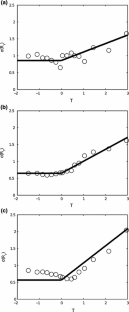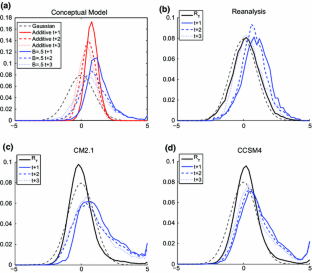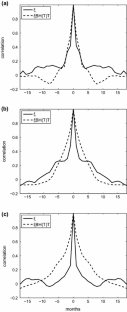 References
Cai W, Borlace S, Lengaigne M, van Rensch P, Collins M, Vecchi G, Timmermann A, Santosos A, McPhaden MJ, Wu L, England MH, Wang G, Guilyardi E, Jin FF (2014) Increasing frequency of extreme El Niño events due to greenhouse warming. Nat Clim Chang 4:111–116

Choi K, Vecchi GA, Wittenberg A (2013) ENSO transition, duration, and amplitude asymmetries: role of the nonlinear wind stress coupling in a conceptual model. J Clim 26(23):9462–9476

Delworth TL et al (2006) GFDL's CM2 global coupled climate models. Part I: formulation and simulation characteristics. J Clim 19:643–674

Deser C, Phillips AS, Tomas RA, Okumura YM, Alexander MA, Capotondi A, Scott JD, HKwon YO, Ohba M (2012) ENSO and Pacific decadal variability in the community climate system model version 4. J Clim 25(8):2622–2651

Eisenman I, Yu L, Tziperman E (2005) Westerly wind bursts: ENSO's tail rather than the dog? J Clim 18:5224–5238

Frankignoul C, Hasselmann K (1977) Stochastic climate models: part II. Application to sea-surface temperature anomalies and thermocline variability. Tellus 29(4):289–305

Gebbie G, Eisenman I, Wittenberg A, Tziperman E (2007) Modulation of westerly wind bursts by sea surface temperature: a semistochastic feedback of ENSO. J Atmos Sci 64:3281–3295

Gebbie G, Tziperman E (2009a) Incorporating a semi-stochastic model of ocean-modulated westerly wind bursts into an ENSO prediction model. Theor Appl Climatol 97(1–2):65–73

Gebbie G, Tziperman E (2009b) Predictability of SST-modulated westerly wind bursts. J Clim 22:3894–3909

Gent PR, Danabasoglu G, Donner LJ, Holland MM, Hunke EC, Jayne SR, Lawrence DM, Neale RB, Rasch PJ, Vertenstein M, Worley PH, Yang ZL, Zhang M (2011) The community climate system model version 4. J Clim 24(19):4973–4991

Graham FS, Brown JN, Langlais C, Marsland SJ, Wittenberg AT, Holbrook NJ (2014) Effectiveness of the Bjerknes stability index in representing ocean dynamics. Clim Dyn. doi:10.1007/s00382-014-2062-3

Harrison D, Chiodi A (2009) Pre- and post-1997/98 westerly wind events and equatorial Pacific cold tongue warming. J Clim 22(3):568–581

Jin FF, An SI, Timmermann A, Zhao J (2003) Strong El Niño events and nonlinear dynamical heating. Geophys Res Lett 30(3):20–21

Jin FF, Pan LL, Watanabe M (2006) Dynamics of synoptic eddy and low-frequency flow feedback. Part I: a dynamic closure. J Atmos Sci 64:1677–1694

Jin FF, Lin L, Timmermann A, Zhao J (2007) Ensemble-mean dynamics of the ENSO recharge oscillator under state dependent stochastic forcing. Geophys Res Lett 34:L03, 807. doi:10.1029/2006GL027372

Kapur A, Zhang C (2012) Multiplicative MJO forcing of ENSO. J Clim 25(23):8132–8147

Kessler WS, Kleeman R (2000) Rectification of the Madden–Julian oscillation in to the ENSO cycle. J Clim 13:3560–3575

Kim BM, An SI (2011) Understanding ENSO regime behavior upon an increase in the warm-pool temperature using a simple ENSO model. J Clim 24(5):1438–1450

Kim ST, Jin FF (2011a) An ENSO stability analysis. Part I: results from a hybrid coupled model. Clim Dyn 36(7–8):1593–1607

Kim ST, Jin FF (2011b) An ENSO stability analysis. Part II: results from the twentieth and twenty-first century simulations of the CMIP3 models. Clim Dyn 36(7–8):1609–1627

Kleeman R, Moore AM (1997) A theory for the limitation of ENSO predictability due to stochastic atmospheric transients. J Atmos Sci 54:753–767

Kug JS, Jin FF, Sooraj KP, Kang IS (2008) State-dependant atmospheric noise associated with ENSO. Geophys Res Lett 35:L05, 701. doi:10.1029/2007GL032017

Lengaigne M, Guilyardi E, Boulanger JP, Menkes C, Delecluse P, Inness P, Cole J, Slingo J (2004) Triggering El Niño by westerly wind events in a coupled general circulation model. Clim Dyn 23:601–620

Levine AFZ, Jin FF (2010) Noise-induced instability in the ENSO recharge oscillator. J Atmos Sci 67:529–542

Lopez H, Kirtman BP (2013) Westerly wind bursts and the diversity of ENSO in CCSM3 and CCSM4. Geophys Res Lett 40(17):4722–4727

Lopez H, Kirtman BP (2014) Tropical Pacific internal atmospheric dynamics and resolution in a coupled GCM. Clim Dyn 44(1–2):509–527

Lopez H, Kirtman BP, Tziperman E, Gebbie G (2013) Impact of interactive westerly wind bursts on CCSM3. Dyn Atmos Oceans 59:24–51

McPhaden MJ, Freitag HP, Hayes SP, Taft BA, Chen Z, Wyrtki K (1988) The response of the equatorial Pacific Ocean to a westerly wind burst in May 1986. J Geophys Res Oceans (1978–2012) 93(C9):10589–10603

McPhaden MJ (1999) Genesis and evolution of the 1997–1998 El Niño. Science 283:950–954

Moore AM, Kleeman R (1999) Stochastic forcing of ENSO by the intraseasonal oscillation. J Clim 12:1199–1220

Müller D (1987) Bispectra of sea-surface temperature anomalies. J Phys Oceanogr 17(1):26–36

Penland C (1996) A stochastic model of IndoPacific sea surface temperature anomalies. Phys D 98:534–558

Penland C, Sardeshmukh PD (1995) The optimal growth of tropical sea surface temperature anomalies. J Clim 8:1999–2024

Perez CL, Moore AM, Zavala-Garay J, Kleeman R (2005) A comparison of the influence of additive and multiplicative stochastic forcing on a coupled model of ENSO. J Clim 18:5066–5085

Power S, Delage F, Chung C, Kociuba G, Keay K (2013) Robust twenty-first century projections of El Niño and related precipitation variability. Nature 502:541–545

Rayner NA, Parker DE, Horton EB, Folland CK, Alexandre L, Rowell DP, Kent EC, Kaplan A (2003) Global analyses of sea surface temperature, sea ice an night marine air temperature since the late nineteenth century. J Geophys Res 108(D14):4407

Roulston MS, Neelin JD (2000) The response of an ENSO model to climate noise, weather noise and intraseasonal forcing. Geophys Res Lett 27(22):3723–3726

Sardeshmukh PD, Sura P (2009) Reconciling non-Gaussian climate statistics with linear dynamics. J Clim 22:1193–1207

Stein K (2008) The effect of the seasonal cycle on ENSO in a stochastic recharge oscillator model. Master's thesis, University of Hawaii at Manoa

Stuecker MF, Timmermann A, Jin FF, McGregor S, Ren H (2013) A combination mode of the annual cycle and the El Niño/Southern oscillation. Nat Geosci 6:540–544

Su J, Zhang R, Li T, Rong X, Kug JS, Hong CC (2010) Causes of the El Niño and La Niña amplitude asymmetry in the equatorial eastern Pacific. J Clim 23(3):605–617

Timmermann A, Jin FF, Abshagen J (2003) A nonlinear theory for El Niño bursting. J Atmos Sci 60(1):152–165

Tziperman E, Yu L (2007) Quantifying the dependence of westerly wind bursts on the large-scale tropical Pacific SST. J Clim 20:2760–2768

Uppala SM, Kallberg PW, Simmons AJ, Andrae U, da Costa Bechtold V, Fiorino M, Gibson JK, Haseler J, Hernandez A, Kelly GA, Li X, Onogi K, Saarinen S, Sokka N, Allan RP, Andersson E, Arpe K, Balmaseda MA, Beljaars ACM, van de Berg L, Bidlot J, Bormann N, Caires S, Checallier F, Dethof A, Dragosavac M, Fisher M, Fuentes M, Hagemann S, Holm E, Hoskins BJ, Isaksen L, Janssen PAEM, Jenne R, McNally AP, Mahfouf JF, Morcrette JJ, Rayner NA, Saunders RW, Simon P, Sterl A, Trenberth KE, Untch A, Vasiljevic D, Viterbo P, Woolen J (2005) The ERA-40 reanalysis. Q J R Meteorol Soc 131:2961–3012

Vecchi G, Wittenberg A, Rosati A (2006) Reassessing the role of stochastic forcing in the 1997–1998 El Niño. Geophys Res Lett 33(1):L01, 706. doi:10.1029/2005GL024738

Vecchi GA, Harrison DE (2000) Tropical Pacific sea surface temperature anomalies, El Niño and equatorial westerly events. J Clim 13:1814–1830

Wittenberg AT (2009) Are historical records sufficient to constrain ENSO simulations. Geophysi Res Lett 36(12):L12 702. doi:10.1029/2009GL038710

Yu L, Weller RA, Liu TW (2003) Case analysis of a role of ENSO in regulating the generation of westerly wind bursts in the western equatorial Pacific. J Geophys Res 108(C4):3128. doi:10.1029/2002JC001498

Zavala-Garay J, Moore AM, Perez CL, Kleeman R (2003) The response of a coupled model of ENSO to observed estimates of stochastic forcing. J Clim 16:2827–2842

Zavala-Garay J, Moore AM, Kleeman R (2004) Influence of stochastic forcing on ENSO prediction. J Geophys Res 109:C1107. doi:10.1029/2004JC002406

Zavala-Garay J, Zhang C, Moore AM, Kleeman R (2005) The linear response of ENSO to the Madden-Julian Oscillation. Journal of Climate 18:2441–2459

Zavala-Garay J, Zhang C, Moore AM, Wittenberg A, Harrison MJ, Rosati A, Vialard J, Kleeman R (2008) Sensitivity of hybrid ENSO models to unresolved atmospheric variability. Journal of Climate 21:3704–3721
Acknowledgments
This work was supported by NSF Grant AGS-1034798, Department of Energy grant DE-SC0005110 and NOAA Grant NA10OAR4310200. The authors would like to express thanks to A. Timmermann and an anonymous reviewer for their helpful suggestions in improving this manuscript.
About this article
Cite this article
Levine, A.F.Z., Jin, F.F. A simple approach to quantifying the noise–ENSO interaction. Part I: deducing the state-dependency of the windstress forcing using monthly mean data. Clim Dyn 48, 1–18 (2017). https://doi.org/10.1007/s00382-015-2748-1
Received:

Accepted:

Published:

Issue Date:

DOI: https://doi.org/10.1007/s00382-015-2748-1
Keywords
ENSO

Westerly wind bursts

State-dependent stochastic forcing