Abstract
We review our recent results in development of high-precision laser spectroscopic instrumentation using mid-infrared quantum cascade lasers, interband cascade lasers and antimonide diode lasers. These instruments are primarily for high-precision and high-sensitivity measurements of atmospheric trace gases, as required for atmospheric research. The instruments are based on direct absorption spectroscopy with rapid sweeps, integration and precision fitting, under the control of high-capability software. By operating in the mid-infrared with long absorption path lengths at reduced pressure, we achieve excellent sensitivity. Some instruments have demonstrated a fractional precision of 10−4 for atmospheric trace gases at ambient concentration, allowing real-time isotopologue measurements of CO2, CO, CH4, N2O and H2O. Trace gas detection in ambient air at the low part-per-trillion levels is feasible. We also describe signal processing methods to identify and reduce measurement noise. Analysis of spectral information is largely based on loading spectra into arrays and then applying block operations such as filters, Fourier analysis, multivariate fitting and principal component analysis. We present mathematical expressions for averaged spectra in arrays and note different ways frequency aliasing can occur. We present an extended example of analysis of instrument noise and find an electronic signal mixing with an interference fringe.
This is a preview of subscription content, log in to check access.
Access options
Buy single article
Instant access to the full article PDF.
US$ 39.95
Price includes VAT for USA
Subscribe to journal
Immediate online access to all issues from 2019. Subscription will auto renew annually.
US$ 99
This is the net price. Taxes to be calculated in checkout.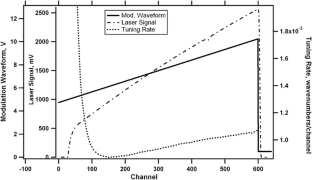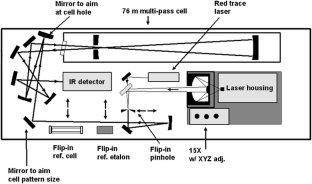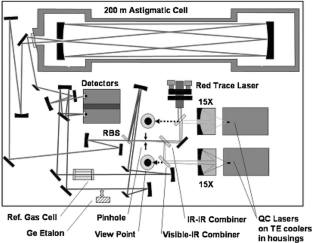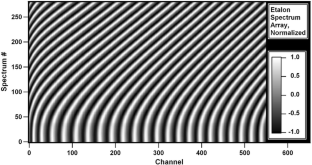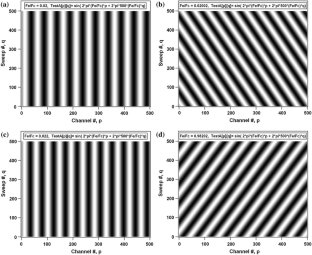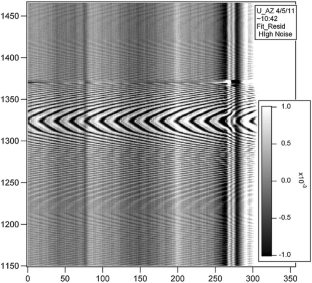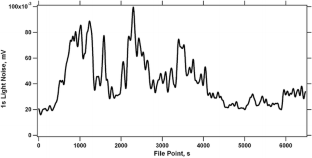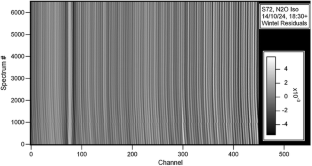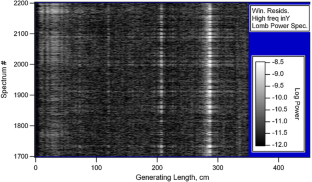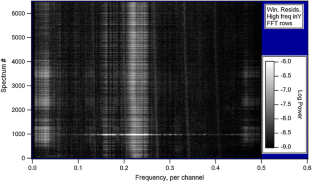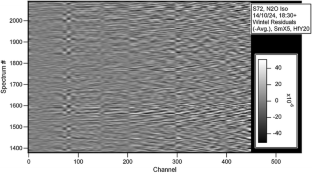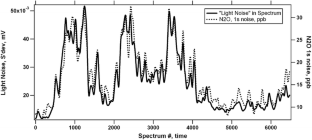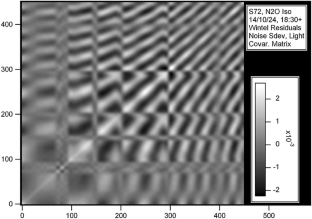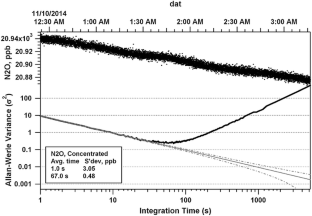 References
1.

R.F. Curl, F. Capasso, C. Gmacle, A.A. Kosterev, B. McManus, R. Lewicki, M. Pusharsky, G. Wysocki, F.K. Tittel, Quantum cascade lasers in chemical physics. Chem. Phys. Lett. 487, 1–18 (2010)

2.

F.K. Tittel, Y. Bakhirkin, A.A. Kosterev, G. Wysocki, Recent advances in trace gas detection using quantum and interband cascade lasers. Rev. Laser Eng. 34, 275–282 (2006)

3.

F.K. Tittel, D. Richter, A. Fried, Mid-infrared laser applications in spectroscopy, in Topics in applied physics, vol. 89, ed. by I.T. Sorokina, K.L. Vodopyanov (Springer, Heidelberg, 2003), pp. 445–516

4.

C.R. Webster et al., Science 342, 355 (2013)

5.

J. Jágerská, B. Tuzson, H. Looser, A. Bismuto, J. Faist, H. Prinz, L. Emmenegger, Appl. Opt. 52(19), 4613–4619 (2013)

6.

C. Dyroff, D. Fütterer, A. Zahn, Appl. Phys. B 98, 537–548 (2010)

7.

G. Wysocki, A.A. Kosterev, F.K. Tittel, Appl. Phys. B 80, 617–625 (2005)

8.

B. Tuzson, K. Zeyer, M. Steinbacher, J.B. McManus, D.D. Nelson, M.S. Zahniser, L. Emmenegger, Atmos. Meas. Tech. 6, 927–936 (2013)

9.

G.W. Santoni, B.H. Lee, J.P. Goodrich, R.K. Varner, P.M. Crill, J.B. McManus, D.D. Nelson, M.S. Zahniser, S.C. Wofsy, J. Geophs. Res. 117, D10301 (2012)

10.

R. Wehr, J.W. Munger, D.D. Nelson, J.B. McManus, M.S. Zahniser, S.C. Wofsy, S.R. Saleska, Agric. For. Meteorol. 181, 69–84 (2013)

11.

B.H. Lee, E.C. Wood, M.S. Zahniser, J.B. McManus, D.D. Nelson, S.C. Herndon, G.W. Santoni, S.C. Wofsy, J.W. Munger, Appl. Phys. B 102, 417–423 (2011)

12.

J.B. McManus, M.S. Zahniser, D.D. Nelson, Appl. Opt. 50, A74–A85 (2011)

13.

J.B. McManus, M.S. Zahniser, D.D. Nelson, J.H. Shorter, S.C. Herndon, E. Wood, R. Wehr, Opt. Eng. 49, 111124 (2010)

14.

J.S. Shorter, D.D. Nelson, J.B. McManus, M.S. Zahniser, D.K. Milton, Sensors J. IEEE 10, 76–84 (2010)

15.

J.B. McManus, D.D. Nelson, M.S. Zahniser, Isotopes Environ. Health Stud. 46, 49–63 (2010)

16.

J.B. McManus, J.H. Shorter, D.D. Nelson, M.S. Zahniser, D.E. Glenn, R.M. McGovern, Appl. Phys. B 92, 387–392 (2008)

17.

B. Tuzson, J. Mohn, M.J. Zeeman, R.A. Werner, W. Eugster, M.S. Zahniser, D.D. Nelson, J.B. McManus, L. Emmenegger, Appl. Phys. B 92, 451–458 (2008)

18.

D.D. Nelson, J.B. McManus, S.C. Herndon, M.S. Zahniser, B. Tuzson, L. Emmenegger, Appl. Phys. B 90, 301–309 (2008)

19.

P.M. Chu, D.D. Nelson, M.S. Zahniser, J.B. McManus, Q. Shi, J.C. Travis, IEEE T. Instrum. Meas. 56(2), 305–308 (2007)

20.

J. B. McManus, D. D. Nelson, S. C. Herndon, J. H. Shorter, M. S. Zahniser, S. Blaser, L. Hvozdara, A. Muller, M. Giovannini, J. Faist, Appl. Phys. B 85, 235–241 (2006)

21.

D.D. Nelson, J.B. McManus, S.C. Herndon, J.H. Shorter, M.S. Zahniser, S. Blaser, L. Hvozdara, A. Muller, M. Giovannini, J. Faist, Opt. Lett. 31, 2012–2014 (2006)

22.

D.D. Nelson, J.H. Shorter, J.B. McManus, M.S. Zahniser, Appl. Phys. B 75, 343–350 (2002)

23.

T.I. Yacovitch, S.C. Herndon, J.R. Roscioli, C. Floerchinger, R.M. McGovern, M. Agnese, G. Pettron, J. Kofler, C. Sweeney, A. Karion, S.A. Conley, E.A. Kort, L. Nahle, M. Fischer, L. Hildebrandt, J. Koeth, J.B. McManus, D.D. Nelson, M.S. Zahniser, C.E. Kolb, Environ. Sci. Technol. 48, 8028–8034 (2014)

24.

S.C. Herndon, M.S. Zahniser, D.D. Nelson Jr, J. Shorter, J.B. McManus, R. Jiménez, C. Warneke, J.A. de Gouw, J. Geophys. Res. 112(D10), D10S03 (2007)

25.

S.C. Herndon, J.T. Jayne, M.S. Zahniser, D.R. Worsnop, B. Knighton, E. Alwine, B.K. Lamb, M. Zavala, D.D. Nelson, J.B. McManus, J.H. Shorter, M.R. Canagaratna, T.B. Onasch, C.E. Kolb, Faraday Discuss. 130, 327–339 (2005)

26.

A. Vicet, D.A. Yarekha, A. Pérona, Y. Rouillard, S. Gaillard, A.N. Baranov, Spectrochim. Acta A 58(11), 2405–2412 (2002)

27.

D. Richter, A. Fried, P. Weibring, Laser Photon. Rev. 3(4), 343–354 (2009)

28.

D. Richter, A. Fried, B.P. Wert, J.G. Walega, F.K. Ttittel, Appl. Phys. B 75, 281–288 (2002)

29.

J. Faist, Quantum cascade lasers (Oxford University Press, England, 2013)

30.

C. Gmachl, F. Capasso, D.L. Sivco, A.Y. Cho, Rep. Prog. Phys. 64, 1533–1601 (2001)

31.

M. Beck, D. Hofstetter, T. Aellen, J. Faist, U. Oesterle, M. Ilegems, E. Gini, H. Melchior, Science 295, 301–305 (2002)

32.

I. Vurgaftman, W.W. Bewley, C.L. Canedy, C.S. Kim, M. Kim, J.R. Lindle, C.D. Merritt, J. Abell, J.R. Meyer, IEEE J. Sel. Top. Quantum Electron. 17(5), 1435–1444 (2011)

33.

C.L. Canedy, W.W. Bewley, J.R. Lindle, J.A. Nolde, D.C. Larrabee, C.S. Kim, M. Kim, I. Vurgaftman, J.R. Meyer, J. Electron. Mater. 37(12), 1780–1785 (2008)

34.

R. Weih, M. Kamp, S. Höfling, Appl. Phys. Lett. 102, 231123 (2013)

35.

J.B. McManus, Appl. Opt. 46, 472–482 (2007)

36.

J.B. McManus, P. L Kebabian, M. S. Zahniser. Appl. Opt. 34, 3336 (1995)

37.

L.S. Rothman et al., J. Quant. Spectrosc. Radiat. Transfer 82, 5–44 (2003)

38.

J. R. Wilson, Handbook of optics, Volume 1, Chapter 18, M. Bass, ed., (McGraw Hill, New York, 1995)

39.

P. Werle, R. Mucke, F. Slemr, Appl. Phys. B 57, 131–139 (1993)

40.

L.B.W. Jolley, Summation of series (Dover, New York, 1961)

41.

D. Lay, Linear algebra and its applications (Addison-Wesley, New York, 2000)
About this article
Cite this article
McManus, J.B., Zahniser, M.S., Nelson, D.D. et al. Recent progress in laser-based trace gas instruments: performance and noise analysis. Appl. Phys. B 119, 203–218 (2015). https://doi.org/10.1007/s00340-015-6033-0
Received:

Accepted:

Published:

Issue Date:
Keywords
Electronic Signal

Excess Noise

Detector Noise

Dark Noise

Tuning Rate