Zusammenfassung
Sinusoide können durch Veränderungen ihrer Nachbarstrukturen oder durch systemische Einflüsse in Mitleidenschaft gezogen werden. Bei vielen nichthepatozellulär bedingten Schädigungen entlang der sinusoidalen Wegstrecke fehlen klinische Leitbefunde einer Lebererkrankung. Hier kommt der Leberbiopsie eine besondere Bedeutung zu. Die Kapillarisierung der Sinusoide ist durch Schluss der Fenestrierung, Bildung einer Basalmembran und die Expression von CD34 charakterisiert. Sie kennzeichnet aktiv fortschreitende Zirrhosen. In nichtzirrhotischem Lebergewebe weist die Kapillarisierung auf eine Störung der Leberperfusion hin. In Regeneratknoten, fokalen nodulären Hyperplasien und Leberzelladenomen lassen sich afferente kapilläre Gefäßbettabschnitte von sinusoidalen Abschnitten des Blutausstroms unterscheiden. HCC besitzen im Allgemeinen ein durchweg kapillarisiertes Gefäßbett. Das Angiosarkom und das epithelioide Hämangioendotheliom sind, solange sie sich unter Erhalt der acinären Grundstruktur ohne wesentliche Beeinträchtigung der Leberzellbalken sinusoidal ausbreiten, in der Leberbiopsie leicht zu übersehen. Toxische Endothelschäden, postsinusoidale Stase sowie sinusoidale Hyperperfusion können kongestive Läsionen der Sinusoide auslösen. Die Peliosis hepatis ist durch Ruptur des sinusoidalen Gitterfasernetzes und Defekte der endothelialen Sinuswand bedingt. Bei sinusoidaler Hämokongestion ist nach Verschlüssen abführender kleiner Lebervenen zu suchen. Perisinusoidale Fibrosierungen können durch intrasinusoidale Fremdzellinfiltrate, Speichermakrozytosen und durch Aktivierung der Ito-Zellen verursacht werden. Perisinusoidale Amyloidose kann erstes Zeichen einer zugrunde liegenden B-Zell-Neoplasie sein.
Abstract
Sinusoidal alterations unrelated to primary hepatocellular damage present without characteristic clinical findings and in these cases the liver biopsy is particularly important. Capillarization of sinusoids is characterized by closing of fenestration, formation of a basal membrane and by the expression of CD 34 and is typical for active cirrhosis. In nodular regeneratory hyperplasia, capillarization indicates a local or general disturbance of perfusion. In large regenerative nodules, focal nodular hyperplasia and liver cell adenoma CD34-positive capillaries reflect afferent parts and CD 34-negative sinusoids the efferent parts of the parenchymal vascular bed. HCC generally have a completely capillarized CD34-positive vascular bed. Hepatic angiosarcomas and epithelioid hemangioendotheliomas can be easily overseen in liver biopsies, if they spread along the sinusoids without detoriation of the acinar architecture and without significant alteration of the surrounding liver cell plates. Toxic damage of endothelial cells, post-sinusoidal stasis and sinusoidal hyperperfusion are the underlying pathogenetic principles of sinusoidal injury. Rupture and loss of the perisinusoidal reticulin fibres lead to peliosis hepatis. In these cases liver biopsy might disclose occlusion of the terminal liver veins (VOD). Perisinusoidal fibrosis can be caused by intrasinusoidal accumulation of pathologic cells, advanced intrasinusoidal macrophagocytic storage diseases and by activation of the vitamin A-storing hepatic stellate cells. Perisinusoidal amyloidosis can be the first sign of an underlying B-cell neoplasia.
This is a preview of subscription content,
to check access.
Access this article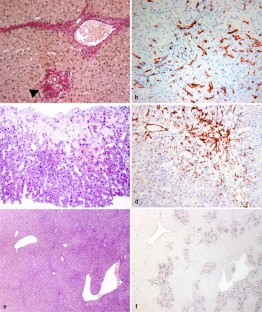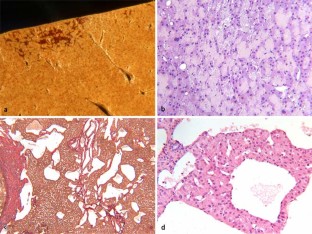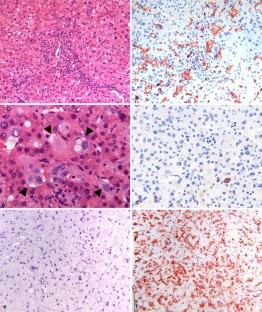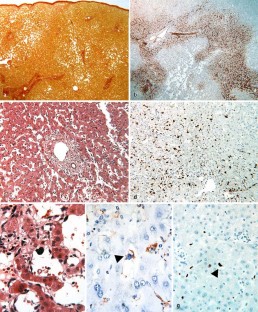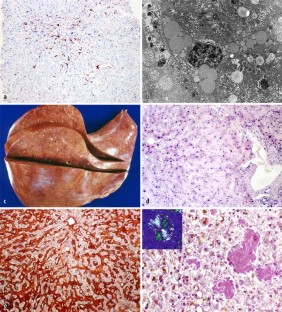 Literatur
Agaram N, Shia J, Klimstra DS et al. (2005) Globular hepatic amyloid: a diagnostic peculiarity that bears clinical significance. Hum Pathol 36: 845–849

Bonnet P, Smadja C, Szekely AM et al. (1987) Intractable aszites in systemic mastocytosis treated by portal diversion. Dig Dis Sci 32: 209–213

Bruguera M, Caballero T, Carreras E et al. (1987) Hepatic sinusoidal dilatation in Hodgkin's disease. Liver 7: 76–80

Cazpar CA, Weldon-Linne CM, Moore DM, Rhode DP (1986) Peliosis hepatis in the acquired immunodeficiency syndrome. Arch Pathol Lab Med 110: 611–613

Fischer HP, Zhou H (2006) Leberparenchymknoten bei pathologischer hepatischer Vaskularisation/Perfusion. Pathologe 27: 273–283

Gerlag PGG, Van Hoof JP (1987) Hepatic sinusoidal dilatation with portal hypertension during azathioprine treatment: a cause of chronic liver disease after kidney transplantation. Transplant Proc 19: 3699–3703

Goodman ZD, Ishak KG (1982) Occlusive venous lesions in alcoholic liver disease. A study of 200 cases. Gastroenterology 83: 786–796

Haboubi NY, Ali HH, Whitwell HL, Ackrill P (1988) Role of endothelial cell injury in the spectrum of azathioprine-induced liver disease after renal transplant: Light microscopy and ultrastructural observations. Am J Gastroenterol 83: 256–261

Harrison RF, Hawkins PN, Roche WR et al. (1996) 'Fragile liver' and massive hepatic haemorrhage due to hereditary amyloidosis. Gut 38: 151–152

Hayward SR, Lucas CE, Ledgerwood AM (1991) Recurrent spontaneous intrahepatic hemorrhage from peliosis hepatis Arch Surg 126: 782–783

Hirohashi S, Ishak KG, Kojiro M et al. (2000) Hepatocellular carcinoma. In: Hamilton SR, Aaltonen LA (eds) Pathology and genetics of tumors of the digestive systeme. WHO Classification of Tumors. IARC Press, Lyon, pp 158–172

Horny HP, Keiserling E, Campbell M et al. (1989) Liver findings in generalized Mastocytosis. A clinicopathologic study. Cancer 63: 532–538

Ishak KG, Goodman ZD, Stocker JT (2001) Tumors of the liver and intrahepatic bile ducts. Atlas of tumor Pathology, AFIP, Washington, DC

Jaques EA, Buschmann RJ, Layden TJ (1979) The histopathologic progression of vitamin A-induced hepatic injury. Gastroenterology 76: 599–602

Kowalski TE, Falsetini M, Furth E (1994) Vitamin A hepatotoxicity: a cautionary note regarding 25000 IU supplements. Am J Med 97: 523–528

Lafon FE, Bioulac-Sage P, Grimaud JA et al. (1987) Perisinusoidal fibrosis of the liver in patients with thrombocytopenic purpura. Virchows Arch (A) 411: 553–559

Letteboer TG, Zewald RA, Kamping EJ et al. (2005) Hereditary hemorrhagic teleangiektasia: ENG and ALK-1 mutations in Dutch patients. Hum Genet 116: 8–16

Lewis JH, Kleiner DE (2007) Hepatic injury to drugs, chemicals and toxins. In: Burt AD, Portmann BC, Ferrell LD (eds) MacSween's Pathology of the liver. 5th edn. Churchill Livingstone, Edinburgh, pp 649–760

Martinez-Hernandez A, Amenta PS (1993) The hepatic extracellular matrix. I. Components and distribution in normal liver. Virchows Arch (A) 423: 1–11

Makhlouf HR, Ishak KG, Goodman ZD (1999) Epithelioid hemangioendothelioma of the liver: a clinicopathologic study of 137 cases. Cancer 85: 562–582

Mechtersheimer G, Penzel R, Hofmann WJ, Schirmacher P (2006) Primäre Sarkome und Sarkommetastasen in der Leber. Morphologische und molekulare Befunde. Pathologe 27: 251–262

Mican JM, Bisceglie AM, Fong TI et al. (1995) Hepatic involvement in mastocytosis: clinicopathologic correlations in 41 cases. Hepatology 22: 1163–1170

Mikkelsen WP, Edmondson HA, Peters RL et al. (1962) Extra- and intrahepatic portal hypertension without cirrhosis (hepatoportal sclerosis). Ann Surg 162: 602–618

Neimann IC, Mant MJ, Shnitka TK (1987) Phagocytosis of platelets by Kupffer cells in immune thrombocytopenia. Arch Pathol Lab Med 111: 563–565

Nayak NC (1983) Pathology of noncirrhotic portal fibrosis of India. In: Okuda K, Omata M (eds) Idiopathic portal hypertension. University of Tokyo press, Tokyo, pp 37–47

Pantanowitz L, Schwartz EJ, Dezube BJ et al. (2005) C-Kit (CD117) expression in AIDS-related, classic and African endemic Kaposi sarcoma. Appl Immunohistochem Mol Morphol 13: 162–166

Perkocha LA, Geaghan SM, Yen TSB et al. (1990) Clinical and pathological features of bacillary peliosis hepatis in association with human deficiency virus infection. N Engl J Med 323: 1581–1586

Robin YM, Guillou L, Michels JJ, Coindre JM (2004) Human herpes virus 8 immunostaining. A sensitive and specific method for diagnosing Kaposi sarcoma in paraffin-embedded sections. Am J Clin Pathol 121: 330–334

Roskams T, Desmet V, Verslype C (2007) Development, structure and function of the liver. In: Burt AD, Portmann BC, Ferrell LD (eds) MacSween's Pathology of the liver. 5th edn. Churchill Livingstone, Edinburgh, pp 2–73

Roux D, Merlio JP, Quinton A et al. (1987) Agnogenic myeloid metaplasia, portal hypertension, and sinusoidal abnormalities. Gastroenterology 92: 1067–1072

Spellberg MA, Mirro J, Chowdhury L (1979) Hepatic sinusoidal dilatation related to oral contraceptives. Am J Gastroenterol 72: 248–252

Tandon BN, Tandon HD, Tandon RK et al. (1976) An epidemic of veno-occlusive disease of liver in central India. Lancet 2: 271–272

Theuerkauf I, Zhou H, Fischer HP (2001) Immunohistochemical patterns of human liver sinusoids under different conditions of pathologic perfusion. Virchows Arch 438: 498–504

Tucker ON, Heaton N (2005) The 'small for size' liver syndrome. Curr Opin Crit Care 11: 150–155

Wanless IR (2007) Vascular disorders. In: Burt AD, Portmann BC, Ferrell LD (eds) MacSween's Pathology of the liver. 5th edn. Churchill Livingstone, Edinburgh, pp 613–648

Winckler K, Poulsen H (1975) Liver disease with periportal sinusoidal dilatation. A possible complication to contraceptive steroids. Scand J Gastroenterol 10: 699–704
Danksagung
Für die Herstellung der Schnittpräparate und Färbungen sei Frau Susanne Steiner und Frau Barbara Reddemann, für die Hilfe bei der Bildbearbeitung Herrn Gerrit Klemm, Anna Dormagen, Anni Lange und Maike Streit gedankt.
Interessenkonflikt
Der korrespondierende Autor gibt an, dass kein Interessenkonflikt besteht.
About this article
Cite this article
Fischer, HP., Flucke, U. & Zhou, H. Pathologie entlang der sinusoidalen Wegstrecke: sinusendotheliale und perisinusoidale Befunde. Pathologe 29, 37–46 (2008). https://doi.org/10.1007/s00292-007-0962-2
Published:

Issue Date:

DOI: https://doi.org/10.1007/s00292-007-0962-2
Schlüsselwörter
Keywords