Abstract
Purpose
Prostatic arterial embolization (PAE) has emerged as a minimally invasive alternative to TURP; however, there are limited cost comparisons reported. The purpose of this study was to compare in-hospital direct costs of elective PAE and TURP in a hospital setting.
Materials and Methods
Institutional Review Board-approved retrospective review was performed on patients undergoing PAE and TURP from January to December 2014. Inclusion criteria included male patients greater than 40 years of age who presented for ambulatory TURP or PAE with no history of prior surgical intervention for BPH. Direct costs were categorized into the following categories: nursing and operating room or interventional room staffing, operating room or interventional supply costs, anesthesia supplies, anesthesia staffing, hospital room cost, radiology, and laboratory costs. Additionally, length of stay was evaluated for both groups.
Results
The mean patient age for the TURP (n = 86) and PAE (n = 70) cohorts was 71.3 and 64.4 years, respectively (p < 0.0001). Intra-procedural supplies for PAE were significantly more costly than TURP ($1472.77 vs $1080.84, p < 0.0001). When including anesthesia supplies and nursing/staffing, costs were significantly more expensive for TURP than PAE ($2153.64 vs $1667.10 p < 0.0001). The average length of stay for the TURP group was longer at 1.38 versus 0.125 days for the PAE group. Total in-hospital costs for the TURP group ($5338.31, SD $3521.17) were significantly higher than for PAE ($1678.14, SD $442.0, p < 0.0001).
Conclusions
When compared to TURP, PAE was associated with significantly lower direct in-hospital costs and shorter hospital stay.
This is a preview of subscription content, log in to check access.
Access options
Buy single article
Instant access to the full article PDF.
US$ 39.95
Price includes VAT for USA
Subscribe to journal
Immediate online access to all issues from 2019. Subscription will auto renew annually.
US$ 99
This is the net price. Taxes to be calculated in checkout.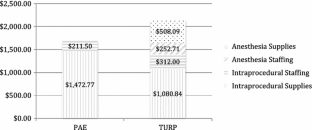 References
1.

AUA Practice Guidelines Committee. American urological association guideline: management of benign prostatic hyperplasia. J Urol. 2010.

2.

Wei JT, Calhoun E, Jacobsen SJ. Urologic diseases in America project: benign prostatic hyperplasia. Urology. 2005;173:1256–61.

3.

Carnevale FC, Antunes AA, da Motta Leal Filho JM, de Oliveira Cerri LM, Baroni RH, Marcelino AS, Freire GC, Moreira AM, Srougi M, Cerri GG. Prostatic artery embolization as a primary treatment for benign prostatic hyperplasia: preliminary results in two patients. Cardiovasc Intervent Radiol. 2010;33(2):355–61. doi:10.1007/s00270-009-9727-z.

4.

Kurbatov P, Russo GI, Lepetukhin A, et al. Prostatic artery embolization for prostate volume greater then 80 cm3: results from a single center projective study. Urology. 2014;84:400–4.

5.

Pisco JM, et al. Medium- and long-term outcome of prostate artery embolization for patients with benign prostatic hyperplasia: results in 630 patients. J Vasc Intvent Radiol. 2016;27:1115–22.

6.

Uflacker A, Haskal ZJ, Bilhim T, Patrie J, Huber T, Pisco JM. Meta-analysis of prostatic artery embolization for benign prostatic hyperplasia. J Vasc Interv Radiol. 2016;. doi:10.1016/j.jvir.2016.08.004.

7.

Bagla S, Smirniotopoulos JB, Orlando JC, van Breda A, Vadlamudi V. Comparative analysis of prostate volume as a predictor of outcome in prostate artery embolization. J Vasc Interv Radiol. 2015;26(12):1832–8. doi:10.1016/j.jvir.2015.08.018.

8.

Carnevale FC, Iscaife A, Yoshinaga EM, Moreira AM, Antunes AA, Srougi M. Transurethral resection of the prostate (TURP) versus original and PErFecTED prostate arteryembolization (PAE) due to benign prostatic hyperplasia (bph): preliminary results of a single center, prospective, urodynamic-controlled analysis. Cardiovasc Interv Radiol. 2016;39(1):44–52. doi:10.1007/s00270-015-1202-4.

9.

Uflacker A, Haskal ZJ, Bilhim T, Patrie J, Huber T, Pisco JM. Meta-analysis of prostatic artery embolization for benign prostatic hyperplasia. J Vasc Interv Radiol. 2016;27(11):1686–97. doi:10.1016/j.jvir.2016.08.004.

10.

Gao YA, Huang Y, Zhang R, Yang YD, Zhang Q, Hou M, Wang Y. Benign prostatic hyperplasia: prostatic arterial embolization versus transurethral resection of the prostate—a prospective, randomized, and controlled clinical trial. Radiology. 2014;270(3):920–8. doi:10.1148/radiol.13122803.
Acknowledgements
This study was funded by the SIR Foundation Harvey L. Neiman Health Policy Institute Cost-effectiveness and Quality Outcomes Research Grant program.
Ethics declarations
Conflict of interest
Sandeep Bagla, John Smirniotopoulos, Julie Orlando, and Rachel Piechowiak have no conflict of interest.
Ethical Approval
All procedures performed in studies involving human participants were in accordance with the ethical standards of the institutional and/or national research committee and with the 1964 Declaration of Helsinki and its later amendments or comparable ethical standards.
About this article
Cite this article
Bagla, S., Smirniotopoulos, J., Orlando, J. et al. Cost Analysis of Prostate Artery Embolization (PAE) and Transurethral Resection of the Prostate (TURP) in the Treatment of Benign Prostatic Hyperplasia. Cardiovasc Intervent Radiol 40, 1694–1697 (2017). https://doi.org/10.1007/s00270-017-1700-7
Received:

Accepted:

Published:

Issue Date:
Keywords
Prostate artery embolization (PAE)

Cost

TURP

BPH