Abstract
Background
In patients with a thin soft tissue breast envelope, lower pole implant palpability is a postoperative sequela that concerns patients. Anatomically, the lower aspect of the breast near the inframammary fold lacks sufficient soft tissue to cover the breast implant after augmentation.
Methods
A transareolar incision was made, and subcutaneous dissection was performed. The dissection first proceeded caudally to the lower aspect to the breast parenchyma. The dissection then changed direction and moved cephalad to the mid breast or nipple region. The fatty tissue and pectoralis muscle fascia were cut transversely at this level, and the dissection was reversed caudally in a subfascial plane to the new inframammary fold region. This maneuver created a retromammary adipofascial flap.
Results
A total of 368 breast augmentations were performed in 184 patients. Breast implants were inserted in the subfascial plane in 40 patients (21.7%) and in the subpectoral–subfascial plane in 144 patients (78.3%). A total of 368 breast implants were inserted, including 140 smooth cohesive silicone implants (38.0%), 2 textured round implants (0.5%), and 226 anatomic-type implants (61.5%). A cadaveric dissection revealed that a retromammary adipofascial flap measuring 3–4 mm in thickness can be acquired. Capsular contracture occurred in six breasts (1.7%).
Conclusions
During breast augmentation, an inferiorly based retromammary adipofascial flap can be created to help cover the lower pole of the breast from implant palpability. This is helpful especially in patients with thin skin, hypoplastic breasts, or constricted breasts.
Level of Evidence IV
This journal requires that authors assign a level of evidence to each article. For a full description of these Evidence-Based Medicine ratings, please refer to the Table of Contents or the online Instructions to Authors www.springer.com/00266.
This is a preview of subscription content, log in to check access.
Access options
Buy single article
Instant access to the full article PDF.
US$ 39.95
Price includes VAT for USA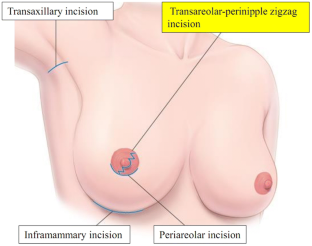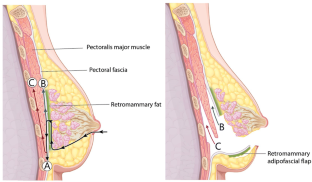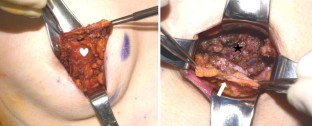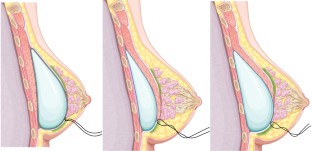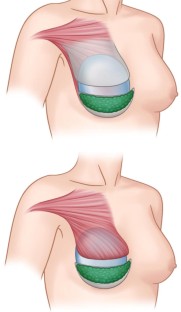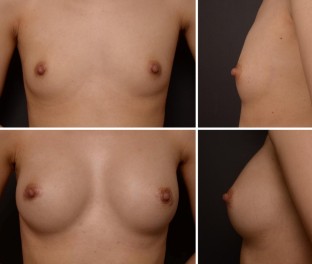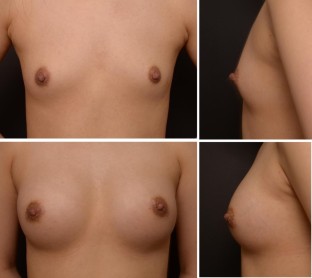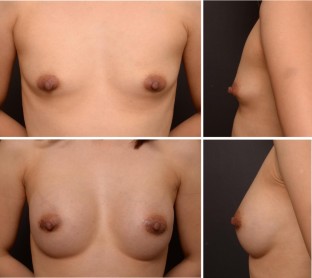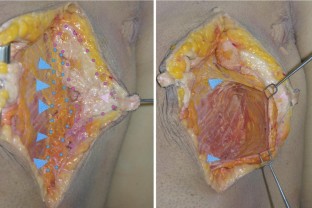 References
1.

Cronin TD, Gerow JF (1963) Augmentation mammoplasty; a new "natural feel" prosthesis. Paper presented at: transactions of the third international congress of plastic surgery, October 13–18. Excerpta Medica Foundation, Amsterdam

2.

Vazquez B, Given KS, Houston GC (1987) Breast augmentation: a review of subglandular and submuscular implantation. Aesthet Plast Surg 11:101–105

3.

Dempsey WC, Latham WD (1968) Subpectoral implants in augmentation mammaplasty. Preliminary report. Plast Reconstr Surg 42:515–521

4.

Spear SL, Schwartz J, Dayan JH, Clemens MW (2009) Outcome assessment of breast distortion following submuscular breast augmentation. Aesthet Plast Surg 33:44–48

5.

Tebbetts JB (2006) Dual plane breast augmentation: optimizing implant-soft-tissue relationships in a wide range of breast types. Plast Reconstr Surg 118:81S–98S

6.

Graf RM, Bernardes A, Auersvald A, Damasio RC (2000) Subfascial endoscopic transaxillary augmentation mammaplasty. Aesthet Plast Surg 24:216–220

7.

Graf RM, Bernardes A, Rippel R, Araujo LR, Damasio RC, Auersvald A (2003) Subfascial breast implant: a new procedure. Plast Reconstr Surg 111:904–908

8.

Goes JC, Landecker A (2003) Optimizing outcomes in breast augmentation: seven years of experience with the subfascial plane. Aesthet Plast Surg 27:178–184

9.

Serra-Renom J, Garrido MF, Yoon T (2005) Augmentation mammaplasty with anatomic soft, cohesive silicone implant using the transaxillary approach at a subfascial level with endoscopic assistance. Plast Reconstr Surg 116:640–645

10.

Munhoz AM, Fells K, Arruda E et al (2006) Subfascial transaxillary breast augmentation without endoscopic assistance: technical aspects and outcome. Aesthet Plast Surg 30:503–512

11.

Siclovan HR, Jomah JA (2008) Advantages and outcomes in subfascial breast augmentation: a two-year review of experience. Aesthet Plast Surg 32:426–431

12.

Stoff-Khalili MA, Scholze R, Morgan WR, Metcalf JD (2004) Subfascial periareolar augmentation mammaplasty. Plast Reconstr Surg 114:1280–1288

13.

Lee JH, Lee PK, Oh DY, Rhie JW, Ahn ST (2012) Subpectoral–subfascial breast augmentation for thin-skinned patients. Aesthet Plast Surg 36:115–121

14.

Hunstad JP, Webb LS (2010) Subfascial breast augmentation: a comprehensive experience. Aesthet Plast Surg 34:365–373

15.

Tijerina VN, Saenz RA, Garcia-Guerrero J (2010) Experience of 1000 cases on subfascial breast augmentation. Aesthet Plast Surg 34:16–22

16.

Brown T (2012) Subfascial breast augmentation: is there any advantage over the submammary plane? Aesthet Plast Surg 36:566–569

17.

Aygit AC, Basaran K, Mercan ES (2013) Transaxillary totally subfascial breast augmentation with anatomical breast implants: review of 27 cases. Plast Reconstr Surg 131:1149–1156

18.

Yoo G, Lee PK (2010) Capsular flaps for the management of malpositioned implants after augmentation mammoplasty. Aesthet Plast Surg 34:111–115

19.

Han HH, Kim KK, Lee KH et al (2015) Transareolar-perinipple (areolar omega) zigzag incision for augmentation mammaplasty. Plast Reconstr Surg 135:517e–525e

20.

Spear SL, Baker JL Jr. (1995) Classification of capsular contracture after prosthetic breast reconstruction. Plast Reconstr Surg 96:1119–1123

21.

Hester TR Jr, Ghazi BH, Moyer HR, Nahai FR, Wilton M, Stokes L (2012) Use of dermal matrix to prevent capsular contracture in aesthetic breast surgery. Plast Reconstr Surg 130:126S–136S

22.

Kaufman D (2012) Pocket reinforcement using acellular dermal matrices in revisionary breast augmentation. Clin Plast Surg 39:137–148

23.

Hartzell TL, Taghinia AH, Chang J, Lin SJ, Slavin SA (2010) The use of human acellular dermal matrix for the correction of secondary deformities after breast augmentation: results and costs. Plast Reconstr Surg 126:1711–1720

24.

Mofid MM, Singh NK (2009) Pocket conversion made easy: a simple technique using alloderm to convert subglandular breast implants to the dual-plane position. Aesthet Surg J 29:12–18

25.

Maxwell GP, Gabriel A (2014) Acellular dermal matrix for reoperative breast augmentation. Plast Reconstr Surg 134:932–938

26.

Pozner JN, White JB, Newman MI (2013) Use of porcine acellular dermal matrix in revisionary cosmetic breast augmentation. Aesthet Surg J 33:681–690

27.

Separ SL, Sinkin JC, Al-Attar A (2013) Porcine acellular dermal matrix (strattice) in primary and revision cosmetic breast surgery. Plast Reconstr Surg 131:1140–1148

28.

Spear SL, Wilson HB, Lockwood MD (2005) Fat injection to correct contour deformities in the reconstructed breast. Plast Reconstr Surg 116:1300–1305

29.

Bircoll M (1987) Cosmetic breast augmentation utilizing autologous fat and liposuction techniques. Plast Reconstr Surg 79:267–271

30.

Zheng DN, Li QF, Lei H et al (2008) Autologous fat grafting to the breast for cosmetic enhancement: experience in 66 patients with long-term follow-up. J Plast Reconstr Aesthet Surg 61:792–798

31.

Teimourian B (1986) Repair of soft-tissue contour deficit by means of semiliquid fat graft. Plast Reconstr Surg 78:123–124

32.

Jinde L, Jianlianq S, Xiaoping C et al (2006) Anatomy and clinical significance of pectoral fascia. Plast Reconstr Surg 118:1557–1560

33.

Stecco A, Masiero S, Macchi V, Stecco C, Porzionato A, De Caro R (2009) The pectoral fascia: anatomical and histological study. J Bodyw Mov Ther 13:255–261

34.

Handel N, Jensen JA, Black Q, Waisman JR, Silverstein MJ (1995) The fate of breast implants: a critical analysis of complications and outcomes. Plast Reconstr Surg 96:1521–1533

35.

Wixtrom RN, Stutman RL, Burke RM, Mahoney AK, Codner MA (2012) Risk of breast implant bacterial contamination from endogenous breast flora, prevention with nipple shields, and implications for biofilm formation. Aesthet Surg J 32:956–963

36.

Jennings DA, Morykwas MJ, Burns WW, Crook ME, Hudson WP, Argenta LC (1991) In vitro adhesion of endogeneous skin microorganisms to breast prostheses. Ann Plast Surg 27:216–220
Ethics declarations
Conflict of interest
The authors declare that they have no conflict of interest and no financial support.
Ethical Approval
This study was conducted in accordance with the principles of the Declaration of Helsinki, and all patients provided written informed consent prior to enrollment.
Electronic supplementary material
Below is the link to the electronic supplementary material.
Subfascial pocket dissection
Subpectoral-subfascial pocket dissection
About this article
Cite this article
Han, H.H., Kim, K.K., Lee, K.H. et al. The Use of a Retromammary Adipofascial Flap in Breast Augmentation for Patients with Thin Soft Tissue. Aesth Plast Surg 42, 1447–1456 (2018). https://doi.org/10.1007/s00266-018-1215-x
Received:

Accepted:

Published:

Issue Date:
Keywords
Retromammary adipofascial flap

Thin soft tissue

Autologous caudal breast augmentation

Caudal breast padding