Abstract
Purpose
Local recurrence occurs in ~ 19% of sinonasal inverted papilloma (SNIP) surgeries and is strongly associated with incomplete resection. During surgery, it is technically challenging to visualize and resect all SNIP tissue in this anatomically complex area. Proteins that are overexpressed in SNIP, such as vascular endothelial growth factor (VEGF), may serve as a target for fluorescence molecular imaging to guide surgical removal of SNIP. A proof-of-concept study was performed to investigate if the VEGF-targeted near-infrared fluorescent tracer bevacizumab-800CW specifically localizes in SNIP and whether it could be used as a clinical tool to guide SNIP surgery.
Methods
In five patients diagnosed with SNIP, 10 mg of bevacizumab-800CW was intravenously administered 3 days prior to surgery. Fluorescence molecular imaging was performed in vivo during surgery and ex vivo during the processing of the surgical specimen. Fluorescence signals were correlated with final histopathology and VEGF-A immunohistochemistry. We introduced a fluorescence grid analysis to assess the fluorescence signal in individual tissue fragments, due to the nature of the surgical procedure (i.e., piecemeal resection) allowing the detection of small SNIP residues and location of the tracer ex vivo.
Results
In all patients, fluorescence signal was detected in vivo during endoscopic SNIP surgery. Using ex vivo fluorescence grid analysis, we were able to correlate bevacizumab-800CW fluorescence of individual tissue fragments with final histopathology. Fluorescence grid analysis showed substantial variability in mean fluorescence intensity (FImean), with SNIP tissue showing a median FImean of 77.54 (IQR 50.47–112.30) compared to 35.99 (IQR 21.48–57.81) in uninvolved tissue (p < 0.0001), although the diagnostic ability was limited with an area under the curve of 0.78.
Conclusions
A fluorescence grid analysis could serve as a valid method to evaluate fluorescence molecular imaging in piecemeal surgeries. As such, although substantial differences were observed in fluorescence intensities, VEGF-A may not be the ideal target for SNIP surgery.
Trial registration
NCT03925285.
Data availability
All data are available from the corresponding author (MJHW) on reasonable request.
References
Busquets JM, Hwang PH. Endoscopic resection of sinonasal inverted papilloma: a meta-analysis. Otolaryngol Head Neck Surg. 2006;134(3):476–82.

Lund VJ, Stammberger H, Nicolai P, et al. European position paper on endoscopic management of tumours of the nose, paranasal sinuses and skull base. Rhinol Suppl. 2010;22:1–143.

Wang MJ, Noel JE. Etiology of sinonasal inverted papilloma: a narrative review. World J Otorhinolaryngol Head Neck Surg. 2016;3(1):54–8.

Chiu AG, Jackman AH, Antunes MB, Feldman MD, Palmer JN. Radiographic and histologic analysis of the bone underlying inverted papillomas. Laryngoscope. 2006;116(9):1617–20.

Goudakos JK, Blioskas S, Nikolaou A, Vlachtsis K, Karkos P, Markou KD. Endoscopic resection of sinonasal inverted papilloma: systematic review and meta-analysis. Am J Rhinol Allergy. 2018;32(3):167–74.

Peng R, Thamboo A, Choby G, Ma Y, Zhou B, Hwang PH. Outcomes of sinonasal inverted papilloma resection by surgical approach: an updated systematic review and meta-analysis. Int Forum Allergy Rhinol. 2019;9(6):573–81.

Xiao-Ting W, Peng L, Xiu-Qing W, et al. Factors affecting recurrence of sinonasal inverted papilloma. Eur Arch Otorhinolaryngol. 2013;270(4):1349–53.

Vonk J, de Wit JG, Voskuil FJ, Witjes MJH. Improving oral cavity cancer diagnosis and treatment with fluorescence molecular imaging. Oral Dis. 2020.

Voskuil FJ, de Jongh SJ, Hooghiemstra WTR, et al. Fluorescence-guided imaging for resection margin evaluation in head and neck cancer patients using cetuximab-800CW: a quantitative dose-escalation study. Theranostics. 2020;10(9):3994–4005.

Koller M, Qiu SQ, Linssen MD, et al. Implementation and benchmarking of a novel analytical framework to clinically evaluate tumor-specific fluorescent tracers. Nat Commun. 2018;9(1):3739–018–05727-y.

Gao RW, Teraphongphom NT, van den Berg NS, et al. Determination of tumor margins with surgical specimen mapping using near-infrared fluorescence. Cancer Res. 2018;78(17):5144–54.

Nagengast WB, Hartmans E, Garcia-Allende PB, et al. Near-infrared fluorescence molecular endoscopy detects dysplastic oesophageal lesions using topical and systemic tracer of vascular endothelial growth factor A. Gut. 2019;68(1):7–10.

Jasper, Vonk Jaron G, de Wit Floris J, Voskuil Yang Hang, Tang Wouter TR, Hooghiemstra Matthijs D, Linssen Evert, van den Broek Jan J, Doff Sebastiaan AHJ, de Visscher Kees P, Schepman Bert, van der Vegt Gooitzen M, van Dam Max JH, Witjes. Epidermal growth factor receptor targeted fluorescence molecular imaging for postoperative lymph node assessment in patients with oral cancer. Journal of Nuclear Medicine. 2021. https://jnm.snmjournals.org/content/early/2021/09/15/jnumed.121.262530. 

Yoon BN, Chon KM, Hong SL, et al. Inflammation and apoptosis in malignant transformation of sinonasal inverted papilloma: the role of the bridge molecules, cyclooxygenase-2, and nuclear factor κB. Am J Otolaryngol. 2013;34(1):22–30.

Katori H, Nozawa A, Tsukuda M. Markers of malignant transformation of sinonasal inverted papilloma. Eur J Surg Oncol. 2005;31(8):905–11.

Udager AM, Rolland DCM, McHugh JB, et al. High-frequency targetable EGFR mutations in sinonasal squamous cell carcinomas arising from inverted sinonasal papilloma. Cancer Res. 2015;75(13):2600–6.

Zhang J, Yang Y, Tang Y, Wu X, Cong L, Ruan B. The quantification and significance of muscle segment homeobox gene Msx2, human topoisomerase II-α, HPV16 and VEGF in sinonasal inverted papilloma. Lin Chung Er Bi Yan Hou Tou Jing Wai Ke Za Zhi. 2014;28(23):1819–23.

Kong H, Guan Q, Sun X, Wang N. Significance and expression of VEGF and its receptor in nasal inverted papillomas and the correlation with malignant phenotype. Lin Chung Er Bi Yan Hou Tou Jing Wai Ke Za Zhi. 2012;26(8):337–8, 342.

Liu W, Li Z, Luo Q, et al. The elevated expression of osteopontin and vascular endothelial growth factor in sinonasal inverted papilloma and its relationship with clinical severity. Am J Rhinol Allergy. 2011;25(5):313–7.

Steinkamp PJ, Pranger BK, Li M, et al. Fluorescence-guided visualization of soft tissue sarcomas by targeting vascular endothelial growth factor-A: a phase 1 single-center clinical trial. J Nucl Med. 2020.

Lamberts LE, Koch M, de Jong JS, et al. Tumor-specific uptake of fluorescent bevacizumab-IRDye800CW microdosing in patients with primary breast cancer: a phase I feasibility study. Clin Cancer Res. 2017;23(11):2730–41.

Hartmans E, Tjalma JJJ, Linssen MD, et al. Potential red-flag identification of colorectal adenomas with wide-field fluorescence molecular endoscopy. Theranostics. 2018;8(6):1458–67.

Tjalma JJJ, Koller M, Linssen MD, et al. Quantitative fluorescence endoscopy: an innovative endoscopy approach to evaluate neoadjuvant treatment response in locally advanced rectal cancer. Gut. 2020;69(3):406–10.

Ter Weele EJ, Terwisscha van Scheltinga AG, Linssen MD, et al. Development, preclinical safety, formulation, and stability of clinical grade bevacizumab-800CW, a new near infrared fluorescent imaging agent for first in human use. Eur J Pharm Biopharm. 2016; 104:226–234.

Linssen MD, Ter Weele EJ, Allersma DP, et al. Roadmap for the development and clinical translation of optical tracers cetuximab-800CW and trastuzumab-800CW. J Nucl Med. 2019;60(3):418–23.

Koch M, Symvoulidis P, Ntziachristos V. Tackling standardization in fluorescence molecular imaging. Nat Photonics. 2018;12(9):505–15.

Kapoor S, Lu G, van den Berg, Nynke S, et al. Effect of formalin fixation for near-infrared fluorescence imaging with an antibody-dye conjugate in head and neck cancer patients. Molecular Imaging and Biology. 2020:1–7.

Óvári A, Starke N, Schuldt T, et al. Optical coherence tomography and confocal laser scanning microscopy as non-invasive tools in the diagnosis of sinonasal inverted papilloma: a pilot study. Eur Arch Otorhinolaryngol. 2018;275(7):1775–81.

Kidwai SM, Parasher AK, Schorn VJ, et al. Optical imaging with a high-resolution microendoscope to identify sinonasal pathology. Am J Otolaryngol. 2018;39(4):383–7.

Mascarella MA, Alrasheed A, Fnais N, et al. Raman spectroscopy for inverted papilloma: a proof-of-concept study. Otolaryngol Head Neck Surg. 2018;159(3):587–9.

Tjalma JJ, Garcia-Allende PB, Hartmans E, et al. Molecular fluorescence endoscopy targeting vascular endothelial growth factor A for improved colorectal polyp detection. J Nucl Med. 2016;57(3):480–5.

Nagengast WB, de Vries EG, Hospers GA, et al. In vivo VEGF imaging with radiolabeled bevacizumab in a human ovarian tumor xenograft. J Nucl Med. 2007;48(8):1313–9.

Stollman TH, Scheer MG, Leenders WP, et al. Specific imaging of VEGF-A expression with radiolabeled anti-VEGF monoclonal antibody. Int J Cancer. 2008;122(10):2310–4.

Tichauer KM, Wang Y, Pogue BW, Liu JT. Quantitative in vivo cell-surface receptor imaging in oncology: kinetic modeling and paired-agent principles from nuclear medicine and optical imaging. Phys Med Biol. 2015;60(14):R239–69.

Thurber GM, Dane WK. A mechanistic compartmental model for total antibody uptake in tumors. J Theor Biol. 2012;314:57–68.

Thurber GM, Weissleder R. Quantitating antibody uptake in vivo: conditional dependence on antigen expression levels. Mol Imaging Biol. 2011;13(4):623–32.

Apte RS, Chen DS, Ferrara N. VEGF in signaling and disease: beyond discovery and development. Cell. 2019;176(6):1248–64.

Ferrara N, Gerber HP, LeCouter J. The biology of VEGF and its receptors. Nat Med. 2003;9(6):669–76.

Tichauer KM, Samkoe KS, Gunn JR, et al. Microscopic lymph node tumor burden quantified by macroscopic dual-tracer molecular imaging. Nat Med. 2014;20(11):1348–53.

Samkoe KS, Park Y, Marra K, Chen EY, Tichauer KM. Paired-agent imaging for detection of head and neck cancers. Proc SPIE Int Soc Opt Eng. 2019;10853:https://doi.org/10.1117/12.2510897.

Syrjänen K, Syrjänen S. Detection of human papillomavirus in sinonasal papillomas: systematic review and meta-analysis. Laryngoscope. 2013;123(1):181–92.

Ding R, Sun Q, Wang Y. Association between human papilloma virus infection and malignant sinonasal inverted papilloma. Laryngoscope. 2020.

Roh HJ, Procop GW, Batra PS, Citardi MJ, Lanza DC. Inflammation and the pathogenesis of inverted papilloma. Am J Rhinol. 2004;18(2):65–74.

Zhao L, Li CW, Jin P, et al. Histopathological features of sinonasal inverted papillomas in chinese patients. Laryngoscope. 2016;126(4):E141–7.

Voskuil FJ, Steinkamp PJ, Zhao T, et al. Exploiting metabolic acidosis in solid cancers using a tumor-agnostic pH-activatable nanoprobe for fluorescence-guided surgery. Nat Commun. 2020;11(1):3257–020–16814–4.
Acknowledgements
We thank all patients who participated in this study. We thank Maaike Barentsen for the assistance during tissue processing.
Funding
Open access funding was provided by the University of Groningen.
Ethics declarations
Ethics approval
The study protocol was approved by the institution's medical ethics committee, and the trial was performed in accordance with the principles of Good Clinical Practice guidelines and the Declaration of Helsinki.
Informed consent
Signed written informed consent was obtained from all patients included in the study.
Conflict of interest
GMvD is CEO, founder, and shareholder of TRACER Europe BV/AxelaRx. BvdV is member of the Scientific Advisory Board of Visiopharm for which compensation is received by the UMCG. The other authors declare no competing interests.
Additional information
Publisher's note
Springer Nature remains neutral with regard to jurisdictional claims in published maps and institutional affiliations.
This article is part of the Topical Collection on Oncology—Head and Neck
Electronic supplementary material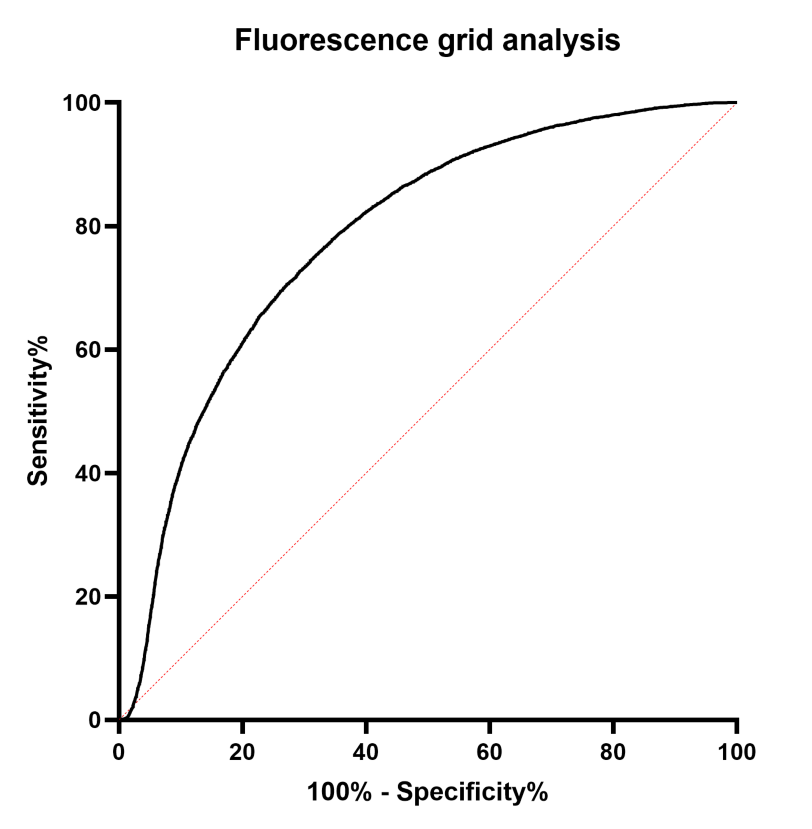 ROC curve of fluorescence grid analysis. ROC curve of all patients combined based on mean fluorescence intensity (FImean) as determined with fluorescence grid analysis shows an area under the curve of 0.78. (PNG 89.4 kb)
Rights and permissions
Open Access This article is licensed under a Creative Commons Attribution 4.0 International License, which permits use, sharing, adaptation, distribution and reproduction in any medium or format, as long as you give appropriate credit to the original author(s) and the source, provide a link to the Creative Commons licence, and indicate if changes were made. The images or other third party material in this article are included in the article's Creative Commons licence, unless indicated otherwise in a credit line to the material. If material is not included in the article's Creative Commons licence and your intended use is not permitted by statutory regulation or exceeds the permitted use, you will need to obtain permission directly from the copyright holder. To view a copy of this licence, visit http://creativecommons.org/licenses/by/4.0/.
About this article
Cite this article
Vonk, J., Voskuil, F., de Wit, J. et al. Fluorescence grid analysis for the evaluation of piecemeal surgery in sinonasal inverted papilloma: a proof-of-concept study. Eur J Nucl Med Mol Imaging 49, 1640–1649 (2022). https://doi.org/10.1007/s00259-021-05567-x
Received:

Accepted:

Published:

Issue Date:

DOI: https://doi.org/10.1007/s00259-021-05567-x
Keywords
Paranasal sinus neoplasms

Papilloma

Inverted

Optical imaging

Molecular imaging

Vascular endothelial growth factor A