Abstract
Anthropogenic impact over the Pasvik River (Arctic Norway) is mainly caused by emissions from runoff from smelter and mine wastes, as well as by domestic sewage from the Russian, Norwegian, and Finnish settlements situated on its catchment area. In this study, sediment samples from sites within the Pasvik River area with different histories of metal input were analyzed for metal contamination and occurrence of metal-resistant bacteria in late spring and summer of 2014. The major differences in microbial and chemical parameters were mostly dependent on local inputs than seasonality. Higher concentrations of metals were generally detected in July rather than May, with inner stations that became particularly enriched in Cr, Ni, Cu, and Zn, but without significant differences. Bacterial resistance to metals, which resulted from viable counts on amended agar plates, was in the order Ni2+>Pb2+>Co2+>Zn2+>Cu2+>Cd2+>Hg2+, with higher values that were generally determined at inner stations. Among a total of 286 bacterial isolates (mainly achieved from Ni- and Pb-amended plates), the 7.2% showed multiresistance at increasing metal concentration (up to 10,000 ppm). Selected multiresistant isolates belonged to the genera Stenotrophomonas, Arthrobacter, and Serratia. Results highlighted that bacteria, rapidly responding to changing conditions, could be considered as true indicators of the harmful effect caused by contaminants on human health and environment and suggested their potential application in bioremediation processes of metal-polluted cold sites.
This is a preview of subscription content, log in to check access.
Access options
Buy single article
Instant access to the full article PDF.
US$ 39.95
Price includes VAT for USA
Subscribe to journal
Immediate online access to all issues from 2019. Subscription will auto renew annually.
US$ 199
This is the net price. Taxes to be calculated in checkout.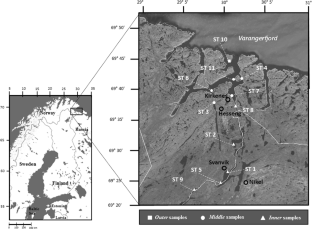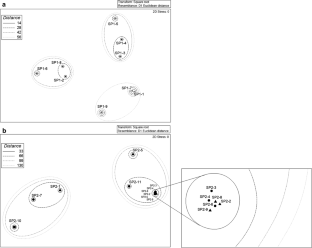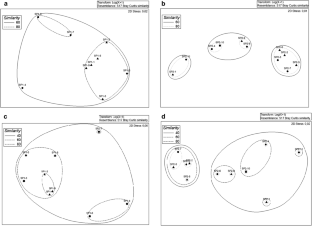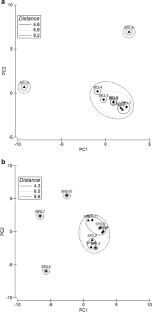 References
Ahluwalia SS, Goyal D (2007) Microbial and plant derived biomass for removal of heavy metals from wastewater. Bioresour Technol 98:2243–2257

Alboghobeish H, Tahmourespour A, Doudi M (2014) The study of Nickel Resistant Bacteria (NiRB) isolated from wastewaters polluted with different industrial sources. J Environ Health Sci Eng 12:44

Ali M, Abdel-Satar A (2005) Studies of some heavy metals in water, sediment, fish and fish diets in some fish farms in El-Fayoum province. Egypt J Aquat Res 31:261–273

Altimira F, Yáñez C, Bravo G, González M, Rojas LA, Seeger M (2012) Characterization of copper-resistant bacteria and bacterial communities from copper-polluted agricultural soils of central Chile. BMC Microbiol 12:193

Altschul SF, Madden TL, Schaffer AA, Zhang J, Zhang Z, Miller W, Lipman DJ (1997) Gapped BLAST and PSI-BLAST: a new generation of protein database search programs. Nucleic Acids Res 25:3389–3402

AMAP (2002) AMAP assessment: heavy metals in the Arctic. Arctic Monitoring and Assessment Programme (AMAP), Oslo

AMAP (2011) AMAP assessment 2011: mercury in the Arctic. Arctic Monitoring and Assessment Programme (AMAP), Oslo, Norway

Amundsen P-A, Staldvik FJ, Lukin AA, Kashulin NA, Popova OA, Reshetnikov YS (1997) Heavy metal contamination in freshwater fish from the border region between Norway and Russia. Sci Total Environ 201:211–214

Bruins MR, Kapil S, Oehme FW (2000) Microbial resistance to metals in the environment. Ecotoxicol Environ Saf 45:198–207

Ceylan O, Ugur A (2012) Bio-monitoring of heavy metal resistance in Pseudomonas and Pseudomonas related genus. J Biol Environ Sci 6:233–242

Das S, Elavarasi A, Somasundharan PL, Khan SA (2009) Biosorption of heavy metals by marine bacteria: potential tool for detecting marine pollution. J Environ Health 9:38–43

Dauvalter V, Rognerud S (2001) Heavy metals pollution in sediments of the Pasvik River drainage. Chemosphere 42:9–18

Ellis RJ, Neish B, Trett MW, Best JG, Weightman AJ, Morgan P, Fry JC (2001) Comparison of microbial and meiofaunal community analyses for determining impact of heavy metal contamination. J Microbiol Methodol 45:171–185

Filali BK, Taoufik J, Zeroual Y, Dzairi FZ, Talbi M, Blaghen M (2000) Waste water bacterial isolates resistant to heavy metals and antibiotics. Curr Microbiol 41:151–156

González-Aravena M, Urtubia R, Del Campo K, Lavín P, Wong CMVL, Cárdenas CA, González-Rocha G (2016) Antibiotic and metal resistance of cultivable bacteria in the Antarctic sea urchin. Antarct Sci 28:261–268

Habi S, Daba H (2009) Plasmid incidence, antibiotic and metal resistance among enterobacteriaceae isolated from Algeria stream. Pak J Appl Sci 12:1474–1482

Laganà P, Votano L, Caruso G, Azzaro M, Lo Giudice A, Delia S (2018) Bacterial isolates from the Arctic region (Pasvik River, Norway): assessment of biofilm production and antibiotic susceptibility profiles. Environ Sci Pollut Res 25:1089–1102

Lo Giudice A, Casella P, Bruni V, Michaud L (2013) Response of bacterial isolates from Antarctic shallow sediments towards heavy metals, antibiotics and polychlorinated biphenyls. Ecotoxicology 22:240–250

Malik A, Khan IF, Aleem A (2002) Plasmid incidence in bacteria from agricultural and industrial soils. World J Microbiol Biotechnol 18:827–833

Mangano S, Michaud L, Caruso C, Lo Giudice A (2014) Metal and antibiotic-resistance in psychrotrophic bacteria associated with the Antarctic sponge Hemigellius pilosus (Kirkpatrick, 1907). Polar Biol 37:227–235

Michaud L, Di Cello F, Brilli M, Fani R, Lo Giudice A, Bruni V (2004) Biodiversity of cultivable psychrotrophic marine bacteria isolated from Terra Nova Bay (Ross Sea, Antarctica). FEMS Microbiol Lett 230:63–71

Neethu CS, Mujeeb Rahiman KM, Saramma AV, Mohamed Hatha AA (2015) Heavy-metal resistance in Gram-negative bacteria isolated from Kongsfjord, Arctic. Can J Microbiol 61:429–435

Nies DH (1999) Microbial heavy metals resistances. Appl Microbiol Biotechnol 51:730–750

Nies DH (2000) Heavy metal resistant bacteria as extremophiles: molecular physiology and biotechnological use of Ralstonia sp. CH34. Extremophiles 4:77–82

Olaniran AO, Balgobind A, Pillay B (2013) Bioavailability of heavy metals in soil: impact on microbial biodegradation of organic compounds and possible improvement strategies. Int J Mol Sci 14:10197–10228

Pagès JM, James CE, Winterhalter M (2008) The porin and the permeating antibiotic: a selective diffusion barrier in Gram-negative bacteria. Nat Rev Microbiol 6:893–903

Papale M, Conte A, Del Core M, Zito E, Sprovieri M, De Leo F, Rizzo C, Urzì C, De Domenico E, Luna GM, Michaud L, Lo Giudice A (2018) Heavy-metal resistant microorganisms in sediments from submarine canyons and the adjacent continental slope in the northeastern Ligurian margin (Western Mediterranean Sea). Prog Ocean 168:155–168

Raja ECA, Selvam GS (2006) Isolation and characterization of a metalresistant Pseudomonas aeruginosa strain. World J Microbiol Biotechnol 22:577–586

Rathnayake IVN, Megharaj M, Bolan N, Naidu R (2009) Tolerance of heavy metals by Gram positive soil bacteria. World Acad Sci Eng Technol 53:1185–1189

Selvin J, Shanmughapriya S, Gandhimathi R, Kiran GS, Ravji TR, Natarajaseenivasan K, Hema TA (2009) Optimization and production of novel antimicrobial agents from sponge associated marine actinomycetes Nocardiopsis dassonvillei MAD08. Appl Microbiol Biotechnol 83:435–445

Sumampouw OJ, Risjani Y (2014) Bacteria as indicators of environmental pollution: review. Int J Ecosyst 4:251–258

Tada Y, Inoue T (2000) Use of oligotrophic bacteria for the biological monitoring of heavy metals. J Appl Microbiol 88:154–160

Thompson JD, Higgins DG, Gibson TJ (1994) CLUSTAL W: improving the sensitivity of progressive multiple sequence alignment through sequence weighting, position-specific gap penalties and weight matrix choice. Nucleic Acids Res 22:4673–4680

Tomova I, Stoilova-Disheva M, Vasileva-Tonkova E (2014) Characterization of heavy metals resistant heterotrophic bacteria from soils in the Windmill Islands region, Wilkes Land, East Antarctica. Polish Pol Res 35:593–607

Tomova I, Stoilova-Disheva M, Lazarkevich I, Vasileva-Tonkova E (2015) Antimicrobial activity and resistance to heavy metals and antibiotics of heterotrophic bacteria isolated from sediment and soil samples collected from two Antarctic islands. Front Life Sci 8:348–357

Vaz-Moreira I, Nunes OC, Manaia CM (2011) Diversity and antibiotic resistance patterns of Sphingomonadaceae isolates from drinking water. Appl Environ Microbiol 77:5697–5706

Zakaria ZA, Jaapar J, Ahmad WA (2004) Bacteria as bioindicators for metal contamination. In :Biomonitoring in tropical coastal ecosystems, Phang and Brown, 131–135

Zampieri BDB, Bartelochi PA, Schultz L, de Oliveira MA, de Oliveira AJFD (2016) Diversity and distribution of heavy metal-resistant bacteria in polluted sediments of the Araça Bay, São Sebastião (SP), and the relationship between heavy metals and organic matter concentrations. Microb Ecol 72:582–594
Acknowledgements
This research was supported by grants from the INTERACT Transnational Access EU Program within the project SpongePOP "Sponge associated culturable microbiome able to degrade persistent organic pollutant along the Pasvik River and the Bokfjorden (Norway)." The authors thank the INTERACT coordinator Hannele Savela, and Lars Ola Nillson at the NIBIO Svanhovd Research Station (Svanvik, Pasvik Valley) for his continuous logistic support, which allowed us to perform successfully all of the lab and field work planned.
Ethics declarations
Conflict of interest
The authors declare that they have no conflict of interest.
Ethical Approval
This article does not contain any studies with human participants or animals performed by any of the authors.
Electronic supplementary material
Below is the link to the electronic supplementary material.
About this article
Cite this article
Caputo, S., Papale, M., Rizzo, C. et al. Metal Resistance in Bacteria from Contaminated Arctic Sediment is Driven by Metal Local Inputs. Arch Environ Contam Toxicol 77, 291–307 (2019). https://doi.org/10.1007/s00244-019-00628-7
Received:

Accepted:

Published:

Issue Date: