Abstract
Strong bacteriocins, or bacteriocins with a wide range of activity against pathogens and spoilage microorganisms, are actively sought for use as natural food preservatives. This work reports the inhibitory activity of 96 enterococcal isolates from two Iranian, raw milk cheeses against five indicator organisms (including Listeria innocua). Forty-eight isolates inhibited at least one indicator in spot agar assays. Of these, 20 isolates corresponding to 15 different strains were shown to produce bacteriocin-like substances in liquid cultures. PCR analysis revealed the genes coding for enterocins (enterococcal bacteriocins) A, B, P or X, or their combinations, in all but one of these 15 strains. In addition, the gene coding for enterocin 31 was detected in two strains. No amplification was obtained in one strain when using specific primers for all 13 bacteriocin genes sought. Three different enterocin genes were identified in most strains and four in one strain. Although the concomitant production of bacteriocins is still to be verified, producers of multiple enterocins could be of great technological potential as protective cultures in the cheese industry.
Access options
Buy single article
Instant access to the full article PDF.
USD 39.95
Price excludes VAT (USA)
Tax calculation will be finalised during checkout.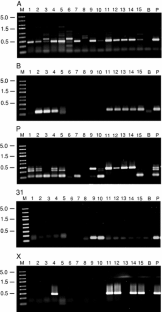 References
Ben Omar N, Castro A, Lucas R, Abriouel H, Yousif NMK, Franz CMAP, Holzapfel WH, Pérez-Pulido R, Martínez-Cañamero M, Gálvez A (2004) Functional and safety aspects of enterococci isolated from different Spanish foods. Syst Appl Microbiol 27:118–130

Brandão A, Almeida T, Muñoz-Atienza E, Torres C, Igrejas G, Hernández PE, Cintas LM, Poeta P, Herranz C (2010) Antimicrobial activity and occurrence of bacteriocin structural genes in Enterococcus spp. of human and animal origin isolated in Portugal. Arch Microbiol 192:927–936

Centeno JA, Menéndez S, Hermida M, Rodríguez-Otero JL (1999) Effects of the addition of Enterococcus faecalis in Cebreiro cheese manufacture. Int J Food Microbiol 48:97–111

Cosentino S, Pisano MB, Corda A, Fadda ME, Piras C (2004) Genotypic and technological characterization of enterococci isolated from artisanal Fiore Sardo cheese. J Dairy Res 71:444–450

Dal Bello B, Rantsiou K, Bellio A, Zeppa G, Ambrosoli R, Civera R, Cocolin L (2010) Microbial ecology of artisanal products from North West Italy and antimicrobial activity of the autochthonous populations. LWT Food Sci Technol 43:1151–1159

De Vuyst L, Leroy F (2007) Bacteriocins from lactic acid bacteria: production, purification, and food applications. J Mol Microbiol Biotechnol 13:194–199

Domann E, Hain T, Ghai R, Billion A, Kuenne C, Zimmermann K, Chakraborty T (2007) Comparative genomic analysis of the presence of potential enterococcal virulence factors in the probiotic Enterococcus faecalis strain Symbioflor 1. Int J Med Microbiol 297:533–539

Du Toit M, Franz CM, Dicks LM, Holzapfel WH (2000) Preliminary characterization of bacteriocins produced by Enterococcus faecium and Enterococcus faecalis isolated from pig faeces. J Appl Microbiol 88:482–494

Edalatian MR, Habibi Najafi MB, Mortazavi SA, Alegría A, Nassiri MR, Bassami MR, Mayo B (2011) Microbial diversity of the traditional Iranian cheeses Lighvan and Koozeh, as revealed by polyphasic culturing and culture-independent approaches. Dairy Sci Technol. doi:10.1007/s13594-011-0045-2

Edalatian MR, Habibi Najafi MB, Mortazavi SA, Mayo B (2011) The biodiversity and evolution of lactic flora during ripening of the Iranian semi-soft Lighvan cheese. Int J Dairy Technol. doi:10.1111/j.1471-0307.2011.00738.x

Fleming HP, Etchells JL, Costilow RL (1985) Microbial inhibition by an isolate of Pediococcus from cucumber brines. Appl Microbiol 30:1040–1042

Foulquié Moreno M, Rea MC, Cogan TM, De Vuyst L (2006) Applicability of a bacteriocin-producing Enterococcus faecium as a co-culture in Cheddar cheese manufacture. Int J Food Microbiol 81:73–84

Foulquié Moreno MR, Sarantinopoulos P, Tskakidou E, De Vuyst L (2006) The role and application of enterococci in food and health. Int J Food Microbiol 106:1–24

Gálvez A, Abriouel H, Lucas-López R, Ben Omar N (2007) Bacteriocin-based strategies for food biopreservation. Int J Food Microbiol 120:51–70

Gelsomino R, Vancanneyt M, Condon S, Swings J, Cogan TM (2001) Enterococcal diversity in the environment of an Irish Cheddar-type cheese-making factory. Int J Food Microbiol 71:177–188

Giraffa G (2003) Functionality of enterococci in dairy products. Int J Food Microbiol 88:215–222

Hernández D, Cardell E, Zárate V (2005) Antimicrobial activity of lactic acid bacteria isolated from Tenerife cheese: initial characterization of plantaricin TF711, a bacteriocin-like substance produced by Lactobacillus plantarum TF711. J Appl Microbiol 99:77–84

Hugas M, Garriga M, Aymerich MT (2003) Functionality of enterococci in meat products. Int J Food Microbiol 88:223–233

Ibarguren C, Raya RR, Apella MC, Audisio MC (2010) Enterococcus faecium isolated from honey synthesized bacteriocin-like substances active against different Listeria monocytogenes strains. J Microbiol 48:44–52

Imran J, Ahmed S, Ali MI, Ahmad B, Ghumro PB, Hameed A, Chaudry GJ (2010) Bacteriocinogenic potential of newly isolated strains of Enterococcus faecium and Enterococcus faecalis from dairy products of Pakistan. J Microbiol Biotechnol 20:153–160

Izquierdo E, Marchioni E, Aoude-Werner D, Hasselmann C, Ennahar S (2009) Smearing of soft cheese with Enterococcus faecium WHE 81, a multi-bacteriocin producer, against Listeria monocytogenes. Food Microbiol 26:16–20

Klostermann K, Crispie F, Flynn J, Meaney WJ, Ross RP, Hill C (2009) Efficacy of a teat dip containing the bacteriocin lacticin 3147 to eliminate Gram-positive pathogens associated with bovine mastitis. J Dairy Res 29:1–8

Ladero V, Fernández M, Cuesta I, Álvarez MA (2010) Quantitative detection and identification of tyramine-producing enterococci and lactobacilli in cheese by multiplex qPCR. Food Microbiol 27:933–939

Larsen AG, Vogensenm FK, Josephsen J (1993) Antimicrobial activity of lactic acid bacteria isolated from sour doughs: purification and characterization of bavaricin A, a bacteriocin produced by Lactobacillus bavaricus MI401. J Appl Bacteriol 75:113–122

Leclerq R (2009) Epidemiological and resistance issues in multidrug-resistant staphylococci and enterococci. Clin Microbiol Infect 15:224–231

Martín M, Gutiérrez J, Criado R, Herranz C, Cintas LM, Hernández PE (2006) Genes encoding bacteriocins and their expression and potential virulence factors of enterococci isolated from wood pigeons (Columba palumbus). J Food Prot 69:520–531

Martínez B, Suárez JE, Rodríguez A (1995) Antimicrobials produced by wild lactococcal strains isolated from homemade cheeses. J Food Prot 58:1118–1123

Millette M, Cornut G, Dupont C, Shareck F, Archambault D, Lacroix M (2008) Capacity of human nisin- and pediocin-producing lactic acid bacteria to reduce colonization by vancomycin-resistant enterococci. Appl Environ Microbiol 74:1997–2003

Nes IF, Diep DB, Holo H (2007) Bacteriocin diversity in Streptococcus and Enterococcus. J Bacteriol 189:1189–1198

Nieto-Arribas P, Seseña S, Poveda JM, Chicón R, Cabezas L, Palop ML (2010) Enterococcus populations in artisanal Manchego cheese: biodiversity, technological and safety aspects. Food Microbiol 28:891–899

Ogier J-C, Serror P (2008) Safety assessment of dairy microorganisms: the Enterococcus genus. Int J Food Microbiol 126:291–301

Renye JA, Somkuti GA, Paul M, van Hekken DL (2009) Characterization of antilisterial bacteriocins produced by Enterococcus faecium and Enterococcus durans isolates from Hispanic-style cheeses. J Ind Microbiol Biotechnol 36:261–268

Sabia C, de Niederhäusern S, Guerrieri E, Messi P, Anacarso I, Manicardi G, Bondi M (2007) Detection of bacteriocin production and virulence traits in vancomycin-resistant enterococci of different sources. J Appl Microbiol 104:970–979

Sánchez Valenzuela A, Ben Omar N, Abriouel H, Martínez-Cañamero M, Gálvez A (2010) Isolation and identification of Enterococcus faecium from sea foods: antimicrobial resistance and production of bacteriocin-like substances. Food Microbiol 27:955–961

Schillinger U, Lücke FK (1989) Antibacterial activity of Lactobacillus sake isolated from meat. Appl Environ Microbiol 55:1901–1906
Acknowledgments
This research was partially supported by a project from the Spanish Ministry of Science and Innovation (MICINN) (AGL2007-61869-ALI). A.A. was awarded a scholarship of the Severo Ochoa program from FICYT (BP08-053). S. Delgado was supported by a research contract from MICINN under Juan de la Cierva program (JCI-2008-02391). The authors wish to thank the Iranian Ministry of Industries and Mines, as well as Razavi Dairy Industry (Mashhad, Iran) and the Office of Industrial Relationships (OIR) of Ferdowsi University of Mashhad (FUM). The technical assistance of Dr. Yavarmanesh and the MSc students Mrs. Joghataei and Mr. Attar from FUM is greatly acknowledged. Dr. Antonio Gálvez, Area of Microbiology, University of Jaen, Spain, and Dr. Luis Cintas, Department of Bromatology, Hygiene and Food Technology, University Complutense of Madrid are acknowledged for the gift of primers and enterocin-producing strains.
About this article
Cite this article
Edalatian, M.R., Habibi Najafi, M.B., Mortazavi, S.A. et al. Production of bacteriocins by Enterococcus spp. isolated from traditional, Iranian, raw milk cheeses, and detection of their encoding genes. Eur Food Res Technol 234, 789–796 (2012). https://doi.org/10.1007/s00217-012-1697-8
Received:

Revised:

Accepted:

Published:

Issue Date:

DOI: https://doi.org/10.1007/s00217-012-1697-8
Keywords
Bacteriocins

Enterocins

Enterococcus spp.

Enterococci

Traditional cheeses

Cheese starters

Adjunct cultures

Protective cultures