Abstract
Thyrotropin or thyroid-stimulating hormone (TSH) is used as a marker for thyroid function. More precise and more sensitive immunoassays are needed to facilitate continuous monitoring of thyroid dysfunctions and to assess the efficacy of the selected therapy and dosage of medication. Moreover, most thyroid diseases are autoimmune diseases making TSH assays very prone to immunoassay interferences due to autoantibodies in the sample matrix. We have developed a super-sensitive TSH immunoassay utilizing nanoparticle labels with a detection limit of 60 nU L−1 in preprocessed serum samples by reducing nonspecific binding. The developed preprocessing step by affinity purification removed interfering compounds and improved the recovery of spiked TSH from serum. The sensitivity enhancement was achieved by stabilization of the protein corona of the nanoparticle bioconjugates and a spot-coated configuration of the active solid-phase that reduced sedimentation of the nanoparticle bioconjugates and their contact time with antibody-coated solid phase, thus making use of the higher association rate of specific binding due to high avidity nanoparticle bioconjugates.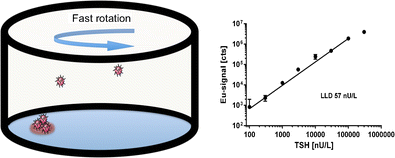 Abbreviations
HAB:

Human autoantibody

HAMA:

Human anti-mouse antibody

LLD:

Lowest limit of detection

TSH:

Thyroid-stimulating hormone
References
Härmä H, Soukka T, Lönnberg S, Paukkunen J, Tarkkinen P, Lövgren T. Zeptomole detection sensitivity of prostate-specific antigen in a rapid microtitre plate assay using time-resolved fluorescence. Luminescence. 2000;15:351–5.

Zhou Y, Xia X, Xu Y, Ke W, Yang W, Li Q. Application of europium(III) chelates-bonded silica nanoparticle in time-resolved immunofluorometric detection assay for human thyroid stimulating hormone. Anal Chim Acta. 2012;722:95–9.

Pei X, Zhang B, Tang J, Liu B, Lai W, Tang D. Sandwich-type immunosensors and immunoassays exploiting nanostructure labels: a review. Anal Chim Acta. 2013;758:1–18.

Soukka T, Härmä H, Paukkunen J, Lövgren T. Utilization of kinetically enhanced monovalent binding affinity by immunoassays based on multivalent nanoparticle-antibody bioconjugates. Anal Chem. 2001;73:2254–60.

Näreoja T, Vehniäinen M, Lamminmäki U, Hänninen PE, Härmä H. Study on nonspecificity of an immuoassay using Eu-doped polystyrene nanoparticle labels. J Immunol Methods. 2009;345:80–9.

Näreoja T, Määttänen A, Peltonen J, Hänninen PE, Härmä H. Impact of surface defects and denaturation of capture surface proteins on nonspecific binding in immunoassays using antibody-coated polystyrene nanoparticle labels. J Immunol Methods. 2009;347:24–30.

Näreoja T, Ebner A, Gruber HJ, et al. Kinetics of bioconjugate nanoparticle label binding in a sandwich-type immunoassay. Anal Bioanal Chem. 2014;406:493–503.

Näreoja T. Nonspecific binding in sandwich-type immunoassays utuilizing nanoparticle labels. Annales Universiatis Aboensis, D: 1123, Suomen Yliopistopaino OY; 2014.

Wood WG. "Matrix effects" in immunoassays. Scand J Clin Lab Investig Suppl. 1991;205:105–12.

Kricka LJ. Interferences in Immunoassay—still a threat. Clin Chem. 2000;46:1037–8.

Lynch I, Cedervall T, Lundqvist M, Cabaleiro-Lago C, Linse S, Dawson KA. The nanoparticle–protein complex as a biological entity; a complex fluids and surface science challenge for the 21st century. Adv Colloid Interface Sci. 2007;134–135:167–74.

Cedervall T, Lynch I, Lindman S, et al. Understanding the nanoparticle–protein corona using methods to quantify exchange rates and affinities of proteins for nanoparticles. Proc Natl Acad Sci. 2007;104:2050–5.

Demers LM, Spencer CA. Laboratory medicine practice guidelines: laboratory support for the diagnosis and monitoring of thyroid disease. Clin Endocrinol (Oxf). 2003;58:138–40.

Canaris GJ, Manowitz NR, Mayor G, Ridgway E. The Colorado thyroid disease prevalence study. Arch Intern Med. 2000;160:526–34.

Patil-Sisodia K, Mestman JH. Graves hyperthyroidism and pregnancy: a clinical update. Endocr Pract. 2010;16:118–29.

Alexander EK, Marqusee E, Lawrence J, Jarolim P, Fischer GA, Larsen PR. Timing and magnitude of increases in levothyroxine requirements during pregnancy in women with hypothyroidism. N Engl J Med. 2004;351:241–9.

Modesto T, Tiemeier H, Peeters RP, Jaddoe VWV, Hofman A, Verhulst FC, et al. Maternal mild thyroid hormone insufficiency in early pregnancy and attention-deficit/hyperactivity disorder symptoms in children. JAMA Pediatr. 2015;169:838–45.

Ruhla S, Weickert MO, Arafat AM, et al. A high normal TSH is associated with the metabolic syndrome. Clin Endocrinol (Oxf). 2010;72:696–701.

Oh J-Y, Sung Y-A, Lee HJ. Elevated thyroid stimulating hormone levels are associated with metabolic syndrome in euthyroid young women. Korean J Intern Med. 2013;28:180–6.

Preissner CM, O'Kane DJ, Singh RJ, Morris JC, Grebe SKG. Phantoms in the assay tube: heterophile antibody interferences in serum thyroglobulin assays. J Clin Endocrinol Metab. 2003;88:3069–74.

Pelkkikangas A-M, Jaakohuhta S, Lövgren T, Härmä H. Simple, rapid, and sensitive thyroid-stimulating hormone immunoassay using europium(III) nanoparticle label. Anal Chim Acta. 2004;517:169–76.

Härmä H, Soukka T, Lövgren T. Europium nanoparticles and time-resolved fluorescence for ultrasensitive detection of prostate-specific antigen. Clin Chem. 2001;47:561–8.

Soukka T, Paukkunen J, Härmä H, Lönnberg S, Lindroos H, Lövgren T. Supersensitive time-resolved immunofluorometric assay of free prostate-specific antigen with nanoparticle label technology. Clin Chem. 2001;47:1269–78.

Kokko L, Lövgren T, Soukka T. Europium(III)-chelates embedded in nanoparticles are protected from interfering compounds present in assay media. Anal Chim Acta. 2007;585:17–23.

Eriksson S, Vehniäinen M, Jansén T, et al. Dual-label time-resolved immunofluorometric assay of free and total prostate-specific antigen based on recombinant Fab fragments. Clin Chem. 2000;46:658–66.

Ylikotila J, Välimaa L, Vehniäinen M, Takalo H, Lövgren T, Pettersson K. A sensitive TSH assay in spot-coated microwells utilizing recombinant antibody fragments. J Immunol Methods. 2005;306:104–14.

Helenius T, Tikanoja S. A sensitive and practical immunoradiometric assay of thyrotropin. Clin Chem. 1986;32:514–8.

Lynch I, Dawson KA. Protein-nanoparticle interactions. Nano Today. 2008;3:40–7.

Gubala V, Le Guevel X, Nooney R, Williams DE, MacCraith B. A comparison of mono and multivalent linkers and their effect on the colloidal stability of nanoparticle and immunoassays performance. Talanta. 2010;81:1833–9.

Gambinossi F, Mylon SE, Ferri JK. Aggregation kinetics and colloidal stability of functionalized nanoparticles. Adv Colloid Interf Sci. http://www.sciencedirect.com/science/article/pii/S0001868614002425. Accessed 23 Jun 2015.

Nel AE, Mädler L, Velegol D, et al. Understanding biophysicochemical interactions at the nano–bio interface. Nat Mater. 2009;8:543–57.

Monopoli MP, Walczyk D, Campbell A, et al. Physical − chemical aspects of protein corona: relevance to in vitro and in vivo biological impacts of nanoparticles. J Am Chem Soc. 2011;133:2525–34.

Tenzer S, Docter D, Kuharev J, et al. Rapid formation of plasma protein corona critically affects nanoparticle pathophysiology. Nat Nanotechnol. 2013;8:772–81.

Weidner A, Gräfe C, von der Lühe M, et al. Preparation of core-shell hybrid materials by producing a protein corona around magnetic nanoparticles. Nanoscale Res Lett. 2015;10:282.

Kusnezow W, Syagailo YV, Rüffer S, et al. Kinetics of antigen binding to antibody microspots: strong limitation by mass transport to the surface. Proteomics. 2006;6:794–803.

Kusnezow W, Syagailo YV, Rüffer S, et al. Optimal design of microarray immunoassays to compensate for kinetic limitations theory and experiment. Mol Cell Proteomics. 2006;5:1681–96.

Selby C. Interference in immunoassay. Ann Clin Biochem. 1999;36(Pt 6):704–21.

Tate J, Ward G. Interferences in immunoassay. Clin Biochem Rev. 2004;25:105–20.

Huckle D. Point-of-care diagnostics: an advancing sector with nontechnical issues. Expert Rev Mol Diagn. 2008;8:679–88.

Andersen SL, Olsen J, Wu CS, Laurberg P. Spontaneous abortion, stillbirth and hyperthyroidism: a danish population-based study. Eur Thyroid J. 2014;3:164–72.

Hubaveshka J, Michaelsson LF, Nygaard B. The dose of levothyroxine in pregnant women with hypothyroidism should be increased by 20-30% in the first trimester. Dan Med J. 2014;61:A4959.

Reinehr T. Obesity and thyroid function. Mol Cell Endocrinol. 2010;316:165–71.

Sari R, Balci MK, Altunbas H, Karayalcin U. The effect of body weight and weight loss on thyroid volume and function in obese women. Clin Endocrinol (Oxf). 2003;59:258–62.

Hawkins RC. Laboratory turnaround time. Clin Biochem Rev. 2007;28:179–94.
Acknowledgements
The authors gratefully acknowledge the Academy of Finland for funding the research under grants #110174, #260599 and The Finnish National Doctoral Programme in Informational and Structural Biology.
Publisher's Note
Springer Nature remains neutral with regard to jurisdictional claims in published maps and institutional affiliations.
Ethics declarations
Serum was obtained from healthy volunteers who gave their informed written consent. The study was approved by the Ethics Committee of Southwest Finland Hospital District, and was carried out in accordance with the guidelines set for research on human samples by Turku University Hospital and University of Turku.
Conflict of interest statement
The authors declare no conflict of interest.
Electronic supplementary material
Below is the link to the electronic supplementary material.
Rights and permissions
Open Access This article is distributed under the terms of the Creative Commons Attribution 4.0 International License (http://creativecommons.org/licenses/by/4.0/), which permits unrestricted use, distribution, and reproduction in any medium, provided you give appropriate credit to the original author(s) and the source, provide a link to the Creative Commons license, and indicate if changes were made.
About this article
Cite this article
Näreoja, T., Rosenholm, J.M., Lamminmäki, U. et al. Super-sensitive time-resolved fluoroimmunoassay for thyroid-stimulating hormone utilizing europium(III) nanoparticle labels achieved by protein corona stabilization, short binding time, and serum preprocessing. Anal Bioanal Chem 409, 3407–3416 (2017). https://doi.org/10.1007/s00216-017-0284-z
Received:

Revised:

Accepted:

Published:

Issue Date:

DOI: https://doi.org/10.1007/s00216-017-0284-z
Keywords
Sandwich-type immunoassay

Time-resolved fluoroimmunoassay

Nanoparticle bioconjugate

Immunoassay interference

Nanoparticle protein corona