Abstract
After more than 25 years, solid-phase microextraction (SPME) has gained widespread acceptance as a well-automatable and flexible microextraction technique, while its instrumental basis remained mostly unchanged. The novel PAL (Prep And Load solution) SPME Arrow combines the advantages of SPME with the benefits of extraction techniques providing larger sorption phase volumes such as stir bar sorptive extraction (SBSE). It thereby avoids the inherent drawbacks of both techniques such as limitations in method automation in the case of SBSE, as well as the small sorption phase volumes and the lacking fiber robustness of classical SPME fibers. This new design is based on a robust stainless steel backbone, carrying, the screw connection to the PAL sampler, the enlarged sorption phase, and an arrow-shaped tip for conservative penetration of septa (hence the name). An outer capillary encloses this phase apart from enrichment and desorption processes and rests against the tip during transfer and penetrations, resulting in a homogeneously closed device. Here, we present an evaluation and a comparison of the novel PAL SPME Arrow with classical SPME fibers, extracting polycyclic aromatic hydrocarbons (PAHs) as model analytes, from the freely dissolved fraction in lab water and groundwater via direct immersion using polydimethylsiloxane (PDMS) as common sorption phase material. Limits of detection, repeatabilities, and extraction yields were determined for the PAL SPME Arrow and compared to data of classical SPME fibers and SBSE bars. Results indicate a significant benefit in extraction efficiency due to the larger sorption phase volume. It is accompanied by faultless mechanical robustness and thus better reliability, especially in case of prolonged, unattended, and automated operation. As an exemplary application, the water-soluble fraction of PAHs and derivatives in a roofing felt sample was quantified.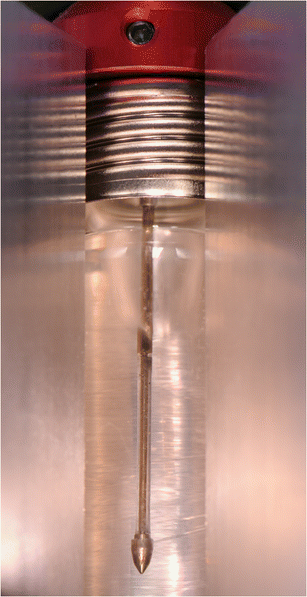 References
Belardi RP, Pawliszyn JB (1989) The application of chemically modified fused silica fibers in the extraction of organics from water matrix samples and their rapid transfer to capillary columns. Water Pollut Res J Can 24:179–191

Spietelun A, Kloskowski A, Chrzanowski W, Namieśnik J (2012) Understanding solid-phase microextraction: key factors influencing the extraction process and trends in improving the technique. Chem Rev (Washington, DC, U S) 113(3):1667–1685

Laaks J, Jochmann MA, Schmidt TC (2012) Solvent-free microextraction techniques in gas chromatography. Anal Bioanal Chem 402(2):565–571

García-Falcón MS, Cancho-Grande B, Simal-Gándara J (2004) Stirring bar sorptive extraction in the determination of PAHs in drinking waters. Water Res 38(7):1679–1684

Huang S, He S, Xu H, Wu P, Jiang R, Zhu F, Luan T, Ouyang G (2015) Monitoring of persistent organic pollutants in seawater of the Pearl River Estuary with rapid on-site active SPME sampling technique. Environ Pollut 200:149–158

Kole PL, Venkatesh G, Kotecha J, Sheshala R (2011) Recent advances in sample preparation techniques for effective bioanalytical methods. Biomed Chromatogr 25(1–2):199–217

Bagheri H, Piri-Moghadam H, Naderi M (2012) Towards greater mechanical, thermal and chemical stability in solid-phase microextraction. TrAC Trends Anal Chem 34:126–139

Baltussen E, Sandra P, David F, Cramers C (1999) Stir bar sorptive extraction (SBSE), a novel extraction technique for aqueous samples: theory and principles. J Microcolumn Sep 11(10):737–747

Es'haghi Z, Taghizade S, Mazloomi-Bajestani A (2014) Arsenic removal from water/wastewater using nanoparticle-assisted hollow fiber solid-phase microextraction combined with hydride generation–atomic fluorescence spectroscopy. J Iran Chem Soc 11(5):1421–1428

Kokosa JM, Przyjazny AJ, Jeannot MA (2009) Solvent microextraction: theory and practice. Wiley, Hoboken, N.J.

Tienpont B, David F, Bicchi C, Sandra P (2000) High capacity headspace sorptive extraction. J Microcolumn Sep 12(11):577–584

Purcaro G, Moret S, Conte LS (2013) Overview on polycyclic aromatic hydrocarbons: occurrence, legislation and innovative determination in foods. Talanta 105:292–305

Rasoulzadeh Y, Mortazavi SB, Yousefi AA, Khavanin A (2011) Decreasing polycyclic aromatic hydrocarbons emission from bitumen using alternative bitumen production process. J Hazard Mater 185(2–3):1156–1161

Horváth A, Clement A (2013) What can rainwater dissolve from bitumen shingle roof materials? Int J Eng Res Appl 3(6):194–199

Cheng X, Forsythe J, Peterkin E (2013) Some factors affecting SPME analysis and PAHs in Philadelphia's urban waterways. Water Res 47:2331–2340

Tsimeli K, Triantis T, Dimotikali D, Hiskia A (2008) Development of a rapid and sensitive method for the simultaneous determination of 1,2-dibromoethane, 1,4-dichlorobenzene and naphthalene residues in honey using HS-SPME coupled with GC-MS. Anal Chim Acta 617(1–2):64–71

Mader BT, Pankow JF (2000) Gas/solid partitioning of semivolatile organic compounds (SOCs) to air filters. 1. Partitioning of polychlorinated dibenzodioxins, polychlorinated dibenzofurans and polycyclic aromatic hydrocarbons to teflon membrane filters. Atmos Environ 34(28):4879–4887

Staudinger J, Roberts P (2001) A critical compilation of Henry's law constant temperature dependence relations for organic compounds in dilute aqueous solutions. Chemosphere 44(4):561–576

Qian Y, Posch T, Schmidt TC (2011) Sorption of polycyclic aromatic hydrocarbons (PAHs) on glass surfaces. Chemosphere 82(6):859–865

Barco-Bonilla N, Romero-González R, Plaza-Bolaños P, Fernández-Moreno JL, Garrido Frenich A, Martínez Vidal JL (2011) Comprehensive analysis of polycyclic aromatic hydrocarbons in wastewater using stir bar sorptive extraction and gas chromatography coupled to tandem mass spectrometry. Anal Chim Acta 693(1–2):62–71

Louch D, Motlagh S, Pawliszyn JB (1992) Dynamics of organic compound extraction from water using liquid-coated fused silica fibers. Anal Chem 64:1187–1199

Pérez-Carrera E, León VML, Parra AG, González-Mazo E (2007) Simultaneous determination of pesticides, polycyclic aromatic hydrocarbons and polychlorinated biphenyls in seawater and interstitial marine water samples, using stir bar sorptive extraction–thermal desorption–gas chromatography–mass spectrometry. J Chromatogr A 1170(1–2):82–90

Sprunger L, Proctor A, Acree WL, Abraham MH (2007) Characterization of the sorption of gaseous and organic solutes onto polydimethyl siloxane solid-phase microextraction surfaces using the Abraham model. J Chromatogr A 1175:162–173

Bradley J-C, Abraham MH, Acree WE, Lang ASID, Beck SN, Bulger DA, Clark EA, Condron LN, Costa ST, Curtin EM, Kurtu SB, Mangir MI, McBride MJ (2015) Determination of Abraham model solute descriptors for the monomeric and dimeric forms of trans-cinnamic acid using measured solubilities from the Open Notebook Science Challenge. Chem Cent J 9:11

Zimmermann T, Ensinger WJ, Schmidt TC (2006) Depletion solid-phase microextraction for the evaluation of fiber-sample partition coefficients of pesticides. J Chromatogr A 1102(1–2):51–59

Keith LH, Crummett W, Deegan J, Libby RA, Taylor JK, Wentler G (1983) Principles of environmental analysis. Anal Chem 55(14):2210–2218

King AJ, Readman JW, Zhou JL (2004) Determination of polycyclic aromatic hydrocarbons in water by solid-phase microextraction–gas chromatography–mass spectrometry. Anal Chim Acta 523(2):259–267

Huffer T, Osorio X, Jochmann M, Schilling B, Schmidt T (2013) Multi-walled carbon nanotubes as sorptive material for solventless in-tube microextraction (ITEX2)—a factorial design study. Anal Bioanal Chem 405(26):8387–8395

Tang P-P, Cai J-B, Su Q-D (2009) Carbon nanotubes coated fiber for solid-phase microextraction of bovine fibrinogen and bovine serum albumin. J Chin Chem Soc (Taipei, Taiwan) 56(6):1128–1138
Acknowledgments
We gratefully acknowledge the support by CTC Analytics AG and BGB Analytik AG of Switzerland during the integration of PAL SPME Arrow into the PAL RTC autosampler. Especially, Beat Schilling of BGB Analytik AG has been of invaluable assistance for the idea of PAL SPME Arrow becoming a reality. We would also like to thank Shimadzu Europa GmbH for the support concerning the GCMS instrumentation.
Ethics declarations
Conflict of interest
In spite of the support mentioned under acknowledgements, no conflict of interest influenced the work presented herein. The findings and conclusions in this report are those of the authors and do not represent the official views or positions of the supporting companies.
Electronic supplementary material
Below is the link to the electronic supplementary material.
Rights and permissions
Open Access This article is distributed under the terms of the Creative Commons Attribution 4.0 International License (http://creativecommons.org/licenses/by/4.0/), which permits unrestricted use, distribution, and reproduction in any medium, provided you give appropriate credit to the original author(s) and the source, provide a link to the Creative Commons license, and indicate if changes were made.
About this article
Cite this article
Kremser, A., Jochmann, M.A. & Schmidt, T.C. PAL SPME Arrow—evaluation of a novel solid-phase microextraction device for freely dissolved PAHs in water. Anal Bioanal Chem 408, 943–952 (2016). https://doi.org/10.1007/s00216-015-9187-z
Received:

Revised:

Accepted:

Published:

Issue Date:

DOI: https://doi.org/10.1007/s00216-015-9187-z
Keywords
PAL SPME Arrow

SPME

Microextraction

PDMS

PAH