Abstract
The determination of peptides and proteins in a biological matrix normally includes a sample-preparation step to obtain a sample that can be injected into a separation system in such a way that peptides and proteins of interest can be determined qualitatively and/or quantitatively. This can be a rather challenging, labourious and/or time-consuming process. The extract obtained after sample preparation is further separated using a compatible separation system. Liquid chromatography (LC) is the generally applied technique for this purpose, but capillary zone electrophoresis (CZE) is an alternative, providing fast, versatile and efficient separations. In this review, the recent developments in the combination of sample-preparation procedures with LC and CZE, for the determination of peptides and proteins, will be discussed. Emphasis will be on purification from and determination in complex biological matrices (plasma, cell lysates, etc.) of these compounds and little attention will be paid to the proteomics area. Additional focus will be put on sample-preparation conditions, which can be 'hard' or 'soft', and on selectivity issues. Selectivity issues will be addressed in combination with the used separation technique and a comparison between LC and CZE will be made.
Access options
Buy single article
Instant access to the full article PDF.
US$ 39.95
Tax calculation will be finalised during checkout.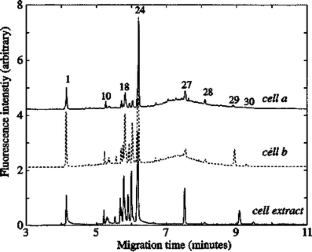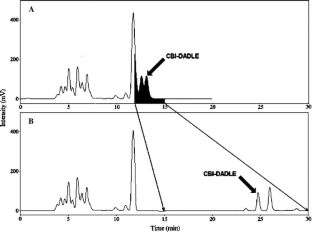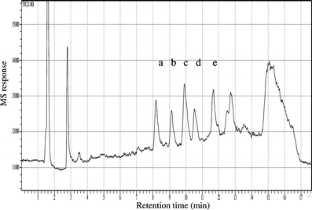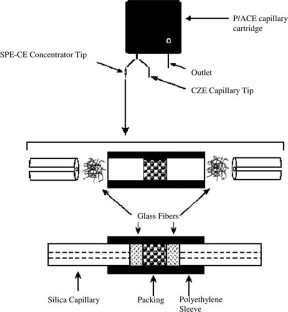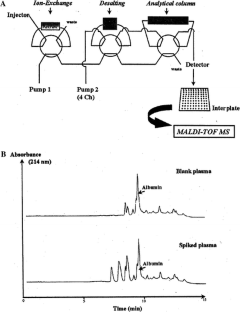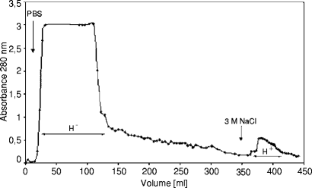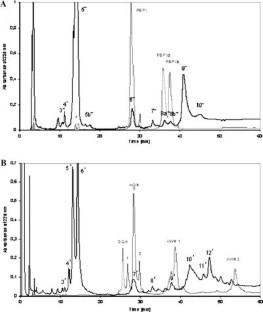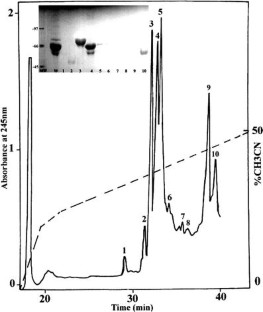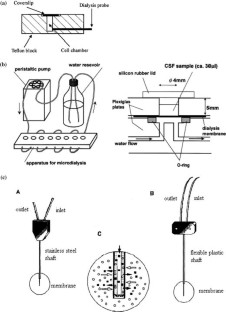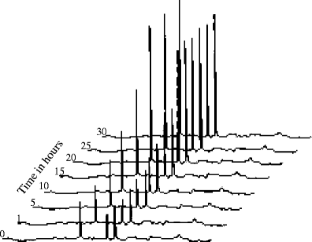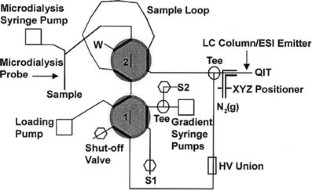 References
1.

Giordano BC, Muza M, Trout A, Landers JP (2000) J Chromatogr B 742:79–89

2.

Cao P, Moini M (1998) J Am Soc Mass Spectrom 9:1081–1088

3.

Gawron AJ, Lunte SM (2000) Electrophoresis 21:3205–3211

4.

Parquette DM, Sing R, Banks PR, Waldron KC (1998) J Chromatogr B 714:47–57

5.

Jenkins MA, Ratnaike S (1999) J Biochem Biophys Met 41:31–47

6.

Ban E, Kim D, Yoo EA, Yoo YS (1997) Anal Sci 13:489–493

7.

Whelpton R, Michael-Titus AT, Stephens SM, Wai Yau K, Fengas D (1998) J Chromatogr B 716:95–106

8.

Schmerr MJ, Cutlip RC, Jenny A (1998) J Chromatogr A 702:135–141

9.

Knudsen CB, Beattie JH (1997) J Chromatogr A 792:463–473

10.

Foucaud L, Grillasca J, Niot I, Domingo N, Lafont H, Planells R, Besnard P (1999) Biochim Biophys Acta 1436:593–599

11.

Hart BR, Shea KJ (2001) J Am Chem Soc 123:2072–2073

12.

Tomlinson AJ, Benson LM, Jameson S, Johnson DH, Naylor S (1997) Am Soc Mass Spectrom 8:15–24

13.

Dalluge JJ, Sander LC (1998) Anal Chem 70:5339–5343

14.

German I, Kennedy RT (2000) J Chromatogr B 742:353–362

15.

Rubakhin SS, Page JS, Monroe BR, Sweedler JV (2001) Electrophoresis 22:3752–3758

16.

Chen C, Pollack GM (1996) J Chromatogr B 681:363–373

17.

van Eijk HMH, Rooyakkers DR, van Acker BAC, Soeters PB, Deutz NEP (1999) J Chromatogr B 731:199–205

18.

Kakehi K, Kinoshito M, Kawakami D, Tanaka J, Sei K, Endo K, Oda Y, Iwaki M, Masuko T (2001) Anal Chem 73:2640–2647

19.

Ban E, Choi O-K, Chung WY, Park CS, Yoo EA, Chung BC, Yoo YS (2001) Electrophoresis 22:2173–2178

20.

Hiraoka A, Arato T, Tominaga I, Eguchi N, Oda H, Urade Y (1997) J Chromatogr B 697:141–147

21.

Lai C-C, Her G-R (2000) Rapid Commun Mass Spectrom 14:2012–2018

22.

Choudhary C, Hancock W, Witt K, Rozing G, Torres-Duarte A, Wainer I (1999) J Chromatogr A 857:183–192

23.

Valcárcel M, Arce L, Ríos A (2001) J Chromatogr A 924:3–30

24.

Chang P, Kuan S, Eberlein G, Burke D, Jones R (2000) J Pharm Biomed Anal 22:957–966

25.

Nordström K, Dasgupta S (2001) Biochimie 83:41–47

26.

Verschuuren JJ, Geleijns CPW, van Norrt JM, de Heer E, van Duinen SG, Hintzen RQ, Badrising UA, Wintzen AR (1997) Neuromuscul Disord 7:464

27.

Gooding KM, Regnier FE (1990) HPLC of biological macromolecules, vol 51. Marcel Dekker, New York

28.

Janini GM, Conrads TP, Venstra TD, Issaq HJ (2003) J Chromatogr B 787:43–51

29.

Michalski WP, Shiell BJ (1999) Anal Chim Acta 383:27–46

30.

Dolnik V (1999) Electrophoresis 20:3106–3115

31.

Kašiĉka V (1999) Electrophoresis 20:3084–3105

32.

Veraart JR, Lingeman H, Th Brinkman UA (1999) J Chromatogr A 856:483–514

33.

Bonvent JJ, Barberi R, Bartolino R, Capelli L, Righetti PG (1996) J Chromatogr A 756:233–243

34.

Castelletti L, Verzola B, Gelfi C, Stoyanov A, Righetti PG (2000) J Chromatogr A 894:281–289

35.

Szpunar J, Lobinski R (2002) Anal BioAnal Chem 373:404–411

36.

Wang H, Hanash S (2003) J Chromatogr B 787:11–18

37.

Evereklioglu C, Doganay S, Er H, Yurekli M (2002) Jpn J Ophthamol 46:203–208

38.

Trout AL, Prasad R, Coffin D, DiMartini A, Lane T, Blessum C, Khatter N, Landers JP (2000) Electrophoresis 21:2376–2383

39.

Govindaraju K, Cowly EA, Eidelman DH, Lloyd DK (1998) J Chromatogr B 705:223–230

40.

Govindaraju K, Lloyd DK (2000) J Chromatogr B 745:127–135

41.

Lehmann R, Koch M, Voelter W, Häring HU, Liebich HM (1997) Chromatographia 45:390–395

42.

Voelter W, Schütz J, Tsitsiloni OE, Weiler A, Grübler G, Paulus G, Stoeva S, Lehmann R (1998) J Chromatogr A 807:135–149

43.

Le Bricon T, Launay E, Houze P, Bengoufa D, Bousquet B, Gourmel B (2002) J Chromatogr B 775:63–70

44.

Li H, Sims CE, Wu HY, Allbritton NL (2001) Anal Chem 73:4625–4631

45.

Cao P, Moini M (1999) Am Soc Mass Spectrom 10:184–186

46.

Freed AL, Audus KL, Lunte SM (2001) Electrophoresis 22:3778–3784

47.

Zang Z, Krylov S, Arriaga EA, Polakowski R, Dovichi NJ (2000) Anal Chem 72:318–322

48.

Hu S, Lee R, Zhang Z, Krylov SN, Dovichi NJ (2001) J Chromatogr B 752:307–310

49.

Hanna M, Simpson C, Perrett D (2000) J Chromatogr A 894:117–128

50.

Hu S, Lee R, Zhang Z, Krylov SN, Dovichi NJ (2001) J Chromatogr B 752:307–310

51.

Zabzdyr JL, Lillard SJ (2001) TRAC 20:467–476

52.

Verzola B, Gelfi C, Righetti PG (2000) J Chromatogr A 874:273–303

53.

Oliviera E, Sebastiano R, Citterio A, Gelfi C, Righetti PG (2000) J Chromatogr A 894:273–280

54.

Arumothayanun P, Turton JA, Uchegbu IF, Florence AT (1999) J Pharm Sci 88:34–38

55.

Chen Y, Wall D, Lubman DM (1998) Rap Comm Mass Spectrom 12:1994–2003

56.

Naik GOA, Moe GW, Armstrong PW (2001) J Pharm Biomed Anal 24:947–955

57.

Minamino N, Tanaka J, Kuwahara H, Kihara T, Satomi Y, Matsubae M, Takao T (2003) J Chromatogr B 792:33–48

58.

Takahashi K, Yoshinoya A, Arihara Z, Murakani O, Totsune K, Sone M, Sasano H, Shibahara S (2000) Peptides 21:1551–1555

59.

Sattin A, Senanayake SS, Pekary AE (2002) Neurosci 115:263–273

60.

Tsuruda T, Kato J, Kitamura K, Kuwasako K, Imamura T, Koiwaya Y, Kangawa K, Eto T (2001) Life Sci 69:239–245

61.

El Karim I, Lundy FT, Linden GJ, Lamey PJ (2003) Arch Oral Biol 48:249–254

62.

Hartmann B, Johnson AH, Ørskov C, Adelhorst K, Thim L, Holts JJ (2000) Peptides 21:73–80

63.

Mori K, Yoshimoto A, Takaya K, Hosoda K, Ariyasu H, Yahata K, Mukoyama M, Sugawara A, Hosoda H, Kojima M, Kangawa K, Nakao K (2000) FEBS Lett 486:213–216

64.

Kiyomizu A, Kitamura K, Kawamoto M, Eto T (2001) J Gastroenterol 36:18–23

65.

Iwakoshi E, Hisada M, Minakata H (2000) Peptides 21:623–630

66.

Yang X, Ma JKA, Malanga CJ (2000) Int J Pharmacol 195:93–101

67.

Attallah AM, El Masry SA, Ismail H, Attia H, Abdel Aziz M, Shehatta AS, Tabll A, Soltan A, El Wassif A (1998) J Parasitol 84:301–306

68.

Guzman NA (2000) J Chromatogr B 749:197–213

69.

Liu Y-M, Schneider M, Sticha CM, Toyooka T, Sweedler JV (1998) J Chromatogr A 800:345–354

70.

Yu Z, Westerlund D, Boos K-S (1997) J Chromatogr B 704:53–62

71.

Gysler J, Schunack W, Jaehde U (1999) J Chromatogr B 721:207–216

72.

Rice A, Grimshaw J, Trocha-Grimshaw J, McCarron P, Wisdom GB (1997) J Chromatogr A 772:305–311

73.

Zhang Z, Carpenter E, Puyan X, Dovichi NJ (2001) Electrophoresis 22:1127–1132

74.

Phillips TM (2001) Luminescence 16:145–152

75.

Figeys D, Corthals GL, Galiis B, Goodlett DR, Ducret A, Corson MA, Aebersold R (1999) Anal Chem 71:2279–2287

76.

Lee IH, Pinto D, Arriaga EA, Zhang Z, Dovichi NJ (1998) Anal Chem 70:4546–4548

77.

Lyubarskaya YV, Carr SA, Dunnington D, Prichett WP, Fisher SM, Appelbaum ER, Jones CS, Krager BL (1998) Anal Chem 70:4761–4770

78.

Deyl Z, Novotná J, Mikšík I, Herget J (1998) J Chromatogr A 796:181–193

79.

Jonsson M, Carlson J, Jeppsson J-O, Simonsson P (2001) Clin Chem 47:110–117

80.

Philips TM (1998) Anal Chim Acta 372:209–218

81.

Jäverfalk-Hoyes EM, Bondesson U, Westerlund D, Andrén PE (1999) Electrophoresis 20:1527–1532

82.

Deyl Z, Novotná J, Mikšík I, Jelínkova D, Uhrová M, Suchánek M (1997) J Chromatogr B 689:181–194

83.

Ivandini TA, Sarada BV, Terashima C, Rao TN, Tryk DA, Ishiguro H, Kubota Y, Fujishima A (2003) J Chromatogr B 791:63–72

84.

Desiderio DM, Wirth U, Lovelace JL, Fridland G, Umstot ES, Nguyen TMD, Schiller PW, Szetzo HS, Clapp JF (2000) J Mass Spectrom 35:725–733

85.

Lawless MK, Hopkins S, Anwer MK (1998) J Chromatogr B 707:213–217

86.

Hartmann B, Harr MB, Jeppesen PB, Wojdemann M, Deacon CF, Mortensen PB, Holst JJ (2002) J Clin Endocrinol Metabol 85:2884–2888

87.

Soós P, Juhász-Nagy A, Ruskoaho H, Hartyánszky I, Merkely B, Tóth M, Horkay F (2002) Life Sci 71:2563–2573

88.

Liberda J, Maňásková P, Švesták M, Jonáková V, Tichá M (2002) J Chromatogr B 770:101–110

89.

Zhang JZ, Bastian KC, Moore RD, Stobaugh JF, Borchardt RT (2002) J Chromatogr B 780:269–281

90.

Shibata N, Ishida M, Prasad YVR, Gao W, Yoshikawa Y, Takada K (2003) J Chromatogr B 789:211–218

91.

Marshall T, Williams KM (1999) Electrophoresis 20:1307–1324

92.

Žunić G, Jelić-Ivanović Z, Čolić M, Spasić S (2002) J Chromatogr B 772:19–33

93.

Nöstelbacher K, Kirchgessner M, Stangl GI (2000) J Chromatogr B 744:273–282

94.

Tang Y-Q, Yeaman MR, Selsted ME (2002) Infect Immun 60:6524–6533

95.

Hilbrig F, Freitag R (2003) J Chromatogr B 790:79–90

96.

Brodgen KA, Ackermann M, Huttner KM (1998) Infect Immun 66:5948–5954

97.

Kjellström S, Jensen ON (2003) Anal Chem 75:2362–2369

98.

Liu Z, Welin M, Bragee B, Nyberg F (2000) Peptides 21:853–860

99.

Ramanan S, Tang J, Velayudhan A (2000) J Chromatogr A 883:103–112

100.

Sico C, White S, Tsao E, Varma A (2002) Biotechnol Bioeng 80:250–256

101.

Rossi S, Yaksh T (2002) J Chromatogr B 772:73–79

102.

Zhao Y, Zhang W, White MA, Zhao Y (2003) Anal Chem 75:3751–3757

103.

Visser N, Lingeman H, Irth H (2003) Chromatographia 58:691–699

104.

Zhang H, Stoeckli M, Andren PE, Caprioli RM (1999) J Mass Spectrom 34:377–383

105.

Naylor S, Tomlinson AJ (1998) Talanta 45:603–612

106.

Stokvis E, Rosing H, López-Lázaro L, Rodriguez I, Jimeno JM, Supko JG, Schellens JHM, Beijnen JH (2002) J Mass Spectrom 37:992–1000

107.

Wagner K, Miliotis T, Marko-Varga G, Bischoff R, Unger KK (2002) Anal Chem 74:809–820

108.

Waterval JCM, Krabbe H, Teeuwsen J, Bult A, Lingeman H, Underberg WJM (1999) Electrophoresis 20:2909–2916

109.

Arcelloni C, Aiuti A, Cipponi A, Paroni R (1999) J Chromatogr B 729:369–374

110.

Roche ME, Anderson MA, Oda RP, Riggs BL, Strausbauch M, Okazaki R, Wettstein PJ, Landers JP (1998) Anal Biochem 258:87–95

111.

Petersson M, Wahlund KG, Nilsson S (1999) J Chromatogr A 841:249–261

112.

Tomlinson AJ, Benson LM, Guzman NA, Naylor S (1996) J Chromatogr A 744:3–15

113.

Strausbauch MA, Landers JP, Wettstein PJ (1996) Anal Chem 68:306–314

114.

Figeys D, Ducret A, Aebersold R (1997) J Chromatogr A 763:295–306

115.

Waterval JCM, Hommels G, Teeuwen J, Bult A, Lingeman H, Underberg WJM (2000) Electrophoresis 21:2851–2858

116.

Rohde E, Tomlinson AJ, Johnson DH, Naylor S (1998) J Chromatogr B 713:301–311

117.

Moreno Cordero B, Pérez Pavón JL, García Pinto C, Fernández Laespada E, Carabias Martínez R, Rodríguez Gonzalo E (2000) J Chromatogr A 902:195–204

118.

Strausbauch MA, Xu SJ, Ferguson JE, Nunez ME, Machacek D, Lawson GM, Wettstein PT, Launders JP (1995) J Chromatogr A 717:279–291

119.

Darby SM, Millar ML, Allen RO, LeBeau M (2001) J Anal Toxicol 25:8–14

120.

Grimm C-H, Boos K-S, Apel Ch, Unger KK, önnerfjord P, Heintz L, Edholm L-E, Margo-Varga G (2000) Chromatographia 52:703–709

121.

Visser NFC, Lingeman H, Irth H (2003) J Pharm Biomed Anal 32:295–309

122.

Visser NFC, Lingeman H, Irth H (2003) J Pharm Biomed Anal 33:451–462

123.

Eriksson HJC, Somsen GW, Hinrichs WLJ, Frijlink HW, de Jong GJ (2001) J Chromatogr B 755:311–319

124.

Ueda EKM, Gput PW, Morganti L (2003) J Chromatogr A 988:1–23

125.

Kumar A, Galaev IY, Mattiasson B (2000) J Chromatogr B 741:103–113

126.

Stevenson D (2000) J Chromatogr B 745:39–48

127.

Gobom J, Kraeuter K-O, Persson R, Steen H, Roepstorff P, Ekman R (2000) Anal Chem 72:3320–3326

128.

Zhou W, Merrick BA, Khaledi MG, Tomer KB (2000) Am Soc Mass Spectrom 11:273–282

129.

Shimura K, Hoshino M, Kamiya K, Katoh K, Hisada S, Matsumoto H, Kasai K (2002) Electrophoresis 23:909–917

130.

Craig DB, Wong JCY, Polakowsi R, Dovichi NJ (1998) Anal Chem 70:3824–3827

131.

Owens PK, Karlsson L, Lutz ESM, Andersson LI (1999) TRAC 18:146–154

132.

Andersson LI (2000) J Chromatogr B 739:163–173

133.

Takeuchi T, Haginaka J (1999) J Chromatogr B 728:1–20

134.

Yano K, Nakagiri T, Takeuchi T, Matsui J, Ikebukuro K, Karube I (1997) Anal Chim Acta 357:91–98

135.

Rachov A, Minoura N (2000) J Chromatogr A 889:11–118

136.

Rackov A, Minoura N (2001) Biochim Biophys Acta 1544:255–266

137.

Ou SH, Wu MC, Chou TC, Liu CC (2004) Anal Chim Acta 504:163–166

138.

Hage DS (1998) J Chromatogr B 715:3–28

139.

Maňásková P, Liberda J, Tichá M, Jonáková V (2002) J Chromatogr B 770:137–143

140.

Butcher AJ, Gaston K, Jayaraman P-S (2003) J Chromatogr B 786:3–6

141.

Azzimonti F, Atchley DH, Morrison CA, Dodd S, Boulton DW, DeVane CL, Arnaud P (2003) J Chromatogr B 784:33–38

142.

Junot C, Pruvost A, Créminon C, Grognet J-M, Benech H, Ezan E (2001) J Chromatogr B 752:69–75

143.

Liang X, Lubman DM (1998) Anal Chem 70:498–503

144.

Schenk T, Irth H, Marko-Varga G, Edholm L-E, Tjaden UR, van der Greef J (2001) J Pharm Biomed Anal 26:975–985

145.

Zeck A, Weller MG, Niessner R (2001) Anal Chem 73:5509–5517

146.

Wolf R, Rosche F, Hoffmann T, Demuth H-U (2001) J Chromatogr A 926:21–27

147.

Shahdeo K, Karnes HT (1998) Mikrochim Acta 129:19–27

148.

Poole CF, Poole SK (1995) Chromatography today, 4th impression. Elsevier, Amsterdam, pp 751–752

149.

Aleporou-Marinou V, Pappa H, Marinou H, Yalouris P, Patargia T (2002) Comp Biochem Physiol Part B 133:105–111

150.

Manabe T, Miyamoto H, Inoue K, Nakatsu M, Arai M (1999) Electrophoresis 20:3677–3683

151.

Freed AL, Cooper JD, Davies MI, Lunte SM (2001) J Neurosci Methods 109:23–29

152.

Kostel KL, Lunte SM (1997) J Chromatogr B 695:27–38

153.

Haskins WE, Wang Z, Watson CJ, Rostand RR, Witowski SR, Powell DH, Kennedy RT (2001) Anal Chem 73:5005–5014

154.

Bert L, Rodier D, Bougault I, Allouard N, Le-Fur G, Soubrié P, Steinberg R (2002) Synapse 43:62–69

155.

Prokai L, Kim H-S, Zharikova A, Roboz J, Ma L, Deng L, Simonsick Jr WJ (1998) J Chromatogr A 800:59–68

156.

Kjellström S, Appels N, Ohlrogge M, Laurell T, Marko-Varga G (1999) Chromatographia 50:539–546

157.

Harada K, Kuniyasu A, Nakayama H, Nakayama M, Matsunaga T, Uji Y, Sugiuchi H, Okabe H (2002) J Chromatogr B 767:45–51

158.

Chaufer B, Rabiller-Baudry M (2001) J Chromatogr B 753:3–16

159.

Menon MK, Zydney AL (2001) J Mem Sci 181:179–184

160.

Darnon E, Lafitte L, Bellville MP, Rios GM (2002) Sep Purific Techn 26:283–293

161.

Fierens C, Thienpont LMR, Stöckl D, Willekens E, De Leenheer AP (2000) J Chromatogr A 896:275–278

162.

Stroink T, Paarlberg E, Waterval JCM, Bult A, Underberg WJM (2001) Electrophoresis 22:2374–2383

163.

Osbourn DM, Weiss DJ, Lunte CE (2000) Electrophoresis 21:2768–2779

164.

Wu X-Z, Hosaka A, Hobo T (1998) Anal Chem 70:2081–2084

165.

Wu X-Z, Kasahima T (2000) Anal Sci 16:329–331

166.

Polson NA, Savin DP, Hayes MA (2000) J Microcolumn Separation 12:98–106

167.

Park S, Lunte CE (1998) J Microcolumn Separations 10:511–517

168.

Tseng W-L, Chang H-T (2000) Anal Chem 72:4805–4811

169.

Tseng W-L, Chang H-T (2001) J Chromatogr A 924:93–101

170.

Li J, Kelly JF, Chernushevich I, Harrison DJ, Thibault P (2000) Anal Chem 72:599–609

171.

Xiang F, Lin Y, Wen J, Matson DW, Smith RD (1999) Anal Chem 71:1485–1490

172.

Dawson LA (1997) J Chromatogr B 697:89–99
About this article
Cite this article
Visser, N.F.C., Lingeman, H. & Irth, H. Sample preparation for peptides and proteins in biological matrices prior to liquid chromatography and capillary zone electrophoresis. Anal Bioanal Chem 382, 535–558 (2005). https://doi.org/10.1007/s00216-005-3120-9
Received:

Revised:

Accepted:

Published:

Issue Date:
Keywords
Sample preparation

Proteins

Peptides

Biological matrix

CZE

LC