Abstract
Rationale
Glucose is the principal energy substrate for the brain, although ketone bodies are an effective alternative. Evidence suggests that elevation of plasma ketone body levels through oral intake of medium chain triglycerides (MCTs) may improve cognitive function.
Objectives
We tried to examine the possible effects of a ketogenic meal serving on cognition in elderly non-demented subjects.
Methods
Subjects were 19 non-demented elderly adults over 60 years old (13 females; mean age: 66.1 ± 2.9 years) who underwent neurocognitive tests 90 and 180 min after oral intake of a ketogenic meal (Ketonformula®) containing 20 g of MCTs and an isocaloric placebo meal without MCTs on separate days.
Results
Elevation of plasma ketone concentration after intake of a single ketogenic meal containing 20 g of MCTs was confirmed (all p < 0.001). As for cognition, improvements were observed in the digit span test, Trail-Making Test B, and the global score (Z = −2.4, p = 0.017) following the ketogenic meal and the change in the executive functioning score was positively correlated with that of the plasma β-hydroxybutyrate level. The cognition-enhancing effect was observed predominantly for individuals who had a relatively low global score at baseline (Z = −2.8, p = 0.005), compared to individuals with a high global score (Z = −0.7, p = 0.51).
Conclusions
Plasma levels of ketone bodies were successfully increased after intake of the ketogenic meal. The ketogenic meal was suggested to have positive effects on working memory, visual attention, and task switching in non-demented elderly.
Access options
Buy single article
Instant access to the full article PDF.
US$ 39.95
Tax calculation will be finalised during checkout.
Subscribe to journal
Immediate online access to all issues from 2019. Subscription will auto renew annually.
US$ 119
Tax calculation will be finalised during checkout.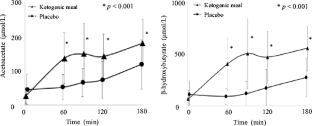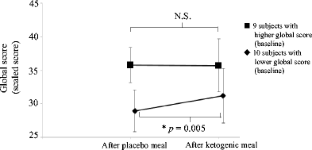 References
Auestad N, Korsak RA, Morrow JW, Edmond J (1991) Fatty acid oxidation and ketogenesis by astrocytes in primary culture. J Neurochem 56:1376–1386

Ebert D, Haller RG, Walton ME (2003) Energy contribution of octanoate to intact rat brain metabolism measured by 13C nuclear magnetic resonance spectroscopy. J Neurosci 23:5928–5935

Gasior M, Rogawski MA, Hartman AL (2006) Neuroprotective and disease-modifying effects of the ketogenic diet. Behav Pharmacol 17:431–439

Hasselbalch SG, Knudsen GM, Jakobsen J, Hageman LP, Holm S, Paulson OB (1994) Brain metabolism during short-term starvation in humans. J Cereb Blood Flow Metab 14:125–131

Hasselbalch SG, Madsen PL, Hageman LP, Olsen KS, Justesen N, Holm S, Paulson OB (1996) Changes in cerebral blood flow and carbohydrate metabolism during acute hyperketonemia. Am J Phys 270:E746–E751

Hayashi A, Kumada T, Nozaki F, Hiejima I, Miyajima T, Fujii T (2013) Changes in serum levels of selenium, zinc and copper in patients on a ketogenic diet using Ketonformula. No To Hattatsu 45:288–293

Henderson ST, Poirier J (2011) Pharmacogenetic analysis of the effects of polymorphisms in APOE, IDE and IL1B on a ketone body based therapeutic on cognition in mild to moderate Alzheimer's disease; a randomized, double-blind, placebo-controlled study. BMC Med Genet 12:137

Henderson ST, Vogel JL, Barr LJ, Garvin F, Jones JJ, Costantini LC (2009) Study of the ketogenic agent AC-1202 in mild to moderate Alzheimer's disease: a randomized, double-blind, placebo-controlled, multicenter trial. Nutr Metab (Lond) 6:31

Izumi Y, Ishii K, Katsuki H, Benz AM, Zorumski CF (1998) Beta-hydroxybutyrate fuels synaptic function during development. Histological and physiological evidence in rat hippocampal slices. J Clin Invest 101:1121–1132

Kashiwaya Y, Bergman C, Lee JH, Wan R, King MT, Mughal MR, Okun E, Clarke K, Mattson MP, Veech RL (2013) A ketone ester diet exhibits anxiolytic and cognition-sparing properties, and lessens amyloid and tau pathologies in a mouse model of Alzheimer's disease. Neurobiol Aging 34:1530–1539

Krikorian R, Shidler MD, Dangelo K, Couch SC, Benoit SC, Clegg DJ (2012) Dietary ketosis enhances memory in mild cognitive impairment. Neurobiol Aging 425:e19–e27

Lezak MD, Howieson DB, Loring DW (2004) Neuropsychological assessment. Oxford University Press, NY

Otsubo T, Tanaka K, Koda R, et al. (2005) Reliability and validity of Japanese version of the mini-international neuropsychiatric interview. Psychiatry Clin Neurosci 59:517–526

Page KA, Williamson A, Yu N, McNay EC, Dzuira J, McCrimmon RJ, Sherwin RS (2009) Medium-chain fatty acids improve cognitive function in intensively treated type 1 diabetic patients and support in vitro synaptic transmission during acute hypoglycemia. Diabetes 58:1237–1244

Reger MA, Henderson ST, Hale C, Cholerton B, Baker LD, Watson GS, Hyde K, Chapman D, Craft S (2004) Effects of beta-hydroxybutyrate on cognition in memory-impaired adults. Neurobiol Aging 25:311–314

Sheehan DV, Lecrubier Y, Sheehan KH, et al. (1998) The mini-international neuropsychiatric interview (M.I.N.I.): the development and validation of a structured diagnostic psychiatric interview for DSM-IV and ICD-10. J Clin Psychiatry 59:22–57

Studzinski CM, MacKay WA, Beckett TL, Henderson ST, Murphy MP, Sullivan PG, Burnham WM (2008) Induction of ketosis may improve mitochondrial function and decrease steady-state amyloid-beta precursor protein (APP) levels in the aged dog. Brain Res 1226:209–217

Thevenet J, De Marchi U, Domingo, JS, Christinat N, Bultot L, Lefebvre G, Sakamoto K, Descombes P, Masoodi M, Wiederkehr A (2016) Medium-chain fatty acids inhibit mitochondrial metabolism in astrocytes promoting astrocyte-neuron lactate and ketone body shuttle systems. FASEB J 30:1913–1926

Tominaga D (2005) The standardization of the Ryudai's trail making test (RTMT): from attentional function and working memory's viewpoint. University of the Ryukyus Repository 67:243–252

Traul KA, Driedger A, Ingle DL, Nakhasi D (2000) Review of the toxicologic properties of medium-chain triglycerides. Food Chem Toxicol 38:79–98

Veneman T, Mitrakou A, Mokan M, Cryer P, Gerich J (1994) Effect of hyperketonemia and hyperlacticacidemia on symptoms, cognitive dysfunction, and counterregulatory hormone responses during hypoglycemia in normal humans. Diabetes 43:1311–1317

Wechsler D (1987) Wechsler memory scale-revised. Psychological Corporation, San Antonio

Wechsler D (1997) Wechsler Adult Intelligence Scale (3rd edn.). Psychological Corporation, San Antonio

Wing RR, Vazquez JA, Ryan CM (1995) Cognitive effects of ketogenic weight-reducing diets. Int J Obes Relat Metab Disord 19:811–816

Yoshizawa H, Gazes Y, Stern Y, Miyata Y, Uchiyama S (2014) Characterizing the normative profile of 18F-FDG PET brain imaging: sex difference, aging effect, and cognitive reserve. Psychiatry Res 221:78–85
Acknowlegments
This study was funded by a research grant from Ryoshoku, the Food Science Institute Foundation, Japan.
Disclosure
K.A., T.T., and H.T. are employees of Meiji Co., Ltd., and Meiji817-B, the ketogenic meal used in the study, was provided by the company.
Ethics declarations
This study was performed in accordance with the Declaration of Helsinki and approved by the ethics committee of the National Center of Neurology and Psychiatry, Japan.
About this article
Cite this article
Ota, M., Matsuo, J., Ishida, I. et al. Effect of a ketogenic meal on cognitive function in elderly adults: potential for cognitive enhancement. Psychopharmacology 233, 3797–3802 (2016). https://doi.org/10.1007/s00213-016-4414-7
Received:

Accepted:

Published:

Issue Date:
Keywords
β-hydroxybutyrate

Cognition

Elderly

Ketogenic meal

Medium chain triglycerides