Abstract
Rationale
Curcumin is a major active principle of Curcuma longa, one of the widely used preparations in the Indian system of medicine. It is known for its diverse biological actions.
Objective
The present study was designed to investigate the involvement of monoaminergic system(s) in the antidepressant activity of curcumin and the effect of piperine, a bioavailability enhancer, on the bioavailability and biological effects of curcumin.
Methods and observations
Behavioral (forced swim test), biochemical (monoamine oxidase (MAO) enzyme inhibitory activity), and neurochemical (neurotransmitter levels estimation) tests were carried out. Curcumin (10–80 mg/kg, i.p.) dose dependently inhibited the immobility period, increased serotonin (5-hydroxytryptamine, 5-HT) as well as dopamine levels (at higher doses), and inhibited the monoamine oxidase enzymes (both MAO-A and MAO-B, higher doses) in mice. Curcumin (20 mg/kg, i.p.) enhanced the anti-immobility effect of subthreshold doses of various antidepressant drugs like fluoxetine, venlafaxine, or bupropion. However, no significant change in the anti-immobility effect of imipramine and desipramine was observed. Furthermore, combination of subthreshold dose of curcumin and various antidepressant drugs resulted in synergistic increase in serotonin (5-HT) levels as compared to their effect per se. There was no change in the norepinephrine levels. The coadministration of piperine (2.5 mg/kg, i.p.), a bioavailability enhancing agent, with curcumin (20 and 40 mg/kg, i.p.) resulted in potentiation of pharmacological, biochemical, and neurochemical activities.
Conclusion
The study provides evidences for mechanism-based antidepressant actions of curcumin. The coadministration of curcumin along with piperine may prove to be a useful and potent natural antidepressant approach in the management of depression.
Access options
Buy single article
Instant access to the full article PDF.
US$ 39.95
Tax calculation will be finalised during checkout.
Subscribe to journal
Immediate online access to all issues from 2019. Subscription will auto renew annually.
US$ 119
Tax calculation will be finalised during checkout.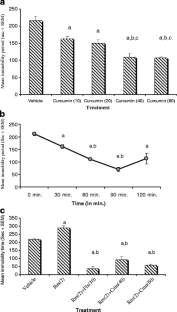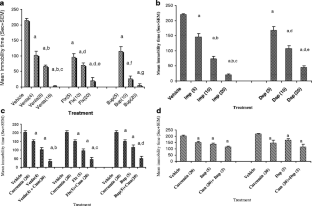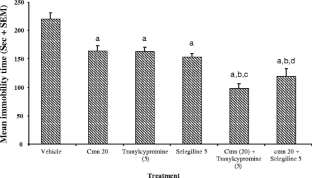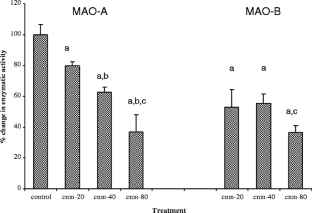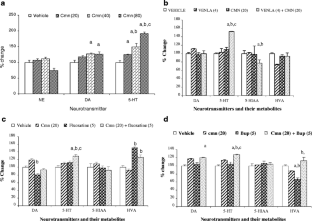 References
Ammon HP, Wahl MA (1991) Pharmacology of Curcuma longa. Planta Med 57:1–7

Arun N, Nalini N (2002) Efficacy of turmeric on blood sugar and polyol pathway in diabetic albino rats. Plant Foods Hum Nutr 57(1):41–52

Babu PS, Srinivasan K (1995) Influence of dietary curcumin and cholesterol on the progression of experimentally induced diabetes in albino rat. Mol Cell Biochem 152(1):13–21

Beyer CE, Boikess S, Luo B, Dawson LA (2002) Comparison of the effects of antidepressants on norepinephrine and serotonin concentrations in the rat frontal cortex: an in-vivo microdialysis study. J Psychopharmacol 16(4):297–304

Blier P, De Montigny C (1994) Current advances and trends in the treatment of depression. Trends Pharmacol Sci 15:220–226

Brouet I, Ohshima H (1995) Curcumin, an anti-tumour promoter and anti-inflammatory agent, inhibits induction of nitric oxide synthase in activated macrophages. Biochem Biophys Res Commun 206:533–540

Dar A, Khatoon S (2000) Behavioral and biochemical studies of dichloromethane fraction from the Areca catechu nut. Pharmacol Biochem Behav 65:1–6

Deodhar SD, Sethi R, Srimal RC (1980) Preliminary study on antirheumatic activity of curcumin (diferuloyl methane). Indian J Med Res 71:632–34

Dhir A, Kulkarni SK (2007) Involvement of nitric oxide (NO) signaling pathway in the antidepressant action of bupropion, a dopamine reuptake inhibitor. Eur J Pharmacol 568(1–3):177–185

Dhir A, Naidu PS, Kulkarni SK (2005) Protective effect of cyclooxygenase-2 (COX-2) inhibitors but not non-selective cyclooxygenase (COX)-inhibitors on ethanol withdrawal-induced behavioural changes. Addict Biol 10(4):329–335

Dikshit M, Rastogi L, Shukla R, Srimal RC (1995) Prevention of ischaemia-induced biochemical changes by curcumin & quinidine in the cat heart. Indian J Med Res 101:31–35

Elhwuegi AS (2004) Central monoamines and their role in major depression. Prog Neuropsychopharmacol 28:435–51

Kiso Y, Suzuki Y, Watanabe N, Oshima Y, Hikino H (1983) Antihepatotoxic principles of Curcuma longa rhizomes. Planta Med 49(3):185–87

Kulkarni SK, Mehta AK (1985) Purine nucleoside-mediated immobility in mice: reversal by antidepressants. Psychopharmacology (Berl) 85(4):460–463

Lao CD, Ruffin MT 4th, Normolle D, Heath DD, Murray SI, Bailey JM, Boggs ME, Crowell J, Rock CL, Brenner DE (2006) Dose escalation of a curcuminoid formulation. BMC Complement Altern Med 6:10

Limtrakul P, Lipigorngoson S, Namwong O, Apisariyakul A, Dunn FW (1997) Inhibitory effect of dietary curcumin on skin carcinogenesis in mice. Cancer Lett 116(2):197–203

Mazzio EA, Harris N, Soliman KF (1998) Food constituents attenuate oxidase activity and peroxide levels in C6 cells. Planta Med 64:603–607

Naughton M, Mulrooney JB, Leonard BE (2000) A review of the role of serotonin receptors in psychiatric disorders. Hum Psychopharmacol Clin Exp 15:397–415

Porsolt RD, Bertin A, Jalfre M (1978) Behavioural despair in rats and mice: strain differences and the effects of imipramine. Eur J Pharmacol 51:291–294

Rao CV, Rivenson A, Simi B et al (1995) Chemoprevention of colon carcinogenesis by dietary curcumin, a naturally occurring plant phenolic compound. Cancer Res 55:259–266

Schloss P, Henm FA (2004) New insights into the mechanisms of antidepressant therapy. Pharmacol Ther 102:47–60

Schurr A, Livne A (1975) Differential inhibition of mitochondrial monoamine oxidase from brain by hashish components. Biochem Pharm 25:1201–1203

Serra G, Agriolas A, Klimek V, Fadda F, Gessa GL (1979) Chronic treatment with antidepressants prevents the inhibitory effect of small doses of apomorphine on dopamine synthesis and motor activity. Life Sci 25:415–423

Shoba G, Joy D, Joseph T, Majeed M, Rajendran R, Srinivas PS (1998) Influence of piperine on the pharmacokinetics of curcumin in animals and human volunteers. Planta Med 64(4):353–356

Sreejayan R, Rao MN (1994) Curcuminoids as potent inhibitors of lipid peroxidation. J Pharm Pharmacol 46:1013–1016

Srinivasan M (1972) Effect of curcumin on blood sugar as seen in a diabetic subject. Indian J Med Sci 26(4):269–270

Srivastava R, Dikshit M, Srimal RC, Dhawan BN (1985) Antithrombotic effect of curcumin. Thromb Res 40(3):413–417

Wang R, Xu Y, Wu HL, Li YB, Li YH, Guo JB, Li XJ (2008) The antidepressant effects of curcumin in the forced swimming test involve 5-HT1 and 5-HT2 receptors. Eur J Pharmacol 578(1):43–50

Xu Y, Ku BS, Yao HY, Lin YH, Ma X, Zhang YH, Li XJ (2005a) The effects of curcumin on depressive-like behaviors in mice. Eur J Pharmacol 518:40–46

Xu Y, Ku BS, Yao HY, Lin YH, Ma X, Zhang YH, Li XJ (2005b) Antidepressant effects of curcumin in the forced swimming test and olfactory bulbactomy models of depression in rats. Pharmacol Biochem Behav 82:200–206
Acknowledgement
This study was carried out in Centre with Potential of Excellence in Biomedical Sciences (CPEBS), Panjab University, Chandigarh. The technical assistance of Ms. Manninder Kaur, J. Gr II, is very much appreciated.
About this article
Cite this article
Kulkarni, S.K., Bhutani, M.K. & Bishnoi, M. Antidepressant activity of curcumin: involvement of serotonin and dopamine system. Psychopharmacology 201, 435 (2008). https://doi.org/10.1007/s00213-008-1300-y
Received:

Accepted:

Published:
Keywords
Curcumin

Forced swim test (FST)

Serotonin

Monoamine oxidase (MAO)

Piperine