Abstract
A new actinobacterial species of the genus Myceligenerans has been isolated from the intertidal sediment of Indian Sundarbans mangrove ecosystem. The isolate has been characterized based on polyphasic approaches. The isolate exhibit well-developed substrate mycelia along with the presence of cocci- and rod-shaped elements. The organism can grow across a wide range of temperature, salinity, and pH as well as on different carbon sources. Phylogenetic analyses based on 16S rRNA showed that this isolate is closely related to Myceligenerans salitolerans XHU 5031 (99% identity; 100% coverage). Presence of ketosynthase domain representing polyketide synthases in the isolate provides evidence of its potential ability to produce secondary metabolites. Multigene phylogeny based on atpD and rpoB gene sequences confirmed it as a new species within the family Promicromonosporaceae (Phylum Actinobacteria). The DNA G + C content of the isolate has been determined as 72 mol%. The peptidoglycan type was A4α and the whole-cell hydrolysates contained glucose, galactose, and mannose. The polar lipids were represented by diphosphatidylglycerol, one unknown phospholipid and one unknown glycolipid. Major fatty acids present in the isolate are anteiso-C15, iso-C15, iso-C16, and anteiso-C17. Whole-genome sequence indicates the size of genome is ~ 5 Mbp. GGDC (%), orthoANIu (%), and AAI of I2 genome indicated 28.9%, 77.44% and 0.859 identity with the genome of Myceligenerans xiligouense strain DSM 15,700. The isolate I2 has been proposed as a new species, Myceligenerans indicum sp. nov. The genome sequence has been deposited to GenBank/ENA/DDBJ under the accession number JABBYC000000000.
Access options
Buy single article
Instant access to the full article PDF.
USD 39.95
Price includes VAT (USA)
Tax calculation will be finalised during checkout.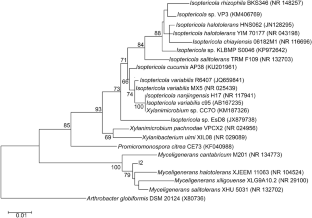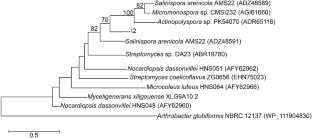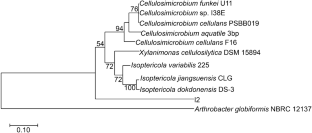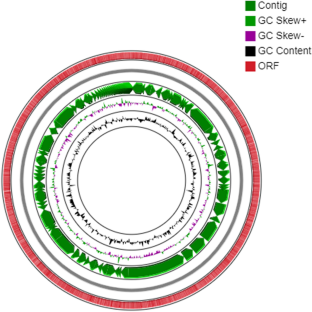 References
Bertelli C, Laird MR, Williams KP (2017) Simon Fraser University Research Computing Group, Lau BY, Hoad G, Winsor GL, Brinkman FSL (2017) IslandViewer 4: expanded prediction of genomic islands for larger-scale datasets. Nucleic Acids Res 45:W30–W35

Bostrӧm KH, Simu K, Hagström A, Riemann L (2004) Optimization of DNA extraction for quantitative marine bacterioplankton community analysis. Limnol Oceanogr 2:365–373. https://doi.org/10.4319/lom.2004.2.365

Cui X, Schumann P, Stackebrandt E, Kroppenstedt RM, Pukall R, Xu L et al (2004) Myceligenerans xiligouense gen. nov., sp. nov., a novel hyphae-forming member of the family Promicromonosporaceae. Int J Syst Evol Microbiol 54:1287–1293. https://doi.org/10.1099/ijs.0.03046-0

Dahllöf I, Baillie H, Kjelleberg S (2000) rpoB-based microbial community analysis avoids limitations inherent in 16S rRNA gene intraspecies heterogeneity. Appl Environ Microbiol 66:3376–3380. https://doi.org/10.1128/AEM.66.8.3376-3380.2000

Darriba D, Taboada GL, Doallo R, Posada D (2012) jModelTest 2: more models, new heuristics and high- performance computing. Nat Methods 9:1–4. https://doi.org/10.1038/nmeth.2109

De Ley J, Cattoir H, Reynaerts A (1970) The quantitative measurement of DNA hybridization from renaturation rates. Eur J Biochem 12:133–142. https://doi.org/10.1111/j.1432-1033.1970.tb00830.x

Gaunt MW, Turner SL, Rigottier- Gois L, Lloyd MacGilp SA, Young JPW (2001) Phylogenies of atpD and recA support the small subunit rRNA-based classification of rhizobia. Int J Syst Evol Microbiol 51:2037–2048. https://doi.org/10.1099/00207713-51-6-2037

Ghosh A, Bhadury P (2019) Vibrio chemaguriensis sp. nov., from Sundarbans. Bay of Bengal Curr Microbiol 76:1118–1127

Gopal B, Chauhan M (2006) Biodiversity and its conservation in the Sundarban mangrove ecosystem. Aquat Sci 68:338–354. https://doi.org/10.1007/s00027-006-0868-8

Gonzalez JM, Saiz-Jimenez C (2005) A simple fluorimetric method for the estimation of DNA–DNA relatedness between closely related microorganisms by thermal denaturation temperatures. Extremophiles 9:75–79. https://doi.org/10.1007/s00792-004-0417-0

Grant JR, Stothard P (2008) The CGView Server: a comparative genomics tool for circular genomes. Nucleic Acids Res 36:W181–W184

Hall TA (1999) BioEdit: a user-friendly biological sequence alignment editor and analysis program for Windows 95/98/NT. Nucleic Acids Symp Ser 41:95–98. https://doi.org/10.1021/bk-1999-0734ch008

Jiang S, Li X, Zhang L, Sun W, Dai S, Xei L et al (2008) Culturable actinobacteria isolated from marine sponge Iotrochota sp. Mar Biol 153:945–952. https://doi.org/10.1007/s00227-007-0866-y

Kelly KL (1964) Inter-society color Council-National Bureau of standards color-name charts illustrated with centroid colors. US Government Printing Office, Washington, DC

Kumar S, Stecher G, Li M, Knyaz C, Tamura K (2018) MEGA X: molecular evolutionary genetics analysis across computing platforms. Mol Biol Evol 35:1547–1549. https://doi.org/10.1093/molbev/msy096

Lane DJ (1991) 16S/23S rRNA sequencing. In: Stackebrandt E, Goodfellow M (eds) Nucleic acid techniques in bacterial systematics. Wiley, New York, pp 115–175

Marmur J, Doty P (1962) Determination of the base composition of deoxyribonucleic acid from its thermal denaturation temperature. J Mol Biol 5:109–118. https://doi.org/10.1016/S0022-2836(62)80066-7

Martin M (2011) Cutadapt removes adapter sequences from high throughput sequencing reads. EMBnet J 17:10–12

Medlar AJ, Törönen P, Holm L (2018) AAI-profiler: fast proteome-wide exploratory analysis reveals taxonomic identity, misclassification and contamination. Nucleic Acids Res 46:W479–W485

Meier-Kolthoff JP, Göker M (2019) TYGS is an automated high-throughput platform for state-of-the-art genome based taxonomy. Nat Commun 10:2182. https://doi.org/10.1038/s41467-019-10210-3

Minnikin DE, O'Donnell AG, Goodfellow M, Alderson G, Athalye M, Schaal A, Parlett JH (1984) An integrated procedure for the extraction of bacterial isoprenoid quinones and polar lipids. J Microbiol Methods 2:233–241

Moffitt MC, Neilan BA (2001) On the presence of peptide synthetase and polyketide synthase genes in the cyanobacterial genus Nodularia. FEMS Microbiol Lett 196:207–214. https://doi.org/10.1111/j.1574-6968.2001.tb10566.x

Nguyen TM, Kim J (2017) A rapid and simple method for identifying bacterial polar lipid components in wet biomass. J Microbiol 55:635–639. https://doi.org/10.1007/s12275-017-7092-1

Sasser M (1990) Identification of bacteria by gas chromatography of cellular fatty acids. MIDI Technical Note 101, Newark, DE:MIDI Inc.

Schleifer KH, Kandler O (1972) Peptidoglycan types of bacterial cell walls and their taxonomic implications. Bacteriol Rev 36:407–477

Schumann P, Stackebrandt E (2009) Family XII. Promicromonosporaceae Rainey, Ward-Rainey and Stackebrandt 1997, 484VP emend. Zhi, Li and Stackebrandt 2009, 598. In: Goodfellow M, Kämpfer P, Busse H, Trujillo ME, Suzuki K, Ludwig W, Whitman WB (eds) Bergey's manual of systematic bacteriology, 2nd edn. Springer, New York, pp 995–1019

Seemann T (2014) Prokka: rapid prokaryotic genome annotation. Bioinformatics 30:2068–2069

Shirling EB, Gottlieb D (1966) Methods for characterization of Streptomyces species. Int J Syst Bacteriol 16:313–340. https://doi.org/10.1099/00207713-16-3-313

Singh T, Bhadury P (2019) Description of a new marine planktonic cyanobacterial species Synechococcus moorigangaii (Order Chroococcales) from Sundarbans mangrove ecosystem. Phytotaxa 393:263–277

Staneck JL, Roberts GD (1974) Simplified approach to identification of aerobic actinomycetes by thin layer chromatography. Appl Microbiol 28:226–231

Weimann A, Mooren K, Frank J, Pope PB, Bremges A, McHardy AC (2016) From genomes to phenotypes: traitor, the microbial trait analyzer. mSystems 1:e00101-e116

Wick RR, Judd LM, Gorrie CL, Holt KE (2017) Unicycler: resolving bacterial genome assemblies from short and long sequencing reads. PLoS Comput Biol 13:e1005595

Yang N, Song F (2018) Bioprospecting of novel and bioactive compounds from marine actinomycetes isolated from South China Sea sediments. Curr Microbiol 75:142–149. https://doi.org/10.1007/s00284-017-1358-z

Yoon SH, Ha S-M, Kwon S, Lim J, Kim Y, Seo H, Chun J (2017) Introducing EzBioCloud: a taxonomically united database of 16S rRNA gene sequences and whole-genome assemblies. Int J Syst Evol Microbiol 67:1613–1617
Acknowledgements
Kannan Asha acknowledges the INSPIRE program of Department of Science and Technology, Government of India, for providing INSPIRE Ph.D. fellowship. This work was partly supported by WWF-India grant awarded to Punyasloke Bhadury.
Ethics declarations
Conflict of interest
The authors declare that there are no conflicts of interests.
Additional information
Publisher's Note
Springer Nature remains neutral with regard to jurisdictional claims in published maps and institutional affiliations.
Communicated by Erko Stackebrandt.
Supplementary Information
Below is the link to the electronic supplementary material.
About this article
Cite this article
Asha, K., Bhadury, P. Myceligenerans indicum sp. nov., an actinobacterium isolated from mangrove sediment of Sundarbans, India. Arch Microbiol 203, 1577–1585 (2021). https://doi.org/10.1007/s00203-020-02150-0
Received:

Revised:

Accepted:

Published:

Issue Date:
Keywords
Sundarbans

Mangrove

Intertidal sediment

Myceligenerans