Abstract
Soil from an experimental paddy field in southern China was incubated with peanut shell biochar to investigate effects of this additive on the adsorption and desorption characteristics of Cd(II) using batch methods. Incorporation of biochar increased adsorption of Cd(II) by the paddy soil at 20, 25, and 30°C; this trend was apparent both with increasing quantities of biochar and rising temperature. Incorporation of biochar primarily enhanced the non-electrostatic adsorption of Cd(II). In addition, supplementation with biochar decreased the adsorption rate of Cd(II), which decreased with increasing quantities of biochar. The Langmuir constant b and Freundlich constant kf both increased with greater quantities of biochar at different temperatures. Adsorption of Cd(II) was an endothermic process and occurred spontaneously. Incorporation of biochar decreased availability and mobility of Cd(II) to plants primarily through increased non-electrostatic adsorption of Cd(II) by paddy soil.
Access options
Buy single article
Instant access to the full article PDF.
USD 39.95
Price includes VAT (USA)
Tax calculation will be finalised during checkout.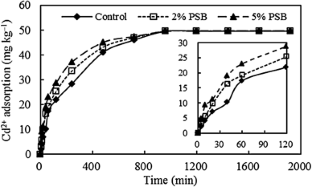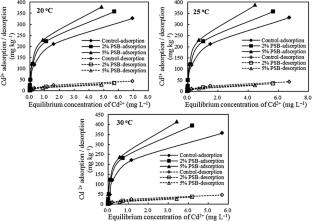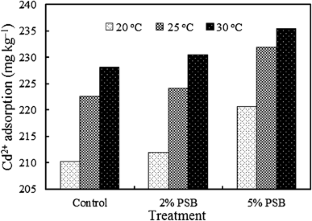 References
Beesley L, Marmiroli M (2011) The immobilisation and retention of soluble arsenic, cadmium and zinc by biochar. Environ Pollut 159:474–480

Beesley L, Moren-Jiménez E, Gomez-Eyles J (2010) Effects of biochar and greenwaste compost amendments on mobility, bioavailability and toxicity of inorganic and organic contaminants in a multi-element polluted soil. Environ Pollut 158:2282–2287

Bian RJ, Chen D, Liu XY, Cui LQ, Li LQ, Pan GX, Xie D, Zheng JW, Zhang XH, Zheng JF, Chang A (2013) Biochar soil amendment as a solution to prevent Cd-tainted rice from China: results from a cross-site field experiment. Ecol Eng 58:378–383

Bian RJ, Joseph S, Cui LQ, Pan GX, Li LQ, Liu XY, Zhang AF, Rutlidge H, Wong SW, Chia C, Marjo C, Gong B, Munroe P, Donne S (2014) A 3-year experiment confirms continuous immobilization of cadmium and lead in contaminated paddy field with biochar. J Hazard Mater 272:121–128

Boehm HP (1994) Some aspects of the surface-chemistry of carbon-blacks and other carbons. Carbon 32:759–769

Fellet G, Marchiol L, Delle Vedove G, Peressotti A (2011) Application of biochar on mine tailings: effects and perspectives for land reclamation. Chemosphere 83:1262–1267

Forján R, Asensio V, Rodríguez-Vila A, Covelo EF (2016) Contributions of a compost-biochar mixture to the metal sorption capacity of a mine tailing. Environ Sci Pollut Res 23:2595–2602

Gaskin JW, Steiner C, Harris K, Das KC, Bibens B (2008) Effect of low-temperature pyrolysis conditions on biochar for agricultural use. Trans ASABE 51:2061–2069

Jiang TY, Jiang J, Xu RK, Li Z (2012a) Adsorption of Pb(II) on variable charge soils amended with rice-straw derived biochar. Chemosphere 89:249–256

Jiang TY, Jiang J, Xu RK, Zhou LX (2012b) Effect of biochar from rice straw on adsorption of Cd(II) by variable charge soils. J Agro-Environ Sci 31:1111–1117 (Chinese)

Jiang TY, Jiang J, Xu RK, Zhou LX, Wang SM (2013) Effects of different temperatures biochar on adsorption of Pb(II) on variable charge soils. Environ Sci 34:1598–1604 (Chinese)

Komarek M, Vanek A, Ettler V (2013) Chemical stabilization of metals and arsenic in contaminated soils using oxides—a review. Environ Pollut 172:9–22

Li JR, Xu YM (2015) Immobilization of Cd in paddy soil using moisture management and amendment. Environ Sci Pollut Res Int 22:5580–5586

Liu GC, Jiang NH, Zhang LD (1996) Analysis of soil physico-chemical properties and profile description. Standards Press of China, Beijing

Lu RK (2000) Assay on agro-chemical properties of soil. China Agricultural Science and Technology Press, Beijing

Meena AK, Mishra GK, Rai PK, Ragapopal CN, Nagar PN (2005) Removal of heavy metal ions from aqueous solutions using carbon aerogel as an adsorbent. J Hazard Mater 122:161–170

Paranavithana GN, Kawamoto K, Inoue Y, Saito T, Vithanage M, Kalpage CS, Herath GBB (2016) Adsorption of Cd2+ and Pb2+ onto coconut shell biochar and biochar-mixed soil. Environ Earth Sci 75:484–496

Park JH, Choppala GK, Bolan NS, Chung JW, Chuasavathi T (2011) Biochar reduces the bioavailability and phytotoxicity of heavy metals. Plant Soil 348:439–451

Shaker MA, Albishri HM (2014) Dynamics and thermodynamics of toxic metals adsorption onto soil-extracted humic acid. Chemosphere 111:587–595

Tong XJ, Li JY, Jiang J, Xu RK (2011) Effect of biochars derived from crop straws on Cu(II) adsorption by red soils. J Ecol Rural Environ 27:37–41 (Chinese)

Uchimiya M, Klasson KT, Wartelle LH, Lima IM (2011) Influence of soil properties on heavy metal sequestration by biochar amendments: 1. Copper sorption isotherms and release of cations. Chemosphere 82:1431–1437

Wang LQ, Luo L, Ma YB, Wei DP, Hua L (2009) In situ immobilization remediation of heavy metals-contaminated soils: a review. Chin J Appl Ecol 20:1214–1222 (Chinese)

Xu RK, Zhao AZ (2013) Effect of biochars on adsorption of Cu (II), Pb(II) and Cd(II) by three variable charge soils from southern China. Environ Sci Pollut Res Int 20:8491–8501

Xu DY, Zhao Y, Sun K, Gao B, Wang ZY, Jin J, Zhang ZY, Wang SF, Yan Y, Liu XT, Wu FC (2014) Cadmium adsorption on plant- and manure-derived biochar and biochaar-amended sandy soils: impact of bulk and surface properties. Chemosphere 111:320–326

Zhao FJ, Ma YB, Zhu YG, Tang Z, McGrath SP (2015) Soil contamination in China: current status and mitigation strategies. Environ Sci Technol 49:750–759

Zhu QH, Huang DY, Liu SH, Zhou B, Luo ZC, Zhu HH (2012) Flooding-enhanced immobilization effect of sepiolite on cadmium in paddy soil. J Soil Sediment 12:169–177
Acknowledgements
This project was supported by the National Key Technologies R&D Program of China (2015BAD05B02), the Natural Science Foundation of Hunan Province, China (2015JJ2081), the Natural Science Foundation of China (41101293), the China Postdoctoral Science Foundation (2014M562110), the Research Fund for the Doctoral Program of Higher Education of the Ministry of Education of China (20114404120015), and Key Project of International Cooperation in Science and Technology Innovation (S2016G0053).
About this article
Cite this article
Xu, C., Wen, D., Zhu, Q. et al. Effects of Peanut Shell Biochar on the Adsorption of Cd(II) by Paddy Soil. Bull Environ Contam Toxicol 98, 413–419 (2017). https://doi.org/10.1007/s00128-016-1973-6
Received:

Accepted:

Published:

Issue Date:
Keywords
Sorption

Desorption

Biomass

Isothermal model