Abstract
Aims/hypothesis
Previous studies have suggested that glucose variability may accelerate atherosclerosis progression in people with type 2 diabetes. Current guidelines recommend assessing glycaemic control using continuous glucose monitoring (CGM), which provides a comprehensive glycaemic profile to supplement HbA1c measurement. However, the association between CGM-derived metrics and atherosclerosis progression is not entirely clear.
Methods
This exploratory study used baseline data and data obtained after 104 weeks from an ongoing prospective, multicentre, observational study. Six hundred study participants with type 2 diabetes and no apparent history of symptomatic cardiovascular disease underwent CGM and ultrasonographic atherosclerosis measurements of the carotid arteries, including the intima–media thickness (IMT) and grey-scale median (GSM), at baseline and 104 weeks. Non-invasive ultrasonic tissue characterisation of the carotid artery wall or plaque using the GSM reflects vascular composition. Multivariate regression models were used to analyse the association between CGM-derived indices, mainly time in range (TIR) and CV, and changes in carotid atherosclerosis index values.
Results
Over the 104-week study period, there were modest increases in mean IMT (from 0.759±0.153 to 0.773±0.152 mm, p<0.001) and thickened-lesion GSM (from 43.5±19.5 to 53.9±23.5 units, p<0.001), but no significant changes in common carotid artery maximum-IMT (from 1.109±0.442 to 1.116±0.469 mm, p=0.453) or mean GSM (from 48.7±19.3 to 49.8±20.8 units, p=0.092). In a linear regression model with adjustment for possible atherosclerotic risk factors, including HbA1c, TIR and CV at baseline were significantly associated with the annual change in mean GSM (regression coefficient per 10% increase in TIR 0.52; 95% CI 0.06, 0.98; Hochberg-adjusted p value 0.038; regression coefficient per 1% increase in CV −0.12; 95% CI −0.22, −0.02; Hochberg-adjusted p value 0.038). TIR and CV at baseline were also significantly associated with the annual change in thickened-lesion GSM (regression coefficient per 10% increase in TIR 0.95; 95% CI 0.12, 1.79; Hochberg-adjusted p value 0.038; regression coefficient per 1% increase in CV −0.19; 95% CI −0.36, −0.01; Hochberg-adjusted p value 0.038). Participants who achieved target CGM-derived metrics at baseline, as proposed by an international consensus, showed significant annual changes in mean GSM compared with those who did not (0.94±6.88 vs −0.21±6.19 units/year, p=0.007).
Conclusions/interpretation
TIR and CV were significantly associated with changes in the tissue characteristics of the carotid artery wall.
Trial registration
University Hospital Medical Information Network Clinical Trials Registry, number UMIN000032325
Graphical Abstract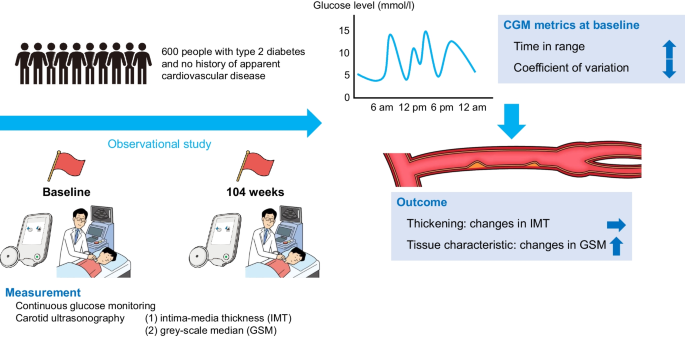 Similar content being viewed by others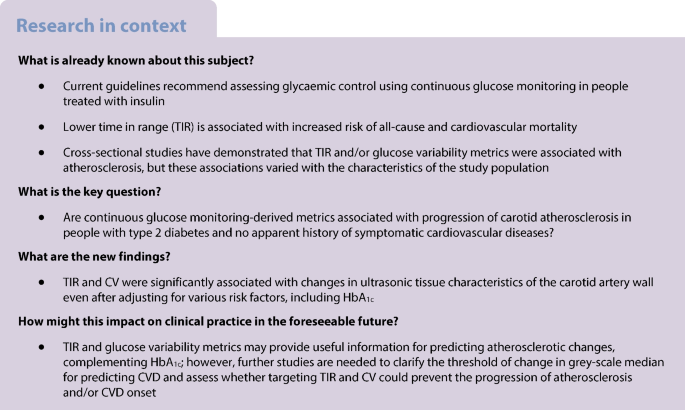 Abbreviations
CCA:

Common carotid artery

CGM:

Continuous glucose monitoring

FLP-CGM:

FreeStyle Libre Pro continuous glucose monitoring

GSM:

Grey-scale median

IMT:

Intima–media thickness

TAR:

Time above range

TBR:

Time below range

TIR:

Time in range
Ethics declarations
Acknowledgements
The authors wish to thank the study investigators listed in ESM Table 5 and the participants for their contributions to this study.
Data availability
All data generated or analysed during this study are included in this article or its supplementary material files. Further enquiries may be directed to the corresponding author.
Funding
This study was financially supported by the Japan Agency for Medical Research and Development under grant number JP20ek0210105 (to HW) and the Manpei Suzuki Diabetes Foundation (to HW). However, the authors declare that these funding sources had no role in the development of this manuscript.
Authors' relationships and activities
TO and HW have received research funds from Abbott Japan. HW is a member of the advisory board of Abbott Japan. NK has received lecture fees from Abbott Japan. IS received an interview honorarium from Abbott Japan, and a chair/discussant honorarium from Terumo Corp. The authors declare that there are no other relationships or activities that might bias, or be perceived to bias, their work.
Contribution statement
All authors meet the International Committee of Medical Journal Editors criteria for authorship for this manuscript. All authors contributed to the study design and were involved in all stages of manuscript development. TM drafted the manuscript. RI and MG, who are both statisticians, were primarily responsible for data analysis. All authors collected, analysed and interpreted the data, reviewed and edited the manuscript, and approved the final manuscript. HW is the principal guarantor of this work, has full access to all study data, and takes responsibility for the integrity of the data and the accuracy of data analysis. All authors have read and agreed to publication of the manuscript.
Additional information
Publisher's Note
Springer Nature remains neutral with regard to jurisdictional claims in published maps and institutional affiliations.
Supplementary Information
Below is the link to the electronic supplementary material.
Rights and permissions
Open Access This article is licensed under a Creative Commons Attribution 4.0 International License, which permits use, sharing, adaptation, distribution and reproduction in any medium or format, as long as you give appropriate credit to the original author(s) and the source, provide a link to the Creative Commons licence, and indicate if changes were made. The images or other third party material in this article are included in the article's Creative Commons licence, unless indicated otherwise in a credit line to the material. If material is not included in the article's Creative Commons licence and your intended use is not permitted by statutory regulation or exceeds the permitted use, you will need to obtain permission directly from the copyright holder. To view a copy of this licence, visit http://creativecommons.org/licenses/by/4.0/.
About this article
Cite this article
Mita, T., Katakami, N., Okada, Y. et al. Continuous glucose monitoring-derived time in range and CV are associated with altered tissue characteristics of the carotid artery wall in people with type 2 diabetes. Diabetologia 66, 2356–2367 (2023). https://doi.org/10.1007/s00125-023-06013-3
Received:

Accepted:

Published:

Issue Date:

DOI: https://doi.org/10.1007/s00125-023-06013-3
Keywords