Abstract
Aims/hypothesis
The link underlying abnormal glucose metabolism, type 2 diabetes and polycystic ovary syndrome (PCOS) that is independent of BMI remains unclear in observational studies. We aimed to clarify this association using a genome-wide cross-trait approach.
Methods
Summary statistics from the hitherto largest genome-wide association studies conducted for type 2 diabetes, type 2 diabetes mellitus adjusted for BMI (T2DMadjBMI), fasting glucose, fasting insulin, 2h glucose after an oral glucose challenge (all adjusted for BMI), HbA1c and PCOS, all in populations of European ancestry, were used. We quantified overall and local genetic correlations, identified pleiotropic loci and expression–trait associations, and made causal inferences across traits.
Results
A positive overall genetic correlation between type 2 diabetes and PCOS was observed, largely influenced by BMI (rg=0.31, p=1.63×10–8) but also independent of BMI (T2DMadjBMI–PCOS: rg=0.12, p=0.03). Sixteen pleiotropic loci affecting type 2 diabetes, glycaemic traits and PCOS were identified, suggesting mechanisms of association that are independent of BMI. Two shared expression–trait associations were found for type 2 diabetes/T2DMadjBMI and PCOS targeting tissues of the cardiovascular, exocrine/endocrine and digestive systems. A putative causal effect of fasting insulin adjusted for BMI and type 2 diabetes on PCOS was demonstrated.
Conclusions/interpretation
We found a genetic link underlying type 2 diabetes, glycaemic traits and PCOS, driven by both biological pleiotropy and causal mediation, some of which is independent of BMI. Our findings highlight the importance of controlling fasting insulin levels to mitigate the risk of PCOS, as well as screening for and long-term monitoring of type 2 diabetes in all women with PCOS, irrespective of BMI.
Graphical abstract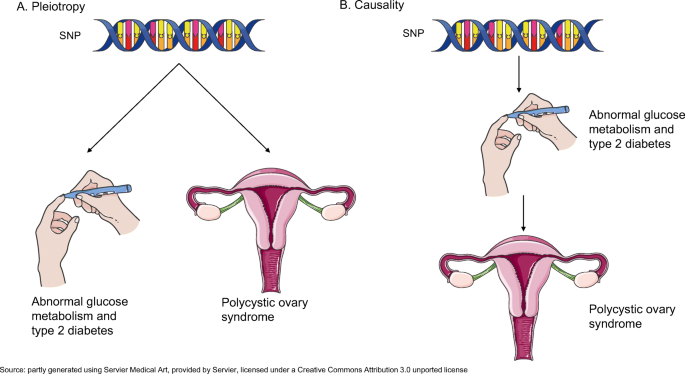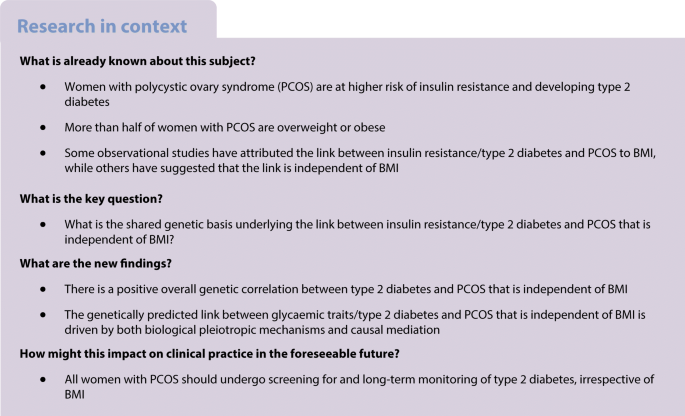 Data availability
All GWAS summary statistics are publicly available.
Abbreviations
2hGluadjBMI:

2h glucose after an oral glucose challenge adjusted for BMI

CPASSOC:

Cross-phenotype association analysis

FDR:

False discovery rate (Benjamini–Hochberg correction)

FGadjBMI:

Fasting glucose adjusted for BMI

FIadjBMI:

Fasting insulin adjusted for BMI

GWAS:

Genome-wide association study

IV:

Instrumental variable

IVW:

Inverse variance weighted

LD:

Linkage disequilibrium

LDSC:

Linkage disequilibrium score regression

MR:

Mendelian randomisation

NOME:

No measurement error

PCOS:

Polycystic ovary syndrome

SIMEX:

Simulation extrapolation

T2DMadjBMI:

Type 2 diabetes mellitus adjusted for BMI

TWAS:

Transcriptome-wide association study

WC:

Waist circumference
Acknowledgements
We thank all researchers who shared the GWAS summary statistics.
Authors' relationships and activities
The authors declare that there are no relationships or activities that might bias, or be perceived to bias, their work
Contribution statement
QL and XJ acquired and analysed the data, interpreted the results and drafted the manuscript. XJ, QD and ES-V conceptualised the study. XJ and QL designed the study. ZZ, PK and BT provided statistical expertise. QL, BT, ZZ, PK, QD, ES-V and XJ revised the manuscript. All authors provided the corresponding author with permission to be named in the manuscript. XJ is the guarantor of this study. All authors read and approved the final version of the manuscript.
Funding
Open access funding provided by Karolinska Institute. This work was funded by the Swedish Medical Research Council (project no. 2018-02435 [ESV]), the Novo Nordisk Foundation (NNF19OC0056647 [ESV]) and the Diabetes Foundation (DIA2021-633 [ESV]).
Additional information
Publisher's note
Springer Nature remains neutral with regard to jurisdictional claims in published maps and institutional affiliations.
Supplementary Information
Rights and permissions
Open Access This article is licensed under a Creative Commons Attribution 4.0 International License, which permits use, sharing, adaptation, distribution and reproduction in any medium or format, as long as you give appropriate credit to the original author(s) and the source, provide a link to the Creative Commons licence, and indicate if changes were made. The images or other third party material in this article are included in the article's Creative Commons licence, unless indicated otherwise in a credit line to the material. If material is not included in the article's Creative Commons licence and your intended use is not permitted by statutory regulation or exceeds the permitted use, you will need to obtain permission directly from the copyright holder. To view a copy of this licence, visit http://creativecommons.org/licenses/by/4.0/.
About this article
Cite this article
Liu, Q., Tang, B., Zhu, Z. et al. A genome-wide cross-trait analysis identifies shared loci and causal relationships of type 2 diabetes and glycaemic traits with polycystic ovary syndrome. Diabetologia 65, 1483–1494 (2022). https://doi.org/10.1007/s00125-022-05746-x
Received:

Accepted:

Published:

Issue Date:

DOI: https://doi.org/10.1007/s00125-022-05746-x
Keywords
Genome-wide cross-trait analysis

Insulin resistance

Mendelian randomisation

Polycystic ovary syndrome

Type 2 diabetes