Abstract
Aims/hypothesis
Type 2 diabetes confers a greater relative increase in CVD risk in women compared with men. We examined sex differences in intraorgan fat and hepatic VLDL1-triacylglycerol (VLDL1-TG) export before and after major dietary weight loss.
Methods
A group with type 2 diabetes (n = 64, 30 male/34 female) and a group of healthy individuals (n = 25, 13 male/12 female) were studied. Intraorgan and visceral fat were quantified by magnetic resonance and VLDL1-TG export by intralipid infusion techniques.
Results
Triacylglycerol content of the liver and pancreas was elevated in people with diabetes with no sex differences (liver 16.4% [9.3–25.0%] in women vs 11.9% [7.0–23.1%] in men, p = 0.57, and pancreas 8.3 ± 0.5% vs 8.5 ± 0.4%, p = 0.83, respectively). In the absence of diabetes, fat levels in both organs were lower in women than men (1.0% [0.9–1.7%] vs 4.5% [1.9–8.0%], p = 0.005, and 4.7 ± 0.4% vs 7.6 ± 0.5%, p< 0.0001, respectively). Women with diabetes had higher hepatic VLDL1-TG production rate and plasma VLDL1-TG than healthy women (559.3 ± 32.9 vs 403.2 ± 45.7 mg kg−1 day−1, p = 0.01, and 0.45 [0.26–0.77] vs 0.25 [0.13–0.33] mmol/l, p = 0.02), whereas there were no differences in men (548.8 ± 39.8 vs 506.7 ± 29.2 mg kg−1 day−1, p = 0.34, and 0.72 [0.53–1.15] vs 0.50 [0.32–0.68] mmol/l, p = 0.26). Weight loss decreased intraorgan fat and VLDL1-TG production rates regardless of sex, and these changes were accompanied by similar rates of diabetes remission (65.4% vs 71.0%) and CVD risk reduction (59.8% vs 41.5%) in women and men, respectively.
Conclusions/interpretation
In type 2 diabetes, women have liver and pancreas fat levels as high as those of men, associated with raised hepatic VLDL1-TG production rates. Dynamics of triacylglycerol turnover differ between sexes in type 2 diabetes and following weight loss. These changes may contribute to the disproportionately raised cardiovascular risk of women with diabetes.
Graphical abstract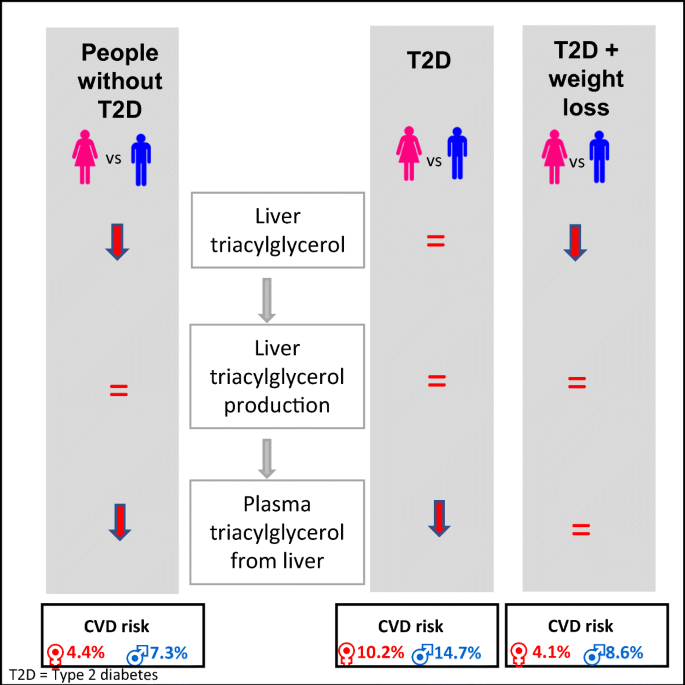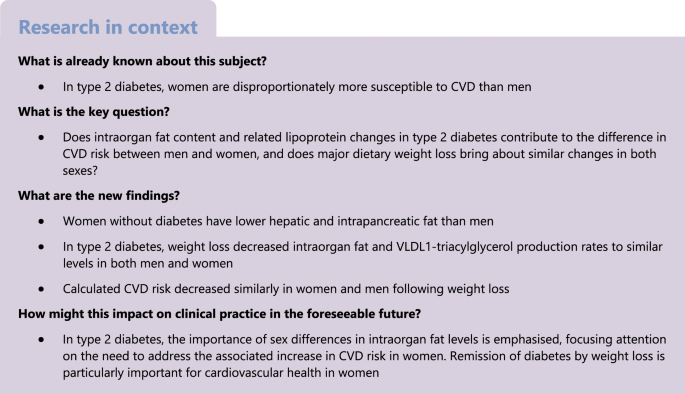 Data availability
Data will be provided on request from the corresponding authors.
Abbreviations
LPL:

Lipoprotein lipase

MR:

Magnetic resonance

SAT:

Subcutaneous adipose tissue

VAT:

Visceral adipose tissue

VLDL1-TG:

VLDL1-triacylglycerol
Acknowledgements
We are grateful to research radiographers Louise Ward, Tim Hodgson and Dorothy Wallace (Newcastle Magnetic Resonance Centre) and especially to our participants. We thank Wilma Leslie (School of Medicine, Dentistry & Nursing, University of Glasgow), Trial Coordinator of DiRECT; Helen Pilkington (Clinical Ageing Research Unit, Newcastle upon Tyne Hospitals NHS Foundation Trust), research nurse; Abeer Rajab (Translational and Clinical Research Institute, Newcastle University), laboratory technician; and the wider DiRECT Team. Thanks to Clinical Pathology Laboratories at University of Glasgow (Institute of Cardiovascular and Medical Sciences) and Newcastle NHS Trust (Department of Clinical Biochemistry) for contribution to the biochemical analyses.
Authors' relationships and activities
RT reports lecture fees from Lilly and Novartis and consultancy fees from Wilmington Healthcare and is author of the book 'Life Without Diabetes'. MEJL reports personal fees from Roche, Merck, Novo Nordisk & Eli Lilly. NS reports personal fees from Amgen, Astrazeneca, Boehringer Ingelheim, Eli Lilly, Hanmi, MSD, Novartis, Novo Nordisk, Pfizer and Sanofi and grant support from AstraZeneca, Boehringer Ingelheim and Roche Diagnostics, outside the submitted work. ACB reports personal fees from NAPP Pharmaceuticals, personal fees from Novo Nordisk and personal fees from Eli Lilly. AHM reports a grant from Diabetes UK to carry out the Re-TUNE study. All other authors report no conflict of interest.
Funding
This study was funded by Diabetes UK (award number 13/0004691) and was supported by facilities of the National Institute for Health Research Newcastle Biomedical Research Centre. Neither of the funders had input on the study design or data interpretation and reporting.
Additional information
Publisher's note
Springer Nature remains neutral with regard to jurisdictional claims in published maps and institutional affiliations.
Supplementary Information
Rights and permissions
Open Access This article is licensed under a Creative Commons Attribution 4.0 International License, which permits use, sharing, adaptation, distribution and reproduction in any medium or format, as long as you give appropriate credit to the original author(s) and the source, provide a link to the Creative Commons licence, and indicate if changes were made. The images or other third party material in this article are included in the article's Creative Commons licence, unless indicated otherwise in a credit line to the material. If material is not included in the article's Creative Commons licence and your intended use is not permitted by statutory regulation or exceeds the permitted use, you will need to obtain permission directly from the copyright holder. To view a copy of this licence, visit http://creativecommons.org/licenses/by/4.0/.
About this article
Cite this article
Jesuthasan, A., Zhyzhneuskaya, S., Peters, C. et al. Sex differences in intraorgan fat levels and hepatic lipid metabolism: implications for cardiovascular health and remission of type 2 diabetes after dietary weight loss. Diabetologia 65, 226–233 (2022). https://doi.org/10.1007/s00125-021-05583-4
Received:

Accepted:

Published:

Issue Date:

DOI: https://doi.org/10.1007/s00125-021-05583-4
Keywords
Abdominal fat

Cardiovascular disease

Hepatic VLDL1-TG

Intraorgan fat

Lipid metabolism

Remission of diabetes

Sex

Type 2 diabetes

Weight loss