Abstract
Aims/hypothesis
We hypothesised that human beta cells are structurally and functional polarised with respect to the islet capillaries. We set out to test this using confocal microscopy to map the 3D spatial arrangement of key proteins and live-cell imaging to determine the distribution of insulin granule fusion around the cells.
Methods
Human pancreas samples were rapidly fixed and processed using the pancreatic slice technique, which maintains islet structure and architecture. Slices were stained using immunofluorescence for polarity markers (scribble, discs large [Dlg] and partitioning defective 3 homologue [Par3]) and presynaptic markers (liprin, Rab3-interacting protein [RIM2] and piccolo) and imaged using 3D confocal microscopy. Isolated human islets were dispersed and cultured on laminin-511-coated coverslips. Live 3D two-photon microscopy was used on cultured cells to image exocytic granule fusion events upon glucose stimulation.
Results
Assessment of the distribution of endocrine cells across human islets found that, despite distinct islet-to-islet complexity and variability, including multi-lobular islets, and intermixing of alpha and beta cells, there is still a striking enrichment of alpha cells at the islet mantle. Measures of cell position demonstrate that most beta cells contact islet capillaries. Subcellularly, beta cells consistently position polar determinants, such as Par3, Dlg and scribble, with a basal domain towards the capillaries and apical domain at the opposite face. The capillary interface/vascular face is enriched in presynaptic scaffold proteins, such as liprin, RIM2 and piccolo. Interestingly, enrichment of presynaptic scaffold proteins also occurs where the beta cells contact peri-islet capillaries, suggesting functional interactions. We also observed the same polarisation of synaptic scaffold proteins in islets from type 2 diabetic patients. Consistent with polarised function, isolated beta cells cultured onto laminin-coated coverslips target insulin granule fusion to the coverslip.
Conclusions/interpretation
Structural and functional polarisation is a defining feature of human pancreatic beta cells and plays an important role in the control of insulin secretion.
Graphical abstract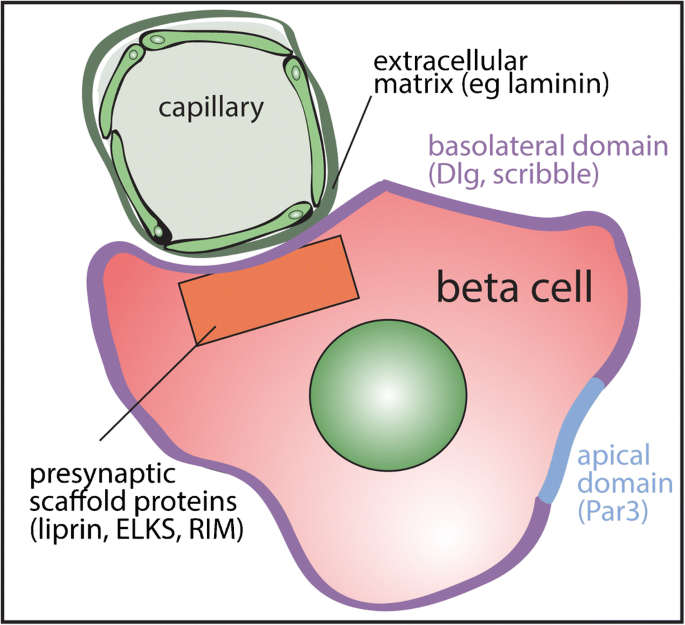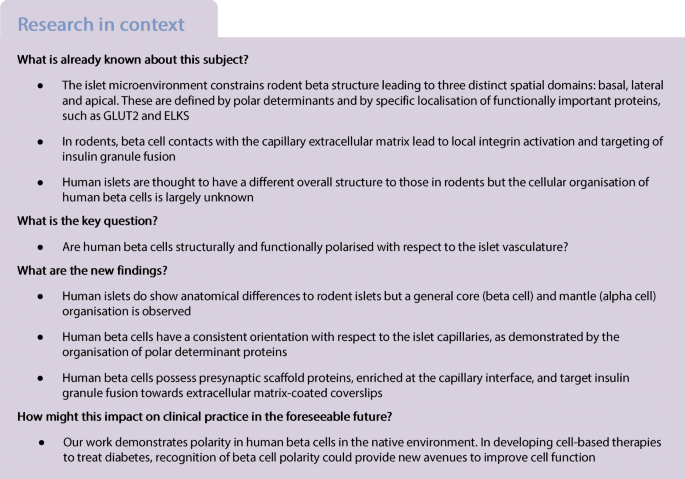 Data availability
All data generated or analysed during this study are included in the article. No additional resources were generated or analysed during the current study.
Abbreviations
Dlg:

Discs large

FAK:

Focal adhesion kinase

nPOD:

Network for Pancreatic Organ donors with Diabetes

Par3:

Partitioning defective 3 homologue

RIM2:

Rab3-interacting protein
References
Hart NJ, Powers AC (2019) Use of human islets to understand islet biology and diabetes: progress, challenges and suggestions. Diabetologia 62:212–222. https://doi.org/10.1007/s00125-018-4772-2

Halban PA, Wollheim CB, Blondel B, Meda P, Niesor EN, Mintz DH (1982) The possible importance of contact between pancreatic-islet cells for the control of insulin release. Endocrinology 111:86–94. https://doi.org/10.1210/endo-111-1-86

Bonner-Weir S, Sullivan BA, Weir GC (2015) Human Islet Morphology Revisited: Human and Rodent Islets Are Not So Different After All. J Histochem Cytochem 63:604–612. https://doi.org/10.1369/0022155415570969

Bosco D, Armanet M, Morel P et al (2010) Unique arrangement of alpha- and beta-cells in human islets of Langerhans. Diabetes 59:1202–1210. https://doi.org/10.2337/db09-1177

Orci L, Malaisse-Lagae F, Amherdt M et al (1975) Cell contacts in human islets of Langerhans. J Clin Endocrinol Metab 41:841–844. https://doi.org/10.1210/jcem-41-5-841

Erlandsen SL, Hegre OD, Parsons JA, McEvoy RC, Elde RP (1976) Pancreatic islet cell hormones distribution of cell types in the islet and evidence for the presence of somatostatin and gastrin within the D cell. J Histochem Cytochem 24:883–897

Cabrera O, Berman DM, Kenyon NS, Ricordi C, Berggrern PO, Caicedo A (2006) The unique cytoarchitecture of human pancreatic islets has implications for islet cell function. Proc Natl Acad Sci U S A 103:2334–2339

Lammert E, Thorn P (2019) The role of the islet niche on beta cell structure and function. J Mol Biol 432:1407–1418

Eberhard D, Kragl M, Lammert E (2010) 'Giving and taking': endothelial and beta-cells in the islets of Langerhans. Trends Endocrinol Metab 21:457–463. https://doi.org/10.1016/j.tem.2010.03.003

Gan WJ, Zavortink M, Ludick C et al (2017) Cell polarity defines three distinct domains in pancreatic beta-cells. J Cell Sci 130:143–151. https://doi.org/10.1242/jcs.185116

Gan WJ, Do OH, Cottle L et al (2018) Local Integrin Activation in Pancreatic β Cells Targets Insulin Secretion to the Vasculature. Cell Rep 24:2819–26.e3. https://doi.org/10.1016/j.celrep.2018.08.035

Parnaud G, Hammar E, Rouiller DG, Armanet M, Halban PA, Bosco D (2006) Blockade of beta1 integrin-laminin-5 interaction affects spreading and insulin secretion of rat beta-cells attached on extracellular matrix. Diabetes 55:1413–1420. https://doi.org/10.2337/db05-1388

Nikolova G, Jabs N, Konstantinova I et al (2006) The vascular basement membrane: A niche for insulin gene expression and beta cell proliferation. Dev Cell 10:397–405. https://doi.org/10.1016/j.devcel.2006.01.015

Cohrs CM, Chen C, Jahn SR et al (2017) Vessel Network Architecture of Adult Human Islets Promotes Distinct Cell-Cell Interactions In Situ and Is Altered After Transplantation. Endocrinology 158:1373–1385. https://doi.org/10.1210/en.2016-1184

Bader E, Migliorini A, Gegg M et al (2016) Identification of proliferative and mature beta-cells in the islets of Langerhans. Nature 535:430–434. https://doi.org/10.1038/nature18624

Wang YJ, Golson ML, Schug J et al (2016) Single-Cell Mass Cytometry Analysis of the Human Endocrine Pancreas. Cell Metab 24:616–626. https://doi.org/10.1016/j.cmet.2016.09.007

Lombardi T, Montesano R, Wohlwend A, Amherdt M, Vassalli J-D, Orci L (1985) Evidence for polarization of plasma membrane domains in pancreatic endocrine cells. Nature 313:694–696. https://doi.org/10.1038/313694a0

Bonner-Weir S (1988) Morphological evidence for pancreatic polarity of beta cell within islets of Langerhans. Diabetes 37:616–621. https://doi.org/10.2337/diab.37.5.616

Farack L, Golan M, Egozi A et al (2019) Transcriptional Heterogeneity of Beta Cells in the Intact Pancreas. Dev Cell 48:115–125.e4. https://doi.org/10.1016/j.devcel.2018.11.001

Granot Z, Swisa A, Magenheim J et al (2009) LKB1 Regulates Pancreatic beta Cell Size, Polarity, and Function. Cell Metab 10:296–308. https://doi.org/10.1016/j.cmet.2009.08.010

Low JT, Zavortink M, Mitchell JM et al (2014) Insulin secretion from beta cells in intact mouse islets is targeted towards the vasculature. Diabetologia 57:1655–1663. https://doi.org/10.1007/s00125-014-3252-6

Kwan EP, Gaisano HY (2007) New insights into the molecular mechanisms of priming of insulin exocytosis. Diabetes Obes Metab 9:99–108. https://doi.org/10.1111/j.1463-1326.2007.00788.x

Barg S, Lindqvist A, Obermuller S (2008) Granule docking and cargo release in pancreatic beta-cells. Biochem Soc Trans 36:294–299. https://doi.org/10.1042/BST0360294

Ohara-Imaizumi M, Ohtsuka T, Matsushima S et al (2005) ELKS, a protein structurally related to the active zoneassociated protein CAST, is expressed in pancreatic beta cells and functions in insulin exocytosis: Interaction of ELKS with exocytotic machinery analyzed by total internal reflection fluorescence microsscopy. Mol Biol Cell 16:3289–3300

Ohara-Imaizumi M, Aoyagi K, Yamauchi H et al (2019) ELKS/Voltage-Dependent Ca2+ Channel-β Subunit Module Regulates Polarized Ca2+ Influx in Pancreatic beta Cells. Cell Rep 26:1213–26.e7. https://doi.org/10.1016/j.celrep.2018.12.106

Marciniak A, Cohrs CM, Tsata V et al (2014) Using pancreas tissue slices for in situ studies of islet of Langerhans and acinar cell biology. Nat Protoc 9:2809–2822. https://doi.org/10.1038/nprot.2014.195

Meneghel-Rozzo T, Rozzo A, Poppi L, Rupnik M (2004) In vivo and in vitro development of mouse pancreatic beta-cells in organotypic slices. Cell Tissue Res 316:295–303. https://doi.org/10.1007/s00441-004-0886-6

Schindelin J, Arganda-Carreras I, Frise E et al (2012) Fiji: an open-source platform for biological-image analysis. Nat Methods 9:676–682. https://doi.org/10.1038/nmeth.2019

Brissova M, Shostak A, Fligner CL et al (2015) Human Islets Have Fewer Blood Vessels than Mouse Islets and the Density of Islet Vascular Structures Is Increased in Type 2 Diabetes. J Histochem Cytochem 63:637–645. https://doi.org/10.1369/0022155415573324

Takahashi N, Kishimoto T, Nemoto T, Kadowaki T, Kasai H (2002) Fusion pore dynamics and insulin granule exocytosis in the pancreatic islet. Science 297:1349–1352. https://doi.org/10.1126/science.1073806

Thorn P, Fogarty KE, Parker I (2004) Zymogen granule exocytosis is characterized by long fusion pore openings and preservation of vesicle lipid identity. Proc Natl Acad Sci U S A 101:6774–6779

Low JT, Mitchell JM, Do OH et al (2013) Glucose principally regulates insulin secretion in islets by controlling the numbers of granule fusion events per cell. Diabetologia 56:2629–2637. https://doi.org/10.1007/s00125-013-3019-5

Rondas D, Tomas A, Halban PA (2011) Focal Adhesion Remodeling Is Crucial for Glucose-Stimulated Insulin Secretion and Involves Activation of Focal Adhesion Kinase and Paxillin. Diabetes 60:1146–1157. https://doi.org/10.2337/db10-0946

Prentki M, Nolan CJ (2006) Islet beta cell failure in type 2 diabetes. J Clin Invest 116:1802–1812. https://doi.org/10.1172/JCI29103

Dolenšek J, Rupnik MS, Stožer A (2015) Structural similarities and differences between the human and the mouse pancreas. Islets 7:e1024405. https://doi.org/10.1080/19382014.2015.1024405

Weir GC, Bonner-Weir S (1990) Islets of Langerhans - the puzzle of intraislet interactions and their relevance to diabetes. J Clin Invest 85:983–987. https://doi.org/10.1172/JCI114574

Nyman LR, Wells KS, Head WS et al (2008) Real-time, multidimensional in vivo imaging used to investigate blood flow in mouse pancreatic islets. J Clin Invest 118:3790–3797. https://doi.org/10.1172/JCI36209

Orci L, Thorens B, Ravazzola M, Lodish HF (1989) Localization of the pancreatic beta-cell glucose transporter to specific plasma-membrane domains. Science 245:295–297. https://doi.org/10.1126/science.2665080

Virtanen I, Banerjee M, Palgi J et al (2008) Blood vessels of human islets of Langerhans are surrounded by a double basement membrane. Diabetologia 51:1181–1191. https://doi.org/10.1007/s00125-008-0997-9

Rorsman P, Ashcroft FM (2018) Pancreatic β-Cell Electrical Activity and Insulin Secretion: Of Mice and Men. Physiol Rev 98:117–214. https://doi.org/10.1152/physrev.00008.2017
Acknowledgements
We thank all organ donors, patients and their families for their generosity and for enabling this work. Thanks to the staff of St Vincent's Institute and Westmead involved in the islet isolation program and Donatelife for obtaining research consent and providing the human pancreases.
Some samples used in the work shown in Fig. 6 were obtained through the Network for Pancreatic Organ donors with Diabetes (nPOD). This research was performed with the support of nPOD (RRID:SCR_014641), a collaborative type 1 diabetes research project sponsored by JDRF (nPOD: 5-SRA-2018-557-Q-R) and The Leona M. & Harry B. Helmsley Charitable Trust (grant no. 2018PG-T1D053). The content and views expressed are the responsibility of the authors and do not necessarily reflect the official view of nPOD. Organ Procurement Organisations (OPO) partnering with nPOD to provide research resources are listed at http://www.jdrfnpod.org/for-partners/npod-partners/.
Authors' relationships and activities
The authors declare that there are no relationships or activities that might bias, or be perceived to bias, their work.
Funding
This project was funded by the NHMRC (APP1146788) to PT and JS, (APP1128273) to PT, and a Diabetes Australia (DART Y18G_THOP) grant to PT.
Additional information
Publisher's note
Springer Nature remains neutral with regard to jurisdictional claims in published maps and institutional affiliations.
Supplementary information
Rights and permissions
Open Access This article is licensed under a Creative Commons Attribution 4.0 International License, which permits use, sharing, adaptation, distribution and reproduction in any medium or format, as long as you give appropriate credit to the original author(s) and the source, provide a link to the Creative Commons licence, and indicate if changes were made. The images or other third party material in this article are included in the article's Creative Commons licence, unless indicated otherwise in a credit line to the material. If material is not included in the article's Creative Commons licence and your intended use is not permitted by statutory regulation or exceeds the permitted use, you will need to obtain permission directly from the copyright holder. To view a copy of this licence, visit http://creativecommons.org/licenses/by/4.0/.
About this article
Cite this article
Cottle, L., Gan, W.J., Gilroy, I. et al. Structural and functional polarisation of human pancreatic beta cells in islets from organ donors with and without type 2 diabetes. Diabetologia 64, 618–629 (2021). https://doi.org/10.1007/s00125-020-05345-8
Received:

Accepted:

Published:

Issue Date:

DOI: https://doi.org/10.1007/s00125-020-05345-8
Keywords
Beta cell

Diabetes

Human

Insulin

Islet

Polarity