The effect of dapagliflozin on glycaemic control and other cardiovascular disease risk factors in type 2 diabetes mellitus: a real-world observational study
Abstract
Aims/hypothesis
Dapagliflozin, a sodium–glucose cotransporter 2 (SGLT2) inhibitor, is indicated for improving glycaemic control in type 2 diabetes mellitus. Whether its effects on HbA1c and other variables, including safety outcomes, in clinical trials are obtained in real-world practice needs to be established.
Methods
We used data from the comprehensive national diabetes register, the Scottish Care Information-Diabetes (SCI-Diabetes) collaboration database, available from 2004 to mid-2016. Data within this database were linked to mortality data from the General Registrar, available from the Information Services Division (ISD) of the National Health Service in Scotland. We calculated crude within-person differences between pre- and post-drug-initiation values of HbA1c, BMI, body weight, systolic blood pressure (SBP) and eGFR. We used mixed-effects regression models to adjust for within-person time trajectories in these measures. For completeness, we evaluated safety outcomes, cardiovascular disease events, lower-limb amputation and diabetic ketoacidosis, focusing on cumulative exposure effects, using Cox proportional hazard models, though power to detect such effects was limited.
Results
Among 8566 people exposed to dapagliflozin over a median of 210 days the crude within-person change in HbA1c was −10.41 mmol/mol (−0.95%) after 3 months' exposure. The crude change after 12 months was −12.99 mmol/mol (−1.19%) but considering the expected rise over time in HbA1c gave a dapagliflozin-exposure-effect estimate of −15.14 mmol/mol (95% CI −15.87, −14.41) (−1.39% [95% CI −1.45, −1.32]) at 12 months that was maintained thereafter. A drop in SBP of −4.32 mmHg (95% CI −4.84, −3.79) on exposure within the first 3 months was also maintained thereafter. Reductions in BMI and body weight stabilised by 6 months at −0.82 kg/m2 (95% CI −0.87, −0.77) and −2.20 kg (95% CI −2.34, −2.06) and were maintained thereafter. eGFR declined initially by −1.81 ml min−1 [1.73 m]−2 (95% CI −2.10, −1.52) at 3 months but varied thereafter. There were no significant effects of cumulative drug exposure on safety outcomes.
Conclusions/interpretation
Dapagliflozin exposure was associated with reductions in HbA1c, SBP, body weight and BMI that were at least as large as in clinical trials. Dapagliflozin also prevented the expected rise in HbA1c and SBP over the period of study.
Keywords
Dapagliflozin 
Glycaemic control 
Type 2 diabetes 
Abbreviations
CVD

Cardiovascular disease

DKA

Diabetic ketoacidosis

FDA

Food and Drug Administration

LLA

Lower-limb amputation

RCT

Randomised controlled trial

SBP

Systolic blood pressure

SCI-Diabetes

Scottish Care Information-Diabetes

SGLT2

Sodium−glucose cotransporter 2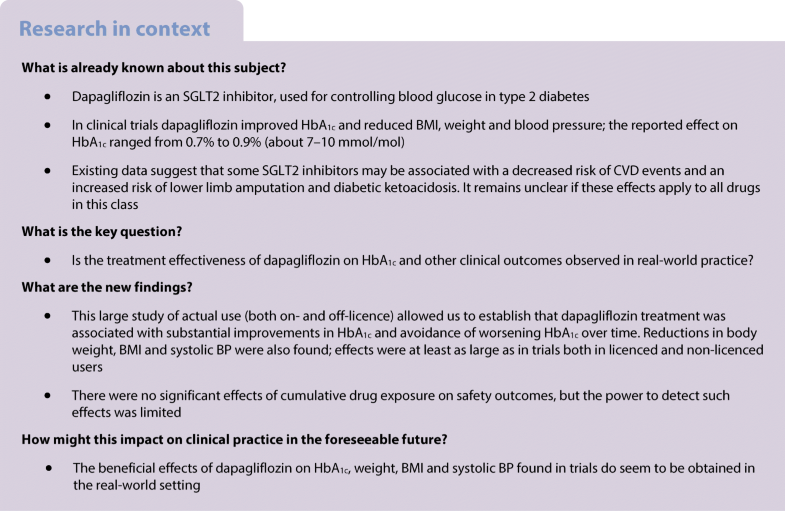 Notes
Acknowledgements
We thank the members of the Scottish Diabetes Research Network Epidemiology Group and the SCI-Diabetes team (NHS Scotland).
Contribution statement
SJM performed data preparation, data analysis and table and figure generation and was involved in manuscript preparation. LBr contributed to the design and planning of the analysis, conducted the statistical analysis and contributed to writing the manuscript. GPL contributed to data collection and manuscript review. SHW made substantial contribution to the acquisition and interpretation of data, revised the manuscript critically for important intellectual content and approved the final version. JRP contributed to Scotland-wide data collection, data interpretation and critical review and editing of the manuscript. RJM contributed to study design, data collection, data analysis, data interpretation and writing of the manuscript. TMC contributed to literature search, design and analyses of the safety studies and writing of the manuscript. NS contributed to Scotland-wide data collection, data interpretation and critical review and editing of the manuscript. LAKBl ran data cleaning and transformation algorithms and integrity checks, loaded data into the database and provided support for analysis, drafted analytic tables and figures and contributed to manuscript review. JAM was involved in leading the background work designing the collection of data from those with diabetes in Scotland that enabled this research to be performed. JAM also reviewed, edited and commented upon a draft of the manuscript. ERP contributed to the conception or the study and in the review and editing of the manuscript. PMM designed and supervised statistical analysis and contributed to manuscript review. All authors approved the final version of the manuscript. HMC had full access to the data in the study, drew up the analysis plan, supervised LBr and SJM doing the analyses, reviewed the manuscript and had final responsibility for the decision to submit for publication. HMC is responsible for the integrity of the work as a whole.
Funding
This study was funded by Astra Zeneca (grant ref. 7462RH). Astra Zeneca had no right of veto over study design, choice of statistical methods, data analysis, data generation, data interpretation or writing of this manuscript, all of which were carried out by the authors. They were allowed to see and comment on the draft, their comments being that a quadrant plot would be useful, that effects in off-licence users should be detailed and that effects on body weight should be presented.
Duality of interest
LBr, SJM, PMM and HMC declare a grant from AstraZeneca for the work under consideration for publication. The following authors have disclosed declarations of interest outside the submitted work: NS received grant and personal fees from Boehringer Ingelheim, personal fees from Janssen, Eli Lilly and Novo Nordisk and a grant from Astra Zeneca; JRP received grant and personal fees from Sanofi Aventis, Quintiles and Janssen, personal fees from ACI clinical, Pfizer, Lilly and Novo Nordisk and non-financial support from Itamar Medical and Merck (Germany); RJM received personal fees for advisory boards from Novo Nordisk, Sanofi Aventis and Lilly and HMC received grants (as part of EU Innovative Medicines programme collaborations) from AstraZeneca, Boehringer Ingelheim, Eli Lilly & Company, Pfizer, Roche Pharmaceuticals and Sanofi Aventis and grants from Novo Nordisk. HMC is a shareholder in Bayer and Roche Pharmaceuticals. HMC is on trial steering committees or safety monitoring committees with Eli Lilly, Sanofi and Regeneron, Novartis Pharmaceuticals and Novo Nordisk and receives remuneration via her institution for this. She has received speaker fees and travel expenses for presenting trials she has helped design or other research she has led from Pfizer, Eli Lilly, Sanofi and Regeneron. JAM received grants from Novo Nordisk, Lilly, Merck, Boheringer and GSK and non-financial support from Novo Nordisk. ERP received personal honorarium fees from Lilly, MSD, Novo Nordisk and Astra Zeneca. TMC received a grant from Diabetes UK and the British Heart Foundation. All other members of the writing committee declare that there is no duality of interest associated with their contribution to this manuscript.
Copyright information
© The Author(s) 2019
Open Access This article is distributed under the terms of the Creative Commons Attribution 4.0 International License (http://creativecommons.org/licenses/by/4.0/), which permits unrestricted use, distribution, and reproduction in any medium, provided you give appropriate credit to the original author(s) and the source, provide a link to the Creative Commons license, and indicate if changes were made.