Abstract
Aims/hypothesis
Insoluble cereal fibres have been shown in large prospective cohort studies to be highly effective in preventing type 2 diabetes, but there is a lack of interventional data. Our 2 year randomised double-blind prospective intervention study compared the effect of an insoluble oat fibre extract with that of placebo on glucose metabolism and incidence of diabetes.
Methods
A total of 180 participants with impaired glucose tolerance underwent a modified version of the 1 year lifestyle training programme PREvention of DIAbetes Self-management (PREDIAS) and were randomised to receive a fibre supplement (n = 89; 7.5 g of insoluble fibre per serving) or placebo (n = 91; 0.8 g of insoluble fibre per serving) twice daily for 2 years. Eligible participants were men and women, were at least 18 years old and did not report corticosteroid or other intensive anti-inflammatory treatment, fibre intolerance or any of the following disorders: overt diabetes, chronic or malignant disease, or severe cardiopulmonary, endocrine, psychiatric, gastrointestinal, autoimmune or eating disorder. Participants were recruited at two clinical wards in Berlin and Nuthetal. The allocation was blinded to participants and study caregivers (physicians, dietitians, study nurses). Randomisation was conducted by non-clinical staff, providing neutrally numbered supplement tins. Both supplements were similar in their visual, olfactory and gustatory appearance. Intention-to-treat analysis was applied to all individuals.
Results
After 1 year, 2 h OGTT levels decreased significantly in both groups but without a significant difference between the groups (fibre −0.78 ± 1.88 mmol/l [p ≤ 0.001] vs placebo −0.46 ± 1.80 mmol/l [p = 0.020]; total difference 0.32 ± 0.29 mmol/l; not significant). The 2 year incidence of diabetes was 9/89 (fibre group) compared with 16/91 (placebo group; difference not significant). As secondary outcomes, the change in HbA1c level was significantly different between the two groups (−0.2 ± 4.6 mmol/mol [−0.0 ± 0.0%; not significant] vs +1.2 ± 5.2 mmol/mol [+0.1 ± 0.0%; not significant]; total difference 1.4 ± 0.7 mmol/mol [0.1 + 0.0%]); p = 0.018); insulin sensitivity and hepatic insulin clearance increased in both groups. After 2 years, improved insulin sensitivity was still present in both groups, although the effect size had diminished. Separate analysis of the sexes revealed a significantly greater reduction in 2 h glucose levels for women in the fibre group (−0.88 ± 1.59 mmol/l [p ≤ 0.001] vs −0.22 ± 1.52 mmol/l [p = 0.311]; total difference 0.67 ± 0.31 mmol/l; p = 0.015). Levels of fasting glucose, adipokines and inflammatory markers remained unchanged in the two groups. Significantly increased fibre intake was restricted to the fibre group, despite dietary counselling for both groups. No severe side effects occurred.
Conclusions/interpretation
We cannot currently provide strong evidence for a beneficial effect of insoluble cereal fibre on glycaemic metabolism, although further studies may support minor effects of fibre supplementation in reducing glucose levels, insulin resistance and the incidence of type 2 diabetes.
Trial registration: clinicaltrials.gov NCT01681173
Funding: German Diabetes Foundation (grant no. 232/11/08)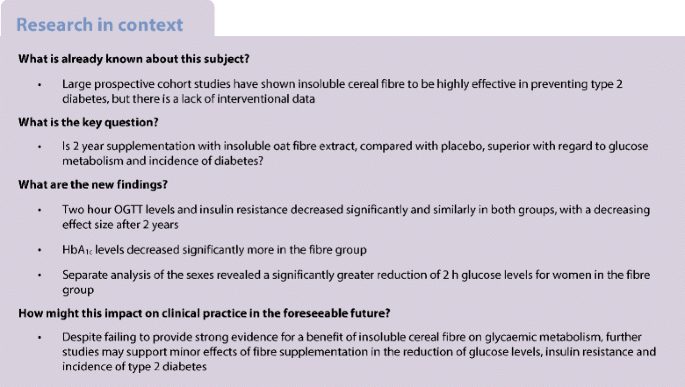 Data availability
Datasets are available by request from the corresponding author. Supplementary data is published as ESM. Some of the data were presented as an abstract at the 51st EASD Annual Meeting in 2015.
Abbreviations
BIA:

Bioelectrical impedance analysis

CRP:

C-reactive protein

HIC:

Hepatic insulin clearance

IGT:

Impaired glucose tolerance

OptiFiT:

Optimal Fibre Trial for Diabetes Prevention

PREDIAS:

PREvention of DIAbetes Self-management

Sg:

Glucose effectiveness index
References
Knowler WC, Barrett-Connor E, Fowler SE et al (2002) Reduction in the incidence of type 2 diabetes with lifestyle intervention or metformin. N Engl J Med 346:393–403

Tuomilehto J, Lindstrom J, Eriksson JG et al (2001) Prevention of type 2 diabetes mellitus by changes in lifestyle among subjects with impaired glucose tolerance. N Engl J Med 344:1343–1350

Ley SH, Hamdy O, Mohan V, Hu FB (2014) Prevention and management of type 2 diabetes: dietary components and nutritional strategies. Lancet 383:1999–2007

Brombach C, Wagner U, Eisinger-Watzl M, Heyer A (2006) Nationale Verzehrsstudie II. Ernährungs-Umschau 53:4–9 document in German

Schulze MB, Schulz M, Heidemann C, Schienkiewitz A, Hoffmann K, Boeing H (2007) Fiber and magnesium intake and incidence of type 2 diabetes: a prospective study and meta-analysis. Arch Intern Med 167:956–965

de Munter JS, Hu FB, Spiegelman D, Franz M, van Dam RM (2007) Whole grain, bran, and germ intake and risk of type 2 diabetes: a prospective cohort study and systematic review. PLoS Med 4:e261

Isken F, Klaus S, Osterhoff M, Pfeiffer AF, Weickert MO (2010) Effects of long-term soluble vs. insoluble dietary fiber intake on high-fat diet-induced obesity in C57BL/6J mice. J Nutr Biochem 21:278–284

Weickert MO, Mohlig M, Koebnick C et al (2005) Impact of cereal fibre on glucose-regulating factors. Diabetologia 48:2343–2353

Robertson MD, Currie JM, Morgan LM, Jewell DP, Frayn KN (2003) Prior short-term consumption of resistant starch enhances postprandial insulin sensitivity in healthy subjects. Diabetologia 46:659–665

Weickert MO, Mohlig M, Schofl C et al (2006) Cereal fiber improves whole-body insulin sensitivity in overweight and obese women. Diabetes Care 29:775–780

Weickert MO, Roden M, Isken F et al (2011) Effects of supplemented isoenergetic diets differing in cereal fiber and protein content on insulin sensitivity in overweight humans. Am J Clin Nutr 94:459–471

Freeland KR, Wilson C, Wolever TM (2010) Adaptation of colonic fermentation and glucagon-like peptide-1 secretion with increased wheat fibre intake for 1 year in hyperinsulinaemic human subjects. Br J Nutr 103:82–90

Georg Jensen M, Kristensen M, Astrup A (2012) Effect of alginate supplementation on weight loss in obese subjects completing a 12-wk energy-restricted diet: a randomized controlled trial. Am J Clin Nutr 96:5–13

Parnell JA, Reimer RA (2009) Weight loss during oligofructose supplementation is associated with decreased ghrelin and increased peptide YY in overweight and obese adults. Am J Clin Nutr 89:1751–1759

Hermansen K, Hansen B, Jacobsen Ret al. Effects of soy supplementation on blood lipids and arterial function in hypercholesterolaemic subjects. Eur J Clin Nutr 2005; 59:843–850

Pan XR, Li GW, Hu YH et al (1997) Effects of diet and exercise in preventing NIDDM in people with impaired glucose tolerance. The Da Qing IGT and Diabetes Study. Diabetes Care 20:537–544

Ramachandran A, Snehalatha C, Mary S, Mukesh B, Bhaskar AD, Vijay V, Indian Diabetes Prevention Programme (IDPP) (2006) The Indian Diabetes Prevention Programme shows that lifestyle modification and metformin prevent type 2 diabetes in Asian Indian subjects with impaired glucose tolerance (IDPP-1). Diabetologia 49:289–297

Lindstrom J, Peltonen M, Eriksson JG et al (2006) High-fibre, low-fat diet predicts long-term weight loss and decreased type 2 diabetes risk: the Finnish Diabetes Prevention Study. Diabetologia 49:912–920

Lindstrom J, Neumann A, Sheppard KE et al (2010) Take action to prevent diabetes—the IMAGE toolkit for the prevention of type 2 diabetes in Europe. Horm Metab Res 42(Suppl 1):S37–S55

Kulzer B, Hermanns N, Gorges D, Schwarz P, Haak T (2009) Prevention of diabetes self-management program (PREDIAS): effects on weight, metabolic risk factors, and behavioral outcomes. Diabetes Care 32:1143–1146

Hartmann BM, Vasquez-Caicedo AL, Bell S, Krems C, Brombach C (2008) The German nutrient database: basis for analysis of the nutritional status of the German population. J Food Compos Anal 21:115–118

Matthews DR, Hosker JP, Rudenski AS, Naylor BA, Treacher DF, Turner RC (1985) Homeostasis model assessment: insulin resistance and beta-cell function from fasting plasma glucose and insulin concentrations in man. Diabetologia 28:412–419

Katz A, Nambi SS, Mather K et al (2000) Quantitative insulin sensitivity check index: a simple, accurate method for assessing insulin sensitivity in humans. J Clin Endocrinol Metab 85:2402–2410

Belfiore F, Iannello S, Volpicelli G (1998) Insulin sensitivity indices calculated from basal and OGTT-induced insulin, glucose, and FFA levels. Mol Genet Metab 63:134–141

Aloulou I, Brun JF, Mercier J (2006) Evaluation of insulin sensitivity and glucose effectiveness during a standardized breakfast test: comparison with the minimal model analysis of an intravenous glucose tolerance test. Metabolism 55:676–690

Cederholm J, Wibell L (1990) Insulin release and peripheral sensitivity at the oral glucose tolerance test. Diabetes Res Clin Pract 10:167–175

Pivovarova O, Bernigau W, Bobbert T et al (2013) Hepatic insulin clearance is closely related to metabolic syndrome components. Diabetes Care 36:3779–3785

Lindstrom J, Ilanne-Parikka P, Peltonen M et al (2006) Sustained reduction in the incidence of type 2 diabetes by lifestyle intervention: follow-up of the Finnish Diabetes Prevention Study. Lancet 368:1673–1679

Weickert MO, Pfeiffer AF (2008) Metabolic effects of dietary fiber consumption and prevention of diabetes. J Nutr 138:439–442

Hjorth MF, Ritz C, Blaak EE et al (2017) Pretreatment fasting plasma glucose and insulin modify dietary weight loss success: results from 3 randomized clinical trials. Am J Clin Nutr 106:499–505
Acknowledgements
We thank our technical assistants and study nurses, in both the clinical wards and the laboratories, for their help in acquiring the study data and their crucial work with the participants.
Funding
General funding for this study was provided by the German Diabetes Foundation (grant no. 232/11/08; given to AFHP). Fibre and placebo supplements were provided by Rettenmaier & Söhne, Holzmuehle, Germany. Neither funding party had any involvement in study design, data collection, data analysis, interpretation or writing of this publication.
Ethics declarations
SK and CH received a travel grant from Rettenmaier & Söhne, Holzmuehle, Germany, including conference fees and accommodation. The authors declare no further conflicts of interest associated with this manuscript.
Electronic supplementary material
Rights and permissions
Open Access This article is distributed under the terms of the Creative Commons Attribution 4.0 International License (http://creativecommons.org/licenses/by/4.0/), which permits unrestricted use, distribution, and reproduction in any medium, provided you give appropriate credit to the original author(s) and the source, provide a link to the Creative Commons license, and indicate if changes were made.
About this article
Cite this article
Honsek, C., Kabisch, S., Kemper, M. et al. Fibre supplementation for the prevention of type 2 diabetes and improvement of glucose metabolism: the randomised controlled Optimal Fibre Trial (OptiFiT). Diabetologia 61, 1295–1305 (2018). https://doi.org/10.1007/s00125-018-4582-6
Received:

Accepted:

Published:

Issue Date:

DOI: https://doi.org/10.1007/s00125-018-4582-6
Keywords
Cellulose

Diabetes mellitus type 2

Hemicellulose

Hepatic insulin clearance

Impaired glucose tolerance

Insoluble dietary fibre

Insulin sensitivity

Prediabetes