Atomic and electronic structure of Si dangling bonds in quasi-free-standing monolayer graphene
Open Access
Research Article
Abstract
Si dangling bonds at the interface of quasi-free-standing monolayer graphene (QFMLG) are known to act as scattering centers that can severely affect carrier mobility. Herein, we investigate the atomic and electronic structure of Si dangling bonds in QFMLG using low-temperature scanning tunneling microscopy/spectroscopy (STM/STS), atomic force microscopy (AFM), and density functional theory (DFT) calculations. Two types of defects with different contrast were observed on a flat graphene terrace by STM and AFM; in particular, their STM contrast varied with the bias voltage. Moreover, these defects showed characteristic STS peaks at different energies, 1.1 and 1.4 eV. The comparison of the experimental data with the DFT calculations indicates that the defects with STS peak energies of 1.1 and 1.4 eV consist of clusters of three and four Si dangling bonds, respectively. The relevance of the present results for the optimization of graphene synthesis is discussed.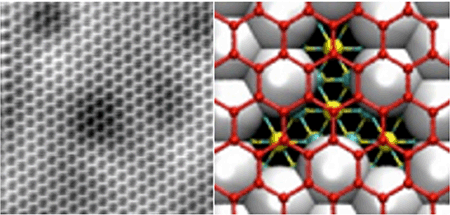 Keywords
quasi-free-standing monolayer graphene 
hydrogen intercalation 
carrier mobility 
scanning tunneling microscopy 
scanning tunneling spectroscopy 
atomic force microscopy 
density functional theory 
Notes
Acknowledgements
We acknowledge travel support from COST Action MP1103 "Nanostructured materials for solid-state hydrogen storage". Funding from the European Union Seventh Framework Program under Grant Agreement No. 696656 Graphene Flagship Core1 is also acknowledged. Financial support from the CNR in the framework of the agreements on scientific collaborations between CNR and CNRS (France), NRF (Republic of Korea), and RFBR (Russia) is acknowledged. We also thank the European Research Council (ERC) for funding under the European Union's Horizon 2020 research and innovation program (No. 670173), the ERC Advanced Grant CEMAS (No. 291194), the ERC Consolidator Grant AMSEL (No. 682144), the EU project PAMS (No. 610446), and the Initial Training Network QTea (No. 317485), and Scuola Normale Superiore for support via the internal project SNS16_ B_HEUN–004155. Furthermore, we acknowledge funding from the Italian Ministry of Foreign Affairs. We gratefully acknowledge CINECA for providing HPC resources under the ISCRA-C grants "Quasifree-standing graphene monolayer on SiC with H-coverage vacancies: a density functional theory study" (2016–2017) and "Electro-mechanical manipulation of graphene" (2015–2016), and for technical support.
Copyright information
© The author(s) 2018
Open Access: This article is distributed under the terms of the Creative Commons Attribution 4.0 International License (http://creativecommons.org/licenses/by/4.0/), which permits unrestricted use, distribution, and reproduction in any medium, provided you give appropriate credit to the original author(s) and the source, provide a link to the Creative Commons license, and indicate if changes were made.