Nomenclature for the KIR of non-human species
Open Access
Original Article
Abstract
The increasing number of Killer Immunoglobulin-like Receptor (KIR) sequences available for non-human primate species and cattle has prompted development of a centralized database, guidelines for a standardized nomenclature, and minimum requirements for database submission. The guidelines and nomenclature are based on those used for human KIR and incorporate modifications made for inclusion of non-human species in the companion IPD-NHKIR database. Included in this first release are the rhesus macaque (Macaca mulatta), chimpanzee (Pan troglodytes), orangutan (Pongo abelii and Pongo pygmaeus), and cattle (Bos taurus).
Keywords
KIR 
Nomenclature 
Variant 
Allele 
Gene 
Database 
Sequence 
Introduction
The KIR locus has been studied in a number of non-human species primates and is characterized by high levels of allelic polymorphism, haplotypic polymorphism in the number of genes, and extensive duplication and recombination (Hammond et al. 2016; Parham 2004). These factors have made it difficult to assign orthologues and have led to a number of different nomenclature systems being used to name genes and alleles. This report describes a common framework and guidelines for KIR nomenclature in non-human species. These have been developed by taking advantage of lessons learned in the development of a nomenclature system for the human KIR (Marsh et al. 2003).
General naming guidelines
To provide consistency with the IPD-MHC Database (Maccari et al.
2017
), the non-human KIR nomenclature adopts the same four-character prefix used for species designation in the naming of
MHC
alleles (de Groot et al.
2012
; Ellis et al.
2006
; Klein et al.
1990
). Also, genes and alleles will be named based on the conventions that have been adopted for the human KIR system (Marsh et al.
2003
) that are based on the structures of the molecules they encode. The first digit following the KIR acronym corresponds to the number of Ig-like domains in the polypeptide and the "D" denotes "Domain." The D is followed by either an "L" indicating a "Long" cytoplasmic tail, an "S" indicating a "Short" cytoplasmic tail or a "P" for pseudogenes. In addition, the inclusion of a "W" indicates "Workshop" following the "L," "S," or "P" to indicate any sequence that by phylogenetic analysis is sufficiently divergent to be considered a "new" gene, but lack either genomic sequencing or family studies to demonstrate that it does define a new gene and not a divergent lineage a known gene. Tables 
1
,
2
, and
3
list the current gene designations and their previous names. Symbols for genes are italicized (e.g.,
Mamu
-
KIR3DL01
), whereas symbols for proteins are not italicized (e.g., Mamu-KIR3DL01). Alleles follow the same conventions as gene names.
Table 1
Gene designations and their previous names
Species

KIR gene designation(s)

Previous KIR gene designation(s)

Rhesus macaque (Mamu)

Mamu-KIR1D

KIR1D, Mamu-KIR1D

Mamu-KIR2DL04

2DL501NK, 2DL503NK, KIR2DL4, KIR2DL4.1, MmKIR2DL4

Mamu-KIR3DL01

2DL426NK, 3DL34, KIR3DL, KIR3DL-like_1, KIR3DL1, KIR3DL1-like1, KIR3DL12, KIR3DL13, KIR3DL14, KIR3DL15, KIR3DL19, KIR3DL1_variant_2, KIR3DL2, KIR3DL2-old, KIR3DL3, KIR3DL4, KIR3DL5

Mamu-KIR3DL02

KIR3DL-like_3, KIR3DL2, KIR3DL21, KIR3DL21-like1

Mamu-KIR3DL04

KIR3DL11

Mamu-KIR3DL05

3DL7b-3DL40, KIR3DL, KIR3DL-3, KIR3DL16, KIR3DL7, KIR3DL7-like2, KIR3DL07

Mamu-KIR3DL06

KIR3DL6

Mamu-KIR3DL07

2DL420, KIR3DL, KIR3DL18, KIR3DL7, KIR3DL7-like1, KIR3DL7-like3, KIR3DL03

Mamu-KIR3DL08

KIR3DL, KIR3DL-like_2, KIR3DL17, KIR3DL8, KIRDL8, Mamu-KIR3DL04, Mamu-KIR3DL4

Mamu-KIR3DL10

3DL10-2DL501, 3DL3NK, KIR3DL, KIR3DL10, KIR3DL9, Mamu-KIR3DL05

Mamu-KIR3DL11

KIR3DL, KIR3DL-1, KIR3DL-6, KIR3DL-7, KIR3DL11

Mamu-KIR3DL20

KIR3DL20, KIR3DL20_variant_2, KIR3DL06, KIR2DL5

Mamu-KIR3DLW03

KIR3DL-4, KIR3DL-5, KIR3DL-like1-BNB, KIR3DL21

Mamu-KIR3DLX1

KIR3DL0

Mamu-KIR3DS01

KIR3DH-7, KIR3DH1, KIR3DH5, Mamu-KIR3DS01-JHB-HEFGH,

Mamu-KIR3DS02

3DH2, 3DH42, KIR3DH-like_5, KIR3DH-like_6, KIR3DH10, KIR3DH12, KIR3DH13, KIR3DH14, KIR3DH15, KIR3DH16, KIR3DH2

Mamu-KIR3DS03

KIR3DH3, KIR3DH8, KIR3DH9

Mamu-KIR3DS04

KIR3DH-1, KIR3DH4, KIR3DH6

Mamu-KIR3DS05

KIR3DH1, KIR3DM-1, KIR3DM1, KIR3DM6, KIR_Partial_Sequence_1

Mamu-KIR3DS06

KIR3DH-4, KIR3DH-like8, KIR3DH-like_7, KIR3DH18,

Mamu-KIR3DSW07

KIR3DH-5, KIR3DH7, Mamu-KIR3DS07-JHB-HO

Mamu-KIR3DSW08

KIR3DH-2, KIR3DH-3, KIR3DH-4, KIR3DH-5, KIR3DH-like_1, KIR3DH-like_2, KIR3DH-like_3, KIR3DH-like_4, KIR3DH21, KIR3DSW08

Mamu-KIR3DSW09

KIR3DH-8, KIR3DH20, KIR3DH5, KIR3DH5-like1, mmKIR3DH-1
Table 2
Gene designations and their previous names
Species

KIR gene designation(s)

Previous KIR gene designation(s)

Chimpanzee (Patr)

Patr-KIR2DL4

 

Patr-KIR2DL5

 

Patr-KIR2DL6

Pt-NewII

Patr-KIR2DL7

 

Patr-KIR2DL8

Pt-NewIII

Patr-KIR2DL9

 

Patr-KIR3DL1

Pt-KIR3DL1/2, Pt-KIR3DL3, Pt-KIR3DL1, Pt-KIR3DL2

Patr-KIR3DL3

Patr-KIRC1, Pt-NewI

Patr-KIR3DL4

 

Patr-KIR3DL5

 

Patr-KIR3DS6

Pt-KIR3DL6
Table 3
Gene designations and their previous names
Species

KIR gene designation(s)

Previous KIR gene designation(s)

Orangutan (Poab)

Poab-KIR2DL10

Popy-KIR2DL10, 2DLA

Poab-KIR2DL11

Popy-KIR2DL11, 2DLB

Poab-KIR2DL12

Popy-KIR2DL11, 2DLC

Poab-KIR2DL5

Popy-KIR2DL5. 2DL5

Poab-KIR2DS10

2DSD/2DSA

Poab-KIR2DS13

Popy-KIR2DS13, 2DSC1/2DSB

Poab-KIR2DS14

Popy-KIR2DS14, 2DSB/2DSD2, 2DSA/2DSD1

Poab-KIR3DL1

Popy-KIR3DL1, 3DLH, 3DLC, 3DLD2, 3DLD1, 3DLA, 3DLI, 3DLB

Poab-KIR3DL3

Popy-KIR3DL3, 3DL3

Poab-KIR3DS1

Popy-KIR3DS1, 3DS1

Poab-KIRDP

Popy-KIRDP, DP

Orangutan (Popy)

Popy-KIR2DL11

Popy-KIR2DLB

Popy-KIR2DL12

Popy-KIR2DLC

Popy-KIR2DL5

 

Popy-KIR2DS10

Popy-KIR2DSD/2DSA

Popy-KIR2DS13

Popy-KIR2DSC2/2DSB

Popy-KIR2DS14

Popy-KIR2DSB/2DSD2, 2DSA/2DSD1

Popy-KIR2DS15

 

Popy-KIR3DL1

Popy-KIR3DL1, 3DLF, 3DLE2, 3DLE1

Popy-KIR3DL3

Popy-KIR3DL3, 3DL3

Popy-KIR3DS1

Popy-KIR3DS1, 3DS1

Popy-KIRDP

Popy-KIRDP, DP
Reflecting species-specific differences, there have been further additions/modifications to the general nomenclature for rhesus macaque and cattle. As with the human KIR nomenclature, alleles in each series have been named in order of their deposition into a generalist sequence databank, GenBank/EMBL-ENA/DDBJ (Benson et al.
2017
; Chojnacki et al.
2017
; Mashima et al.
2017
). Where the identity is known of the animal providing the sequenced DNA, that information is included in the database, as well as information regarding the origin of the animal. Tables 
4
,
5
,
6
, and
7
provide a complete list of genes and alleles currently in the nomenclature, as well as the original name(s), accession number, and reference to the original report of the sequence.
Each KIR allele name includes a unique number corresponding to up to three sets of digits separated by colons. All alleles are given a three-digit name, which corresponds to the first set of digits; longer names are assigned only when necessary.
The digits placed before the first colon describe the alleles that differ at non-synonymous substitutions (also called coding substitutions). Alleles that differ only by synonymous nucleotide substitutions (also called silent or non-coding substitutions) but are within the coding sequence are distinguished by their second sets of digits. Alleles that only differ by sequence polymorphisms in the introns, or in the 5′ or 3′ untranslated regions that flank the exons and introns, are distinguished by their third sets of digits.
In addition to the unique allele number, optional suffixes can be added to an allele name to indicate the expression status of the gene and/or its encoded protein. Alleles known not to be expressed—so called "Null" alleles—have been given the suffix "N." Alleles that have been shown to be alternatively expressed may have the suffix "L," "S," "C," "A," or "Q."
The suffix "L" is used to indicate an allele that has been shown to have "Low" cell surface expression when compared to normal levels. The "S" suffix is used to denote an allele specifying a protein which is expressed as a soluble, "Secreted" molecule and is not present on the cell surface. The "C" suffix is assigned to alleles producing proteins that are present in the "Cytoplasm" and not on the cell surface. An "A" suffix indicates an "Aberrant" expression, where there is doubt as to whether a protein is actually expressed. A "Q" suffix is used when the expression of an allele is "Questionable," given that the mutation seen in the allele has been shown to affect normal expression levels in other alleles and other KIR genes.
As of May 2018, no alleles have been named with the "C," "A," "Q," or "S" suffixes.
A schematic representation of the syntax for the non-human KIR allele designation is shown in Fig. 
1
.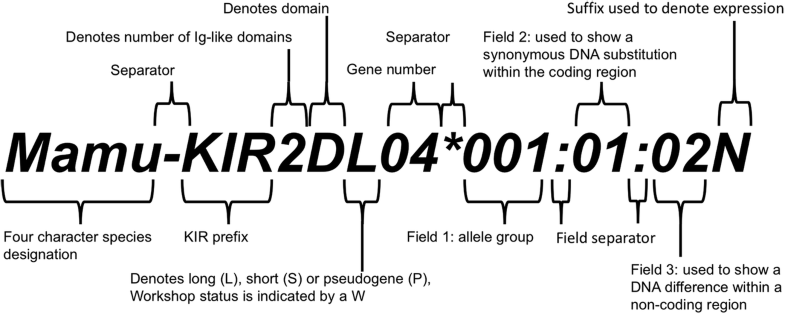 Species-specific guidelines
Notes
Funding
JAH and NDS were supported by the United Kingdom Biotechnology and Biological Sciences Research Council (BBSRC) through projects BBS/E/I/00001410 and BBS/E/I/00001710.
Copyright information
© The Author(s) 2018
Open Access This article is distributed under the terms of the Creative Commons Attribution 4.0 International License (http://creativecommons.org/licenses/by/4.0/), which permits unrestricted use, distribution, and reproduction in any medium, provided you give appropriate credit to the original author(s) and the source, provide a link to the Creative Commons license, and indicate if changes were made.