CoRoT 7b
Living reference work entry
DOI:
https://doi.org/
10.1007/978-3-642-27833-4_5304-1
The exoplanet CoRoT-7b is the seventh planet detected via transit photometry (Fig.
1
) by the European space telescope, CoRoT (Léger et al.
2009
). With a radius of ~1.6 Earth radii, this planet is the first potentially terrestrial-like planet found outside our solar system. CoRoT-7b revolves around its central star in a very short-period orbit of 20 h making this planet one of the few with extremely small orbital periods. The close proximity of this planet to its Sun-like host star (which is about 500 light-years away) implies that it must experience extreme conditions. For instance, its surface may be covered by lava or boiling oceans (Fig.
2
).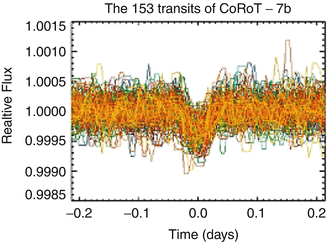 Keywords
Orbital Period 
Solar System 
Radial Velocity 
Current Estimate 
Velocity Data 
These keywords were added by machine and not by the authors. This process is experimental and the keywords may be updated as the learning algorithm improves.
Copyright information
© Springer-Verlag Berlin Heidelberg 2014