Afghanistan, tourism
Living reference work entry
DOI:
https://doi.org/
10.1007/978-3-319-01669-6_542-1
Keywords
International Tourist 
Islamic Republic 
Business Tourism 
Century Cultural Tourist 
International Assistance 
These keywords were added by machine and not by the authors. This process is experimental and the keywords may be updated as the learning algorithm improves.
The Islamic Republic of Afghanistan is the 41st largest country in the world (647,500 km
2
, 251,825 mi
2
). It is located in central Asia and borders
Turkmenistan
,
Uzbekistan
,
Tajikistan
,
China
,
Pakistan
, and
Iran
(Figure
1
). The formal languages of its 29.8 million people (World Bank 2012) are Farsi or Dari and Pashtu.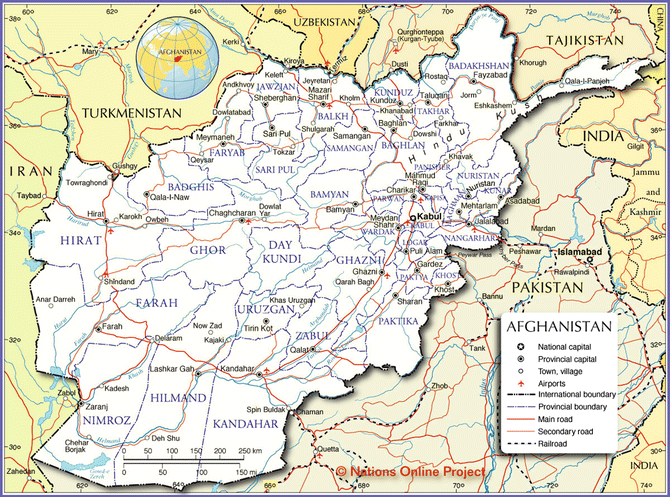 Zoroastrianist, Buddhist, and Islamic civilizations have existed in Afghanistan over the centuries. In 1978, the Soviet invaded the country and caused a number of civil wars. After the fall of the Taliban in 2001, international assistance stimulated the economy, and the agriculture and service industries recovered. The country remains one of the poorest in the world (United Nations 2013), with 35 % of its population unemployed and 36 % living below the poverty line.
Tourism began in 1958 under the Ministry of Information and Culture. The statistics from 1977 reported 118,360 arrivals (Azimi 2012: 210). Because of the lack of recent statistics, the share of tourism in economy as well as tourism employments in the total workforce are unknown. Today, business tourism occurs due to the ongoing reconstruction efforts (Euromonitor 2012). But because of security issues, there are few international tourists, despite government efforts supported by the Aga Khan Foundation to promote development.
Afghanistan has numerous cultural, historical, natural, and ethnic attractions, but some have been recently damaged. For example, the Buddha statues in Bamyan, which historically attracted religious tourists and later in the twentieth century cultural tourists, were mostly destroyed by the Taliban in 2001. A winter festival held in Bamyan draws domestic and international tourists to the ancient sites of the Hindu Kush Mountains, which are attractive places to skiers (Ashley and Dear 2011).
Another famous event is the Nowruz celebration in Mazar-e-Sharif. Thousands of tourists from all over the country come to visit a shrine, which is believed to be Imam Ali's tomb. This celebration starts on the 20th of March and continues for 40 days. On the other hand, outbound tourism is flourishing, with thousands of religious tourists visiting Iran, while health tourists go to India and Pakistan.
Bamyan University is the only institution offering tourism courses. A few books about tourism in the country have been published. But because Farsi is spoken in both Afghanistan and Iran, books published in the latter are also used. For the few who graduate in this field, the future is not promising, due to ongoing political unrest. When safety finally returns to Afghanistan, one of the first challenges will be the reimaging of the destination to one in which tourists can enjoy its diverse natural and cultural resources.
Copyright information
© Springer International Publishing Switzerland 2014