Abstract

In this paper we report on the efforts of three projects to annotate texts and dialogues with discourse structure. We provide a theoretical discussion of various alternatives and then present our approach to discourse structure annotation, along with some applications of the resources that we have developed.
Keywords
Discourse structures

Multiple annotation levels

Bottom-up/Top-down discourse analysis

Topical chains

Enumerative structures

Discourse relations
Nicholas Asher—Part of this research was supported by European Research Council, Grant n. 269427.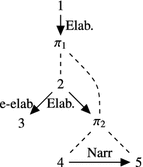 Notes
1.

Not all annotation campaigns of course have this as a goal, the PDTB being one prominent example.

2.

3.

But see [63] for an investigation of some of these cases.

4.

see chapter "Crowdsourcing", this volume, for a discussion on this point.

5.

Taking into account the gold annotations rather than the annotations produced during the two first phases.

6.
References
Afantenos, S.D., Asher, N.: Testing SDRT's right frontier. In: Proceedings of the 23rd International Conference on Computational Linguistics (COLING 2010), pp. 1–9 (2010)

Afantenos, S.D., Denis, P., Muller, P., Danlos, L.: Learning recursive segments for discourse parsing. In: Proceedings of LREC 2010 (2010)

Afantenos, S., Asher, N., Benamara, F., Bras, M., Fabre, C., Ho-Dac, L.M., Le Draoulec, A., Muller, P., Péry-Woodley, M. P., Prévot, L., Rebeyrolles, J., Tanguy, L., Vergez-Couret, M., Vieu, L.: An empirical resource for discovering cognitive principles of discourse organisation: the ANNODIS corpus. In: Calzolari, N., Choukri, K., Declerck, T., Doǧan, M.U., Maegaard, B., Mariani, J., Odijk, J., Piperidis, S. (eds.) Proceedings of the Eight International Conference on Language Resources and Evaluation (LREC'12), European Language Resources Association (ELRA). Istanbul, Turkey (2012)

Asher, N.: Reference to Abstract Objects in Discourse. Kluwer, The Netherlands (1993)

Asher, N.: Lexical Meaning in Context: A Web of Words. Cambridge University Press, Cambridge (2011)

Asher, N., Lascarides, A.: Logics of conversation. In: Studies in Natural Language Processing. Cambridge University Press, Cambridge (2003)

Asher, N., Hardt, D., Busquets, J.: Discourse parallelism, ellipsis and ambiguity. J. Semant. 18(1), (2001)

Asher, N., Benamara, F., Mathieu, Y.Y.: Distilling opinion in discourse: a preliminary study. In: Proceedings of Computational Linguistics (CoLing), pp. 7–10 (2008)

Atallah, C.: Analyse de relations de discours causales en corpus: étude empirique et caractérisation théorique. Ph.D. thesis, Université de Toulouse, Toulouse (2014)

Baldridge, J., Asher, N., Hunter, J.: Annotation for and Robust Parsing of Discourse Structure on Unrestricted Texts. Zeitschrift fur. Sprachwissenschaft 26, 213–239 (2007)

Benamara, F, Asher, N, Mathieu, Y, Popescu, V., Chardon, B.: Evaluation in discourse: a corpus-based study. In: Dialogue and Discourse (2015). (in press)

Biber, D.: Variation Across Speech and Writing. Cambridge University Press, Cambridge (1988)

Bourigault, D.: Un analyseur syntaxique opérationnel : SYNTEX. Université de Toulouse, Mémoire d'HDR (2007)

Bras, M.: French adverb d'abord and discourse structure. In: Aurnague, M., Larrazabal, J-M., Korta, K. (eds.) Language, Representation and Reasoning. Memorial Volume to Isabel Gomez Txurruka, pp. 77–102. Presses Universitaires du Pays Basque, Bilbao (2007)

Bras, M., Le Draoulec, A., Vieu, L.: French adverbial Puis between temporal structure and discourse structure. In: Bras, M., Vieu, L. (eds.) Semantic and Pragmatic Issues in Dialogue: Experimenting with Current Theories. CRISPI, vol. 9, pp. 109–146. Elsevier, Amsterdam (2001)

Bras, M., Le Draoulec, A., Asher, N.: A formal analysis of the French temporal connective alors. Oslo Stud Lang 1, 149–170 (2009)

Carletta, J., Isard, S., Doherty-Sneddon, G.: HCRC Dialogue Structure Coding Manual. HCRC Publications, The University of Edinburgh (1996)

Chafe, W.L.: Discourse Consciousness and Time: The Flow and Displacement of Conscious Experience in Speaking and Writing. University of Chicago Press, Chicago (1994)

Chardon, B., Benamara, F., Mathieu, Y.Y., Popescu, V., Asher, N.: Measuring the effect of discourse structure on sentiment analysis. In: CICLing, pp. 25–37 (2013a)

Chardon, B., Benamara, F., Mathieu, Y. Y., Popescu, V., Asher, N.: Sentiment composition using a parabolic model. In: Proceedings of the 10th International Conference on Computational Semantics (IWCS 2013), pp. 47–58 (2013b)

Charolles, M.: L'encadrement du discours - Univers, champs, domaines et espace. Cahiers de recherche linguistique 6, 1–73 (1997)

Charolles, M., Le Draoulec, A., Péry-Woodley, M.-P., Sarda, L.: Temporal and spatial dimensions of discourse organisation. J. Fr. Lang. Stud. 15(2), 203–218 (2005)

Cohen, J.: A coefficient of agreement for nominal scales. Educ. Psychol. Meas. 20(1), 37–46 (1960)

Colléter, M., Fabre, C., Ho-Dac, L.-M., Péry-Woodley, M.-P., Rebeyrolle, J., Tanguy, L.: La ressource ANNODIS multi-échelle : guide d'annotation et bonus. Technical report 20. Carnets de grammaires, CLLE-ERSS (2012)

Cornish, F.: Anaphora. Discourse and Understanding. Evidence from English and French. Clarendon Press, Oxford (1999)

Danlos, L.: Strong generative capacity of RST, SDRT and discourse dependency DAGSs. Pages 69–95 of: Benz, A., Kuhnlein, P. (eds.) Constraints in Discourse. John Benjamins, Amsterdam (2008)

Egg, M., Redeker, G.: How complex is discourse structure? In: Calzolari, N., Choucri, K., Maegaard, B., Mariani, J., Odijk, J., Piperidis, S., Rosner, M., Tapias, D. (eds.) Proceedings of LREC'10. ELRA (2010)

Enkvist, N.E.: Connexity, interpretability, universes of discourse, and text worlds. In: Allén, S. (ed.) Possible Worlds in Humanities, Arts and Sciences, pp. 162–186. Walter de Gruyter, Berlin (1989)

Feng, V.W., Hirst, G.: Text-level discourse parsing with rich linguistic features. IN: Proceedings of the 50th Annual Meeting of the Association for Computational Linguistics, vol. 1: Long Papers), pp. 60–68. Association for Computational Linguistics, Jeju Island, Korea (2012)

Forbes, K., Miltsakaki, E., Prasad, R., Sarkar, A., Joshi, A.K., Webber, B.L.: D-LTAG system: discourse parsing with a lexicalized tree-adjoining grammar. J. Logic Lang. Inf. 12(3), 261–279 (2003)

Francis, G.: Labelling discourse: an aspect of nominal-group lexical cohesion. In: Coulthard, M. (ed.) Advances in Written Text Analysis, pp. 83–101. Routledge, London (1994)

Fries, P.: Themes method of development and texts. In: Hasan, R., Fries, P. (eds.) On Subject and Theme: A Discourse Functional Perspective, pp. 317–359. John Benjamins, Amsterdam (1995)

Goutsos, D.: A model of sequential relations in expository test. Text 16(4), 501–533 (1996)

Grosz, B., Sidner, C.: Attention, intentions and the structure of discourse. Comput. Linguist. 12, 175–204 (1986)

Halliday, M.A.K.: Text as semantic choice in social contexts. In: van Dijk, T., Petöfi, J.S. (eds.) Grammars and Descriptions, pp. 176–226. Walter de Gruyter, Berlin (1977)

Halliday, M.A.K.: An Introduction to Functional Grammar, 2nd edn. Arnold, London (1985)

Halliday, M.A.K., Hasan, R.: Cohesion in English. Longman, London (1976)

Hempel, S., Degand, L.: sequencers in different text genres: academic writing, journalese and fiction. J. Pragmat. 40, 676–693 (2008)

Hernault, H., Prendinger, H., duVerle, D.A., Ishizuka, M.: HILDA: a discourse parser using support vector machine classification. Dialogue Discourse 1(3), 1–33 (2010)

Hitzeman, J., Moens, M., Grover, C.: Algorithms for analyzing the temporal structure of discourse. In: Proceedings of the 7th Meeting of the European Chapter of the Association for Computational Linguistics, pp. 253–260 (1995)

Ho-Dac, L-M., Péry-Woodley, M-P.: A data-driven study of temporal adverbials as discourse segmentation markers. Discours 4 (2009)

Ho-Dac, L.-M., Péry-Woodley, M.-P, Tanguy, L.: Anatomie des structures énumératives. In: Actes de TALN, (ed.) 2010. Université de Montréal, for ATALA, Montréal (2010)

Ho-Dac, L.-M., Fabre, Cécile, Péry-Woodley, M.-P., Rebeyrolle, J., Tanguy, L.: On the signalling of multi-level discourse structures. Discours 10 (2012)

Hobbs, J.R.: Coherence and coreference. Cognit. Sci. 3(1), 67–90 (1979)

Hovy, E.H.: Parsimonious and profligate approaches to the question of discourse structure relations. In: Proceedings of the Fifth International Workshop on Natural Language Generation, pp. 128–136 (1990)

Joty, S., Carenini, G., Ng, R.: A novel discriminative framework for sentence-level discourse analysis. In: Proceedings of the 2012 Joint Conference on Empirical Methods in Natural Language Processing and Computational Natural Language Learning. Association for Computational Linguistics, Jeju Island, Korea (2012)

Kamp, H., Reyle, U.: From Discourse to Logic: Introduction to Modeltheoretic Semantics of Natural Language. Formal Logic and Discourse Representation Theory. Kluwer Academic Publishers, The Netherlands (1993)

Landis, J.R., Koch, G.G.: The measurement of observer agreement for categorical data. Biometrics 33(1), 159–174 (1977)

Lascarides, A., Asher, N.: Temporal interpretation, discourse relations and commonsense entailment. Linguist. Philos. 16(5), 437–493 (1993)

Mann, W., Thompson, S.: Rhetorical structure theory: a theory of text organization. Technical report, Information Science Institute (1987)

Marcu, D.: Building up rhetorical structure trees. Proceedings of the thirteenth national conference on Artificial intelligence. AAAI'96, vol. 2, pp. 1069–1074. AAAI press, California (1996)

Mathet, Y., Widlöcher, A.: La plate-forme GLOZZ : environnement d'annotation et d'exploration de corpus. In: Actes de TALN, (ed.) 2009. LIPN, for ATALA, Senlis (2009)

Maudet, N., Muller, P., Prévot, L.: Social constraints on rhetorical relations in dialogue. In: Sidner, C., Harpur, J., Benz, A., Kühnlein, P. (eds.) Proceedings of the Workshop on Constraints in Discourse, pp. 133–139 (2006)

Muller, P., Prévot, L.: An empirical study of acknowledgment structures. In: Proceedings of Diabruck 2003, 7th Workshop on the Semantics and Pragmatics of Dialogue, (Sept 4th–6th) (2003)

Muller, P., Prévot, L.: The rhetorical attachment of questions and answers. In: Korta, K., Garmendia, J. (eds.) Meaning, Intentions, and Argumentation. (CSLI-LN) Center for the Study of Language and Information - Lecture Notes, vol. 186. University of Chicago press, Chicago (2008). http://www.journals.uchicago.edu/

Muller, P., Afantenos, S., Denis, P., Asher, N.: Constrained decoding for text-level discourse parsing. In: Proceedings of COLING (2012a)

Muller, P., Vergez, M., Prévot, L, Asher, N, Benamara, F., Bras, M., Le Draoulec, A., Vieu, L.: Manuel d'annotation en relations de discours du projet Annodis. Technical report 21. CLLE (2012b)

Polanyi, L.: A formal model of the structure of discourse. J. Pragmat. 12, 601–638 (1988)

Polanyi, L., Culy, C., van den Berg, M., Thione, G.L., Ahn, D.: A rule based approach to discourse parsing. In: Strube, M., Sidner, C. (eds.) Proceedings of the 5th SIGdial Workshop on Discourse and Dialogue, pp. 108–117. Association for Computational Linguistics, Cambridge (2004)

Power, R., Scott, D., Bouayad-Agha, N.: Document structure. Comput. Linguist. 2(29), 211–260 (2003)

Prasad, R., Dinesh, N., Lee, A., Miltsakaki, E., Robaldo, L., Joshi, A., Webber, B.: The penn discourse TreeBank 2.0. In: Calzolari, N., Choukri, K., Maegaard, B., Mariani, J., Odjik, J., Piperidis, S., Tapias, D. (eds.) Proceedings of the Sixth International Language Resources and Evaluation (LREC'08). European Language Resources Association (ELRA), Marrakech, Morocco (2008). http://www.lrec-conf.org/proceedings/lrec2008/

Prévot, L., Vieu, L., Asher, N.: Une formalisation plus précise pour une annotation moins confuse: la relation d'Élaboration d'entité. J. Fr. Lang. Stud. 19(2), 207–228 (2009)

Roze, C.: Vers une algèbre des relations de discours. Ph.D. thesis, Université Paris 7 (2013)

Sagae, K.: Analysis of discourse structure with syntactic dependencies and data-driven shift-reduce parsing. Proceedings of the 11th International Conference on Parsing Technologies. IWPT '09, pp. 81–84. Association for Computational Linguistics, Stroudsburg (2009)

Somasundaran, S.: Discourse-level relations for Opinion Analysis. Ph.D. thesis, University of Pittsburgh (2010)

Subba, R., Di Eugenio, B.: An effective discourse parser that uses rich linguistic information. In: Proceedings of Human Language Technologies: The 2009 Annual Conference of the North American Chapter of the Association for Computational Linguistics, pp. 566–574. Association for Computational Linguistics, Boulder, Colorado (2009)

Trnavac, R., Taboada, M.: The contribution of nonveridical rhetorical relations to evaluation in discourse. Lang. Sci. 34(3), 301–318 (2010)

Turney, P.D.: Thumbs up or thumbs down?: semantic orientation applied to unsupervised classification of reviews. In: Proceedings of Annual Meeting of the Association for Computational Linguistics (2002)

Venant, A., Asher, N., Muller, P., Denis, P., Afantenos, S.: Expressivity and comparison of models of discourse structure. In: Proceedings of the SIGDIAL 2013 Conference, pp. 2–11. Association for Computational Linguistics (2013a)

Vergez-Couret, M.: Etude en corpus des réalisations linguistiques de la relation d'Elaboration. Ph.D. thesis, Université de Toulouse, Toulouse (2010)

Webber, B., Egg, M., Kordoni, V.: Discourse structure and language technology. Nat. Lang. Eng. 18(4), 437–490 (2012)

Wiebe, J., Riloff, E.: Creating subjective and objective sentence classifiers from unannotated texts. In: Proceedings of the International Conference on Intelligent Text Processing and Computational Linguistics (CICLing). Lecture Notes in Computer Science, vol. 3406, pp. 486–497 (2005)

Wolf, F., Gibson, E.: Representing discourse coherence: a corpus based study. Comput. Linguist. 31(2), 249–287 (2005)
Copyright information

© 2017 Springer Science+Business Media Dordrecht
About this chapter
Cite this chapter
Asher, N. et al. (2017). ANNODIS and Related Projects: Case Studies on the Annotation of Discourse Structure. In: Ide, N., Pustejovsky, J. (eds) Handbook of Linguistic Annotation. Springer, Dordrecht. https://doi.org/10.1007/978-94-024-0881-2_47
DOI: https://doi.org/10.1007/978-94-024-0881-2_47

Published:

Publisher Name: Springer, Dordrecht

Print ISBN: 978-94-024-0879-9

Online ISBN: 978-94-024-0881-2

eBook Packages: Social SciencesSocial Sciences (R0)