Systematic Reviews in Educational Research: Methodology, Perspectives and Application
Abstract
This chapter explores the processes of reviewing literature as a research method. The logic of the family of research approaches called systematic review is analysed and the variation in techniques used in the different approaches explored using examples from existing reviews. The key distinctions between aggregative and configurative approaches are illustrated and the chapter signposts further reading on key issues in the systematic review process.
1

What Are Systematic Reviews?

A literature review is a scholarly paper which provides an overview of current knowledge about a topic. It will typically include substantive findings, as well as theoretical and methodological contributions to a particular topic (Hart 2018, p. xiii). Traditionally in education 'reviewing the literature' and 'doing research' have been viewed as distinct activities. Consider the standard format of research proposals, which usually have some kind of 'review' of existing knowledge presented distinctly from the methods of the proposed new primary research. However, both reviews and research are undertaken in order to find things out. Reviews to find out what is already known from pre-existing research about a phenomena, subject or topic; new primary research to provide answers to questions about which existing research does not provide clear and/or complete answers.

When we use the term research in an academic sense it is widely accepted that we mean a process of asking questions and generating knowledge to answer these questions using rigorous accountable methods. As we have noted, reviews also share the same purposes of generating knowledge but historically we have not paid as much attention to the methods used for reviewing existing literature as we have to the methods used for primary research. Literature reviews can be used for making claims about what we know and do not know about a phenomenon and also about what new research we need to undertake to address questions that are unanswered. Therefore, it seems reasonable to conclude that 'how' we conduct a review of research is important.

The increased focus on the use of research evidence to inform policy and practice decision-making in Evidence Informed Education (Hargreaves 1996; Nelson and Campbell 2017) has increased the attention given to contextual and methodological limitations of research evidence provided by single studies. Reviews of research may help address these concerns when carried on in a systematic, rigorous and transparent manner. Thus, again emphasizing the importance of 'how' reviews are completed.

The logic of systematic reviews is that reviews are a form of research and thus can be improved by using appropriate and explicit methods. As the methods of systematic review have been applied to different types of research questions, there has been an increasing plurality of types of systematic review. Thus, the term 'systematic review' is used in this chapter to refer to a family of research approaches that are a form of secondary level analysis (secondary research) that brings together the findings of primary research to answer a research question. Systematic reviews can therefore be defined as "a review of existing research using explicit, accountable rigorous research methods" (Gough et al. 2017, p. 4).
2

Variation in Review Methods

Reviews can address a diverse range of research questions. Consequently, as with primary research, there are many different approaches and methods that can be applied. The choices should be dictated by the review questions. These are shaped by reviewers' assumptions about the meaning of a particular research question, the approach and methods that are best used to investigate it. Attempts to classify review approaches and methods risk making hard distinctions between methods and thereby to distract from the common defining logics that these approaches often share. A useful broad distinction is between reviews that follow a broadly configurative synthesis logic and reviews that follow a broadly aggregative synthesis logic (Sandelowski et al. 2012). However, it is important to keep in mind that most reviews have elements of both (Gough et al. 2012).

Reviews that follow a broadly configurative synthesis logic approach usually investigate research questions about meaning and interpretation to explore and develop theory. They tend to use exploratory and iterative review methods that emerge throughout the process of the review. Studies included in the review are likely to have investigated the phenomena of interest using methods such as interviews and observations, with data in the form of text. Reviewers are usually interested in purposive variety in the identification and selection of studies. Study quality is typically considered in terms of authenticity. Synthesis consists of the deliberative configuring of data by reviewers into patterns to create a richer conceptual understanding of a phenomenon. For example, meta ethnography (Noblit and Hare 1988) uses ethnographic data analysis methods to explore and integrate the findings of previous ethnographies in order to create higher-level conceptual explanations of phenomena. There are many other review approaches that follow a broadly configurative logic (for an overview see Barnett-Page and Thomas 2009); reflecting the variety of methods used in primary research in this tradition.

Reviews that follow a broadly aggregative synthesis logic usually investigate research questions about impacts and effects. For example, systematic reviews that seek to measure the impact of an educational intervention test the hypothesis that an intervention has the impact that has been predicted. Reviews following an aggregative synthesis logic do not tend to develop theory directly; though they can contribute by testing, exploring and refining theory. Reviews following an aggregative synthesis logic tend to specify their methods in advance (a priori) and then apply them without any deviation from a protocol. Reviewers are usually concerned to identify the comprehensive set of studies that address the research question. Studies included in the review will usually seek to determine whether there is a quantitative difference in outcome between groups receiving and not receiving an intervention. Study quality assessment in reviews following an aggregative synthesis logic focusses on the minimisation of bias and thus selection pays particular attention to homogeneity between studies. Synthesis aggregates, i.e. counts and adds together, the outcomes from individual studies using, for example, statistical meta-analysis to provide a pooled summary of effect.
3

The Systematic Review Process

Different types of systematic review are discussed in more detail later in this chapter. The majority of systematic review types share a common set of processes. These processes can be divided into distinct but interconnected stages as illustrated in Fig. 

1

. Systematic reviews need to specify a research question and the methods that will be used to investigate the question. This is often written as a 'protocol' prior to undertaking the review. Writing a protocol or plan of the methods at the beginning of a review can be a very useful activity. It helps the review team to gain a shared understanding of the scope of the review and the methods that they will use to answer the review's questions. Different types of systematic reviews will have more or less developed protocols. For example, for systematic reviews investigating research questions about the impact of educational interventions it is argued that a detailed protocol should be fully specified prior to the commencement of the review to reduce the possibility of reviewer bias (Torgerson

2003

, p. 26). For other types of systematic review, in which the research question is more exploratory, the protocol may be more flexible and/or developmental in nature.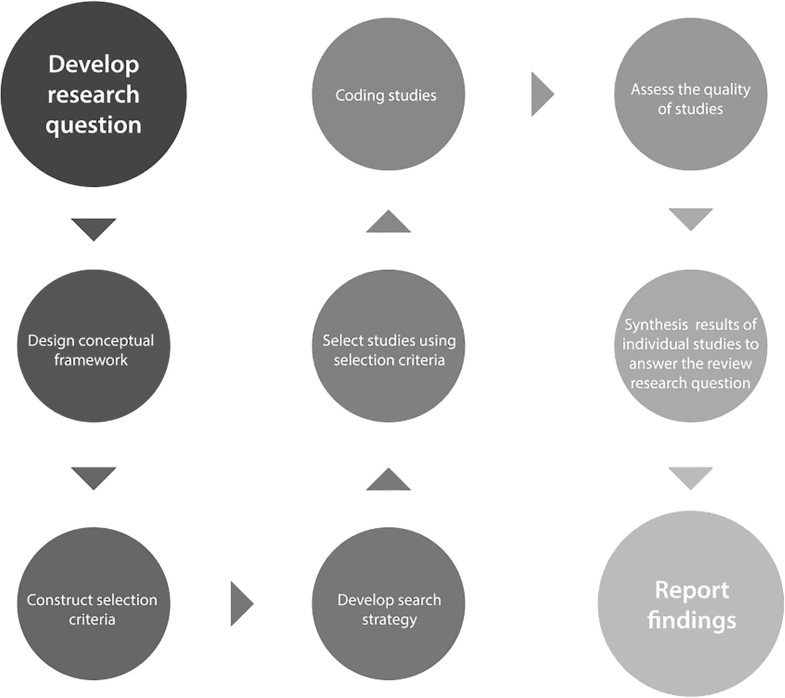 4

Variation in Review Structures

All research requires time and resources and systematic reviews are no exception. There is always concern to use resources as efficiently as possible. For these reasons there is a continuing interest in how reviews can be carried out more quickly using fewer resources. A key issue is the basis for considering a review to be systematic. Any definitions are clearly open to interpretation. Any review can be argued to be insufficiently rigorous and explicit in method in any part of the review process. To assist reviewers in being rigorous, reporting standards and appraisal tools are being developed to assess what is required in different types of review (Lockwood and Geum Oh 2017) but these are also the subject of debate and disagreement.

In addition to the term 'systematic review' other terms are used to denote the outputs of systematic review processes. Some use the term 'scoping review' for a quick review that does not follow a fully systematic process. This term is also used by others (for example, Arksey and O'Malley 2005) to denote 'systematic maps' that describe the nature of a research field rather than synthesise findings. A 'quick review' type of scoping review may also be used as preliminary work to inform a fuller systematic review. Another term used is 'rapid evidence assessment'. This term is usually used when systematic review needs to be undertaken quickly and in order to do this the methods of review are employed in a more minimal than usual way. For example, by more limited searching. Where such 'shortcuts' are taken there may be some loss of rigour, breadth and/or depth (Abrami et al. 2010; Thomas et al. 2013).

Another development has seen the emergence of the concept of 'living reviews', which do not have a fixed end point but are updated as new relevant primary studies are produced. Many review teams hope that their review will be updated over time, but what is different about living reviews is that it is built into the system from the start as an on-going developmental process. This means that the distribution of review effort is quite different to a standard systematic review, being a continuous lower-level effort spread over a longer time period, rather than the shorter bursts of intensive effort that characterise a review with periodic updates (Elliott et al. 2014).
4.1

Systematic Maps and Syntheses

One potentially useful aspect of reviewing the literature systematically is that it is possible to gain an understanding of the breadth, purpose and extent of research activity about a phenomenon. Reviewers can be more informed about how research on the phenomenon has been constructed and focused. This type of reviewing is known as 'mapping' (see for example, Peersman 1996; Gough et al. 2003). The aspects of the studies that are described in a map will depend on what is of most interest to those undertaking the review. This might include information such as topic focus, conceptual approach, method, aims, authors, location and context. The boundaries and purposes of a map are determined by decisions made regarding the breadth and depth of the review, which are informed by and reflected in the review question and selection criteria.

Maps can also be a useful stage in a systematic review where study findings are synthesised as well. Most synthesis reviews implicitly or explicitly include some sort of map in that they describe the nature of the relevant studies that they have identified. An explicit map is likely to be more detailed and can be used to inform the synthesis stage of a review. It can provide more information on the individual and grouped studies and thus also provide insights to help inform choices about the focus and strategy to be used in a subsequent synthesis.
4.2

Mixed Methods, Mixed Research Synthesis Reviews

Where studies included in a review consist of more than one type of study design, there may also be different types of data. These different types of studies and data can be analysed together in an integrated design or segregated and analysed separately (Sandelowski et al. 2012). In a segregated design, two or more separate sub-reviews are undertaken simultaneously to address different aspects of the same review question and are then compared with one another.

Such 'mixed methods' and 'multiple component' reviews are usually necessary when there are multiple layers of review question or when one study design alone would be insufficient to answer the question(s) adequately. The reviews are usually required, to have both breadth and depth. In doing so they can investigate a greater extent of the research problem than would be the case in a more focussed single method review. As they are major undertakings, containing what would normally be considered the work of multiple systematic reviews, they are demanding of time and resources and cannot be conducted quickly.
4.3

Reviews of Reviews

Systematic reviews of primary research are secondary levels of research analysis. A review of reviews (sometimes called 'overviews' or 'umbrella' reviews) is a tertiary level of analysis. It is a systematic map and/or synthesis of previous reviews. The 'data' for reviews of reviews are previous reviews rather than primary research studies (see for example Newman et al. (2018). Some review of reviews use previous reviews to combine both primary research data and synthesis data. It is also possible to have hybrid review models consisting of a review of reviews and then new systematic reviews of primary studies to fill in gaps in coverage where there is not an existing review (Caird et al. 2015). Reviews of reviews can be an efficient method for examining previous research. However, this approach is still comparatively novel and questions remain about the appropriate methodology. For example, care is required when assessing the way in which the source systematic reviews identified and selected data for inclusion, assessed study quality and to assess the overlap between the individual reviews (Aromataris et al. 2015).
5

Other Types of Research Based Review Structures

This chapter so far has presented a process or method that is shared by many different approaches within the family of systematic review approaches, notwithstanding differences in review question and types of study that are included as evidence. This is a helpful heuristic device for designing and reading systematic reviews. However, it is the case that there are some review approaches that also claim to use a research based review approach but that do not claim to be systematic reviews and or do not conform with the description of processes that we have given above at all or in part at least.
5.1

Realist Synthesis Reviews

Realist synthesis is a member of the theory-based school of evaluation (Pawson 2002). This means that it is underpinned by a 'generative' understanding of causation, which holds that, to infer a causal outcome/relationship between an intervention (e.g. a training programme) and an outcome (O) of interest (e.g. unemployment), one needs to understand the underlying mechanisms (M) that connect them and the context (C) in which the relationship occurs (e.g. the characteristics of both the subjects and the programme locality). The interest of this approach (and also of other theory driven reviews) is not simply which interventions work, but which mechanisms work in which context. Rather than identifying replications of the same intervention, the reviews adopt an investigative stance and identify different contexts within which the same underlying mechanism is operating.

Realist synthesis is concerned with hypothesising, testing and refining such context-mechanism-outcome (CMO) configurations. Based on the premise that programmes work in limited circumstances, the discovery of these conditions becomes the main task of realist synthesis. The overall intention is to first create an abstract model (based on the CMO configurations) of how and why programmes work and then to test this empirically against the research evidence. Thus, the unit of analysis in a realist synthesis is the programme mechanism, and this mechanism is the basis of the search. This means that a realist synthesis aims to identify different situations in which the same programme mechanism has been attempted. Integrative Reviewing, which is aligned to the Critical Realist tradition, follows a similar approach and methods (Jones-Devitt et al. 2017).
5.2

Critical Interpretive Synthesis (CIS)

Critical Interpretive Synthesis (CIS) (Dixon-Woods et al. 2006) takes a position that there is an explicit role for the 'authorial' (reviewer's) voice in the review. The approach is derived from a distinctive tradition within qualitative enquiry and draws on some of the tenets of grounded theory in order to support explicitly the process of theory generation. In practice, this is operationalised in its inductive approach to searching and to developing the review question as part of the review process, its rejection of a 'staged' approach to reviewing and embracing the concept of theoretical sampling in order to select studies for inclusion. When assessing the quality of studies CIS prioritises relevance and theoretical contribution over research methods. In particular, a critical approach to reading the literature is fundamental in terms of contextualising findings within an analysis of the research traditions or theoretical assumptions of the studies included.
5.3

Meta-Narrative Reviews

Meta-narrative reviews, like critical interpretative synthesis, place centre-stage the importance of understanding the literature critically and understanding differences between research studies as possibly being due to differences between their underlying research traditions (Greenhalgh et al. 2005). This means that each piece of research is located (and, when appropriate, aggregated) within its own research tradition and the development of knowledge is traced (configured) through time and across paradigms. Rather than the individual study, the 'unit of analysis' is the unfolding 'storyline' of a research tradition over time' (Greenhalgh et al. 2005).
6

Conclusions

This chapter has briefly described the methods, application and different perspectives in the family of systematic review approaches. We have emphasized the many ways in which systematic reviews can vary. This variation links to different research aims and review questions. But also to the different assumptions made by reviewers. These assumptions derive from different understandings of research paradigms and methods and from the personal, political perspectives they bring to their research practice. Although there are a variety of possible types of systematic reviews, a distinction in the extent that reviews follow an aggregative or configuring synthesis logic is useful for understanding variations in review approaches and methods. It can help clarify the ways in which reviews vary in the nature of their questions, concepts, procedures, inference and impact. Systematic review approaches continue to evolve alongside critical debate about the merits of various review approaches (systematic or otherwise). So there are many ways in which educational researchers can use and engage with systematic review methods to increase knowledge and understanding in the field of education.
Copyright information
© The Author(s) 2020
Open Access This chapter is licensed under the terms of the Creative Commons Attribution 4.0 International License (http://creativecommons.org/licenses/by/4.0/), which permits use, sharing, adaptation, distribution and reproduction in any medium or format, as long as you give appropriate credit to the original author(s) and the source, provide a link to the Creative Commons license and indicate if changes were made.
The images or other third party material in this chapter are included in the chapter's Creative Commons license, unless indicated otherwise in a credit line to the material. If material is not included in the chapter's Creative Commons license and your intended use is not permitted by statutory regulation or exceeds the permitted use, you will need to obtain permission directly from the copyright holder.