Abstract

Background: The mental resources required by laparoscopy (LS) and open (OS) surgery may be different; if this hypothesis is correct, the analysis of subjective total workload (STW) could allow to identify the causes of such differences and reduce the risk of error.

Objective: We tested the hypothesis that STW is different between LS and OS.

Methods: The NASA-TLX questionnaire was self-administered by trained physicians at the end of each procedure; STW was calculated using NASA-TLX software.

Results: Fourteen surgeons performed 66 LS and 48 OS procedures. The OS group showed a higher STW. Sub-item analysis showed higher temporal demand and frustration values in the OS group. In both groups STW was not normally distributed, showing a high (HWS) and a low (LWS) STW subgroup; the HWS within the LS group exhibited a higher mental and physical demand.

Conclusions: NASA-TLX is a valuable tool for assessing STW in the surgical setting. Higher STW was observed in the OS group, possibly related to a longer duration of such procedures and a greater experience of the "open surgeons". These results should be viewed with caution because of potentially confounding variables; larger studies will be required to identify STW determinants among different surgical groups.
Keywords
Ergonomics

Laparoscopy

NASA-TLX

Mental workload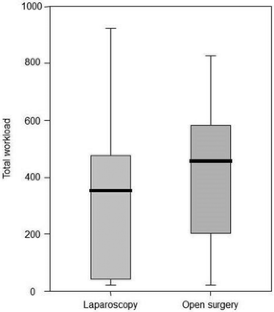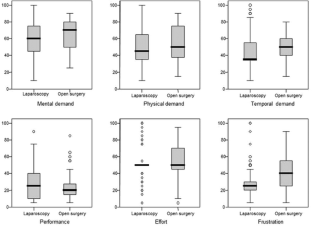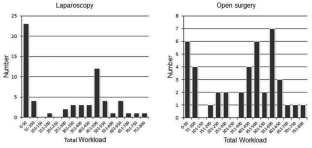 References
Toffola ED, Rodigari A, Di Natali G, Ferrari S, Mazzacane B (2009) Postura ed affaticamento dei chirurghi in sala operatoria [Abstract in English]. G Ital Med Lav Ergon 31(4):414–448

Berguer R (1999) Ergonomics & Laparoscopic Surgery. In: Kavic MS, Levinson CJ, Wetter PA (eds) Prevention and management of laparoendoscopic surgical complications. Society of Laparoendoscopic Surgeons, Miami, pp 8–11

Berguer R (1999) Surgery and ergonomics. Arch Surg 134(9):1011–1016

Berguer R, Hreljac A (2004) The relationship between hand size and difficulty using surgical instruments: a survey of 726 laparoscopic surgeons. Surg Endosc 18(3):508–512

Supe AN, Kulkarni GV, Supe PA (2010) Ergonomics in laparoscopic surgery. J Minim Access Surg 6(2):31–36

Hodgson AJ, Person JG, Salcudean SE, Nagy AG (1999) The effects of physical constraints in laparoscopic surgery. Med Image Anal 3(3):275–283

Hart SG, Staveland LE (1988) Development of NASA-TLX (task load index): results of empirical and theoretical research. In: Hancock PA, Meshkati N (eds) Human mental workload. North Holland, Amsterdam, pp 1–46

Reid GB, Nygren TE (1988) The subjective workload assessment technique: a scaling procedure for measuring mental workload. In: Hancock PA, Meshkati N (eds) Human mental workload. North Holland, Amsterdam, pp 185–218

Vidulich MA, Tsang PS (1985) Assessing subjective workload assessment: a comparison of SWAT and the NASA-bipolar methods. In: Proceedings of the human factors society twenty-ninth annual meeting. Human Factors Society, Santa Monica (CA), pp 71–75

Vidulich MA, Tsang PS (1986) Techniques of subjective workload assessment: a comparison of SWAT and the NASA-bipolar methods. Ergonomics 29(11):1385–1398

Carswell CM, Clarke D, Seales WB (2005) Assessing mental workload during laparoscopic surgery. Surg Innov 12(1):80–90

Youssef Y, Lee G, Godinez C, Sutton E, Klein RV, George IM, Seagull FJ, Park A (2011) Laparoscopic cholecystectomy poses physical injury risk to surgeons: analysis of hand technique and standing position. Surg Endosc 25(7):2168–2174

Yurko YY, Scerbo MW, Prabhu AS, Acker CE, Stefanidis D (2010) Higher mental workload is associated with poorer laparoscopic performance as measured by the NASA-TLX tool. Simul Healthc 5(5):267–271

Stefanidis D, Wang F, Korndorffer JR Jr, Dunne JB, Scott DJ (2010) Robotic assistance improves intracorporeal suturing performance and safety in the operating room while decreasing operator workload. Surg Endosc 24(2):377–382

Foo JL, Martinez-Escobar M, Juhnke B, Cassidy K, Hisley K, Lobe T, Winer E (2013) Evaluating mental workload of two-dimensional and three-dimensional visualization for anatomical structure localization. J Laparoendosc Adv Surg Tech A 23(1):65–70

Carswell CM, Lio CH, Grant R, Klein MI, Clarke D, Seales WB, Strup S (2010) Hands-free administration of subjective workload scales: acceptability in a surgical training environment. Appl Ergon 42(1):138–145

Byrne AJ, Oliver M, Bodger O, Barnett WA, Williams D, Jones H, Murphy A (2010) Novel method of measuring the mental workload of anaesthetists during clinical practice. Br J Anaest 105(6):767–771

Hoonakker P, Carayon P, Gurses A, Brown R, McGuire K, Khunlertkit A, Walker JM (2011) Measuring workload of ICU nurses with a questionnaire survey: the NASA task load index (TLX). IIE Trans Healthc Syst Eng 1(2):131–143

Young G, Zavelina L, Hooper V (2008) Assessment of workload using NASA task load index in perianesthesia nursing. J Perianesth Nurs 23(2):102–110

Bridger RS, Brasher K (2011) Cognitive task demands, self control demands and the mental well-being of office workers. Ergonomics 54(9):830–839
Acknowledgements

Preliminary findings of this study were presented at the 14th Italian Congress of Neuroepidemiology, held in Milan, Italy, November 21–22, 2014. The authors thank Luca Vignatelli, MD, for his valuable suggestions in the reading of the data and the following surgeons who collaborated in the collection of cases: Andrea Valeri, MD, Andrea Rinnovati, MD, Bernardo Boffi, MD, Chiara Linari, MD, Silvia Nesi, MD, Alessandra Vegni, MD, Lapo Bencini, MD, Luis Jose Sanchez, MD, Marco Bernini, MD, Marco Farsi, MD, Massimo Calistri, MD, Nicola Antonacci, MD, and Silvia Aldrovandi, MD.
Copyright information

© 2019 Springer Nature Switzerland AG
About this paper
Cite this paper
Miranda, G. et al. (2019). Comparative Analysis of Subjective Workload in Laparoscopy and Open Surgery Using NASA-TLX. In: Bagnara, S., Tartaglia, R., Albolino, S., Alexander, T., Fujita, Y. (eds) Proceedings of the 20th Congress of the International Ergonomics Association (IEA 2018). IEA 2018. Advances in Intelligent Systems and Computing, vol 818. Springer, Cham. https://doi.org/10.1007/978-3-319-96098-2_11
DOI: https://doi.org/10.1007/978-3-319-96098-2_11

Published:

Publisher Name: Springer, Cham

Print ISBN: 978-3-319-96097-5

Online ISBN: 978-3-319-96098-2