Abstract

Augmented reality is a technology that can be used to deploy Problem Based Learning activities that immerse students into meaningful learning activities by overlaying digital information; such as audio, video, 3D simulations, etc., to the vision of the real world. This paper explores the integration of augmented reality based activities in web courses providers and proposes a communication flow between an augmented reality application and a web based learning course provider.
Keywords
Augmented reality

Problem based learning

E-learning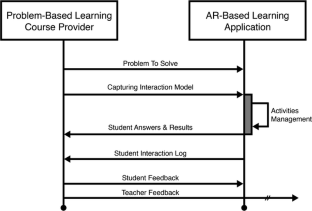 References
Azuma, R., Baillot, Y., Behringer, R., Feiner, S., Julier, S., MacIntyre, B.: Recent advances in augmented reality. IEEE Comput. Graphics Appl. 21(6), 34–47 (2001)

Cheng, K.H., Tsai, C.C.: Affordances of augmented reality in science learning: suggestions for future research. J. Sci. Educ. Technol. 22(4), 449–462 (2013)

Dunleavy, M., Dede, C., Mitchell, R.: Affordances and limitations of immersive participatory augmented reality simulations for teaching and learning. J. Sci. Educ. Technol. 18(1), 7–22 (2009)

Ibáñez, M.B., Di Serio, A., Villarán, D., Delgado-Kloos, C.: Experimenting with electromagnetism using augmented reality: impact on flow student experience and educational effectiveness. Comput. Educ. 71, 1–13 (2014)
Acknowledgements

This work was supported in part by the Spanish project EEE under Grant TIN2011-28308-C03-01 and the Spanish project eMadrid under the grant S2009/TIC-1650.
Rights and permissions

Open Access This chapter is licensed under the terms of the Creative Commons Attribution-NonCommercial 2.5 International License (http://creativecommons.org/licenses/by-nc/2.5/), which permits any noncommercial use, sharing, adaptation, distribution and reproduction in any medium or format, as long as you give appropriate credit to the original author(s) and the source, provide a link to the Creative Commons license and indicate if changes were made.

The images or other third party material in this chapter are included in the chapter's Creative Commons license, unless indicated otherwise in a credit line to the material. If material is not included in the chapter's Creative Commons license and your intended use is not permitted by statutory regulation or exceeds the permitted use, you will need to obtain permission directly from the copyright holder.
Copyright information

© 2015 Springer International Publishing Switzerland
About this paper
Cite this paper
Villarán, D., Ibáñez, M.B., Kloos, C.D. (2015). Augmented Reality-Based Simulations Embedded in Problem Based Learning Courses. In: Conole, G., Klobučar, T., Rensing, C., Konert, J., Lavoué, E. (eds) Design for Teaching and Learning in a Networked World. EC-TEL 2015. Lecture Notes in Computer Science(), vol 9307. Springer, Cham. https://doi.org/10.1007/978-3-319-24258-3_55
DOI: https://doi.org/10.1007/978-3-319-24258-3_55

Published:

Publisher Name: Springer, Cham

Print ISBN: 978-3-319-24257-6

Online ISBN: 978-3-319-24258-3

eBook Packages: Computer ScienceComputer Science (R0)