Mechanisms of Formation of Oxysterols: A General Survey
Part of the NATO ASI Series book series (NSSA, volume 189)
Abstract
Oxysterols, the simple oxidation products of the common sterols of biological membranes and tissues, are of current interest for their crucial role in the biosynthesis of other steroids and for their divers biological activities with implications of relevance to human health.l
-
4 On the one hand oxysterols include derivatives of cholesterol (cholest-5-en-3B-ol,
1
)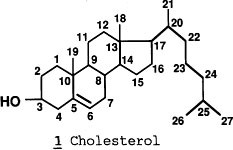 formed in the initial regulated enzymic steps directed to biosyntheses of bile acids and steroid hormones required for metabolism in mammals and are thus necessarily present in mammalian tissues. By contrast, oxysterols exhibit toxic manifestations in intact animals and in tissue and cultured cell bioassay systems and have been suggested as being agents that cause or exacerbate human chronic health disorders such as atherosclerosis and cancer. Also, oxysterols have been spectulatively implicated in the regulation of
de novo
sterol biosynthesis and metabolism. Each of these topics is of great interest, and there is a regular increase in efforts to examine these matters in depth. Together these points make a strong case for thorough understanding of what oxysterols are and how they are derived.
Keywords
Active Oxygen Species 
Sterol Biosynthesis 
Mixed Function Oxidase 
Cholesterol Oxide 
Singlet Oxygen Production 
These keywords were added by machine and not by the authors. This process is experimental and the keywords may be updated as the learning algorithm improves.
Copyright information
© Plenum Press, New York 1990