The Acute Respiratory Distress Syndrome: Diagnosis and Management
Abstract
Acute respiratory distress syndrome (ARDS) is characterized by a new acute onset of hypoxemia secondary to a pulmonary edema of non-cardiogenic origin, bilateral lung opacities and reduction in respiratory system compliance after an insult direct or indirect to lungs. Its first description was in 1970s, and then several shared definitions tried to describe this clinical entity; the last one, known as Berlin definition, brought an improvement in predictive ability for mortality.
In the present chapter, the diagnostic workup of the syndrome will be presented with particular attention to microbiological investigations which represent a milestone in the diagnostic process and to imaging techniques such as CT scan and lung ultrasound.
Despite the treatment is mainly based on supportive strategies, attention should be applied to assure adequate respiratory gas exchange while minimizing the risk of ventilator-induced lung injury (VILI) onset. Therefore will be described several therapeutic approaches to ARDS, including noninvasive mechanical ventilation (NIMV), high-flow nasal cannulas (HFNC) and invasive ventilation with particular emphasis to risks and benefits of mechanical ventilation, PEEP optimization and lung protective ventilation strategies. Rescue techniques, such as permissive hypercapnia, prone positioning, neuromuscular blockade, inhaled vasodilators, corticosteroids, recruitment maneuvers and extracorporeal life support, will also be reviewed.
Finally, the chapter will deal with the mechanical ventilation weaning process with particular emphasis on extrapulmonary factors such as neurologic, diaphragmatic or cardiovascular alterations which can lead to weaning failure.
Keywords
ARDS 
Lung CT scan 
Lung ultrasound 
Ventilator-induced lung injury 
Recruitment maneuver 
PEEP titration 
Protective ventilation 
Permissive hypercapnia 
Prone positioning 
Weaning process 
The first of the acute respiratory distress syndrome (ARDS) description was in 1821 by Laennec. Since that many and more accurate definitions followed. Nowadays almost 5% of hospitalized and mechanically ventilated patients present ARDS diagnostic criteria [
1
]. ARDS can be generally defined as a new acute onset of hypoxemia and bilateral opacities after an insult direct or indirect to the lungs [
2
,
3
,
4
]. In 1994 there was the first shared definition, and then, in 2001, an update known as "Berlin definition" was made by an expert panel of the European Society of Intensive Care Medicine [
4
]. According to this new definition, ARDS is an acute form of diffuse lung injury that happens in patients with predisposing factors, with:
Symptoms onset within 1 week of a known clinical insult or new or worsening respiratory symptoms

Bilateral opacities not fully explained by effusions, lobar/lung collapse, or nodules

Respiratory failure not fully explained by cardiac failure or fluid overload
This new definition brings a small, but very important, improvement in predictive ability for mortality (Area Under the Curve [AUC] 0.577) [5].
Recently it has been demonstrated that classifying ARDS severity at a standard level of positive end-expiratory pressure (PEEP) of 5 cmH2O allows a better alveolar edema and potential of lung recruitment estimation than using higher clinically set PEEP levels [6].
11.1

Diagnostic Evaluation

Main ARDS finding is the increased permeability of lung capillaries due to both alveolar epithelium and end vascular endothelium injuries. As consequence a protein-rich fluid accumulates into alveoli, cytokines are released, and a diffuse alveolar injury develops [7]. Alveolar epithelium is composed of type I and II pneumocytes. Injury of type I cells leads to liquid accumulation into alveoli and to a reduction in clearance ability, while injury of type II cells leads to surfactant reduction, alveolar collapse, and lung compliance decrease [5]. ARDS pathological pathway is described as a three-phase process: inflammatory, proliferative, and fibrotic phase with each one that could be stopped or complicated by worsening of patient's symptoms or other complications. Common ARDS risk factors are pneumonia, sepsis, inhalation/aspiration injury, trauma, pancreatitis, burns, non-cardiogenic shock, drowning, and transfusion-related acute lung injury (TRALI) [8]. However, pneumonia is the leading cause of ARDS, so microbiological investigations aiming to pathogen's identification are milestones in the diagnostic process. Community-acquired pneumonia is still the leading cause of ARDS in case of pneumonia etiology [9], while a recent study found that viral pneumonia is becoming more frequent going from 5% to 10% [10, 11, 12] to 36%. Among viral pneumonia, respiratory virus is predominant [13]; in this case, the first-line diagnostic test is polymerase chain reaction (PCR) test on bronchoalveolar lavage (BAL) [14]. Less frequent ARDS causes are represented by CMV and HSV infections [12, 15] and by parasites (such as Toxoplasma gondii, Aspergillus fumigatus, Pneumocystis jirovecii) mainly present in immunocompromised patients.

Early and correct treatment of the triggering cause appears to be decisive in improving patient's outcome; thus a fast and precise etiological diagnosis is very useful. It is therefore important to first investigate the possible infectious causes by performing blood cultures, urine samples for the detection of Legionella pneumophila's and Streptococcus pneumoniae's antigens, serological tests for the research of Mycoplasma pneumoniae and Chlamydia pneumoniae, and microbiological samples of the respiratory system, preferably performed with BAL [16].

However, it is worth knowing that ARDS without identifiable risk factor have a prevalence of 7.5% [

17

]. In this scenario the cytological analysis on BAL sample, chest CT scan, and an immunological evaluation is useful while looking for less common causes. If neither radiological CT images nor alveolar bronchoscopy cytology is decisive, a diagnostic open lung biopsy (OLB) may be done. OLB has also a role in the evaluation of histological lung characteristics evolution, helping the clinician in the decision toward the use or not of corticosteroids [

15

]. Figure

11.1

represents the diagnostic flowchart in ARDS. Lung CT scan is frequently used to evaluate lung morphology, which in ARDS is characterized by consolidated regions (homogeneous areas with increased density without identifiable vessels or bronchi), ground glass regions (areas with increased density but with still visible vessels), and normally aerated regions. Since lungs are characterized by diffuse edema, with the superimposed pressure causing atelectasis and collapse of dependent lung zones, consolidated areas are typically located in dependent lung regions [

18

]. Lung CT scan is also helpful in lung potential of recruitment evaluation, i.e., the proportion of consolidated lung that regain aeration after an increase in alveolar pressures. In ARDS patients, potential of recruitment could range between 0% and 70%. Moreover, lung CT scan could help clinician in identifying ARDS etiology; in fact, in pulmonary ARDS consolidated and ground glass areas are similar, while in extrapulmonary ARDS ground glass areas are predominant [

19

]. Next to CT scan, ultrasound of lung parenchyma, pleura, and air may be helpful in diagnostic evaluation, clinical management, and monitoring of ARDS patients [

20

,

21

,

22

,

23

]. In respiratory failure patients, lung ultrasound is characterized mainly by B-line (hyperechogenic vertical artifact line that starts from pleura) [

21

], while the B-pattern composed of three or more B-lines appears to be correlated with an interstitial pathological process [

24

]. A bilateral homogeneous B-pattern is not decisive between ARDS and cardiogenic edema and deserves further analysis [

25

], while bilateral, not-homogeneous B-pattern plus C-pattern composed of consolidated areas and pleura abnormalities are suggestive of ARDS etiology [

26

]. Figure

11.2

shows possible lung ultrasound patterns.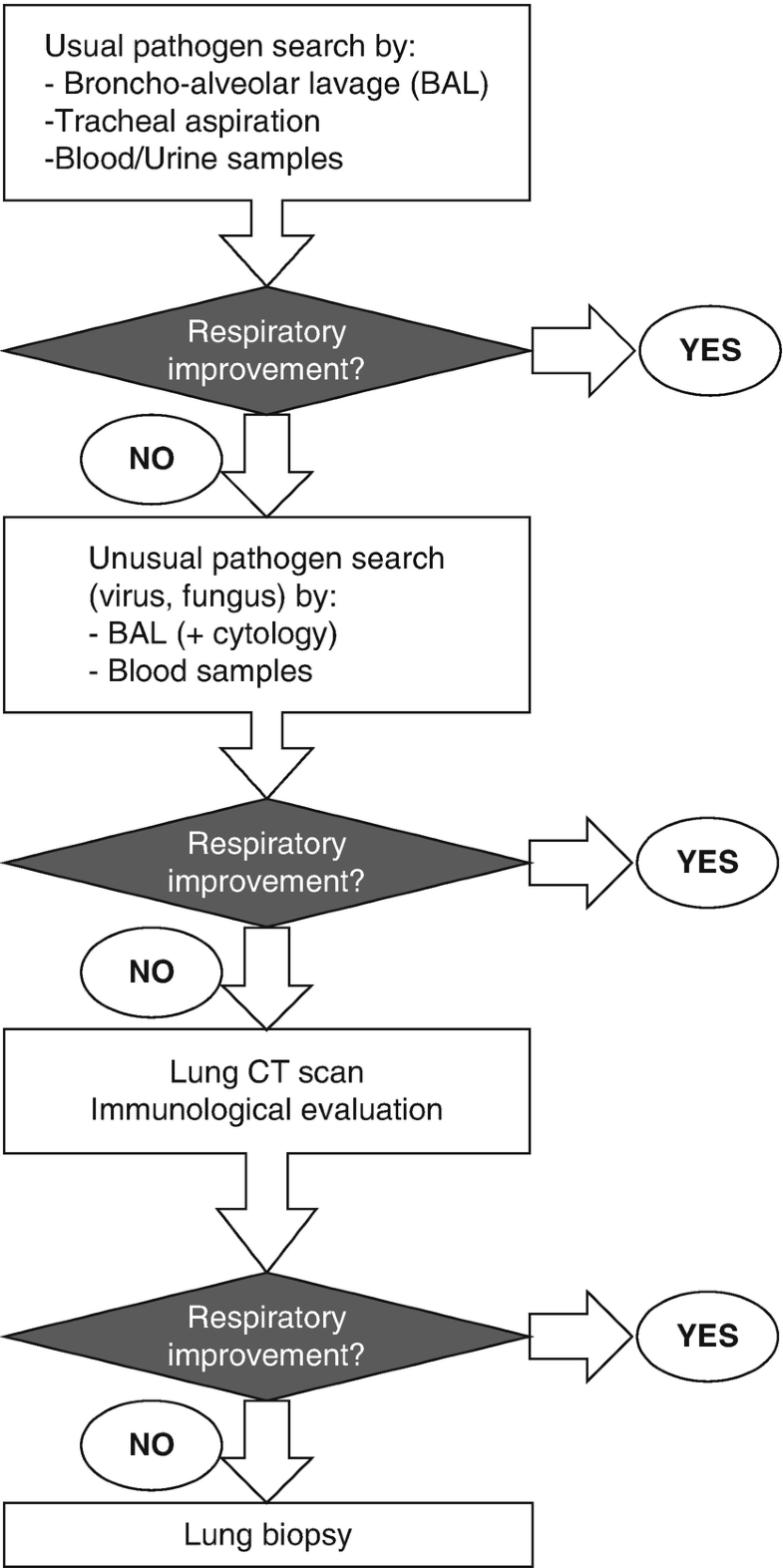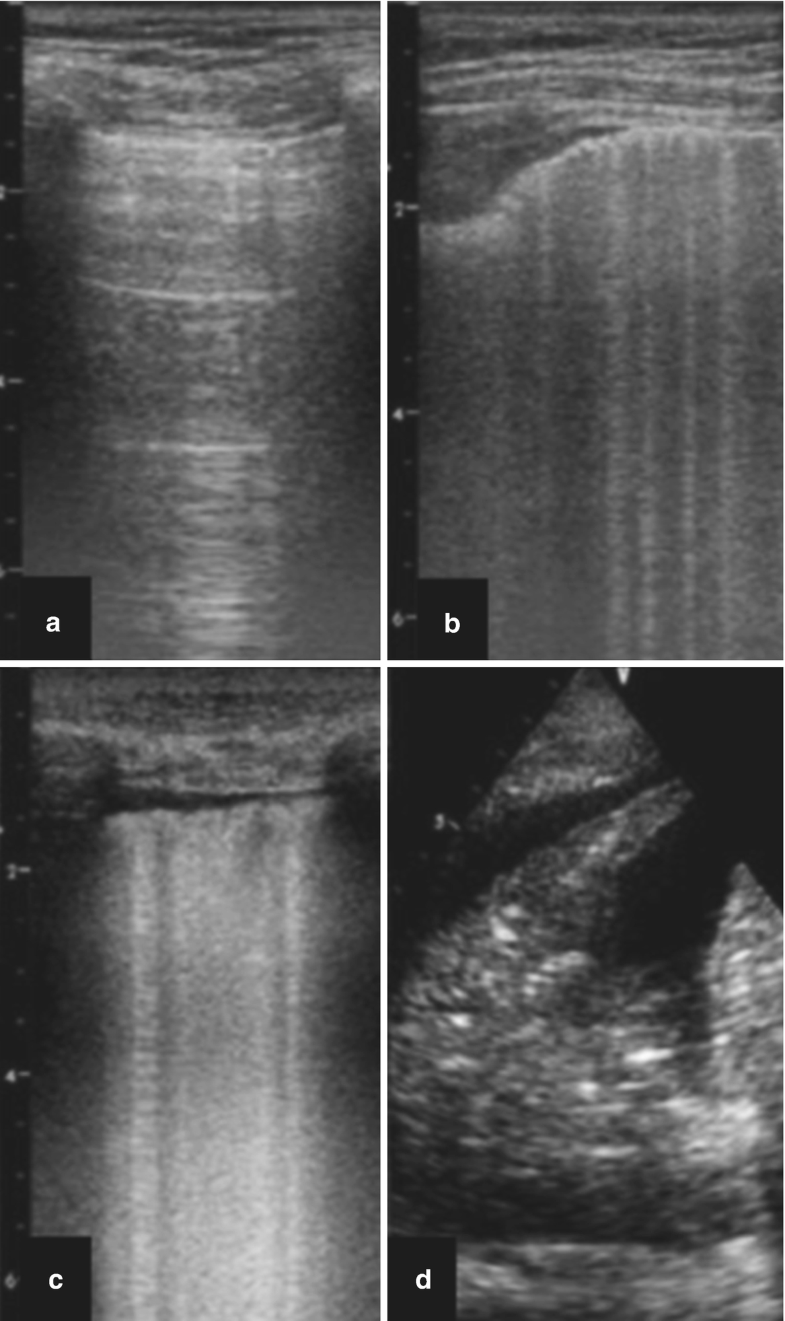 11.2

Treatment

The acute respiratory failure management includes early recognition of the triggering cause and timely targeted treatment. Besides that, supportive treatments must be started to assure adequate respiratory gas exchange while minimizing the risk of ventilator-induced lung injury (VILI) onset. Actual knowledge suggest that in most severe ARDS patients, spontaneous respiratory triggering could be dangerous; thus the spontaneous breathing approach should be used only in mild and moderate ARDS patients. Different therapeutic targets should be met using different pharmacological and non-pharmacological approaches and different mechanical ventilation modalities.
11.3

Weaning from Mechanical Ventilation

It is of crucial importance the choice of the right moment to start the weaning from mechanical ventilation and to extubate the patient: any delay in extubation increases the risk to develop ventilator-associated pneumonia [64]; while a premature extubation can lead to a prolonged stay in ICU [65] and/or to a new need of invasive respiratory support. The weaning from mechanical ventilation is considered difficult in the 20–30% of mechanical-ventilated patients: the failure of the weaning process is defined as the inability to overcome a spontaneous breathing test or as the need for re-intubation within the first 48 hours from the endotracheal tube removal [66]. The causes of weaning failure are complex and determined by different factors; the main ones are listed below.
11.4

Conclusions

Still today, ARDS represents a syndrome with a globally high incidence and a high mortality rate that varies between 40% and 60%. The use of a systematic diagnostic approach can help physicians to rapidly identify the triggering cause of the syndrome, making it possible to quickly start with the right therapy. Chest imaging, mainly represented by CT scan, is of primary relevance both in the diagnostic pathway and in the evaluation of lung parenchyma recruitability. The use of lung ultrasound is gaining a pivotal role in the daily bedside evaluation of the patient, thanks to its role in the differential diagnosis and to the possibility to evaluate right and left ventricular function. The supportive treatment guaranteed to patients with respiratory distress needs to be oriented to the maintenance of vital functions, to the improvement of gas exchange and to the reduction of lung injury risk.

In order to avoid ventilator-induced lung injury and to set a lung protective ventilation, it is useful to monitor functional residual capacity (FRC) and transpulmonary pressure.

In the most severe cases, it can be useful to use neuromuscular-blocking drugs and prone position so as to improve ventilation/perfusion ratio. Another challenge for physicians seems to be the weaning from mechanical ventilation: the aim is to exclude all the alterations that may delay or make fail the respiratory weaning. The latest guidelines written by the American Thoracic Society and the American College of Chest Physicians are useful to treat the patient in this crucial phase.
Copyright information
© Springer Nature Switzerland AG 2019