Arms Control and Disarmament
50 Years of Experience in Nuclear Education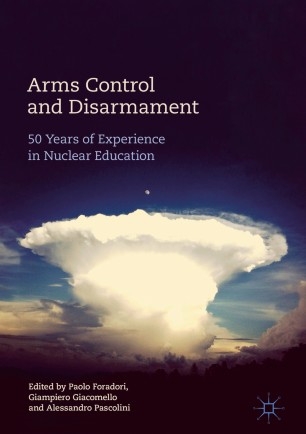 About this book
Introduction
"Few volumes on nuclear weapons and nuclear policy can match the quality of the ISODARCO 50th Anniversary collection, which excels in the authors' thoughtfulness and the range and significance of the issues they clarify."
- Bruce D. Larkin, Emeritus Professor of Politics, University of California at Santa Cruz, USA
"This interesting volume brings together a stellar cast of international experts on nuclear policy and arms control. Their contributions echo the history of the nuclear age over more than five decades and display the evolution of thinking about the dangers and the imperatives associated with nuclear weapons. This collection also reflects the unique role that ISODARCO has played in the field for more than half a century."
- Steven E. Miller, Director, International Security Program, Belfer Center for Science and International Affairs, Harvard Kennedy School
"This collection of essays featuring many of the leading thinkers on nuclear disarmament, arms control and verification should be essential reading for both practitioners and researchers in the field."
- Tariq Rauf, former Head of Verification and Security Policy Coordination, International Atomic Energy Agency
This volume is a collection of contributions by world-leading experts in the nuclear field who participated in the educational activities of the International School on Disarmament and Research on Conflicts (ISODARCO). It features some of most prominent scholars and practitioners who contributed in fundamental ways to shaping policies, strategies, theories, scholarly studies, and debates in the field of non-proliferation and disarmament. On the occasion of ISODARCO's 50th anniversary this book revisits a selection of contributions that capture the pressing issues during the five decades of continuous engagement in disarmament and non-proliferation education.
Keywords
Nuclear education
Education in arms control
Education in nuclear disarmament
Non-proliferation
Non-Proliferation Treaty
Global security
Anti-Ballistic Missiles
International relations
Game theory
MIRV
Nuclear weapons
Strategic Arms Limitation
Military Strategic Concepts
Nuclear Arms Control
Cold War
Europe
America
Russia
Fission Fuel Cycles
Nuclear First-Use Option
Bibliographic information