Attentive Turkers: MTurk participants perform better on online attention checks than do subject pool participants
Abstract
Participant attentiveness is a concern for many researchers using Amazon's Mechanical Turk (MTurk). Although studies comparing the attentiveness of participants on MTurk versus traditional subject pool samples have provided mixed support for this concern, attention check questions and other methods of ensuring participant attention have become prolific in MTurk studies. Because MTurk is a population that learns, we hypothesized that MTurkers would be more attentive to instructions than are traditional subject pool samples. In three online studies, participants from MTurk and collegiate populations participated in a task that included a measure of attentiveness to instructions (an instructional manipulation check: IMC). In all studies, MTurkers were more attentive to the instructions than were college students, even on novel IMCs (Studies 2 and 3), and MTurkers showed larger effects in response to a minute text manipulation. These results have implications for the sustainable use of MTurk samples for social science research and for the conclusions drawn from research with MTurk and college subject pool samples.
Keywords
Instructional manipulation checks 
Participant attentiveness 
MTurk 
College students 
With the increasing use of Amazon's Mechanical Turk (MTurk) workers in social science research (for reviews, see Mason & Suri, 2012; Paolacci & Chandler, 2014), participant attentiveness has received considerable attention. Although typical undergraduate subject populations are often motivated to participate in studies because of an interest in psychology, MTurk participants are unsupervised and anonymous, complete surveys in unknown locations, and are motivated by financial incentives. Because of these differences, researchers often worry that MTurk participants are inattentive to instructions and provide poor-quality data (Chandler, Mueller, & Paolacci, 2014).
Indeed, some research suggests that MTurk participants are less attentive to instructions than participants from traditional subject pools. MTurk participants had lower pass rates on instructional manipulation checks (IMCs—i.e., trick questions designed to assess participants' attention to instructions; Oppenheimer, Meyvis, & Davidenko, 2009) than did supervised college participants in one experiment (Goodman, Cryder, & Cheema, 2013, Study 2). Furthermore, MTurkers may have issues with fully reading instructions (Crump, McDonnell, & Gureckis, 2013, Studies 8, 9, and 10; Kapelner & Chandler, 2010), and MTurkers have self-reported engaging in distractions such as cell phones (Clifford & Jerit, 2014) and multitasking while completing surveys (Chandler et al., 2014). However, other studies have suggested that MTurkers are just as attentive to instructions as traditional subject pools. For instance, MTurk participants' performance on an IMC did not differ from that of a well-paid supervised community sample in another experiment (Goodman et al., 2013, Study 1). Furthermore, MTurk participants pass attention check questions at rates similar to those of college samples and Internet forum samples (Paolacci, Chandler, & Ipeirotis, 2010), and pass factual manipulation check questions at higher rates than do other Internet samples (Berinsky, Huber, & Lenz, 2012).
Finally, the data from a recent collaborative psychology study bear on this issue. Klein et al. (
2014
) used Oppenheimer et al.'s (
2009
) IMC in a controlled replication study that collected data from multiple sites, including several North American colleges and MTurk. Importantly, at some college sites, subject pool participants completed the study online. Figure 
1
shows the IMC pass rates (and 95% confidence intervals) for each college site that completed the study online and for MTurkers. As is shown, MTurkers (94% pass) passed the IMC at higher rates than did those at any of the four college sites completing the same online survey.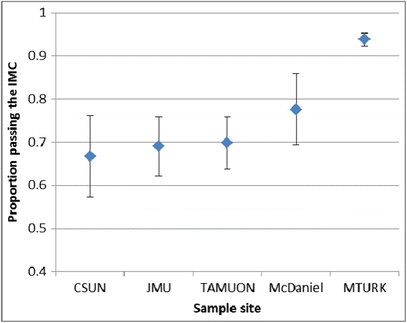 Furthermore, Klein et al. (
2014
) also ran the study at multiple college sites where participants completed the same study in the lab under researcher supervision. Figure 
2
displays the IMC pass rates (and 95% confidence intervals) for each North American college site that completed the study in the lab and for MTurkers, who completed it online. As is shown, MTurkers passed the IMC at significantly higher rates than did supervised undergraduates at 15 out of the 19 college sites. Only supervised undergraduates at Occidental College (Oxy: 89% pass), the University of Florida (UFL: 87% pass), the University of Virginia (UVA: 90% pass), and Washington and Lee University (WL: 88% pass) passed the IMC at rates comparable to the unsupervised MTurkers. Undergraduates under researcher supervision at the remaining 15 sites showed markedly lower attentiveness. Thus, although some studies have suggested that MTurkers are less attentive than traditional samples, other studies and newer data suggest the opposite. Given these mixed results, the present research was designed to bear upon this debate.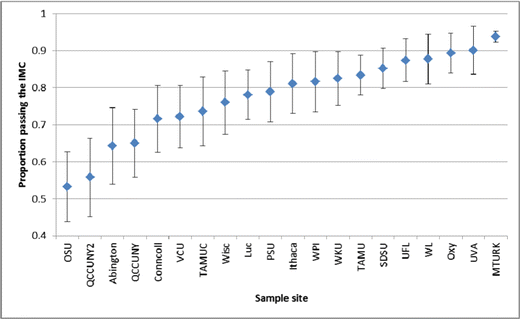 One potential reason for these discrepancies across studies may lie in the fact that MTurk is a nonreplenishing subject pool that learns over time (Chandler et al., 2014). As researchers have debated over MTurkers' attentiveness in the pages of journal articles, researchers using MTurk samples have taken note and instituted measures to prevent potentially inattentive participants on MTurk from introducing error into their studies. The IMC was introduced as a measure of participant attentiveness and a ready-made attention filter (Oppenheimer et al., 2009; but also see Kittur, Chi, & Suh, 2008). Since then, IMCs have proliferated in MTurk studies and have been recommended in MTurk methods articles (Goodman et al., 2013; Paolacci et al., 2010). Researchers have even used performance on IMCs and other attention checks as a criterion for worker compensation (Chandler et al., 2014). With attention to instructions being so incentivized on MTurk in recent years, experienced MTurk participants may have learned to pay close attention to minor aspects of the instructions and may pass IMCs at higher rates than before. Recent research has suggested that this is indeed the case; MTurkers with more completed human intelligence tasks (HITs) and higher HIT acceptance ratios (high-reputation workers) are more likely to pass IMCs and are more attentive in various tasks (Peer, Vosgerau, & Acquisti, 2014).
Furthermore, over the years, research conducted on MTurk has begun to deliberately sample only high-reputation MTurkers. Recent articles have suggested restricting MTurk samples to include only high-reputation workers (e.g., Peer et al., 2014). Furthermore, highly influential MTurk-related methods articles have set a precedent for such restrictions as a way to ease concern over data quality (Berinsky et al., 2012; Goodman et al., 2013; Paolacci et al., 2010). Thus, whereas some MTurkers with low reputations may be less attentive to instructions, studies run in the modern MTurk paradigm would likely restrict participation to high-reputation samples and would not include low-reputation workers.
On the other hand, traditional samples for psychological research (undergraduates) have an entirely different experience. Most participate in tasks as a requirement for passing an introductory psychology course and have little time to learn about the norms of tasks and surveys. There are few incentives to pay attention to the task and instructions, which is why researchers often bring participants into a laboratory setting to attempt to guarantee their attention. For these reasons, we may begin to see MTurk populations overtaking traditional subject pool populations in attentiveness to instructions.
Furthermore, whereas much of the prior research has compared MTurk participants to supervised subject pool participants, no one has compared MTurk participants to unsupervised subject pool participants. With MTurkers being unsupervised and subject to distractions and subject poolers being supervised and bereft of distractions, differences in attentiveness between these populations may be attributable to differences in their situations. With modern software, researchers can allow subject pool participants to participate in online studies in much the same way as MTurkers—unsupervised and on a personal computer. In this uncontrolled environment, the same distractions that presumably diminish the attention of MTurk participants may also adversely affect subject pool participants. Therefore, a comparison of online subject pool participants to MTurkers bears on questions of theoretical and applied interest: First, do attention differences persist when situations are allowed to freely vary for both populations? Second, how attentive are online, unsupervised subject pool participants?
Notes
Author Note
We thank Aashna Sunderrajan and Madhuri Natarajan for assisting with Study 1, and the UMich OLab for their valuable insight.
Copyright information
© Psychonomic Society, Inc. 2015