Abstract
The tensile fatigue behaviour of ultra-high performance fibre reinforced concrete (UHPFRC) under constant amplitude fatigue cycles is presented. Three series of uniaxial tensile fatigue tests up to a maximum of 10 million cycles were conducted with the objective to determine the endurance limit of UHPFRC that was supposed to exist for this material. The fatigue tests reveal that an endurance limit exists in all three domains of UHPFRC tensile behaviour at S-ratios ranging from 0.70 to 0.45 with S being the ratio of the maximum fatigue stress to the elastic limit strength of UHPFRC. Rather large variation in local specimen deformations indicates significant stress and deformation redistribution capacity of the UHPFRC bulk material enhancing the fatigue behaviour. The fatigue fracture surface of UHPFRC shows features of the fatigue fracture surfaces of steel, i.e. fatigue crack propagation is identified by a smooth surface while final fracture leads to rather rough surface. Various fatigue damaging mechanisms due to fretting and grinding as well as tribocorrosion are identified.
Access options
Buy single article
Instant access to the full article PDF.
USD 39.95
Price includes VAT (USA)
Tax calculation will be finalised during checkout.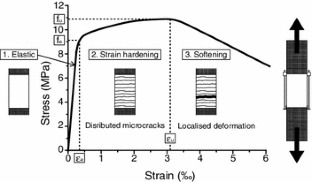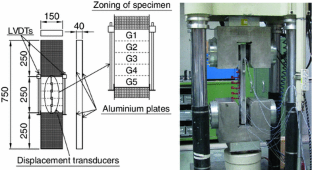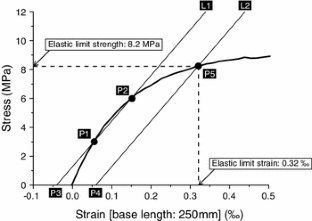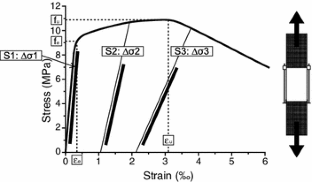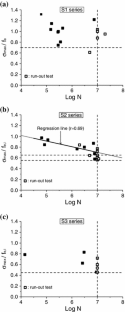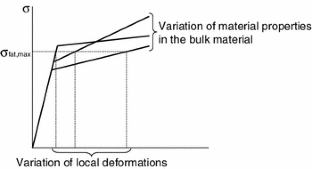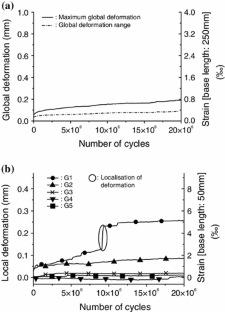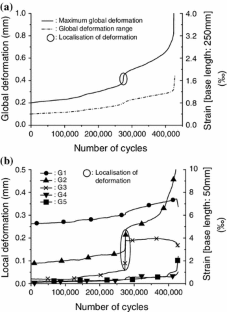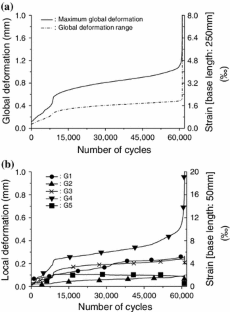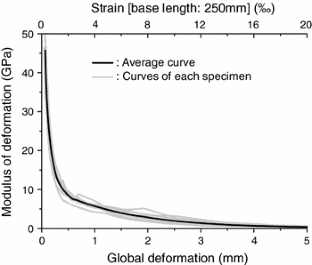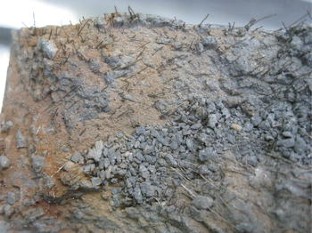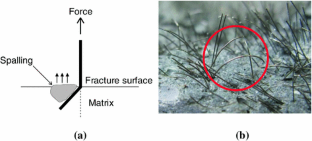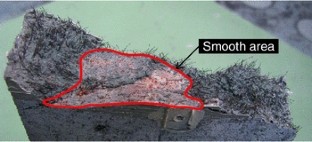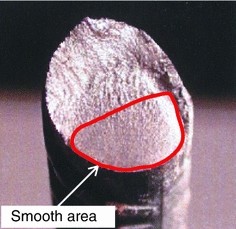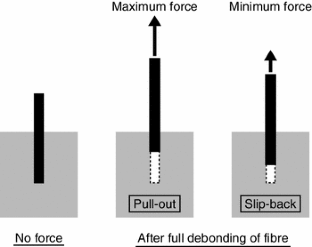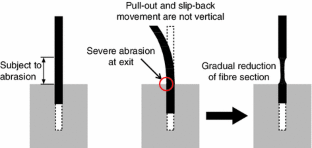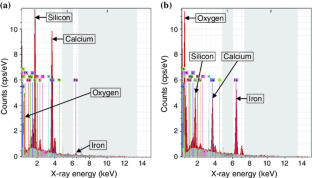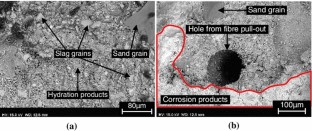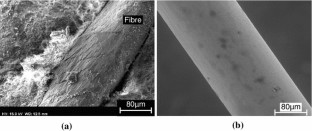 References
1.

Denarié E, Brühwiler E (2006) Structural rehabilitations with ultra high performance fibre reinforced concretes. Int J Restor Build Monum 12(5 and 6): 453–465

2.

Brühwiler E, Denarié E (2008) Rehabilitation of concrete structures using ultra-high performance fibre reinforced concrete. In: Fehling E, Schmidt M, Stürwald S (eds) Proceedings of UHPC-2008: the second international symposium on ultra high performance concrete, Kassel, pp 895–902

3.

Brühwiler E (2009) Rehabilitation of bridges using ultra-high performance fiber reinforced concrete. In: Proceedings of 5th New York City Bridge Conference, New York

4.

Brühwiler E (2010) Ultra-high performance fiber reinforced concrete improves concrete structures. Structural concrete in Switzerland, Swiss national group of the international federation for structural concrete, pp 145–149

5.

Lappa ES, René Braam C, Walraven JC, (2006) Flexural fatigue of high and ultra high strength fiber reinforced concrete. In: Fischer G, Li VC (eds) Proceedings of international RILEM workshop on high performance fiber reinforced cementitious composites in structural applications, pp 509–518

6.

Behloul M, Chanvillard G, Pimienta P, (2005) Fatigue flexural behavior of pre-cracked specimens of special UHPFRC. In: Proceedings of seventh international symposium on the utilization of high-strength/high-performance concrete, ACI Symposium Publication 228, Washington, DC, pp 1253–1268

7.

Farhat FA, Nicolaides D, Kanellopoulos A, Karihaloo BL (2005) High performance fibre-reinforced cementitious composite (CARDIFRC)—performance and application to retrofitting. Eng Fract Mech 74(1–2):151–167

8.

Parant E, Rossi P, Boulay C (2007) Fatigue behaviour of a multi-scale composite. Cem Concr Res 37:264–269

9.

Fitik B, Niedermeier R, Zilch K (2009) Fatigue behaviour of ultra high performance concrete under cyclic stress reversal loading. In: Denton S, Clark G (eds) Proceedings of the 11th annual international fib symposium—Concrete: 21st Century Superhero, London

10.

Fitik B, Niedermeier R, Zilch K (2010) Fatigue behaviour of ultra-high performance concrete under cyclic stress reversal loading. In: Proceedings of third international fib congress incorporating the PCI annual convention and bridge conference, Washington, DC, pp 5393–5402

11.

Cornelissen HAW (1984) Fatigue failure of concrete in tension. Heron 29(4):1–68

12.

Sadananda K, Vasudevan AK, Phan N (2007) Analysis of endurance limits under very high cycle fatigue using a unified damage approach. Int J Fatigue 29:2060–2071

13.

Wuest J (2007) Comportement structural des bétons de fibres ultra performants en traction dans des éléments composé. Doctoral thesis, Ecole Polytechnique Fédérale de Lausanne

14.

Oesterlee C, Sadouki H, Brühwiler E, (2008) Structural analysis of a composite bridge girder combining UHPFRC and reinforced concrete. In: Fehling E, Schmidt M, Stürwald S (eds) Proceedings of UHPC-2008: the second international symposium on ultra high performance concrete, Kassel, 05–07 March 2008, pp 647–654

15.

Habel K (2004) Structural behaviour of elements combining ultra-high performance reinforced concretes (UHPFRC) and reinforced concrete. Doctoral thesis, Ecole Polytechnique Fédérale de Lausanne

16.

ASM Handbook Committee (1987) ASM handbook Volume 12: Fractography, ASM International, Materials Park

17.

Brandt AM (1985) On the optimal direction of short metal fibres in brittle matrix composites. J Mater Sci 20(11):3831–3841

18.

Li VC, Backer S (1990) Effect of inclining angle, bundling and surface treatment on synthetic fibre pull-out from a cement matrix. Composites 21(2):132–140

19.

Anderson TL (2005) Fracture mechanics: fundamentals and applications, 3rd edn, CRC Press, Boca Raton

20.

Johansson U (2004) Fatigue tests and analysis of reinforced concrete bridge deck models. Licentiate thesis, Royal Institute of Technology, Sweden

21.

Zhang J, Stang H, Li VC (2001) Crack bridging model for fibre reinforced concrete under fatigue tension. Int J Fatigue 23(8):655–670

22.

ASM Handbook Committee (1987) ASM Handbook Volume 13: Corrosion, ASM International, Materials Park

23.

Landolt D (2007) Corrosion and surface chemistry of metals, EPFL Press, Lausanne

24.

Schijve J (2009) Fatigue of structures and materials, Springer, Berlin
About this article
Cite this article
Makita, T., Brühwiler, E. Tensile fatigue behaviour of ultra-high performance fibre reinforced concrete (UHPFRC). Mater Struct 47, 475–491 (2014). https://doi.org/10.1617/s11527-013-0073-x
Received:

Accepted:

Published:

Issue Date:
Keywords
UHPFRC

Tensile fatigue

Endurance limit

Fatigue deformation growth

Fractography

Determination of elastic limit strength