Abstract
Background
Timeliness of care is emerging as a quality indicator for breast cancer care. We sought to evaluate the impact of surgical treatment type on time to adjuvant chemotherapy and impact of treatment delay on survival.
Methods
Patients with stage I–III breast cancer treated with both surgery and adjuvant chemotherapy from 2010 to 2014 were identified from the National Cancer Database (NCDB). Delay in treatment was defined as > 120 days from diagnosis to chemotherapy. Multivariable analysis was performed to assess factors associated with delay in treatment and the effect of treatment delay on overall survival.
Results
Of 172,043 patients identified, 89.5% initiated chemotherapy within 120 days of diagnosis. Median time from diagnosis to surgery was shorter in patients undergoing breast conservation (25 days) than mastectomy (29 days, p < 0.001) and within mastectomy patients was shorter for mastectomy without reconstruction (26 versus 35 days, p < 0.001). Time from diagnosis to surgery showed larger differences between surgical groups than time from surgery to chemotherapy. On multivariable analysis of mastectomy patients, reconstruction remained significantly associated with delay to chemotherapy [odds ratio (OR) 1.7, p < 0.001]. For all patients regardless of type of surgery, after adjusting for patient, clinical, and treatment factors, delay of > 120 days from diagnosis to chemotherapy was associated with worse overall survival [hazard ratio (HR) 1.29, p < 0.001].
Conclusions
Initiation of chemotherapy greater than 120 days after diagnosis was associated with poorer overall survival. Time interval from diagnosis to surgery had the greatest impact on time from diagnosis to chemotherapy, with reconstruction resulting in the greatest delay.
This is a preview of subscription content, log in to check access.
Access options
Buy single article
Instant access to the full article PDF.
US$ 39.95
Tax calculation will be finalised during checkout.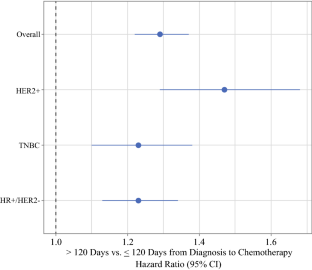 References
1.

Williams SC, Schmaltz SP, Morton DJ, Koss RG, Loeb JM. Quality of care in U.S. hospitals as reflected by standardized measures, 2002–2004. N Engl J Med. 2005; 353:255–64.

2.

Lindenauer PK, Remus D, Roman S, Rothberg MB, Benjamin EM, Ma A, Bratzler DW. Public reporting and pay for performance in hospital quality improvement. N Engl J Med. 2007; 356:486–96.

3.

Perkins C, Balma D, Garcia R; Members of the Consensus Group; Susan G. Komen for the Cure. Why current breast pathology practices must be evaluated. A Susan G. Komen for the Cure white paper: June 2006. Breast J. 2007; 13:443–7.

4.

Buyske J. For the protection of the public and the good of the specialty: maintenance of certification. Arch Surg. 2009; 144:101–3.

5.

Kaufman CS, Shockney L, Rabinowitz B, et al. National Quality Measures for Breast Centers (NQMBC): a robust quality tool: breast center quality measures. Ann Surg Oncol. 2010; 17:377–85.

6.

Del Turco MR, Ponti A, Bick U, et al. Quality indicators in breast cancer care. Eur J Cancer. 2010; 46:2344–56.

7.

Desch CE, McNiff KK, Schneider EC, et al. American Society of Clinical Oncology/National Comprehensive Cancer Network quality measures. J Clin Oncol. 2008; 26:3631–7.

8.

Jara Sánchez C, Ruiz A, Martín M, et al. Influence of timing of initiation of adjuvant chemotherapy over survival in breast cancer: a negative outcome study by the Spanish Breast Cancer Research Group (GEICAM). Breast Cancer Res Treat. 2007; 101:215–23.

9.

Cold S, Du ̈ring M, Ewertz M, Knoop A, Moller S. Does timing of adjuvant chemotherapy influence the prognosis after early breast cancer? Results of the Danish Breast Cancer Cooperative Group (DBCG). Br J Cancer. 2005; 93:627–32.

10.

Brazda A, Estroff J, Euhus D, et al. Delays in time to treatment and survival impact in breast cancer. Ann Surg Oncol. 2010; 17 Suppl 3:291–6.

11.

Comber H, Cronin DP, Deady S, Lorcain PO, Riordan P. Delays in treatment in the cancer services: impact on cancer stage and survival. Ir Med J. 2005; 98:238–9.

12.

Colleoni M, Bonetti M, Coates AS, et al. Early start of adjuvant chemotherapy may improve treatment outcome for premenopausal breast cancer patients with tumors not expressing estrogen receptors. The International Breast Cancer Study Group. J Clin Oncol. 2000; 18:584–90.

13.

Hershman DL, Wang X, McBride R, Jacobson JS, Grann VR, Neugut AL. Delay of adjuvant chemotherapy initiation following breast cancer surgery among elderly women. Breast Cancer Res Treat. 2006; 99:313–21.

14.

Lohrisch C, Paltiel C, Gelmon K, Speers C, Taylor S, Barnett J, Olivoto IA. Impact on survival of time from definitive surgery to initiation of adjuvant chemotherapy for early-stage breast cancer. J Clin Oncol. 2006; 24:4888–94.

15.

Bleicher RJ, Ruth K, Sigurdson ER, et al. Time to surgery and breast cancer survival in the United States. JAMA Oncol. 2016; 2:330–9.

16.

Vandergrift JL, Niland JC, Theriault RL, et al. Time to adjuvant chemotherapy for breast cancer in National Comprehensive Cancer Network institutions. J Natl Cancer Inst. 2013; 105:104–12.

17.

Gagliato Dde M, Gonzalez-Angulo AM, LeiX, et al. Clinical impact of delaying initiation of adjuvant chemotherapy in patients with breast cancer. J Clin Oncol. 2014; 32:735–44.

18.

Chavez-MacGregor M, Clarke CA, Lichtensztajn DY, Giordano SH. Delayed initiation of adjuvant chemotherapy among patients with breast cancer. JAMA Oncol. 2015; 2:322–9.

19.

Edge SBBD, Compton CC, Fritz AG, Greene FL, Trotti A, ed. AJCC Cancer Staging Manual.7th ed. New York, NY: Springer; 2010.

20.

Raval MV, Bilimoria KY, Stewart AK, Bentrem DJ, Ko CY. Using the NCDB for cancer care improvement: an introduction to available quality assessment tools. J Surg Oncol. 2009; 99:488–90.

21.

Cole, S. R. and Hernán, M. A. Adjusted survival curves with inverse probability weights. Comput Methods Prog Biomed. 2004; 75:45–49.
Ethics declarations
Disclosures
The Mayo Clinic Robert D. and Patricia E. Kern Center for the Science of Health Care Delivery provides salary support for Dr. Habermann, Ms. Hoskin, and Ms. Day. No external funding was used. The National Cancer Data Base (NCDB) is a joint project of the Commission on Cancer (CoC) of the American College of Surgeons and the American Cancer Society. The CoC's NCDB and the hospitals participating in the CoC NCDB are the source of the deidentified data used herein; they have not verified and are not responsible for the statistical validity of the data analysis or the conclusions derived by the authors.
Additional information
Publisher's Note
Springer Nature remains neutral with regard to jurisdictional claims in published maps and institutional affiliations.
Electronic supplementary material
Below is the link to the electronic supplementary material.
About this article
Cite this article
Kupstas, A.R., Hoskin, T.L., Day, C.N. et al. Effect of Surgery Type on Time to Adjuvant Chemotherapy and Impact of Delay on Breast Cancer Survival: A National Cancer Database Analysis. Ann Surg Oncol 26, 3240–3249 (2019). https://doi.org/10.1245/s10434-019-07566-7
Received:

Published:

Issue Date: