Abstract
Background
Historically, multiple ipsilateral breast cancer (MIBC) has been a contraindication to breast-conserving therapy (BCT). We report the feasibility of BCT in MIBC from the ACOSOG Z11102 trial [Alliance], a single arm noninferiority trial of BCT for women with two or three sites of malignancy in the ipsilateral breast.
Methods
Women who enrolled preoperatively in ACOSOG Z11102 were evaluated for conversion to mastectomy and need for reoperation to obtain negative margins. Characteristics of women who successfully underwent BCT and those who converted to mastectomy were compared. Factors were examined for association with the need for margin reexcision.
Results
Of 198 patients enrolled preoperatively, 190 (96%) had 2 foci of disease. Median size of the largest tumor focus was 1.5 (range 0.1–7.0) cm; 49 patients (24.8%) had positive nodes. There were 14 women who underwent mastectomy due to positive margins, resulting in a conversion to mastectomy rate of 7.1% (95% confidence interval [CI] 3.9–10.6%). Of 184 patients who successfully completed BCT, 134 completed this in a single operation. Multivariable logistic regression analysis did not identify any factors significantly associated with conversion to mastectomy or need for margin reexcision.
Conclusions
Breast conservation is feasible in MIBC with 67.6% of patients achieving a margin-negative excision in a single operation and 7.1% of patients requiring conversion to mastectomy due to positive margins. No characteristic was identified that significantly altered the risk of conversion to mastectomy or need for reexcision.
ClinicalTrials.gov Identifier
NCT01556243.
Access options
Buy single article
Instant access to the full article PDF.
USD 39.95
Price includes VAT (USA)
Tax calculation will be finalised during checkout.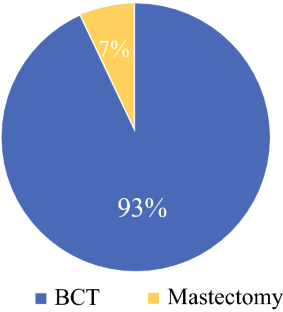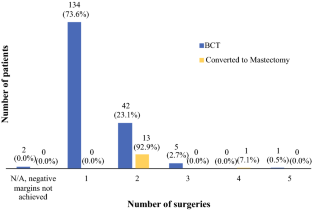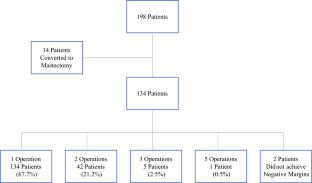 References
1.

Wilson LD, Beinfield M, McKhann CF, Haffty BG. Conservative surgery and radiation in the treatment of synchronous ipsilateral breast cancers. Cancer. 1993;72:137–42.

2.

Leopold KA, Recht A, Schnitt SJ, et al. Results of conservative surgery and radiation therapy for multiple synchronous cancers of one breast. Int J Radiat Oncol Biol Phys. 1989;16:11–6.

3.

Kurtz JM, Jacquemier J, Amalric R, et al. Breast-conserving therapy for macroscopically multiple cancers. Anna Surg. 1990;212:38–44.

4.

Houssami N, Ciatto S, Macaskill P, et al. Accuracy and surgical impact of magnetic resonance imaging in breast cancer staging: systematic review and meta-analysis in detection of multifocal and multicentric cancer. J Clin Oncol. 2008;26:3248–58.

5.

Moon WK, Noh DY, Im JG. Multifocal, multicentric, and contralateral breast cancers: bilateral whole-breast US in the preoperative evaluation of patients. Radiology. 2002;224:569–76.

6.

Berg WA, Gilbreath PL. Multicentric and multifocal cancer: whole-breast US in preoperative evaluation. Radiology. 2000;214:59–66.

7.

Morrow M, Harris JR. More mastectomies: is this what patients really want? J Clin Oncol. 2009;27:4038–40.

8.

Bleicher RJ, Ciocca RM, Egleston BL, et al. Association of routine pretreatment magnetic resonance imaging with time to surgery, mastectomy rate, and margin status. J Am Coll Surg. 2009;209:180–7 (quiz 294-5).

9.

Fischer U, Kopka L, Grabbe E. Breast carcinoma: effect of preoperative contrast-enhanced MR imaging on the therapeutic approach. Radiology. 1999;213:881–8.

10.

Bedrosian I, Mick R, Orel SG, et al. Changes in the surgical management of patients with breast carcinoma based on preoperative magnetic resonance imaging. Cancer. 2003;98:468–73.

11.

Lee JM, Orel SG, Czerniecki BJ, Solin LJ, Schnall MD. MRI before reexcision surgery in patients with breast cancer. AJR Am J Roentgenol. 2004;182:473–80.

12.

Tuttle TM, Habermann EB, Grund EH, Morris TJ, Virnig BA. Increasing use of contralateral prophylactic mastectomy for breast cancer patients: a trend toward more aggressive surgical treatment. J Clin Oncol. 2007;25:5203–9.

13.

Bendifallah S, Werkoff G, Borie-Moutafoff C, et al. Multiple synchronous (multifocal and multicentric) breast cancer: clinical implications. Surg Oncol. 19:e115–23.

14.

Wilkinson LS, Given-Wilson R, Hall T, Potts H, Sharma AK, Smith E. Increasing the diagnosis of multifocal primary breast cancer by the use of bilateral whole-breast ultrasound. Clin Radiol. 2005;60:573–8.

15.

Berg WA, Madsen KS, Schilling K, et al. Breast cancer: comparative effectiveness of positron emission mammography and MR imaging in presurgical planning for the ipsilateral breast. Radiology.

16.

Katipamula R, Degnim AC, Hoskin T, et al. Trends in mastectomy rates at the Mayo Clinic Rochester: effect of surgical year and preoperative magnetic resonance imaging. J Clin Oncol. 2009;27:4082–8.

17.

McGuire KP, Santillan AA, Kaur P, et al. Are mastectomies on the rise? A 13-year trend analysis of the selection of mastectomy versus breast conservation therapy in 5865 patients. Ann Surg Oncol. 2009;16:2682–90.

18.

Hartsell WF, Recine DC, Griem KL, Cobleigh MA, Witt TR, Murthy AK. Should multicentric disease be an absolute contraindication to the use of breast-conserving therapy? Int J Radiat Oncol Biol Phys. 1994;30:49–53.

19.

Cho LC, Senzer N, Peters GN. Conservative surgery and radiation therapy for macroscopically multiple ipsilateral invasive breast cancers. Am J Surg. 2002;183:650–4.

20.

Gentilini O, Botteri E, Rotmensz N, et al. Conservative surgery in patients with multifocal/multicentric breast cancer. Breast Cancer Res Treat. 2009;113:577–83.

21.

Bauman L, Barth RJ, Rosenkranz KM. Breast conservation in women with multifocal-multicentric breast cancer: is it feasible? Ann Surg Oncol. 17:325.

22.

Ataseven B, Lederer B, Blohmer JU, et al. Impact of multifocal or multicentric disease on surgery and locoregional, distant and overall survival in 6134 breast cancer patients treated with neoadjuvant chemotherapy. Ann Surg Oncol. 2015;22(4):1118–27.

23.

Morrow M, Abrahamse P, Hofer T. Trends in reoperation after initial lumpectomy for breast cancer. JAMA Oncol. 2017:3(10):1352–7.

24.

Walijee JF, Hu ES, Newman LA, et al. Predictors of re-excision in women undergoing breast-conserving therapy for cancer. Ann Surg Oncol. 2008;15(5);1297–303.

25.

O'Sullivan MJ, Li T, Freedman G, et al. The effect of multiple re-excisions on the risk of breast cancer recurrence after breast conserving therapy. Ann Surg Oncol. 2007;3:3133–40.

26.

Haixia J, Weijaun, Yang T, et al. HER2-positive breast cancer is aassociated with an increased risk of positive cavity margins after initial lumpectomy. World J Oncol. 2014:12:289.

27.

Kurnlawan E, Windle I, Wong M, et al. Predictors of surgcal margin status in breast-conserving surgery within a breast screening program. Ann Surg Oncol. 15(9):2542–9.

28.

Coopey S, Smith B, Hanson S, et al. The safety of multiple re-excisions after lumpectomy for breast cancer. Ann Surg Oncol. 2011;18(13):3797–801.

29.

Sabel MS, Rogers K, Griffith K, et al. Residual disease after re-excision lumpectomy for close margins. J Surg Oncol. 2009;99(2):99–103.

30.

Hadzikadic G, McGuire KP, Ozmen T, et al. Margin width is not predictive of residual disease on re-excision in breast conserving therapy. J Surg Oncol. 2014;109(5):426–30.
Acknowledgment
Research reported in this publication was supported by the National Cancer Institute of the National Institutes of Health under Award Numbers U10CA180821 and U10CA180882 (to the Alliance for Clinical Trials in Oncology), U10CA180790, U10CA180854, and U10CA180858. The content is solely the responsibility of the authors and does not necessarily represent the official views of the National Institutes of Health.
Ethics declarations
Disclosure
The authors have no conflicts of interest to disclose.
About this article
Cite this article
Rosenkranz, K.M., Ballman, K., McCall, L. et al. The Feasibility of Breast-Conserving Surgery for Multiple Ipsilateral Breast Cancer: An Initial Report from ACOSOG Z11102 (Alliance) Trial. Ann Surg Oncol 25, 2858–2866 (2018). https://doi.org/10.1245/s10434-018-6583-6
Received:

Published:

Issue Date:
Keywords
ACOSOG Z11102

American College Of Surgeons Oncology Group (ACOSOG)

Reexcision

Z0011 Trial

Ductal Carcinoma In Situ (DCIS)