A technology-enabled Counselling program versus a delayed treatment control to support physical activity participation in people with inflammatory arthritis: study protocol for the OPAM-IA randomized controlled trial
Open Access
Study protocol
Part of the following topical collections:
Abstract
Background
Being physically active is an essential component of successful self-management for people with inflammatory arthritis; however, the vast majority of patients are inactive. This study aims to determine whether a technology-enabled counselling intervention can improve physical activity participation and patient outcomes.
Methods
The Effectiveness of Online Physical Activity Monitoring in Inflammatory Arthritis (OPAM-IA) project is a community-based randomized controlled trial with a delayed control design. We will recruit 130 people with rheumatoid arthritis or systemic lupus erythematosus, who can be physically active without health professional supervision. Randomization will be stratified by diagnosis. In Weeks 1–8, participants in the Immediate Group will: 1) receive education and counselling by a physical therapist (PT), 2) use a Fitbit and a new web-based application, FitViz, to track and obtain feedback about their physical activity, 3) receive 4 biweekly follow-up calls from the PT. Those in the Delayed Group will receive the same program in Week 10. We will interview a sample of participants about their experiences with the intervention. Participants will be assessed at baseline, and Weeks 9, 18 and 27. The primary outcome measure is time spent in moderate/vigorous physical activity in bouts of ≥ 10 min, measured with a portable multi-sensor device in the free-living environment. Secondary outcomes include step count, time in sedentary behaviour, pain, fatigue, mood, self-management capacity, and habitual behaviour.
Discussion
A limitation of this study is that participants, who also administer the outcome measures, will not be blinded. Nonetheless, by customizing existing self-monitoring technologies in a patient-centred manner, individuals can be coached to engage in an active lifestyle and monitor their performance. The results will determine if this intervention improves physical activity participation. The qualitative interviews will also provide insight into a paradigm to integrate this program to support self-management.
Trial registration
Date of last update in ClinicalTrials.gov: September 18, 2015. ClinicalTrials.gov Identifier: NCT02554474.
Keywords
Physical activity 
Arthritis 
Wearables 
Behavioural interventions 
Counselling 
Abbreviations
ANCOVA

Analysis of Covariance

ICC

Intraclass Correlation

MPQ-SF

McGill Pain Questionnaire Short Form

MVPA

Moderate-to-Vigorous Physical Activity

OPAM-IA

Effectiveness of Online Physical Activity Monitoring in Inflammatory Arthritis Project

PAR-Q

Physical Activity Readiness Questionnaire

PHQ-9

Patient Health Questionnaire-9

PT

Physical Therapist

RA

Rheumatoid Arthritis

RCT

Randomized Controlled Trial

SD

Standard Deviation

SLE

Systemic Lupus Erythematosus
Background
Arthritis is the most common cause of severe chronic pain and disability worldwide [1, 2]. Promoting physical activity is a priority because it is an essential adjunct to medical treatment for people with inflammatory arthritis (e.g., rheumatoid arthritis [RA]; systemic lupus erythematosus [SLE]) [3, 4], partly due to its effects in reducing risks of cardiovascular conditions and metabolic syndromes [5, 6, 7, 8]. Physical activity level is also inversely associated with inflammatory markers such as C-reactive protein level and erythrocyte sedimentation rate in people with RA [6, 7, 8]. For people with SLE, physical activity is important due to its positive effect on sleep quality [9] and fatigue [10, 11], which is the most prevalent and debilitating symptom [12].
Public health guidelines recommend at least 150 min a week of moderate/vigorous physical activity (MVPA), performed in bouts of 10 or more minutes [13]. However, the majority of people with arthritis do not meet the recommendations. The Canadian Community Health Survey reported that over 57% of people with arthritis were physically inactive during their leisure time, compared to 46% of those without arthritis [14]. A 2012 study using accelerometers found 42% of those with RA [15] accumulated 0 min (in bouts) of MVPA in the preceding 7 days. The poor level of participation in physical activity in these populations represent a major knowledge-to-action gap.
Several modifiable risk factors are associated with low physical activity participation in people with arthritis. These include lack of motivation [16], doubts about the effectiveness of exercise [17], and lack of health professional advice [18]. Once patients start being active, they need feedback on their progress. A Cochrane review reported that 'graded exercise activity', which initially focuses on simple activities and then gradually increase to more challenging ones, is effective for improving adherence in people with chronic musculoskeletal condition [19]. Progression of activities can be guided by a physical therapist (PT) [19]. However, this is challenging to implement because only some parts of Canada have access to publicly funded arthritis-trained PTs for consultation [20]. The current knowledge on physical activity participation highlights the need for a new model of care that enables patients to monitor their activity performance, obtain feedback from health professionals and receive motivational support across geographic locations.
Study aim and hypotheses
This study aims to determine whether a technology-enabled physical activity counselling intervention can improve physical activity participation in people with RA or SLE. We hypothesize that, compared to controls, those who receive the 8-week intervention will: 1) increase mean daily MVPA time as determined by an objective measure, 2) reduce mean daily sedentary time during waking hours, 3) have less pain, 4) have less fatigue, and 5) improve in perceived self-management capacity. In addition, we will explore the effect of the interventions on depressive symptoms and habitual behaviours.
Study design
The
Effectiveness of Online Physical Activity Monitoring in Inflammatory Arthritis (OPAM-IA)
project will employ a mix of quantitative and qualitative research methods. The intervention will be evaluated in a randomized controlled trial (RCT) with a delayed control design, whereby participants will be randomly assigned to start the intervention either immediately or at Week 10 (Fig. 
1
). This design is particularly suitable when the proposed intervention is likely to do more good than harm, as it allows all participants to receive the intervention by the end of the study. After completing the intervention, participants will partake in an in-depth interview by phone regarding their experiences. We have previously demonstrated feasibility of the study protocol in 34 people with osteoarthritis, with no dropout and 88% adhered to the protocol [
21
,
22
]. In addition, we observed preliminary efficacy, with those who received the intervention showing a trend of improvement in MVPA and perceived self-management capacity compared to the controls after 1 month [
22
].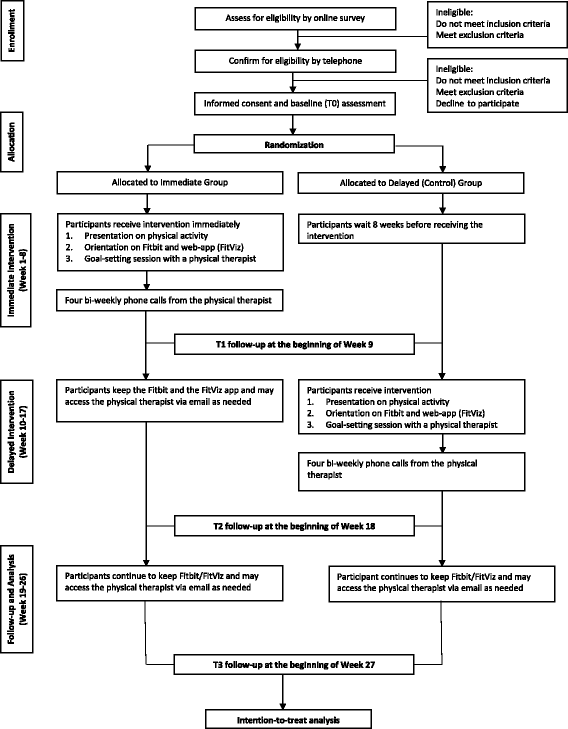 Discussion
Potential impact and significance of the study
More than 1 in 6 people in the U.S. are using wearable devices to monitor their health [49], but the integration of these tools in chronic disease management is still at an early stage. The OPAM project will evaluate a novel technology-enabled physical activity counselling intervention that adapts a popular wearable device to motivate and provide feedback to people with inflammatory arthritis regardless of their location. If shown to be effective, this intervention could inform a new person-centred approach to optimize self-management among people with arthritis. Furthermore, since being active is a key component of successful self-management, this intervention has potential to improve disease-related outcome and quality of life. Although RA and SLE are our current focus, the FitViz app is designed to be adaptable and scalable to serve people with other chronic diseases and to address other aspects of self-management (e.g., adding a self-report module to track medication use).
Strengths and weaknesses of the study
This study has several strengths. Frist, we have previously demonstrated feasibility to deliver the remote counselling intervention to our target population with a high level of adherence to the protocol [22]. Second, our process to monitor participants' Fitbit/FitViz use and the PT counselling will ensure intervention fidelity, which is important for maintaining internal validity of the study and enhancing external validity. Third, the rigorous mixed-methods design will enhance our ability to develop strategies to integrate this program in people's daily life in the future. Finally, we anticipate that the pragmatic nature of the program will improve the chance of successful implementation in clinical practice, if it is shown to be effective.
A limitation of the study is that the intervention requires participants to use the device continuously for 8 weeks. To minimize non-compliance, we choose to use Fitbit Flex 2™ which can be worn on the wrist 24 h a day including during water-based activities. Our pilot study suggests that it is feasible for people with joint pain to use the device continuously for an extended period [22]. Also, it is possible that participants may gain access to a Fitbit during the non-intervention period since it is commercially available. To encourage adherence to the study protocol, participants may keep their device after the study period free of charge. FitViz will only be available to study participants through the study. We believe that these measures will minimize the risk of contamination in the RCT.
Supporting a physically active lifestyle is a core business of the physical therapy profession. The Exercise is Medicine initiative currently advocates for the creation and implementation of effective physical activity counselling strategies in treatment plans for patients around the world [50]. With the ubiquitous use of wearables and the popularity of the quantified-self movement [51], health professionals can now leverage the engaging power of technology to motivate, monitor and counsel patients living with chronic disease. PTs are in the position to lead in the effort to create, evaluate and integrate technology to improve physical activity participation of patients. To this end, the OPAM project will be a first step to generate the necessary evidence on this type of PT-led intervention to support patient self-management.
Notes
Acknowledgements
We are grateful for the partnership and support of patient/consumer collaborators, including Alison Hoens and Kelly English (Arthritis Research Canada, Arthritis Patient Advisory Board), as well as Cheryl Koehn (Arthritis Consumer Experts).
We wish to thank those who reviewed the manuscript for their constructive comments (Additional file 1).
Funding
This study is supported by The Arthritis Society (Funding Reference Number: SOG-14-110).
Availability of data and materials
Not applicable.
Authors' contributions
LCL, LMF, CS, HX, ECS, AA, AFT, DG, GN, CLB have made substantial contributions to the study design. LCL, LMF, NG have contributed to the ongoing data collection. All listed authors have contributed to the drafting of the manuscript. All authors read and approved the final manuscript.
Authors' information
Dr. Linda Li is supported by the Harold Robinson/Arthritis Society Chair in Arthritic Diseases award, the Canada Research Chair Program, and the Michael Smith Foundation for Health Research (MSFHR) Scholar Award. Dr. Hui Xie is supported by the Maureen and Milan Ilich / Merck Chair in Statistics for Arthritis and Musculoskeletal Diseases award. Dr. Antonio Aviña-Zubeita is supported the BC Lupus Association Scholar Award and the MSFHR Scholar Award. Dr. Diane Gromala is supported by the Canada Research Chair Program.
Ethics approval and consent to participate
The research protocol has been approved by the University of British Columbia Clinical Research Ethics Board (H15–01843), and published in ClinicalTials.gov (NCT02554474). Written consent will be obtained from all participants.
Consent for publication
Not applicable.
Competing interests
The authors declare that they have no competing interests.
Publisher's Note
Springer Nature remains neutral with regard to jurisdictional claims in published maps and institutional affiliations.
Copyright information
© The Author(s) 2017
Open AccessThis article is distributed under the terms of the Creative Commons Attribution 4.0 International License (http://creativecommons.org/licenses/by/4.0/), which permits unrestricted use, distribution, and reproduction in any medium, provided you give appropriate credit to the original author(s) and the source, provide a link to the Creative Commons license, and indicate if changes were made. The Creative Commons Public Domain Dedication waiver (http://creativecommons.org/publicdomain/zero/1.0/) applies to the data made available in this article, unless otherwise stated.