Altered eating: a definition and framework for assessment and intervention
Open Access
Research article
Part of the following topical collections:
Abstract
Background
Eating can be a significant challenge for cancer survivors; however, to date there is no systematic way of assessing and addressing food related quality of life in this group. The purpose of our study was to develop a framework for doing so.
Methods
Over the course of 6 years in participant-led food workshops, we worked alongside 25 head and neck cancer (HNC) survivors and their partners, employing video-reflexive ethnographic (VRE) methods. The current study reports on data from the two summative workshops of this series where we worked with participants to cohere the emergent themes. Video and transcripts were reviewed and coded with participants and stakeholders according to domains of life that were affected by food. Three of the authors, one of whom is both survivor and researcher, arrived at the consensus framework.
Results
Seven areas of life were identified as affecting, or being affected by, altered eating. Three were physiological: anatomical, functional and sensory. Two captured the cognitive and behavioural labour of eating. Social life and identity were altered. The foregoing had an enduring emotional impact.
Conclusions
Altered eating has physical, emotional and social consequences. The altered eating framework provides a systematic way of exploring those consequences with individual survivors. This framework has the potential to improve both the assessment and treatment of altered eating, to benefit food-related quality of life.
Abbreviations
HNC

Head and neck cancer

PEG

Percutaneous endoscopic gastrostomy

PPI

Patient and public involvement

VRE

Video-reflexive ethnography
Background
Eating can pose profound challenges for patients recovering from cancers including head and neck, oesophageal, lung and bowel. In advanced cancer it is estimated that more than 50% of survivors experience concerns about weight loss and loss of appetite [1]. A recent systematic review of eating difficulties in cancer emphasises that there are no effective interventions for improving food-related quality of life, no consistent assessment methodologies, confusion in terminology regarding sensory issues, and little account of the importance of food hedonics and other aspects of what makes food enjoyable to eat [2]. Most research has looked at eating-related difficulties during treatment, with evidence that chemosensory changes may resolve around 8 weeks after treatment ceases. An emergent body of qualitative research has identified how treatment and cancer can have long term impacts on the ability to 'eat well' long after treatments ceases [3, 4, 5, 6, 7, 8, 9, 10, 11, 12]. Ganzer et al's (2015) review of qualitative literature found several consistent themes across studies that demonstrate a 'significant impact' on the experience of eating and changed meaning of food. The themes cross social, psychological and cultural issues in addition to the more commonly reported physiological and functional difficulties [11]. Ganzer et al conclude that further studies should consider 'not only the functional impact associated with treatment for HNC but also the social and emotional context of eating' [7]. Their conclusion also follows the systematic review of Cousins et al [13] in identifying the tendency for researchers to focus on the (often short term) medical complications of treatment with (chemo)radiotherapy and the impact of dysphagia (swallow difficulties) [14]. Authors stress the necessity to look beyond functional difficulties to consider a more 'holistic' approach [6] that also addresses emotional and psychosocial issues and support needs [13, 15].
A more 'patient centred' and less 'disease-focused' approach has been advocated as a means to address these broader concerns [15]. Patient and public involvement (PPI) in research is increasingly valued in health research in which research is done 'with' rather than to patients [16, 17, 18]. In previous work we have identified how co-production can be more meaningful and patient/survivor-focused in its questions, research processes, planned milestones, outcomes and methods of dissemination [19]. Qualitative research methods are of value in drawing out phenomenological experience; to our knowledge, no study has employed a co-productive approach to explore eating difficulties in head and neck cancer survivorship.
Losing the ability to eat well, what we call 'altered eating', can reduce quality of life and have serious consequences for physical and emotional health and wellbeing [20, 21, 22]. In the course of illness and treatment, clinicians' focus is necessarily on the condition underlying or causing altered eating, alongside managing its nutritional consequences and improving eating-related function where possible. However, as our study shows, altered eating can persist after treatment or become an enduring feature of patients' lives.
Despite the prevalence of altered eating, there are no comprehensive guidelines or pathways to address explicitly the impact of changes in the experience of food and eating in public health, general practice or other clinical settings. In our work with head and neck cancer survivors, it became clear that to fully assess and address issues related to food quality of life, a comprehensive framework that addresses and builds on thematic areas identified in qualitative work, was necessary. Head and neck cancer survivors offer an excellent exemplar of altered eating for the systematic development of such a framework, in that they encounter some of the most complex combinations of physiological, emotional and psycho-social eating difficulties of any patient group [7]. In our work with this group we sought to derive a multi-dimensional framework from co-produced, comprehensive accounts of survivors' altered relationship with food, which would facilitate systematic assessment of these issues and thus form the basis for a more comprehensive intervention.
Methods
This framework evolved over the course of 6 years' collaborative work with: head and neck cancer survivors: chefs and flavour experts (SS, RES): a Speech and Language clinician (JP): an oncologist (CK); inter-disciplinary social scientists with expertise in sensory ethnographic methods (DBW, SL) and health psychology (VD). Video-reflexive ethnography (VRE) is a collaborative methodology involving the negotiated videoing of everyday practice around health and healthcare, and a reflexive process in which participants help make sense of the video footage they have helped produce or feature in [23, 24]. Given the centrality of survivors' experience of food and eating, we adopted a multi-sensory approach that paid attention to the embodied experience of food 'beyond talk' [25]; that is, beyond the interview and focus group research that has tended to dominate the field. Multi-sensory ethnographic methods attend to forms of intimacy, sociality and emplacement and to the complete range of sensory experience including visual, sound, taste, smell and touch [26, 27].
We instantiated these principles in four pilot "food play" workshops and a further 16 food and eating workshops undertaken as part of a research project entitled Resources for Living (R4L) Pilot: Exploring the Potential of Progressive Cuisine for Quality of Life Improvement for Head and Neck Cancer Survivors [NIHR number PB-PG-0711-25,040]. Potential participants were approached through post-treatment head and neck cancer survivor support groups, by Speech and Language Therapists from two services in the North East of England. Participants were excluded if they were still receiving treatment or wholly dependent on Percutaneous Endoscopic Gastrostomy (PEG) tube feed or Sip feeds (oral nutritional supplements). Inclusion criteria were as follows: post-treatment, in a relatively stable state of health and able to eat by mouth.
Food play workshops involved a chef skilled in techniques of modernist or 'progressive' cuisine employing insights from sensory science to improve flavour, textures and the hedonic qualities of food. Each week a new food group (e.g. "Smoothies", "Stocks", "Chocolate Mousse") was explored, usually at the prior request of participants; at the end of each workshop we revisited discussions about what foods participants missed and what the chef had in mind, and consensus was reached on the focus of the next workshop. These groups involved lively discussion, play and experimentation with food.
In the following derivation of the framework, we exemplify key framework components from participant reflections in two summative sessions, conducted towards the end of the workshop series. Here, we asked participants to reflect on the way their relationship to food had changed because of their illness, and how this had affected their and their families' lives. From the co-produced analysis of data from previous workshops we had realised that loss of pleasure in food, and the increased effort and burden of food were central issues for this group, so pleasure and burden were additional focus prompts for the two respective groups. However, these only served as starting points for discussion, and participants were encouraged to elaborate on the causes and consequences of altered eating in their lives in general. As a result, participants reiterated and expanded upon discussions that had occurred in the previous workshops, but also brought out new examples and reflections.
Analysis
Food play workshop video data was analysed iteratively (by DBW, VB and SL), following each session in the series of food play workshops. A template, based on our PPI work, was used to record the findings of each workshop (e.g., participants' food memories, coping tips, foods most missed, verbal and observed taste and flavour responses), ensuring that anticipated and emergent themes and participant feedback were recorded for comparison. The template used to record the workshops is available from the corresponding author on request. Themes were then explored in more depth in summative sessions with those participants able to attend. To derive a comprehensive framework, data from those summative sessions was then coded according to domains of life that were affected with regard to food. This produced a range of three broad categories: biological causes; psychological consequences and social impact. A second round of coding sought to further discriminate areas within these broad fields that were meaningfully distinct from each other. Two of the authors (DBW and VD) did this coding separately and then with VB, who is both survivor and researcher, arrived at a framework comprising seven areas within the previous three broad categories. Finally, participants and stakeholders worked collaboratively to produce video material that exemplified their experience of altered eating using these framework components as a structuring device. The resulting short film [28] was then presented to survivors, carers and clinicians at two public film screening events (N = 80) with opportunities for all participants to offer feedback and comments. The agreed final framework comprised three domains containing seven features: 1. patient physiology (anatomical, functional and sensory); 2. patient labour (behavioural and cognitive); and 3. patient identity (cultural/social and emotional).
Results
In the following we present the framework (Fig. 
1
) as it emerged from the thematic findings and follow up stakeholder events. We provide representative quotes from survivor participants to exemplify each area. To put these in context we have given the reader some essential references to explain issues such as impacts on the swallowing mechanism, and key dimensions of flavour perception. The first three elements – the anatomical, functional and sensory changes – are fairly well established in the literature, and most of the research tends to focus on these aspects. There is, however, less emphasis on the phenomenology (as opposed to the physiology) of altered functional and sensory experience, and very little on the behavioural, cognitive, social and emotional elements.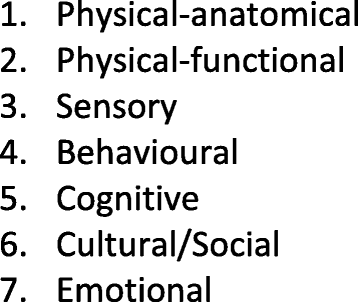 Participants
Over the course of the study a total of 25 participants and their partners were recruited. The participant survivors had all received (chemo)radiotherapy as treatment and were 6–60 months post-treatment but with on-going difficulties with food and eating. The majority (n = 14) were males between the ages of 54–65. Participants came from a diversity of socio-economic backgrounds but with similar cultural links to the North East of England. Over the course of the workshops a number of participants (N = 5) were lost to the study due to ill-health or death. Not all participants were available to attend the final two summative workshops. Present at both summative sessions were survivors (N = 10 Group 1 R1-R5, Group 2 R1b-R5b) and partners (N = 4), two social scientists, one health psychologist, one chef and a documentarian who recorded the sessions. One of the head and neck cancer survivor participants was also part of the research team and had received training in qualitative methodology.
Discussion
Based on several years' participant led work (including weekly small group discussions and many hours of detailed observation), two summative focus groups with participants, and respondent validation through public engagement events, we evolved a framework for addressing, assessing and, potentially, intervening in food related quality of life. An important part of this work was that it was participant led and extensively documented. Readers can see this framework "in action", being discussed by the research participants in a short video film [28] (https://youtu.be/aMDI9bgRZ18); also see online supplementary material). Over the course of this work, it was clear that the impact of an alteration in eating extended well beyond the nutritional, and into areas of identity and social participation. We discerned seven key areas where the alteration of the relationship to food could manifest. Three of these were physiological: anatomical, functional and sensory. However, unlike much previous literature where the focus has been on the physical facticity of these elements, our research unearthed and emphasised qualitative research findings of their phenomenology in daily life: teeth that shatter as you eat, or disappear altogether following radiotherapy; salivary glands that are "fried" necessitating continual imbibing of food with water, a swallowing function that is not only altered by anatomy, but also by fear and the memory of choking in Frankie and Benny's [a chain of Italian-American restaurants in the UK]. In the next two categories, we discovered how food could become cognitive and behavioural hard labour: a fact of everyday life that is often done on automatic, or with pleasure, had become instead a source of worry and effort; of planning and overly-prolonged execution. Food had become an ordeal, and one that required complete attention. The latter fact has particular ironic resonance in a health-care climate that suggests "mindful-eating" as an intervention to increase pleasure and decrease obesity. This group were forced into mindful eating. To let eating lapse into its habitual automatic register would be to entail the risk of aspiration, choking and possibly death. As such, the cumulative impact of this new labour intensive relationship to food was to profoundly alter the next category, social life and social identity. As much as participants mourned the loss of taste and flavour, they also mourned the loss of inclusion and belonging that food can afford. Finally, all the foregoing had a substantial emotional impact. Which was not to say that participants were depressed, but there was a universal sense that one area of pleasure, reward and comfort in life had been irrevocably altered. No-one was entirely reconciled to this loss of pleasure. Altered eating was, in this group at least, never just a matter of nutrition and its management. It was a phenomenon that profoundly affected many aspects of their lives, long after the disease and treatment that caused it were past.
Over the course of our work our research team (including the participants) came to define altered eating as:
a changed state of any combination of physical, emotional and social interactions with food and eating that has a negative impact on health and wellbeing.
It was clear that altered eating as a phenomenon was still a central feature of these cancer survivors' lives yet, until the workshops, no-one in the health care system had addressed it. We would argue that this was because there was no systematic way of assessing and addressing it. We suggest that in
a)

identifying it as a phenomenon in its own right, and

 

b)

evolving a framework for its elucidation

 
we have developed a research and clinical concept that has potential to improve the lives of this and other patient groups.
It was clear from the group work and public engagement events that the framework might prove to be a useful framework for identifying relevant interventions for patients. For example, R3 (above) mentions taking up walking to replace what she missed about going out for meals with friends; it was clear that the framework provided a way of identifying compensatory strategies that could work for other patients. If anatomical, sensory and functional issues are intractable, the development of alternative sources of pleasure in the social/commensal area might help other patients adjust to their loss of pleasure and altered social participation and identity. As such, this framework could be used to clinically assess areas of deficit, and to identify areas of compensation and intervention.
As to identifying altered eating as a phenomenon, we believe that this is likely to be a trans-diagnostic entity. Work with other professionals and patient groups, from within our team, has already identified the potential usefulness of this framework in areas as diverse as ageing, Primary Sjogrens Syndrome, depression, weight cycling and non-head and neck cancer survivorship. Many people, as a result of disease or ageing, develop an altered relationship with food, and having a way of systematically diagnosing and intervening in this aspect of people's lives may lead to improved quality of life in areas that are otherwise neglected. In current health care settings and research, food tends to show up under the category of nutrition. We believe that we have shown that its impact extends far beyond this, and that as researchers and health care professionals we need to fully address this impact.
Conclusions
The Altered Eating Framework provides a systematic approach for assessing how the patient's relationship to food has changed, the impact of this on their quality of life, and highlights areas for potential intervention. By highlighting the multi-factorial nature of our relationship to food, the framework also opens up the possibility for more creative interventions. This framework was iteratively co-produced with patients' and the authorship of this paper includes a head and neck cancer survivor. We would prompt clinicians working with this and other conditions associated with altered eating to further test the framework's utility as an assessment and treatment tool.
Notes
Acknowledgements
The authors would like to thank the survivor participants for their time and involvement in the research. We would also like to recognise the valued contributions of Sam Storey (Chef) and John Faulkner (Documentarian). Thanks to Professor Greg Rubin, Durham University, for comments on an earlier draft.
Funding
This paper presents independent research funded by the National Institute for Health Research (NIHR) under its Research for Patient Benefit (RfPB) Programme (Grant Reference Number PB-PG-0711-25040). The views expressed are those of the author(s) and not necessarily those of the NHS, the NIHR or the Department of Health. The funding body had no role in the design of the Resources for Living (R4L) Pilot study; in the collection, analyses, or interpretation of data; in the writing of the manuscript, or in the decision to publish the results.
Availability of data and materials
The datasets generated and/or analysed during the current study are not publicly available due to the potential breach of confidentiality in use of names of participants but are available from the corresponding author on reasonable request.
Authors' contributions
DBW, SL, VB, CK and VD contributed to the empirical research as part of the NIHR/RfPB funded Resources for Living study. RES, JP and MM were expert advisors to the empirical research. DBW wrote the first draft. All authors (DBW, SL, VB, JP, CK, RES, MM and VD) were involved in revising it critically for important intellectual content and all approved the final manuscript.
Ethics approval and consent to participate
Written informed consent was obtained from all participants included in the study. The study received favourable ethical approval from the North East-York Research Ethics Committee (Reference [13]/NE/0365) and the Durham University School of Medicine, Pharmacy and Health Ethics Sub-Committee (Application ESC2/2013/19).
Consent for publication
not applicable.
Competing interests
The authors declare that they have no competing interests.
Publisher's Note
Springer Nature remains neutral with regard to jurisdictional claims in published maps and institutional affiliations.
Copyright information
© The Author(s). 2018
Open AccessThis article is distributed under the terms of the Creative Commons Attribution 4.0 International License (http://creativecommons.org/licenses/by/4.0/), which permits unrestricted use, distribution, and reproduction in any medium, provided you give appropriate credit to the original author(s) and the source, provide a link to the Creative Commons license, and indicate if changes were made. The Creative Commons Public Domain Dedication waiver (http://creativecommons.org/publicdomain/zero/1.0/) applies to the data made available in this article, unless otherwise stated.